What Is an Audio Codec?
An audio codec refers to a hardware device or software application that is able to encode or decode a digital data stream in type of audio or sound. The audio codec that can encode an audio stream and create audio files is called an audio encoder such as a sound recorder. Whereas the codec that can decode an audio stream and play audio files is named an audio decoder like a music player. To make it simpler, an audio codec is the share name of an audio encoder and audio decoder.
Hardware Audio Codec
In the physical hardware field, an audio codec stands for a device that encodes analog audio as digital signals and decodes digital signals back to analog. It consists of both an analog-to-digital converter (ADC) and a digital-to-analog converter (DAC) running off the same clock signal.
That is applied in sound cards that support both audio in and audio out. Audio codec hardware sends and receives digital data relying on USB buses like AC-Link, I2S, Serial Peripheral Interface (SPI), Inter-Integrated Circuit (I2C), and so on.
Usually, the digital data signal is linear Pulse-code modulation (PCM), which is the only audio codec format that most audio codecs are compatible with. Yet, some legacy audio codecs support other formats, G.711 for telephony for example.
Software Audio Codec
A software audio coder implements an algorithm that compresses (encodes) and decompresses (decodes) digital audio data based on a given audio file or streaming media coding format. The algorithm aims to represent the high-fidelity audio signal with minimum file size while retaining audio quality.
That can greatly save the storage space and the bandwidth needed to transfer the compressed audio. Most modern audio compression algorithms are based on modified discrete cosine transform (MDCT) coding and linear predictive coding (LPC). Besides, most software codecs are implemented as libraries that interface to at least one media player.
Compare Audio Coding Formats
To compare different audio coding formats, engineers or technicians may take their supported operating systems (OSes), supported multimedia frameworks, adopted technologies, as well as general specifications into consideration.
Next, let's see the specific aspects that need to compare among various audio codecs.
# Supported OS
In general, most audio codec formats are designed to be applied to these operating systems, including computer systems and mobile phone OSes.
# Supported Multimedia Frameworks
Next, let's have a look at what software apps are usually taken as the standards for estimating the audio player support.
Audio Compression Manager (for Windows)
DirectShow (for Windows)
Media Foundation (for Windows including Windows 11/10/8/7)
QuickTime (for macOS)
GStreamer (for multiple systems)
FFmpeg (for various systems)
# Supported Technologies
As for comparing the audio codec formats' technologies, first of all, we need to sort those codecs into different groups that will be compared with different technical parameters.
Lossy Audio Codec Formats
Lossy audio codecs are coding formats that will lose some information after encoding/compressing the audio data. For this kind of codec, we usually estimate the following technical details.
Codec algorithm
Sample rate
Constant bit rate (CBR)
Variable bit rate (VBR)
Latency
Multichannel (surround sound)
Lossless Audio Codec Formats
On the contrary, lossless audio codecs are coding formats that won't lose any quality after compression compared to the original audio file. The below technologies will be compared when choosing a proper lossless audio encoder. Most of the aspects are the same as those of lossy video sound codecs.
Coding algorithm
Sample rate
Bits per sample
Latency
Stereo
Multichannel
ITU-T formats
The following will list the comparison items for audio encoders/decoders belonging to ITU-T standards.
Comparison algorithm
Sample rate
Bitrate
Bits per sample
Constant bit rate (CBR)
Variable bit rate (VBR)
Latency
Stereo
Multichannel (surround sound)
How to Convert Audio Codec?
After learning the comparison standards of different audio codecs, you may figure out your favorite audio coding formats. If your current videos are not of the audio codes you like, you can change it to the one you prefer with a professional and reliable audio codec converter – MiniTool Video Converter, which can easily and quickly alter audio and video encoders for free.
MiniTool Video ConverterClick to Download100%Clean & Safe
1. Download, install, and open MiniTool Video Converter on your computer.
2. Go to the Converting subtab under the main Video Convert tab to add your audio file(s).
3. Then, click the editing icon in the Target section on the audio file.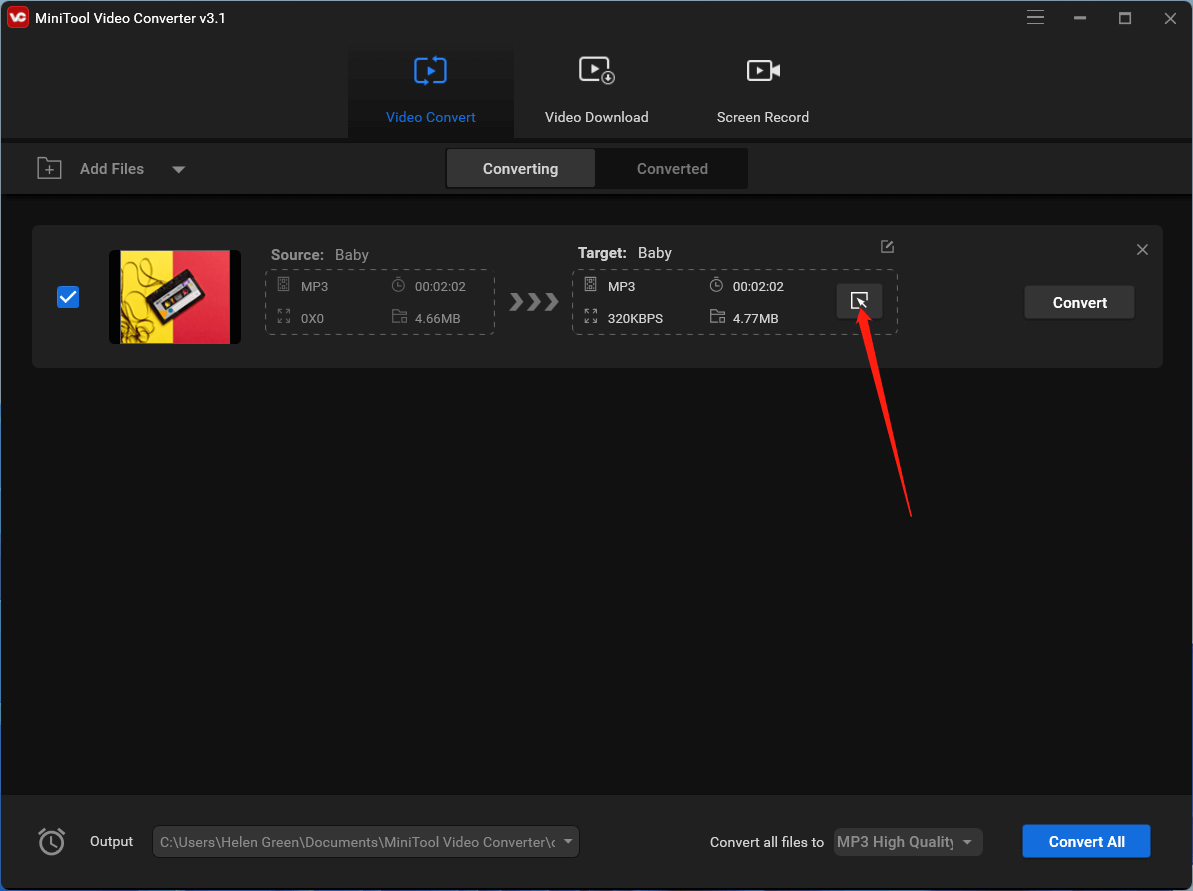 4. In the pop-up editing window, move to the Audio tab. There, select your favorite audio format from the left menu and choose a quality in the right section or directly click the Create Custom option in the lower right part.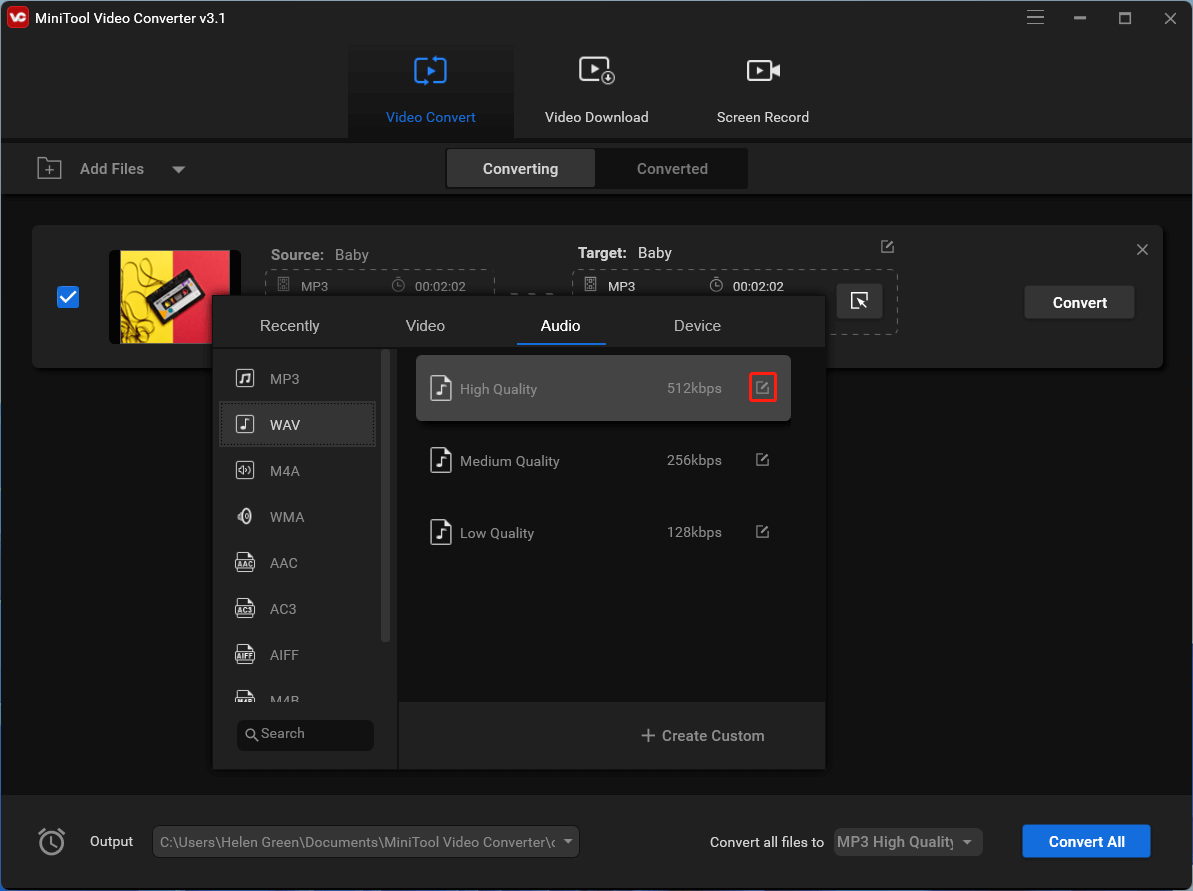 5. To check your new audio codec, you need to click on the editing icon behind the quality you choose. If you select Create Custom in the last step, you will be directly shown the audio settings window.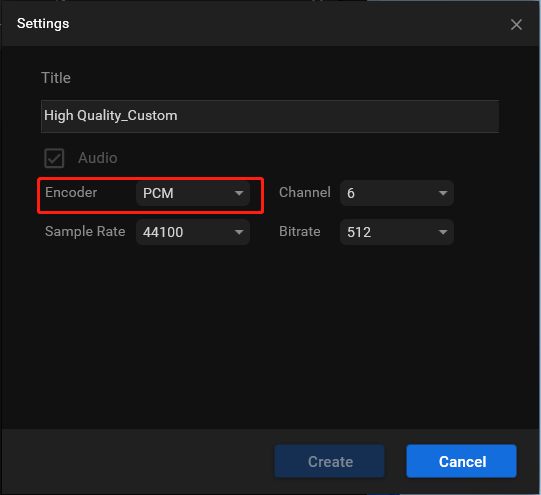 6. There, you can change other parameters of your audio like channel, sample rate, and bitrate. If you make some changes, remember to click the Create button to save them.
7. Back to the audio format selection window, just choose your customized audio that appears after you click the Create button above.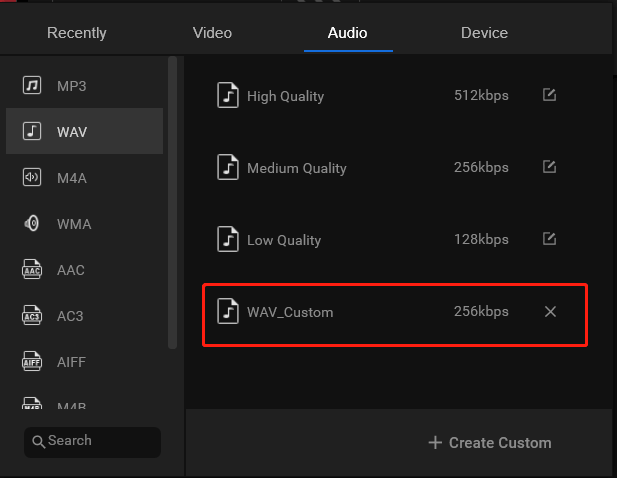 8. Finally, click on the Convert button on the audio file to begin the process.
In addition to audio codec format conversion, MiniTool Video Converter can also record a video (with audio) of different file formats including WMV, MKV, AVI, MOV, FLV, MP4, and TS, all encoded by H.264. Moreover, it can download songs and videos from YouTube in different formats like MP3, MP4, WEBM, WAV, etc.
Audio Formats/Codecs List
Here in this part, we will collect the lists of audio compression formats and their related codecs. Generally, the audio encoder formats can be divided into three categories: non-compression audio formats, lossless audio compression formats, and lossy audio compression formats.
Non-Compression Audio Formats
Linear pulse-code modulation (LPCM)
Pulse-density modulation (PDM)
Direct Stream Digital (DSD): foobar2000 Super Audio CD Decoder, FFmpeg
Pulse-amplitude modulation (PAM)
Lossless Compression Audio Formats
Actively used
Most popular
Free Lossless Audio Codec (FLAC): libFLAC, FFmpeg
Apple Lossless Audio Codec (ALAC): Apple QuickTime, libalac, FFmpeg, Apple Music
Monkey's Audio (APE): Monkey's Audio SDK, FFmpeg
OptimFROG (OFR)
Tom's verlustfreier Audiokompressor (TAK): TAK SDK, FFmpeg
WavPack (WV): libwavpack, FFmpeg
True Audio (TTA): libtta, FFmpeg
Windows Media Audio Lossless (WMAL): Windows Media Encoder, FFmpeg
Other
DTS-HD Master Audio (also DTS++ and DCA XLL): libdca, FFmpeg
Dolby TrueHD: FFmpeg
Meridian Lossless Packing (MLP), also known as Packed PCM (PPCM): FFmpeg
MPEG-4 Audio Lossless Coding (MPEG-4 ALS): SSC, DST, ALS and SLS reference software, FFmpeg
MPEG-4 Scalable Lossless Coding (MPEG-4 SLS): SSC, DST, ALS and SLS reference software
RealAudio Lossless: RealPlayer, FFmpeg
BFDLAC (BFD Lossless Audio Compression): FXpansion's BFD3 drum software
Oddball
ATRAC Advanced Lossless (AAL): FFmpeg
Direct Stream Transfer (DST): SSC, DST, ALS and SLS reference software, FFmpeg
Original Sound Quality (OSQ)
Discontinued
Lossless Audio (LA)
Shorten (SHN): libshn, FFmpeg
Lossless Predictive Audio Compression (LPAC)
Lossless Transform Audio Compression (LTAC)
MPEG-1 Audio Layer III HD (mp3HD)
RK Audio (RKAU)
Bluetooth lossless
Lossy compression
Discrete cosine transform (DCT): Modified discrete cosine transform (MDCT)
General/Speech hybrid
Unified Speech and Audio Coding (USAC, MPEG-D Part 3)
IETF standards
IETF Internet Draft
General
Adaptive differential pulse-code modulation (ADPCM, also called adaptive delta pulse-code modulation)
Adaptive Transform Acoustic Coding (ATRAC)
ATSC/ETSI standards
Dolby Digital: FFmpeg, liba52
Dolby Digital Plus: FFmpeg
DTS Coherent Acoustics (DTS, Digital Theatre System Coherent Acoustics): FFmpeg, libdca
Dolby AC-4
Impala Blackbird audio codec
ITU standards
719
722: FFmpeg
722.1 and G.722.1 Annex C: libg722_1, libsiren
722.2: 3GPP, opencore-amr, VisualOn AMR-WB encoder, FFmpeg
EVS
MPEG-1 Audio and MPEG-2 Audio
layer I (MP1) (MPEG-1, MPEG-2 and non-ISO MPEG-2.5): FFmpeg
layer II (MP2) (MPEG-1, MPEG-2 and non-ISO MPEG-2.5): FFmpeg, tooLame, twoLame
layer III (MP3) (MPEG-1, MPEG-2 and non-ISO MPEG-2.5): FFmpeg, LAME
Advanced Audio Coding (AAC) (MPEG-2 Part 7): FAAC and FAAD, FFmpeg, iTunes, Nero AAC Codec, VisualOn AAC Encoder (a.k.a. libvo_aacenc), Fraunhofer FDK AAC, libaacplus
MPEG-4 Audio
Advanced Audio Coding (AAC, MPEG-4 Part 3 subpart 4), HE-AAC and AAC-LD: FAAC, FAAD2, FFmpeg, iTunes, Nero AAC Codec, MPEG-4 AAC reference software
Harmonic and Individual Lines and Noise (HILN, MPEG-4 Parametric Audio Coding): MPEG-4 reference software
TwinVQ: MPEG-4 reference software, FFmpeg
BSAC (Bit-Sliced Arithmetic Coding): MPEG-4 reference software
MPEG-H
Musepack (a.k.a. MPEGplus)
NICAM
AT&T Perceptual Audio Coder
Precision Adaptive Subband Coding (PASC)
QDesign
QDesign Music Codec: FFmpeg
PictureTel
Siren 7: libg722_1, libsiren, FFmpeg
Siren 14: libg722_1, vgmstream
Siren 22
NTT TwinVQ
FFmpeg
NTT TwinVQ Encoder, NTT TwinVQ Player
Voxware MetaSound
Vorbis
aoTuV
FFmpeg
libvorbis
Tremor
Windows Media Audio (WMA)
Windows Media Encoder
FFmpeg
AES3
SMPTE 302M
Dolby E
Bluetooth audio codec
Bluetooth Special Interest Group
Low Complexity Subband Coding (SBC): BlueZ's SBC library (libsbc), Fluoride Bluetooth stack, FFmpeg
CVSD 8 kHz
modified SBC (mSBC): BlueZ's SBC library (libsbc), Fluoride Bluetooth stack, FFmpeg
LC3 (Low Complexity Communication Codec)
ETSI
Qualcomm Technologies International (formerly CSR)
aptX (a.k.a. apt-X): Qualcomm libaptX, FFmpeg
aptX HD: Qualcomm libaptXHD, FFmpeg
aptX Low Latency
aptX Adaptive
FastStream
Sony
HWA Alliance/Savitech
LHDC: HWA encoder/decoder
LLAC: HWA encoder/decoder
HiBy
Ultra Audio Transmission (UAT)
Samsung
Samsung HD/UHQ-BT codec
Samsung Scalable codec
Digital radio
Hybrid Digital Coding
NRSC-5 receiver for rtl-sdr
Voice
Linear predictive coding (LPC)
Code-excited linear prediction (CELP): Algebraic code-excited linear prediction (ACELP)
Xiph.Org Foundation
Speex, patent free: libspeex, FFmpeg
Dialogic ADPCM (VOX)
ITU standards
711: Sun Microsystems' public domain implementation, FFmpeg (libavcodec)
711.0 (G.711 LLC)
711.1
711.1D
718 (8/12/16/24/32kbit/s)
718B
719
721: Sun Microsystems' public domain implementation
722 (SB-ADPCM; 48/56/64kbit/s): FFmpeg
722B
722.2 (AMR-WB): 3GPP, opencore-amr, FFmpeg
723: Sun Microsystems' public domain implementation
723.1: FFmpeg
726 (ADPCM; 16/24/32/40kbit/s): Sun Microsystems' public domain implementation, FFmpeg
727: Sun Microsystems' public domain implementation
728 (LD-CELP; 16kbit/s)
729 (CS-ACELP; 8kbit/s): FFmpeg
729a
729b
729ab
729d (6.4kbit/s): FFmpeg
729e (11.8kbit/s)
729.1
729.1E
Google
Internet Speech Audio Codec (iSAC): WebRTC
Lyra (codec)
Nellymoser Asao Codec
PictureTel PT716, PT716plus
PictureTel PT724
RTAudio
SVOPC
OpenLPC
ANSI/SCTE
ANSI/SCTE 24-21 2006 (BroadVoice16): BroadVoice Speech Codec Open Source C Code
ANSI/SCTE 24-22 2013 (iLBCv2.0)
ANSI/SCTE 24-23 2007 (BroadVoice32): BroadVoice Speech Codec Open Source C Code
IETF RFCs
Internet Low Bit Rate Codec (iLBC, RFC 3951): WebRTC
IETF Internet Draft
MPEG-4 Audio
Skyphone MPLP
Inmarsat
INMARSAT-M IMBE
Inmarsat Mini-M AMBE
Satin
Microsoft DirectPlay
These codecs are used by many PC games which use voice chats via Microsoft DirectPlay API.
Voxware MetaVoice
Truespeech
Windows Media Player (tssoft32.acm)
FFmpeg
MS GSM
Windows Media Player (msgsm32.acm)
libgsm
FFmpeg
MS-ADPCM
Digital Voice Recorder
International Voice Association (IVA) standards
Digital Speech Standard / Standard Play (DSS-SP): FFmpeg
Digital Speech Standard / Quality Play (DSS-QP)
Sony LPEC
Truespeech Triple Rate CODER (TRC)
Mobile phone
Generation 2
European Telecommunications Standards Institute (ETSI) GSM: Full Rate (libgsm/FFmpeg), Half Rate, Enhanced Full Rate
Telecommunications Industry Association (TIA) IS-95 (a.k.a. cdmaOne): IS-96A (QCELP 8kbit/s), IS-127 (EVRC 8kbit/s), IS-733 (QCELP 13kbit/s)
Telecommunications Industry Association (TIA) IS-54/IS-136 (a.k.a. Digital AMPS): IS-85 (VSELP 8kbit/s), IS-641 (ACELP 7.4kbit/s)
Association of Radio Industries and Businesses (ARIB) RCR STD-27 (PDC): PDC-HR (PSI-CELP 3.45kbit/s), PDC-FR (VSELP 11.2kbit/s), PDC-EFR CS-ACELP 8kbit/s (a.k.a. G.729), PDC-EFR ACELP 6.7kbit/s
Generation 3/4
1) 3rd Generation Partnership Project (3GPP)
Adaptive Multi-Rate (AMR)
AMR-NB: 3GPP, opencore-amr, FFmpeg
AMR-WB: 3GPP, opencore-amr, vo-amrwbenc, FFmpeg
AMR-WB+: 3GPP
Enhanced Voice Services (EVS): 3GPP
2) 3rd Generation Partnership Project 2 (3GPP2)
Enhanced Variable Rate Codec (EVRC, a.k.a. IS-127): FFmpeg
Enhanced Variable Rate Codec B (EVRC-B)
QCELP (Qualcomm Code Excited Linear Prediction): QCELP-8 (FFmpeg), QCELP-13 (FFmpeg)
Selectable Mode Vocoder (SMV)
Variable Multi Rate – WideBand (VMR-WB)
Professional mobile radio
APCO
Project 25 Phase 2 Enhanced Full-Rate (AMBE+2 4400bit/s with 2800bit/s FEC)
Project 25 Phase 2 Half-Rate (AMBE+2 2450bit/s with 1150bit/s FEC) – also used in NXDN and DMR: mbelib
Project 25 Phase 1 Full Rate (IMBE 7200bit/s): mbelib
European Telecommunications Standards Institute (ETSI)
ETS 300 395-2 (TETRA ACELP 4.6kbit/s)
TETRAPOL
D-STAR Digital Voice (AMBE 2400bit/s with 1200bit/s FEC)
Professional Digital Trunking System Industry Association (PDT Alliance) standards
Spirit DSP RALCWI
DSPINI
Codec2
RL-CELP
Military
U.S. Department of Defense (DoD) Federal Standard
FS-1015 (a.k.a. LPC-10): HawkVoice (libHVDI)
FS-1016 (CELP): HawkVoice (libHVDI)
FS-1023 (CVSD 12kbit/s)
United States Military Standard (MIL-STD)
MIL-STD-188 113 (CVSD 16kbit/s and 32kbit/s): SoX (libsox)
MIL-STD-3005 (a.k.a. MELP): Texas Instruments' 2.4 kbit/s MELP Proposed Federal Standard speech coder
NATO
STANAG 4198 (a.k.a. LPC-10e)
STANAG-4591 (a.k.a. MELPe)
BBN NRV
Video games
Bink Audio, Smacker Audio
Actimagine (Nintendo European Research & Development) FastAudio
Nintendo GCADPCM (a.k.a. DSP ADPCM or THP ADPCM)
Sony VAG (a.k.a. Sony PSX ADPCM)
Sony HEVAG
Sony ATRAC9
Microsoft XMA
Xbox ADPCM
CRI ADX ADPCM
CRI HCA/HCA-MX
vgmstream
VGAudio
FFmpeg
libcgss
HCADecoder
FMOD FADPCM
Open-Source Audio Codec Formats List
Among the above numerous audio formats' codecs, some of them are open-source. They are listed below.
FLAC
LAME
TooLAME/TwoLAME
Musepack
Speex
CELT
libopus
libvorbis
iLBC
iSAC
TTA
WavPack
Bonk
Apple Lossless
Fraunhofer FDK AAC
FFmpeg codecs in the libavcodec library
FAAD2
libgsm
opencore-amr
liba52
libdca
Codec2
Videos/Audio/Photos Management Tools Recommended
These applications are completely compatible with Windows 11/10/8.1/8/7.
MiniTool MovieMaker
An easy-to-use video editing software without watermarks and limits. The embedded templates enable you to quickly make personal slideshows and share them with your friends!
MiniTool MovieMakerClick to Download100%Clean & Safe
MiniTool uTube Downloader
Free download YouTube videos, audio, and subtitles without ads or bundles. It can operate multiple tasks simultaneously at a high speed and supports multiple file formats.