Adobe Media Encoder is a powerful tool that allows users to convert and export media files from Adobe applications like Premiere Pro and After Effects. However, sometimes users may face issues with Adobe Media Encoder not connecting to project. This can be frustrating and can cause delays in the workflow.
One of the most common issues is Adobe Media Encoder stuck on connecting to project. This can happen for several reasons, including network connectivity issues, outdated software, or corrupted project files. In this article, we will discuss some common solutions to these issues.
Solution 1. Restart PC
First of all, restart your computer. Sometimes, a simple restart can solve connectivity issues with Adobe software.
Solution 2. Update Adobe Media Encoder
Secondly, if you have the latest version of the software. Adobe frequently releases updates that fix bugs and improve performance. To check for updates, open Adobe Creative Cloud and click on the Updates tab. If an update is available, click Update to download and install it.
Solution 3. Check Network Connectivity
Another reason why you are stuck on Adobe Media Encoder connecting to project is due to network connectivity issues. Check your internet connection and make sure you have a stable connection. If you are using a wireless network, try switching to a wired connection to see if that solves the issue.
If your internet connection is stable, try resetting your router or modem. This can help resolve any network issues that may be preventing Adobe Media Encoder from connecting to your project.
Solution 4. Upgrade Hardware
The reason why Adobe Media Encoder may not be connecting to your project is because of issues with your computer itself. For example, if your computer is running low on memory or processing power, it may not be able to handle the demands of Adobe software. In this case, you may need to upgrade your hardware like GPU or video card.
Solution 5. Check Project Files
If Adobe Media Encoder won't connect to project, there may be an issue with the project files. Sometimes, a corrupted project file can prevent Adobe Media Encoder from connecting to it. To resolve this issue, try opening the project in Adobe After Effects to see if there are any issues with the file. If the file opens without any issues, try exporting it again from After Effects and then import it into Adobe Media Encoder.
Additionally, check your project settings. Make sure that your project settings are set up correctly for export to Adobe Media Encoder. You can check your settings in the export menu in your Adobe software.
Solution 6. Check File Formats
Make sure that your files are compatible with Adobe software. You can check the supported file formats in the Adobe documentation.
Solution 7. Clear Cache
Adobe Media Encoder stores cache files on your computer to improve performance. However, if these cache files become corrupted, it can cause issues with Adobe Media Encoder connecting to your project. To handle this problem, try clearing the cache files. To do this, go to Edit > Preferences > Media and then click on Clean Database & Cache.
Solution 8. Fix After Effects Project Not Opening in Media Encoder
One of the most common reasons why Adobe Media Encoder not connecting to project is because of compatibility issues between Adobe software. For example, if you are using an older version of Adobe After Effects, it may not be compatible with the latest version of Adobe Media Encoder. In this case, you may need to update your software to ensure compatibility.
Use Adobe Media Encoder Alternatives
In addition to the above direct solutions, you can take advantage of an indirect method to make use of one of the Adobe Media Encoder replacements like MiniTool Video Converter, a free and user-friendly video and audio converting program. It enables you to convert media files among 1000+ video and audio types.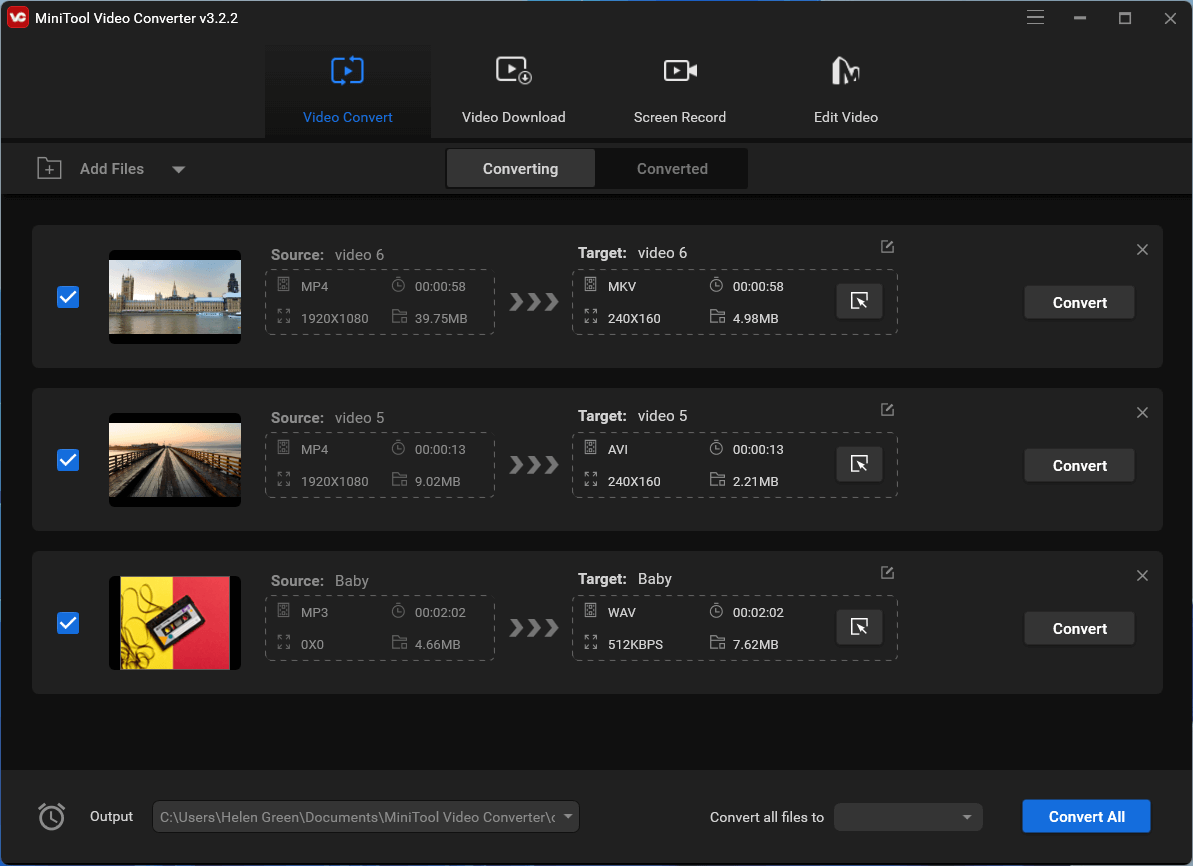 Also, MiniTool Video Converter allows you to customize the video encoder, video bitrate, resolution, frame rate, audio bitrate, audio encoder, channel, and sample rate of the target video. Besides, batch conversion is available. Moreover, MiniTool Video Converter extra offers a feature to record your computer screen.
Most importantly, MiniTool Video Converter is free of charge, with no watermark, no limitation, no adware, and no bundle. Just one-click download to have a try. You will probably find a wonderful tool while losing nothing!
MiniTool Video ConverterClick to Download100%Clean & Safe
Conclusion
Adobe Media Encoder is a powerful tool for converting and exporting media files, but it can sometimes face issues connecting to projects. By following the solutions discussed above, you can resolve the issue of Adobe Media Encoder not connecting to project. Make sure to keep your software updated, check network connectivity, upgrade hardware equipment, check your settings and file formats to ensure compatibility, and clear cache files regularly to ensure smooth performance. The last resort is to resort to an Adobe Media Encoder alternative such as MiniTool Video Converter to help you decode/encode media files.
Videos/Audios/Photos Management Tools Recommended
These applications are completely compatible with Windows 11/10/8.1/8/7.
MiniTool MovieMaker
An easy-to-use and free video editing software without watermarks. The embedded templates enable you to quickly make personal slideshows and share them with your friends!
MiniTool MovieMakerClick to Download100%Clean & Safe
MiniTool uTube Downloader
Free download YouTube videos, audio, and subtitles without ads or bundles. It can operate multiple tasks simultaneously at a high speed and supports multiple file formats.
MiniTool uTube DownloaderClick to Download100%Clean & Safe
You May Also Like