In this article provided by MiniTool video compressor, we will explore the landscape of 4K encoders and decoders and their significance in modern video streaming.
In the fast-paced world of digital media, the demand for high-quality video streaming has never been greater. As consumers increasingly adopt 4K Ultra High Definition (UHD) displays, content creators and broadcasters must keep up with the technological advancements to deliver stunning visuals. This demand has led to the development of a wide range of 4K encoders and decoders, each playing a crucial role in the process of streaming high-resolution content.
What are 4K Encoders and 4K Decoders?
Before diving into the specifics of 4K encoders and decoders, it's essential to understand their basic functions. Encoders are devices or software applications that convert raw video data into a compressed format suitable for transmission or storage. They use various compression algorithms, such as H.264, H.265 (HEVC), and more, to reduce file sizes without compromising image quality significantly.
On the other hand, decoders perform the reverse process. They take compressed video streams and decode them back into a format that can be displayed on screens or other compatible devices.
The Significance of 4K Resolution
4K resolution, also known as 2160p, boasts four times the number of pixels compared to the standard 1080p Full HD resolution. This increase in pixel count translates into a far sharper, clearer, and more detailed image. The rise of 4K UHD televisions and displays has led to a demand for 4K content, pushing content creators and broadcasters to invest in cutting-edge technology.
Types of 4K Encoders and 4K Decoders
The following are various types of 4K encoders/decoders.
#1 4K Live Streaming Encoder
This type of encoder is designed specifically for real-time streaming applications. It enables content creators to deliver live events, sports, conferences, and other time-sensitive content in stunning 4K quality over the internet.
#2 4K IP Streaming Encoder
Utilizing Internet Protocol (IP) technology, this encoder allows the transmission of 4K video content over IP networks, making it possible to reach a broader audience with minimal infrastructure requirements.
#3 4K HDMI Encoder
The HDMI interface is widely used in consumer electronics, and a 4K HDMI encoder allows seamless integration of 4K content from various HDMI sources into professional video workflows.
#4 4K HEVC Encoder
High-Efficiency Video Coding (HEVC), also known as H.265, is a highly efficient compression standard. A 4K HEVC encoder can compress 4K video files more efficiently, reducing bandwidth requirements and storage costs.
#5 4K Video Streaming Encoder
This encoder is tailored for on-demand streaming services, allowing content providers to deliver pre-recorded 4K video content to users with minimal latency.
#6 4K SRT Encoder
Secure Reliable Transport (SRT) is a protocol designed for transmitting high-quality video over unpredictable networks. A 4K SRT encoder ensures that the 4K content reaches the destination with minimal packet loss and jitter.
Notable Products in the 4K Encoder and 4K Decoder Space
Below are some common devices that adopt 4K technology.
# BirdDog 4K Quad NDI Encoder/Decoder
This versatile device supports both encoding and decoding of 4K video via NDI (Network Device Interface), enabling ultra-low latency and high-quality video streaming over standard Gigabit Ethernet networks.
# Maevex 6125 Quad 4K Encoder
Ideal for high-density applications, this encoder can simultaneously encode up to four 4K streams, making it suitable for large-scale video distribution and digital signage networks.
# Compact H.265 4K Video Encoder Board
Designed for integration into existing systems, this compact board enables efficient 4K video encoding in space-constrained environments.
# BirdDog 4K 12G-SDI NDI Encoder/Decoder
Supporting 12G-SDI connectivity, this device provides a robust solution for 4K video transmission over SDI networks using the NDI protocol.
Recommended 4K Encoder Software – MiniTool Video Converter
Many video encoders can not only compress raw video files, but also decompress videos, such as MiniTool Video Converter, a combination of encoder and decoder. It is a professional and reliable video and audio conversion program that enables you to convert a video or audio file from one format to another. You can specify the encoder, frame rate, bitrate, and resolution of the target video as well as customize the encoder, channel, sample rate, and bitrate of the target audio.
The following is a quick guide on how to use MiniTool Video Converter to encode a video to 4K.
MiniTool Video ConverterClick to Download100%Clean & Safe
1. Download, install, and open MiniTool Video Converter on your Windows PC.
2. In the default Video Convert tab, add or drag the target video to the center of the window to create a conversion task.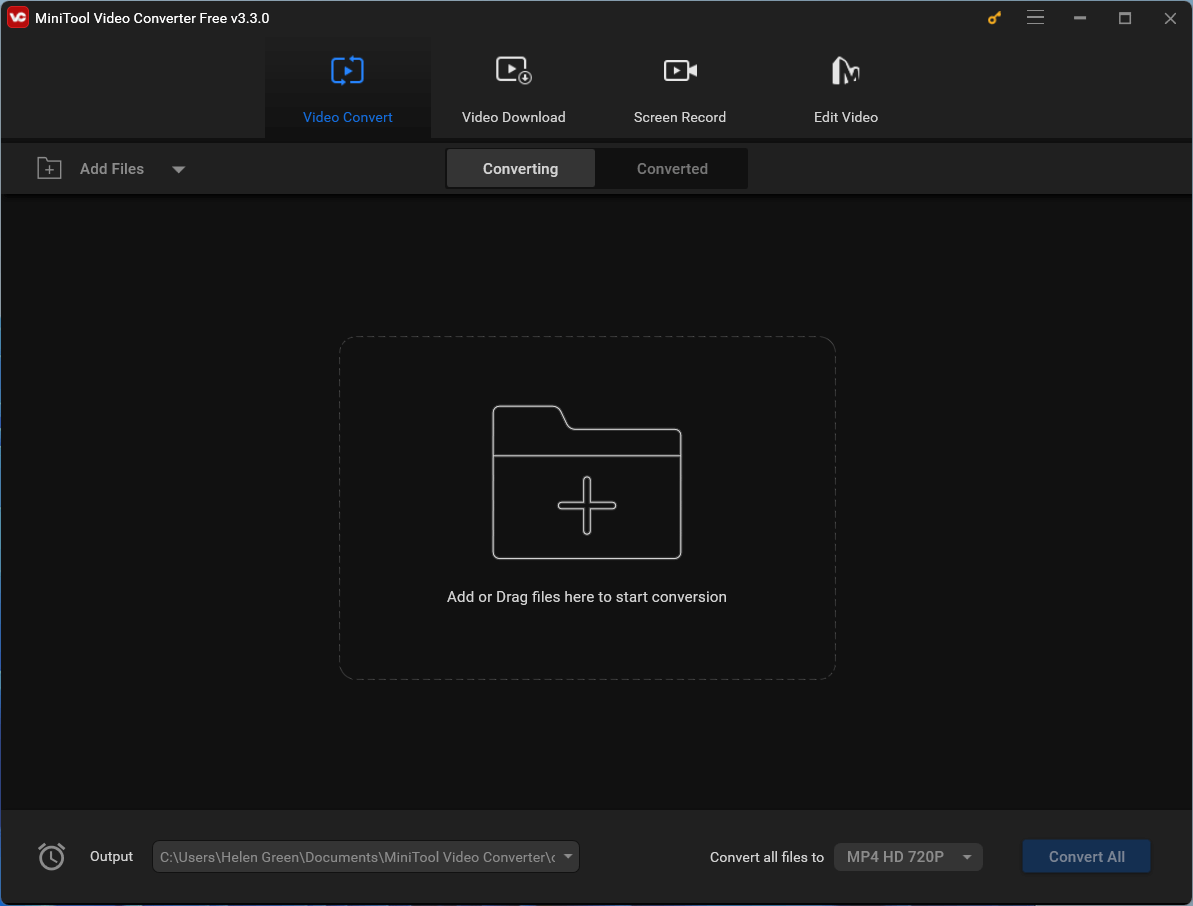 3. On the created video conversion task, click the settings icon in the Target section to personalize the target video.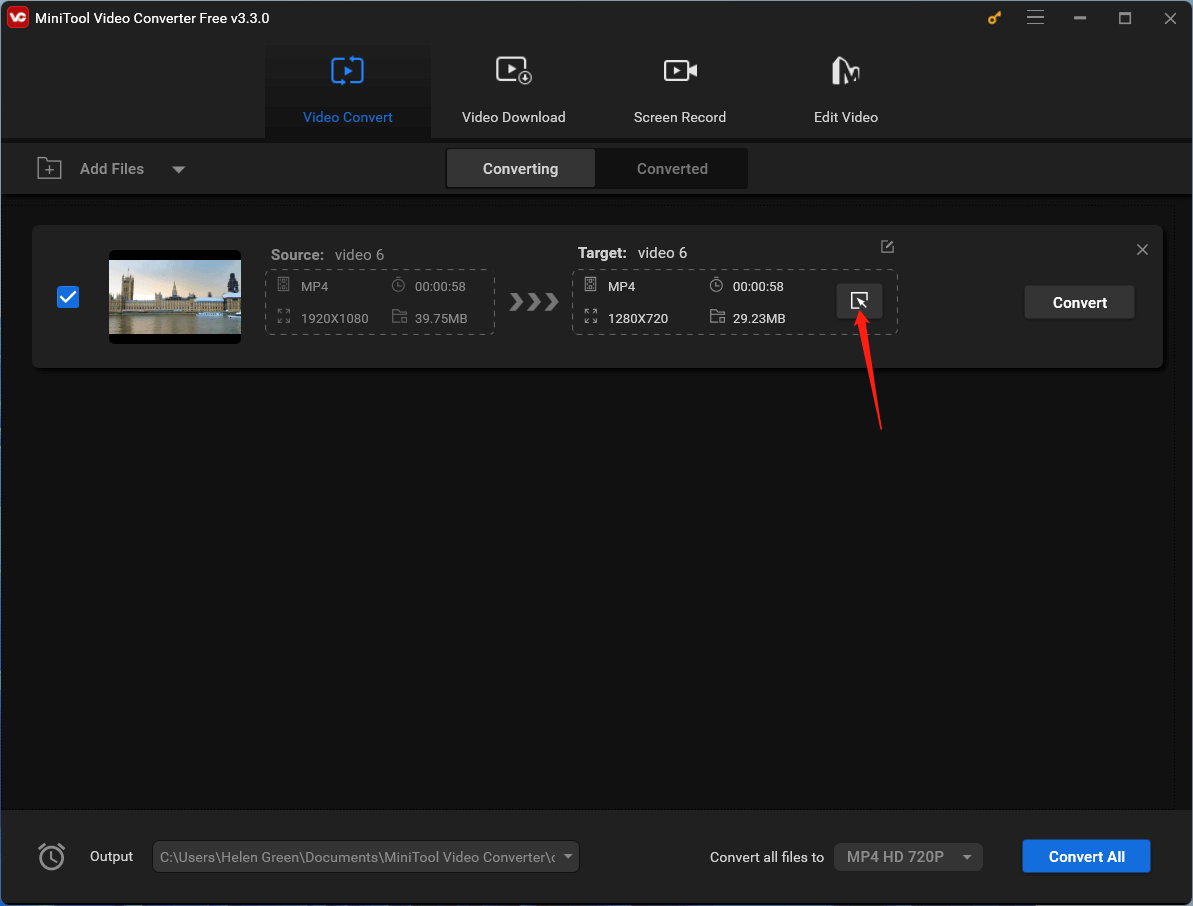 4. In the new popup, switch to the Video tab in the top menu, select MP4, MOV, or MKV, and choose the corresponding 4K Video option. Then, click the settings icon for the 4K Video option.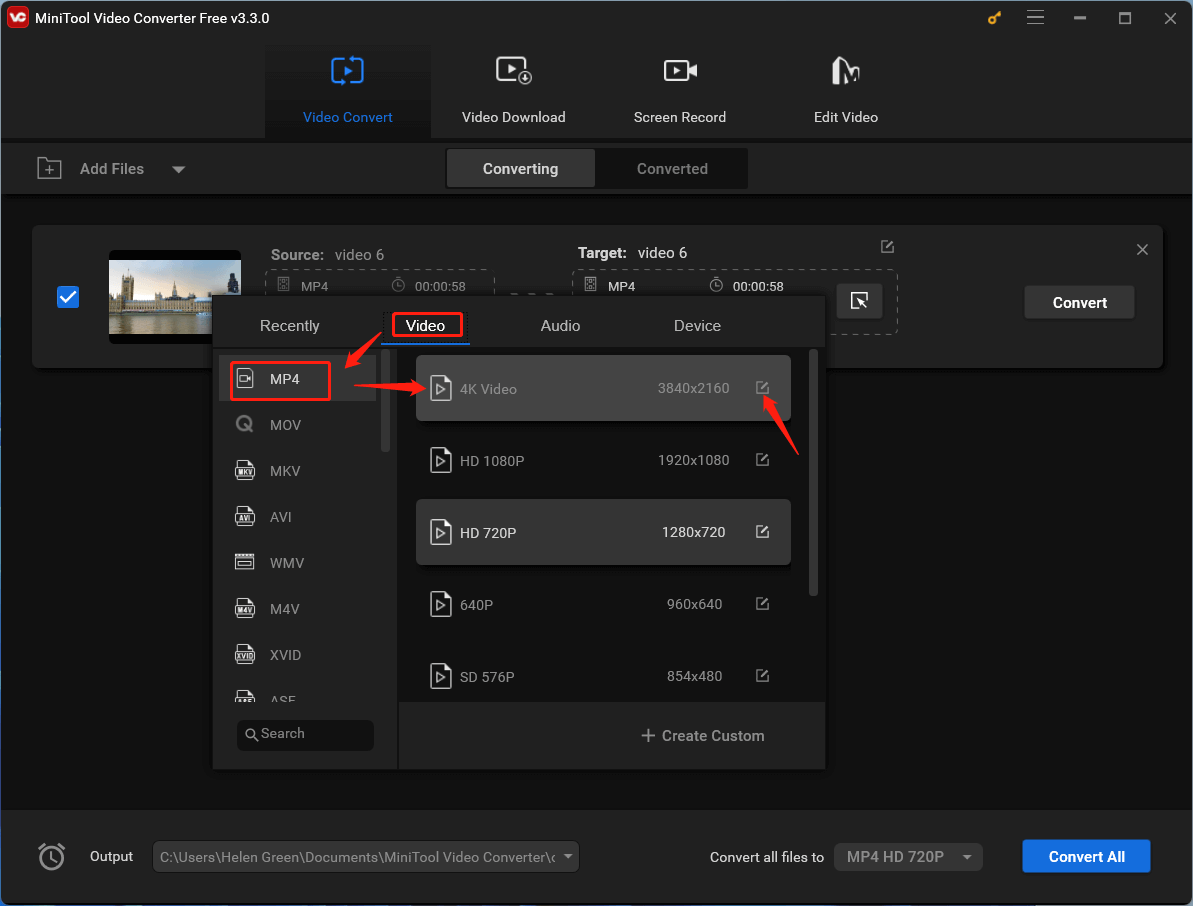 Tips:
In MiniTool Video Converter, only MP4, MOV, and MKV support 4K video encoder.
5. In the next window, specify the video parameters as you like. If your video has an embedded audio, you can further determine the audio specs. Don't forget to click the Create button to save the changes.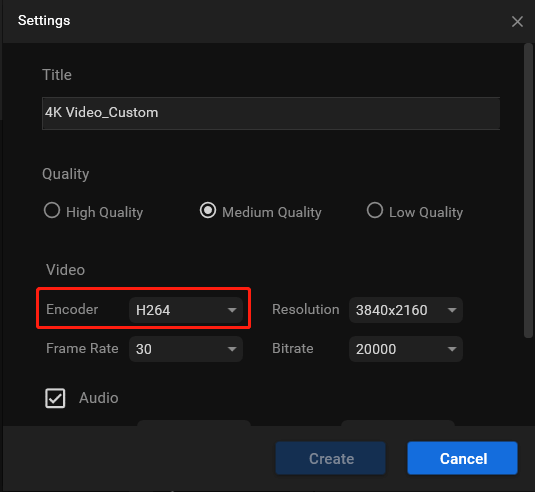 6. Choose the customized video format and click the Convert button to start the process.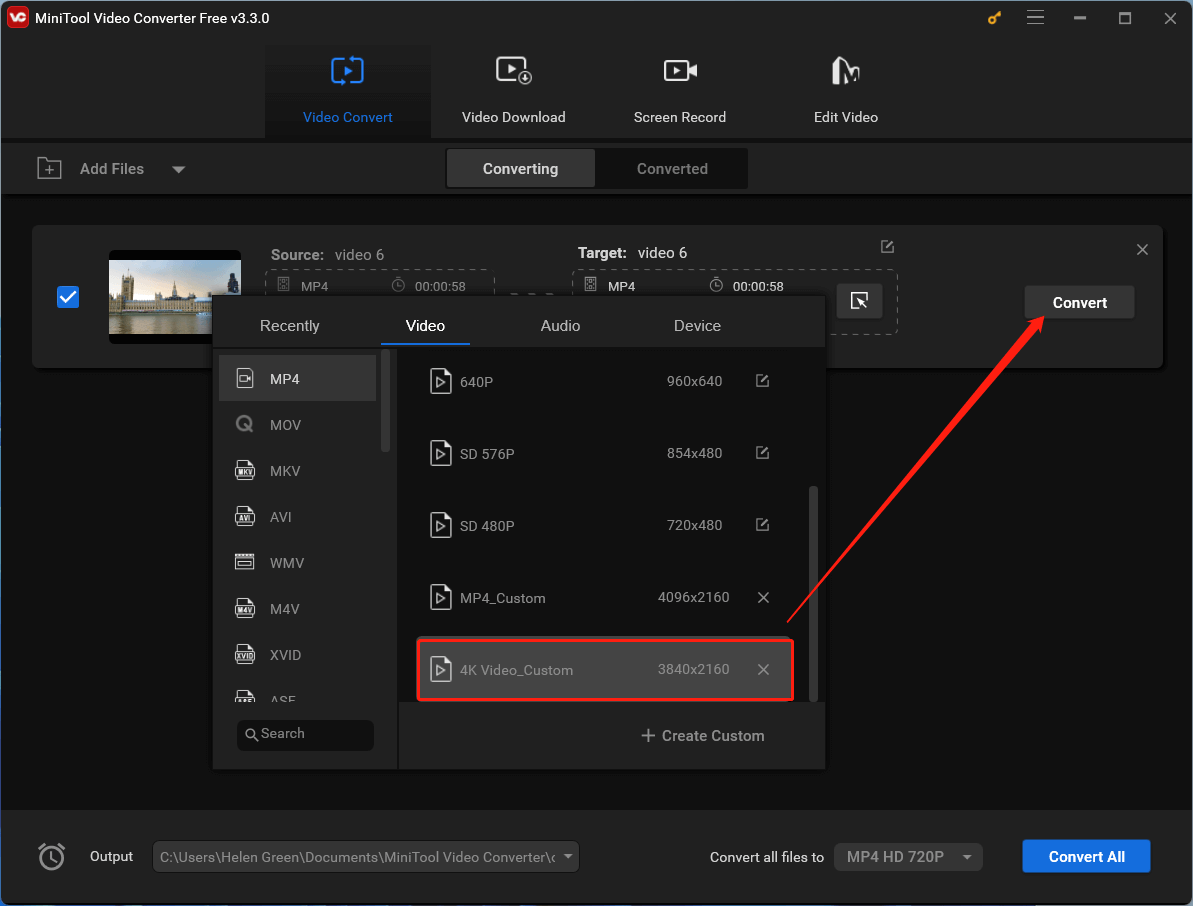 Wait until the conversion finishes.
The Future of 4K Streaming
As technology continues to advance, the world of 4K video streaming will undoubtedly see further innovation. With the potential for 8K resolution on the horizon, the demand for even more efficient encoders and decoders will increase. Moreover, improvements in video compression algorithms and network infrastructure will make 4K streaming more accessible to a broader audience.
Conclusion
4K encoders and decoders have revolutionized the video streaming landscape, enabling content creators, broadcasters, and businesses to deliver immersive, high-quality visuals to their audiences. As technology progresses, we can expect these devices to play an increasingly vital role in the media industry, shaping the future of video content delivery.
Also Read