What Is 4K Video Recording?
To learn the meaning of 4k recording, first of all, you need to know the definition of 4k.
What's 4K?
Literally, 4k means 4,000. Usually, 4k refers to the resolution of a video or image whose pixel of width is approximately 4 thousand.
Instead of the standard definition television in the last days, nowadays, digital TV shows, online streaming videos, as well as Blu-Ray discs are usually HD (High-Definition) or Full HD. Those HD videos are smooth and clear. They look good even on large TV screens.
However, the 1080p HD footage is only 1920 pixels. The 4K is more detailed since it has twice as many pixels horizontally and four times as many pixels in total. So, it is also known as Ultra High Definition (UHD).
4K is going to become the new benchmark for both video recording and video watching for the many advantages it has over the lower resolutions.
Also read: 4K vs 8K Resolution: What Are the Differences? (Especially on TV)
Why Do 4K Videos Matter?
Nowadays, people may not require 4K while watching something. Yet, they are going to be referring to the video development in history, just like you can't accept standard definition footage today since almost all videos are HD. In the near future, 4K videos will be the mainstream and 1080p clips will see crunchy and mushy.
The advantages of 4K videos:
Better appearance: clearer and smoother.
Able to crop in tight: crop by 4x and still maintain full HD resolution.
Zoom in/out or pan videos while maintaining HD resolution.
Extract an ~8MP image from a 4k video to create a nice print or ad in a magazine.
4k resolution will provide enough pixels to stabilize your video with non-linger video editors like Adobe Premiere Pro and Apple Final Cut Pro X.
4K resolution is more friendly to green screen shooting and makes the chroma key better.
Many current cameras allow you to extract frames from video in playback mode. Some enable you to hit the shutter button during recording to mark out which frames you want to capture. And, some Panasonic cameras move a few steps further with a dedicated 4K Photo mode, which permits you to shoot footage in more conventional aspect ratios instead of being tied to the panoramic format.
Of course, you can extract wonderful photos from 4k videos shot by any camcorder. However, if you are shooting videos with the explicit intent of getting stills, your photographs will be more excellent.
In general, 4K video recording is to record a video at 4k resolution. The recording can be at various frame rates, 25fps, 30fps, or 60fps.
Cameras/Devices for 4K Video Recording
The following is a list of devices, including cameras and smartphones, that can shoot videos at 4K resolution. Since digital video authoring systems could be considered re-recording systems, they are also on the list.
1. Professional Cameras
Astrodesign AH-4413
AXIOM
Blackmagic: Pocket Cinema Camera 4K/6K, URSA, Micro Studio Camera 4K, PRODUCTION Camera 4K
Canon EOS C500
Dalsa Origin
Panasonic: HC-X1000, HC-X1500, HC-X2000, DVX-200
RED: EPIC, Scarlet-X, ONE
Sony: F65, F5, F55, VENICE, Handycam FDR-AX
Vision Research Phantom Flex 4K
2. DSLRs & Mirrorless Cameras
Blackmagic Pocket Cinema Camera 4K/6K
Canon: EOS-1D C DSLR, EOS-1D X Mark II, EOS-1D X Mark III, EOS 5D Mark IV, EOS M50, EOS 200D II, EOS 90D, EOS M6 Mark II, EOS R, EOS RP, EOS R5, EOS R6, EOS R7
Fujifilm: X-A7, X-E3, X-H1, X-T100, X-T2, X-T3, X-T4, X-T20, X-T30
Leica: CL, SL (Type 601), TL2
Nikon: D5, D500, D7500, D850, 1 J5
Panasonic Lumix: DMC-G7, DMC-G85/G-80, DC-G9, DMC-GH4, DC-GH5, DC-GH5S, DMC-GX8, DMC-GX85/GX80, DC-S1, DC-S5
Samsung: NX1, NX500
Sony: α6100, α6300, α6400, α6500, α6600, α7 III, α7R II, α7R III, α7S, α7S II, α9, α99 II
3. Consumer Cameras
Canon XC10
Sony Handycam: FDR-AX100, FDR-AXP33, FDR-AX53, FDR-AXP53
Panasonic: HC-WX970, HC-VX870, HC-VXF990, HC-VX980, HC-VX1
Panasonic Lumix: DCM-FZ300, DCM-FZ1000, DCM-LX100
Nikon Coolpix: A900, B700, P1000
Sony: DSC-RX10 II, DSC-RX100 IV
Related article: Top 6 Best 4k Video Cameras Recommended
4. Mobile Devices
Panasonic Lumix DCM-CM1
Acer Liquid S2
Samsung Galaxy: Note 3, S5, Alpha, Note 4, Note Edge, S6, S6 Edge, S6 Edge+, Note 5, S7, S7 Edge, Note 7, Note Fan Edition, S8, S8+, S9, S9+, S10e, S10, S10+, S10 5G, S10 Lite, S20, S20+, S20 Ultra, S20 5G, S20+ 5G, S20 Ultra 5G, Note 8, Note 9, Note 10, Note 10+, Note 10 5G, Note 10+ 5G, Note 20, Note 20 Ultra, Note 20 5G, Note 20 Ultra 5G, A8 Star, A9, A70, A80, A90 5G, A51, A71, M51, M31, M21, F41, A52, A72, F62, M62, M42 5G
Apple iPhone: 6S/6S Plus, SE, 7/7 Plus, 8/8 Plus, X, XS, XS Max, XR, 11, 11 Pro, 11 Pro Max, 12, 12 Mini, 12 Pro, 12 Pro Max
Asus: Zenfone 5Z, 6, 7 and later; ROG Phone II, ROG Phone III
Google Nexus: 6, 6P, 5X
Google Pixel: XL, 2, 2XL, 3, 3XL, 3a, 3a XL, 4, 4XL
LG: G3, G4, G5, G6, G7 ThinQ, G8 ThinQ, G8X ThinQ, G8S ThinQ, G Flex, G Flex 2, G Pro 2, V10, V20, V30, V35, V40, V50, V60, Velvet.
Nokia Lumia: 930, Icon, 1520
Microsoft Lumia: 950, 950 XL
Motorola: Moto X, Moto X Style, Droid Turbo, Nexus 6
OnePlus: One, 2, 3, 3T, 5, 5T, 6, 6T, 7, 7 Pro, 7T, 7T Pro, 9 Pro and later
Oppo Find 7/7a
Sony Xperia: Z Ultra, Z1, Z1 Compact, Z2, A2, J1 Compact, ZL2, Z2a, Z3, Z3 Compact, Z4, Z4 Compact, A4, Z5, Z5 Premium, Z5 Compact, M5, XZ, XZ Dual, XZs, XZ Premium, XZ1, XZ1 Compact, XZ2, XZ2 Premium, XZ3, XZ2 Compact, 1, 5, 1 II and later, 5 II and later
Xiaomi Mi: 3, 4, 5, 5s, 6,8, 9, 9T, 9T Pro, 10, 10T, 10T Pro, 10 5G, A1, A2, A3,
Xiaomi Redmi Note: 3, 4, 5, 6, 7, 8, 9, 9 Pro, 10 Pro
Xiaomi Redmi K30 Pro
Xiaomi Poco: X3 NFC, F1, F2 Pro
Huawei: P10, P10 Plus, P20, P20 Pro, P40 series and later; Mate 9, Mate 9 Pro, Mate 9 Porsche Design edition, Mate 10, Mate 10 Pro, Mate 10 Porsche Design edition, Mate 30 series and later; Mate Xs and later; V30 series, Honor 30 Pro/Pro+; Nova 3
5. Wearable Cameras
GoPro: HERO3 Black Edition, HERO4, HERO5, HERO6, HERO7
Nikon KeyMission 170
Sony actioncam FDR-X3000R
Requirements for 4K Video Recording
To conduct 4k video recording, you need to upgrade parts of or all of your production pipeline including but not limited to memory cards, hard disk drives, displays, computers, and maybe even lenses. The following will teach you how to prepare for recording 4k footage.
1. More File Storage
4K videos occupy much more storage space than HD and Full HD clips, up to 4 times more in fact. On some prosumer 4k-capable video cameras, a single minute of 4k video can reach more than 1 gigabyte. In order to store all that data, you need a large hard drive capacity.
Editing those 4K videos needs further storage. You will need no less than a 7200rpm conventional hard drive on a USB 3.0 or faster connection and as much storage as you can offer. SSDs are better but they cost more money.
2. Faster Memory Card
You need a faster memory card that is able to perform a write speed at 30MB/s, which is corresponding to the U3 rating on SD cards. That should permit recording at quality settings up to about 200mbps. Such a fast memory card will cost you some coins.
SD card for 4k video recording
SanDisk Extreme Pro SDXC UHS-I
Lexar Professional Class 10 UHS-II 2000X
SanDisk Extreme PRO SD UHS-II
Lexar Professional 663x SDHC/SDXC UHS-I Card
PNY 128GB Class 10 U3 SDXC Memory Card
ProGrade SD UHS-II 64GB Card
Gigastone 128GB SD Card
Sony Professional XQD G series 120GB Memory Card (CFAST CARD)
…
3. Larger Display
It is recommended that you replace your old small monitor with a new larger one. You'd better choose a monitor with an IPS tag, whose displays are superior when it comes to color accuracy at different viewing angles.
4. Maybe a New Computer
In addition to more hard disk space and faster RAM, you may also need a new PC that can provide more processing power to handle the editing of 4k videos. Besides, the new machine should offer better performance with faster processing speed (high-end quad-core), better graphics card (NVIDIA 600-series or higher or AMD R5-series or higher), more RAM (15GB+), as well as better storage disks (1TB+ 7200rpm or large SSD).
5. 4K Video Editing Software
In addition to the hardware equipment, you also need to prepare some software applications to help you manage and edit 4K videos like Adobe Premiere Pro and Apple Final Cut Pro X. For different 4k video formats shot by different cameras, the 4k video editing software interacts with them in different ways. Just make a comparison and right choice.
If you want to edit a 4k video and export it with a lower resolution to adapt your old display or save your storage space, especially when you need to share it to social media whose platforms have size limits, you can take advantage of MiniTool MovieMaker, a professional and easy-to-use video editing program that can quickly add the effects you want and shrink your 4k footages.
MiniTool MovieMakerClick to Download100%Clean & Safe
4K or Lower Resolution for Video Recording?
Yes, 4K videos will give you a better viewing experience and it is the future trend. Yet, you need to pay much not only as a 4k video creator but also as a watcher. In addition to the above-mentioned requirements for creating 4k footage, you will provide more to further process them.
For example, if you'd like to share a 4k clip on social media or directly to your friends, you need a good network condition and a large bandwidth to upload/download the videos. Usually, every social platform has its own regulations and they will limit your video size and even resolution to ensure their online servers can hold so many videos uploaded to them.
Generally speaking, currently, 4K videos are less used than comparatively lower-resolution videos such as 1080p, which is the most popular one. So, in most cases, you only need to record your videos at 1080p or even lower at 720p.
Under such circumstances, MiniTool Video Converter is recommended to complete your task. It is an easy and powerful video recording software that also enables you to convert a video from one format to another.
The following is a brief guide to record a video at a high quality.
MiniTool Video ConverterClick to Download100%Clean & Safe
Step 1. Download, install, and launch MiniTool Video Converter on your PC.
Step 2. In its main interface, go to the Screen Record tab.
Step 3. There, select Click to record screen.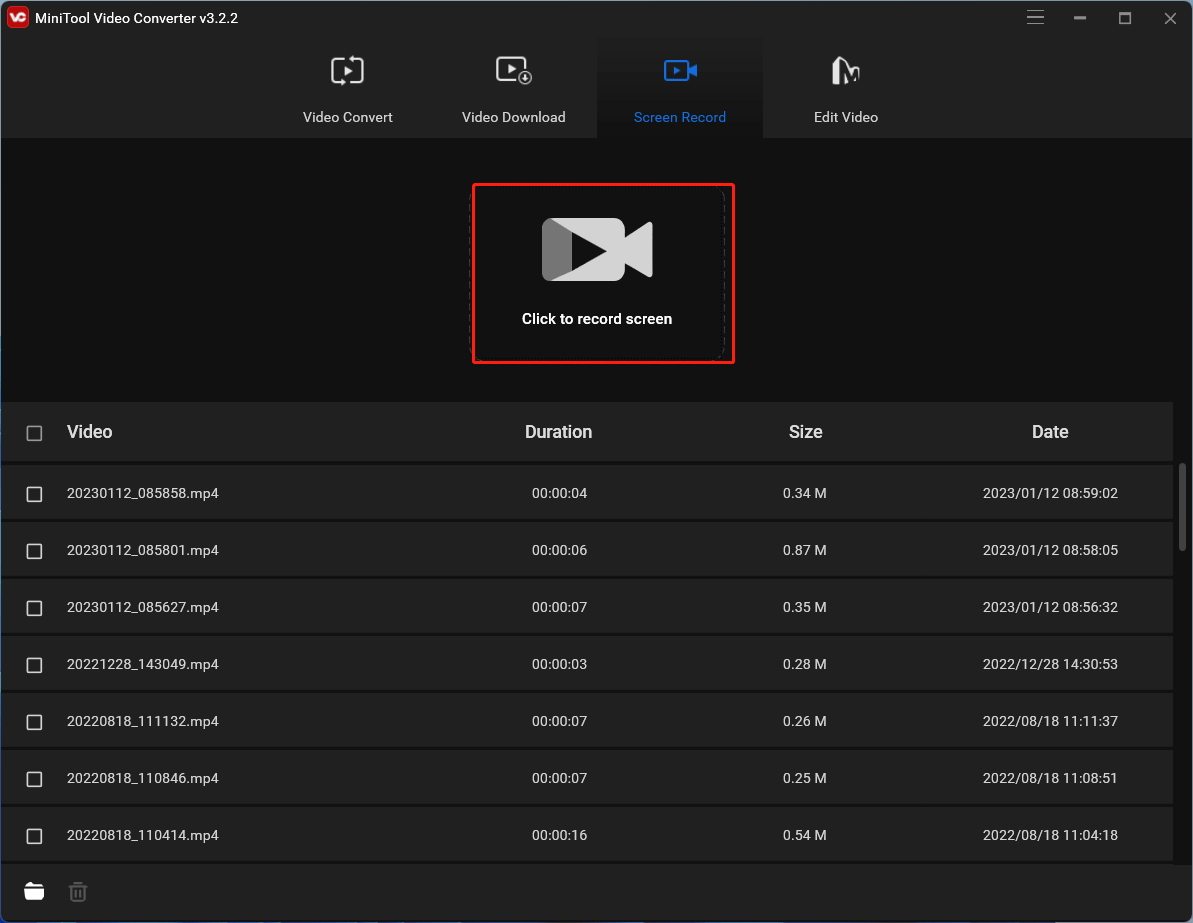 Step 4. In the new popup, specify the recording area, recording sound, and other settings (by clicking the gear icon in the upper right).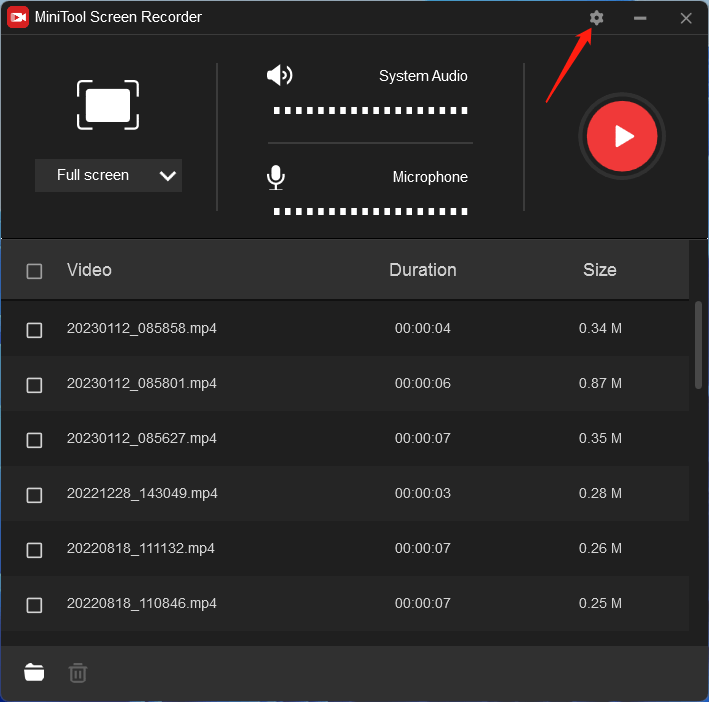 Step 5. In the next window, further define the format, frame rate, codec, quality, mouse type, etc. of the recording. Especially, you can choose the recording video's quality. Then, click OK to save the settings.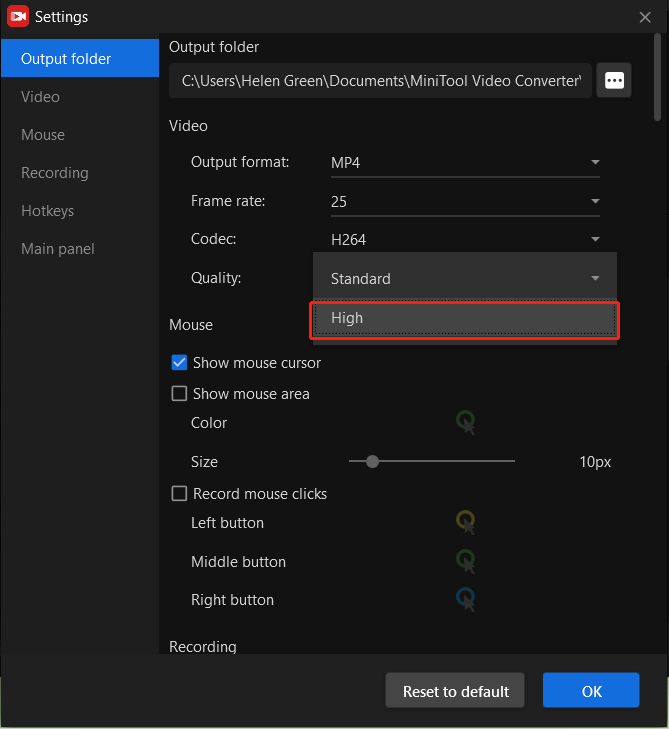 Step 6. You will be directed back to the MiniTool Screen Recorder window. There, click the red icon to start recording.
Step 7. Press F6 to stop the recording.
After recording, find your video and edit it as you like before publishing it.
Convert 4K Videos to Lower Resolution
Besides, you can make use of MiniTool Video Converter to change the resolution of your video from 4k to a lower one.
1. Open MiniTool Video Converter to enter its default Video Convert tab.
2. Use the Add or Drag files here to start conversion option to add your 4K video.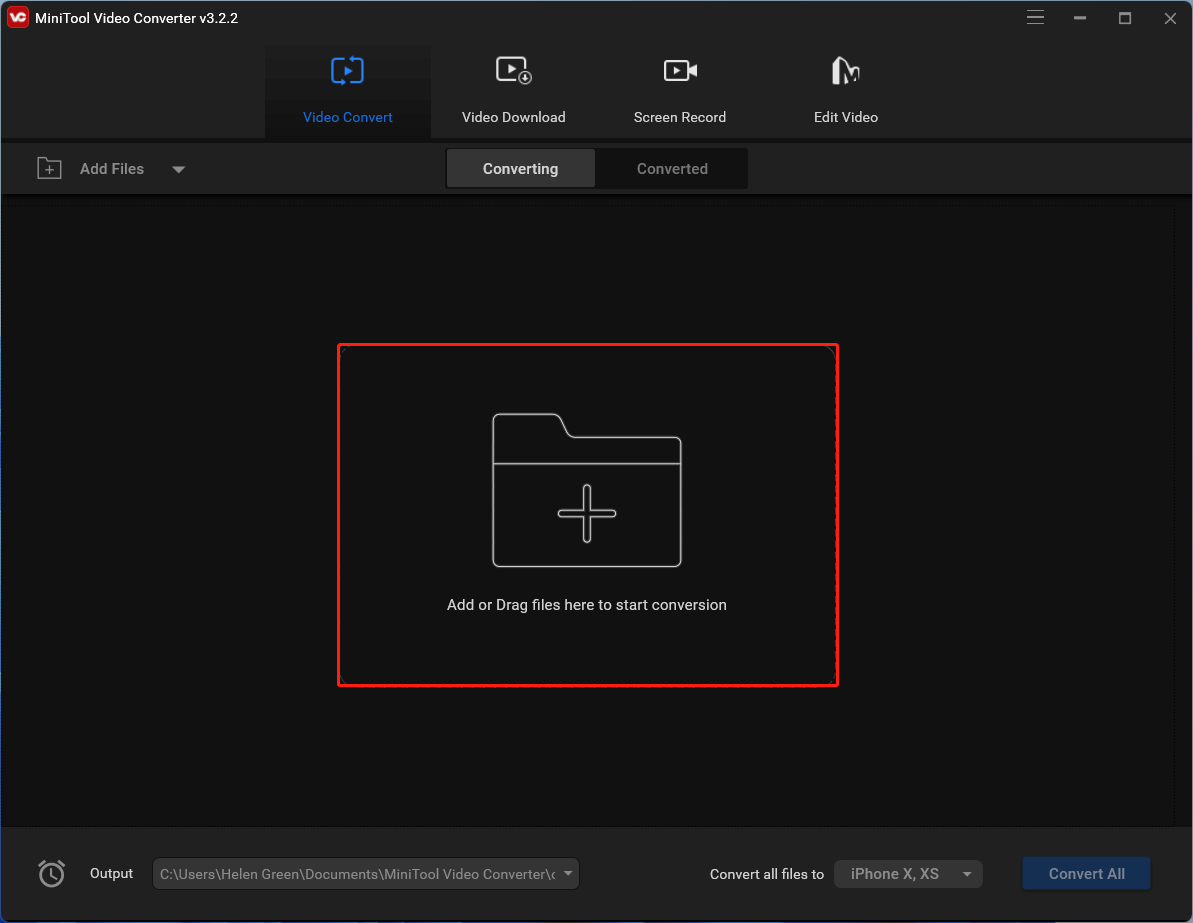 3. Then, click the settings icon in the Target section to trigger the target video format settings window. There, move to the Video tab and select a video format you prefer or just keep the original format. In the right section, pick up a video quality such as HD 1080P (1920X1080).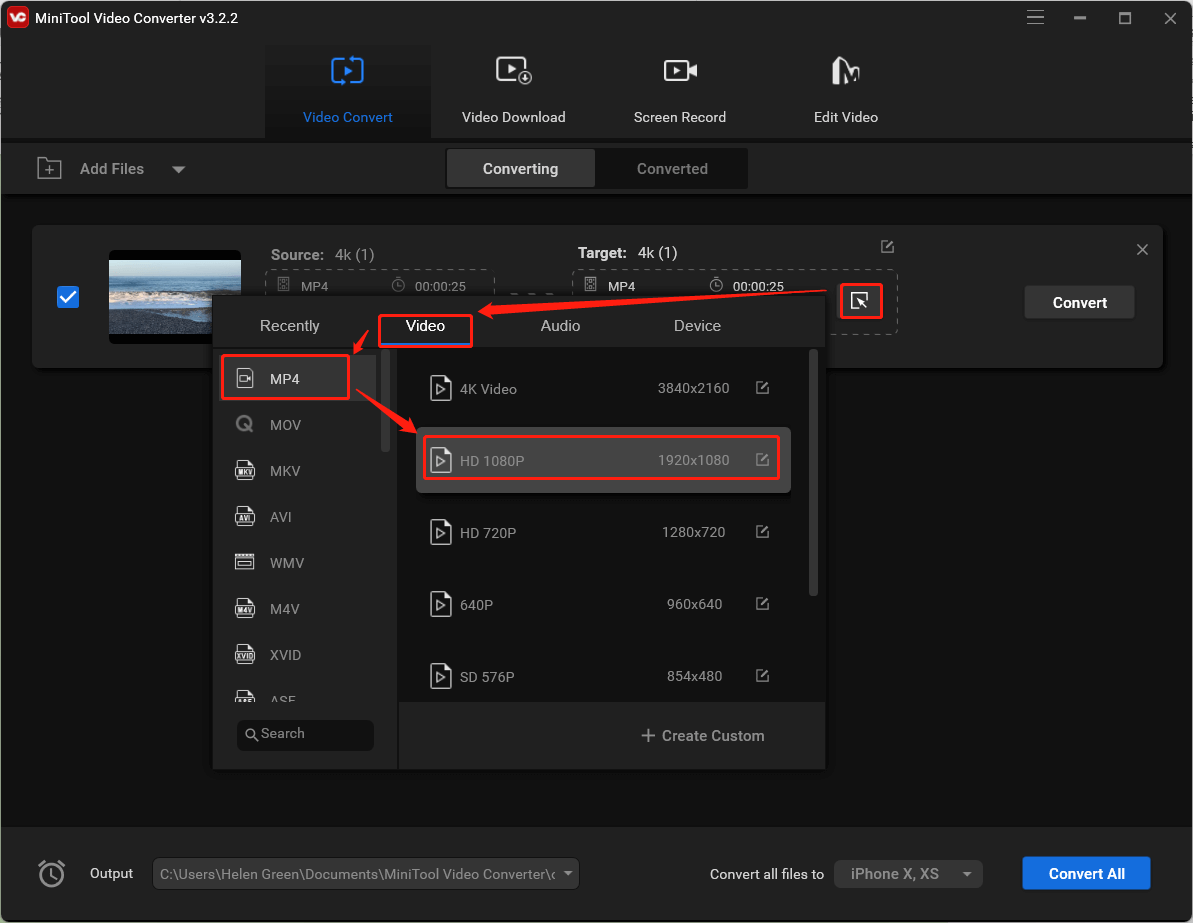 4. Finally, click the Convert button to convert your 4k video to the desired resolution.
As mentioned before, you can rely on the video editing app MiniTool MovieMaker to help you reduce the resolution of your 4k videos.
To Warp Things Up
4K video recording is becoming more and more popular among photographers. They want to shoot more distinct videos for viewers. However, most audience's hardware equipment can only display lower-resolution videos. So, 4K videos seem unvain for them. Thus, currently, 4K footage hasn't become mainstream and we should still pay more attention to lower-resolution videos.