H.264 vs H.265, which is better? AVC (H.264/MPEG-4 AVC) was launched in 2003, while HEVC (H.265/MPEG-H) was launched in 2013. Both are international standards for video compression. However, H.265 is the successor to H.264, which is particularly important for video in 4K and higher resolutions.
What are H.264 and H.265? What is the difference between H.264 and H.265? H.264 vs H.265, which is better? Let's find out the answers to these questions. Looking for a video format converter, MiniTool Video Converter is recommended here.
What Is H.264
H.264, also called AVC (Advanced Video Coding), is a video compression standard based on block-oriented, motion-compensated integer-DCT coding that allows for the recording, compression, and distribution of digital video content.
H.264 is the successor to MPEG-2 Part and the H.264 algorithm can better reduce the bit rate. H.264 is best known as being the most commonly used video encoding format on Blu-ray Discs and it is widely used by streaming internet sources.
What Is H.265
H.265, also known as HEVC (High Efficiency Video Coding) and MPEG-H Part 2, is a video compression standard designed for the latest generation of high-resolution video. It is the successor to the widely used H.264 codec and has made some major improvements over that now-aging compression scheme.
Compared with AVC, HEVC can provide 25% to 50% better data compression under the same video quality level, or can significantly improve video quality under the same bit rate. It supports resolutions up to 8192×4320, including 8K UHD. With H.265, you can stream in 4K without relying on physical storage sources such as Blu-ray discs.
Related article: 5 Best HEVC Players
H.264 vs H.265, Which Is Better
H.265 is much better than H.264 because it offers some major improvements over the H.264 codec as follows.
File Size: H.265 encodes the same information with lower bitrates but the same video quality when compared to H.264, which means H.265 delivers a significantly better visual quality when compressed to the same file size or bitrate. 
Compression Ratio: The compression rate of H.265 is almost twice that of H.264. With H.265, videos with the same visual quality take up only half of the space.
Macroblock: H.264 can recognize macroblocks with a maximum size of 16 x 16 pixels, while H.265 can use macroblocks with a maximum size of 64 x 64 pixels, which can improve coding efficiency at all resolutions.
Intraframe Prediction: The intra-frame prediction function of H.265 is more detailed than that of H.264. H.264 only allows for nine directions of motion, while H.265 can allow for 33 directions of motion.
Bandwidth Utilization: Compared with the H.264 codec, H.265 requires much less bandwidth. H.264 requires 32 Mbps internet speed to play 4K video, while HEVC only needs 15 Mbps to easily accomplish the same task.
Best Video Format Converter – MiniTool Video Converter
If you are looking for a free and simple-to-use video converter to change the video format, MiniTool Video Converter may suit you. It is by far the best video converter, which supports 1000+ conversions between popular video and audio formats.
The software provides fast conversion speed, various format support, optional output quality, user-defined video outputs as well as batch processing. With it, you can easily make almost all video files compatible with your devices without quality loss.
MiniTool Video ConverterClick to Download100%Clean & Safe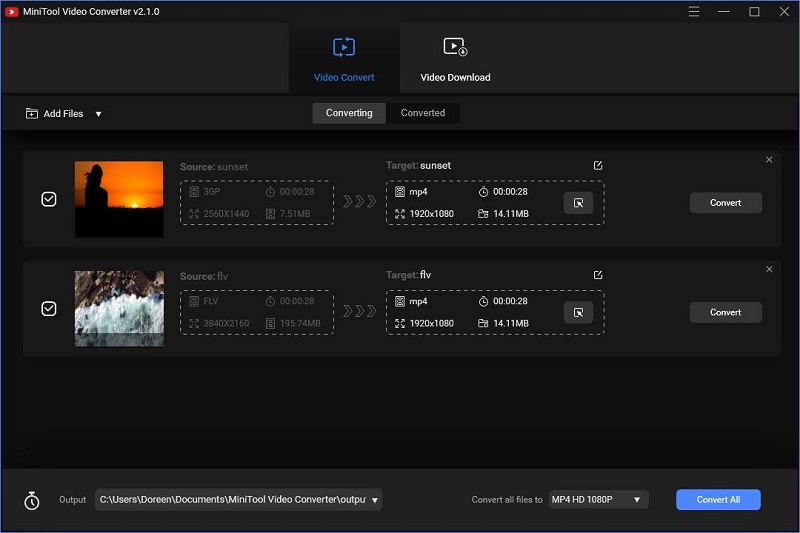 Bottom Line
Have you figured out the differences between H.264 and H.265 after reading this post? If you have any questions or suggestions about it, please let us know via [email protected] or share them in the comments section below.