To learn video encoder, just get to know what is video codec.
What is a video codec? A video codec is a kind of software or hardware that compress and decompresses digital video. In the context of video compression, "codec" is a portmanteau of encoder and decoder.
What Is A Video Encoder?
A video encoder refers to a device, either software or hardware, that (only) compresses digital videos, whereas a device that (only) decompresses a video is called a video decoder.
Usually, the compressed data format conforms to a standard video coding format. The compression is often lossy. That is to say, the compressed videos lack some information present in the original videos. As a result, decompressed videos have lower quality than the source ones for there is insufficient info to accurately reconstruct the original videos.
There are complicated relationships between the video quality, the amount of data used to represent the video (bitrate), the complexity of the encoding and decoding algorithms, sensitivity to data losses and errors, ease of editing, random access, as well as an end-to-end delay (latency).
The Applications of Video Codecs
Video codecs are applied in DVD players, Internet video, video on demand (VoD), videotelephony, digital cable (HDMI), digital terrestrial television, as well as various other apps. Especially, video codecs are widely used in programs that record or transfer videos, which may not be feasible with the high data volumes and bandwidths of uncompressed video.
Any video file or stream can be encoded with a wide variety of live video formats. Some video encoder H.264 settings need to be set when streaming to an HTML5 video player.
Common Video Codec Format
Many video compression formats can be implemented on personal computers (PCs) and in consumer electronics devices. Thus, multiple codecs are available in the same equipment, reducing the need to select a single major video compression format to achieve interoperability.
Standard video compression formats can be applied to multiple video encoders and decoders from multiple sources. For example, video encoded with a standard MPEG-4 Part 2 codec like Xvid can be decoded by any other standard MPEG-4 Part 2 decoder like DivX Pro Codec or FFmpeg MPEG-4 for they all adopt the same video format.
Codec Packs
Since online video data is encoded by various codecs, codec packs come into being. It is a pre-assembled set of usually used codecs combined with an installer available as a software package for PCs. Some popular codec packs are the K-Lite codec pack and Perian and Combined Community codec pack.
How to Change Video Encoder Format?
If you get a video but your current media player can't play it for the video codec not supported by the player, you need to convert the video encoder to the supported type of your video player. Thus, you need a video codec converter such as MiniTool Video Converter, a free video and audio format converting program.
MiniTool Video ConverterClick to Download100%Clean & Safe
1. Download, install, and launch MiniTool Video Converter on your Windows computer.
2. By default, you will enter the Converting subtab under the Video Convert tab. There, click the big + icon in the center of the screen to add your video.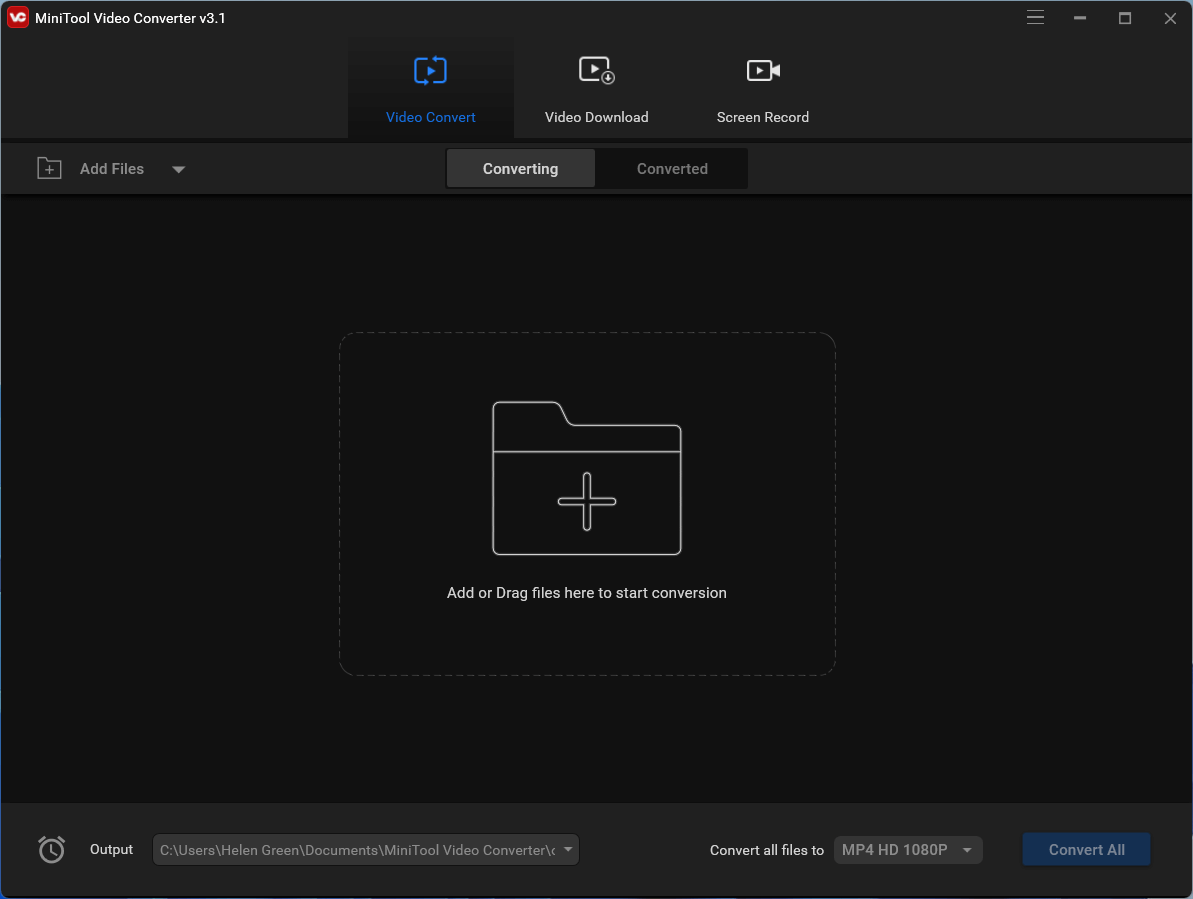 3. Click on the setting icon (an arrow pointing into a square) within the Target section to trigger the output format settings window.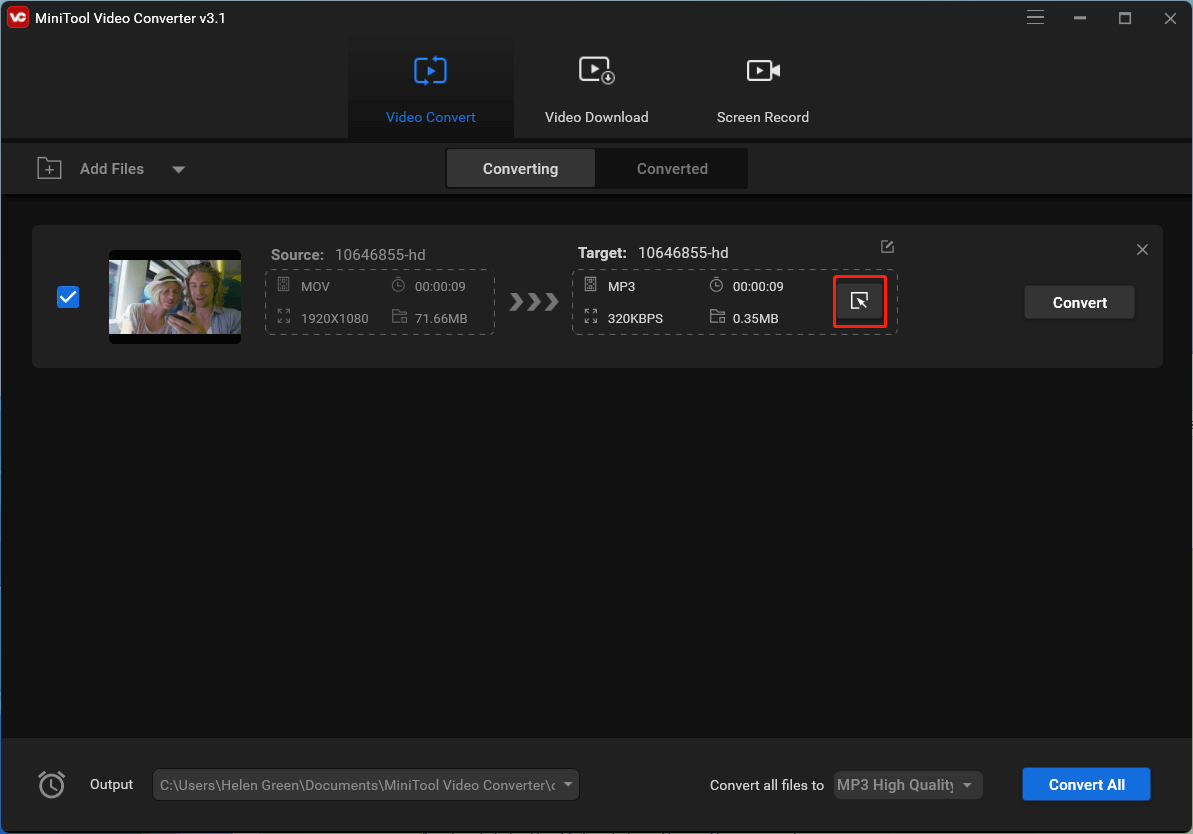 4. Switch to the Video tab in the settings window and select a video format in the left menu. If you don't want to alter other parameters of your video, just choose the same format and click on the Create Custom option in the bottom right.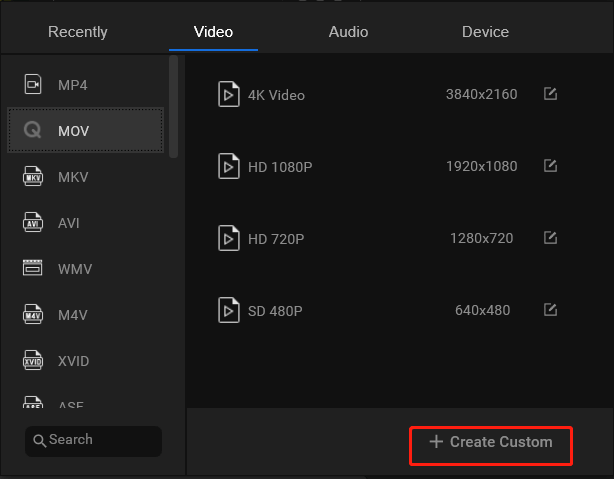 5. In the next popup, find the Encoder option under the Video section and pick up a compatible video codec from the drop-down menu.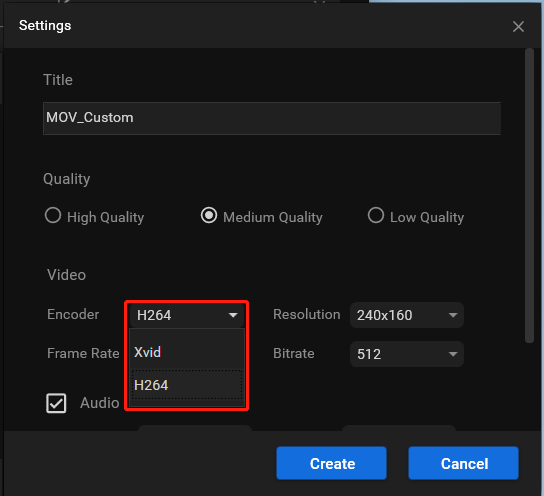 6. click the Create button to create your customized video format and select it when you are redirected back to the video tab.
7. Finally, click the Convert button in the main window to start the process.
Wait until it completes. Then, you can play the video with your media player.
History of Video Encoding
In the past, a video was saved as an analog signal on magnetic tape. When the compact disc (CD) was developed and used as a digital alternative for analog audio, people find it possible to directly store and deliver video in digital form.
To record and convey raw video, you need a large amount of storage space and bandwidth. To improve that situation, engineers and mathematicians have found many ways involving the compression of digital video data.
H.261 was the first practical video coding standard. It was developed by a number of companies including Hitachi, PictureTel, Nippon Telegraph and Telephone Corporation (NTT), BT, Toshiba, as well as many others. The most popular video coding standards are the Moving Picture Experts Group (MPEG) standards.
In 1991, MPEG-1 was developed by the group. It was designed to compress Video Home System (VHS) quality video. In 1994, MPEG-1 was succeeded by MPEG-2/H.262. The successor was developed by those companies: Sony, Thomson, Mitsubishi Electric, etc. MPGE-2 became the standard video format for DVD and SD digital television (TV).
In 1999, MPET-4/H.263 came into being, which was a major leap forward for video compression technology. Also, a lot of firms had contributed to the development of MPEG-4 including Mitsubishi Electric, Hitachi, and Panasonic.
However, the most widely used video coding format nowadays is MPET-4 AVC (H.264), which was developed in 2003 by these organizations: Panasonic, Good Kaisha IP Bridge, LG Electronic, and so on. H.264 is the main video encoding standard for Blu-ray Discs. It is also widely accepted by web applications including Adobe Flash Player and Microsoft Silverlight; streaming network services like YouTube, Vimeo, iTunes Store, and Netflix; as well as many high-definition television (HDTV) broadcasts over terrestrial and satellite TV.
In 2013, AVC (Advanced Video Coding) had been succeeded by High-Efficiency Video Coding (HEVC), also known as H.265 or MPEG-H Part 2. It is heavily patented by Samsung Electronics, General Electric Company (GE), NTT, and JVC Kenwood. However, the adoption of HEVC has been hampered by its complex licensing structure. In turn, HEVC was succeeded by Versatile Video Coding (VVC).
In addition, there are free VP8, VP9, and AOMedia Video 1 (AV1) video coding formats adopted by YouTube, all of which were developed with involvement from Google.
Since the features and applications of each video coding format are different, there is no best video encoder format for all, but good video encoder formats; or, just the best video encoder format for a certain type of situation.
List of Video Codecs
A video coding format, also called video compression format, is a content representation format for storage or transmission of digital videos such as in a data file or bitstream. Typically, it makes use of a standardized video compression algorithm, most commonly based on discrete cosine transform (DCT) coding and motion compensation.
Video Codec vs. Video Format
A specific hardware or software implementation capable of compression or decompression to/from a specific video coding format is called a video codec. For instance, FFmpeg a the most common video codec for many video formats like H.264, CorePNG, and VP9.
First of all, the video compression formats can be sorted into 3 categories, non-compression, lossless compression, and lossy compression.
# Non-Compression Video Codec Formats
RGB
YUV: Intel IYUV
10-bit uncompressed video
Composite digital signal
Avid DNxUncompressed
V210
# Lossless Video Codec Formats
ITU-T/ISO/IEC standards
H.264: x264, FFmpeg
H.265: x265, UHDcode, FFmpeg
Motion JPEG 2000: libopenjpeg
JPEG XS: FastTICO-XS
IETF standards
SMPTE standards
VC-2 HQ: libdirac, libschroedinger
Alparysoft Lossless Video Codec (Alpary)
Apple Animation (QuickTime RLE)
ArithYuv
AV1
AVIzlib
LCL (VfW codec) MSZH and ZLIB
FFmpeg
Autodesk Animator Codec (AASC)
CamStudio GZIP/LZO
Chennai Codec (EVX-2)
Dxtory
FastCodec
Flash Screen Video v1/v2
FM Screen Capture Codec
Fraps codec (FPS1)
Grass Valley Lossless
Grass Valley Codec Option
FFmpeg
Huffyuv
IgCodec
Intel RLE
innoHeim/Rsupport Screen Capture Codec
Lagarith
Lagarith Codec (VfW codec)
FFmpeg
LOCO
MagicYUV
Microsoft RLE
MSU Lossless Video Codec
MSU Screen Capture Lossless
CorePNG
ScreenPresso (SPV1)
ScreenPressor
SheerVideo
Snow lossless
TechSmith Screen Capture Codec (TSCC)
EnSharpen Video Codec for QuickTime
FFmpeg
Toponoky
Ut Video Codec Suite
VBLE
VMnc VMware screen codec
VP9
YULS
ZeroCodec
ZMBV (Zip Motion Block Video) Codec
Lossless game codecs
DXA
# Lossy Video Codec Formats
Discrete cosine transform (DCT)
General
ITU-T/ISO/IEC standards
H.120
H.261 (a.k.a. Px64): FFmpeg H.261 (libavcodec), Microsoft H.263
MPEG-1 Part 2 (MPEG-1 Video): Elecard MPEG-1 video Encoder/Decoder, FFmpeg, MainConcept MPEG-1, TMPGEnc
H.262/MPEG-2 Part 2 (MPEG-2 Video): Canopus ProCoder, Cinema Craft Encoder, Elecard MPEG-2 Video Decoder/Encoder, FFmpeg, InterVideo Video Decoder, MainConcept MPEG-2, Microsoft H.263, TMPGEnc
H.263: FFmpeg H.263
MPEG-4 Part 2 (MPEG-4 Advanced Simple Profile): 3ivx, DivX, Elecard MPEG-4 Decoder/Encoder, libavcodec, HDX4, Nero Digital, Xvid video codec
H.264/MPEG-4 AVC or MPEG-4 Part 10 (MPEG-4 Advanced Video Coding): CoreAVC, Elecard AVC Decoder/Encoder, MainConcept, Nero Digital, QuickTime H.264, Sorenson AVC Pro, OpenH264, x264, FFmpeg
MPEG-4 AVC variants: MPEG-4 Web Video Coding or MPEG-4 Part 29, XAVC
HEVC (High-Efficiency Video Coding, H.265, MPEG-H part 2): x265
Versatile Video Coding: VVC Test Model, Fraunhofer Versatile Video Decoder, Fraunhofer Versatile Video Encoder
Video Coding for Browsers (VCB)/VP8 (MPEG-4 Part 31): libvpx, FFmpeg
Internet Video Coding (MPEG-4 IVC)
Essential Video Coding (EVC; MPEG-5 Part 1)
Low Complexity Enhancement Video Coding (LCEVC; MPEG-5 Part 2)
IETF Internet Draft (NETVC)
SMPTE standards
VC-1: FFmpeg
Dirac: Schrödinger, dirac-research, FFmpeg
Alliance for Open Media
AV1: libaom, SVT-AV1, rav1e, dav1d, libgav1
Xiph.Org Foundation
Daala
Theora: FFmpeg, libtheora
Apple Video (Apple RPZA)
Blackbird
Firebird
Digital Video Interactive standards
RTV 2.1 (a.k.a. Indeo 2): FFmpeg
PLV (Production Level Video)
Indeo 3/4/5
Microsoft Video 1 (MSV1, MS-CRAM)
Open Media Commons standards:
On2 Technologies
RealVideo 1, G2, 8, 9 and 10
RealVideo Fractal Codec (a.k.a. Iterated Systems ClearVideo)
RealMedia HD (a.k.a. RealVideo 11)
Snow Wavelet Codec
Sorenson Video, Sorenson Spark
VP9
Windows Media Video (WMV)
Guobiao standards (GB/T)
Audio Video Standard (AVS): AVS1-P2 (FFmpeg), AVS1-P7 (AVS-M), AVS2-P2 (uAVS2/xavs2/davs2), AVS3-P2 (uavs3e/uavs3d)
Scalable
VP8, VP9, AV1, and H.266/VVC support scalable modes by default.
Scalable Video Coding (H.264/SVC)
Scalable High-Efficiency Video Coding (SHVC)
Intra-frame-only
Motion JPEG
FFmpeg
Morgan Multimedia M-JPEG
Pegasus PICVideo M-JPEG
MainConcept M-JPEG
ISO/IEC standard
Motion JPEG 2000: libopenjpeg, FFmpeg, Morgan Multimedia M-JPEG2000, Morgan Multimedia dcpPlayer
JPEG XS: intoPIX fastTICO-XS
DV: FFmpeg
MPEG-4 SStP: FFmpeg
Motion JPEG XR
Apple ProRes 422/4444
Apple Intermediate Codec
Apple Pixlet
AVC-Intra
AVC-Ultra
XAVC-I
CineForm HD
SMPTE standard
VC-2 SMPTE (a.k.a. Dirac Pro.): Schrödinger, dirac-research, VC-2 Reference video Encoder and Decoder, FFmpeg
VC-3 SMPTE: Avid DNxHD, FFmpeg
VC-5 SMPTE
Grass Valley HQ/HQA/HQX
Grass Valley Codec Option
FFmpeg
NewTek NT25
NewTek SpeedHQ
Stereoscopic 3D
Multiview Video Coding
Security and surveillance cameras
Guobiao standards
Infinity CCTV Codec (IMM4/IMM5/IMM6)
CD-ROM or CD-related video codecs
CDXL codec: FFmpeg
Cinepak (a.k.a. Apple Compact Video): FFmpeg
Photo CD codec: FFmpeg
MotionPixels: FFmpeg
CD+G (CD+Graphics): FFmpeg, VLC
CD+EG (CD+Extended Graphics)
Network video codecs
HEVC-SCC
ZRLE
Sun Microsystems' CellB video (RTP playload type 25)
Xerox PARC's Network Video (nv; RTP playload type 28)
CU-SeeMe
GoToMeeting: FFmpeg
Bayer video codecs
CinemaDNG
Redcode RAW: libredcode
ArriRaw
Cineform RAW: CineForm-SDK
Blackmagic RAW: Blackmagic RAW SDK
Cintel RAW: FFmpeg
Apple ProRes RAW
intoPIX TICO RAW: intoPIX fastTICO-RAW SDK & TICO-RAW FPGA/ASIC libraries
Video games
Bink Video/Smacker video: FFmpeg, libavcodec
Nintendo Mobiclip: FFmpeg
CRI Sofdec
CRI P256
Indeo Video Interactive (aka Indeo 4/5): FFmpeg, Intel Indeo Video
Real-time
Hap/Hap Alpha/Hap Q: VIDVOX hap codec, FFmpeg
DXV Codec: Resolume DXV Codec, FFmpeg
NotchLC: FFmpeg
VESA Display Stream Compression (DSC)
VESA Display Compression-M (VDC-M)
List of Open-Source Video Codecs
Among the above video codecs list, some of the codecs are open-source.
x264
OpenH264
x265
libvpx
SVT-AV1
VideoLAN dav1d
Org rav1e
Google libgav1
xvc
FFmpeg
Lagarith
libtheora
Dirac as dirac-research
Huffyuv
Daala
Thor
Turing
libaom
Kvazaar
VVenC & VVdeC
Comparison of Video Codecs
The primary goal of most video compression solutions is to produce videos that most closely approximate the fidelity of the original videos while delivering the smallest file size. Besides some other factors that need to consider when comparing the codecs of videos include video quality per bitrate (range of bitrate), performance, and general software characteristics.
# Video Quality
Objective video quality
Full reference
Reduced reference
No-reference
Subjective video quality
Pre- and post-filters
Motion estimation (ME) search strategy
Rate control strategy
# Performance
Seed comparison
Decompression frame time uniformity
SIMD support
Multi-threading support
Processor cache size
GPU usage
Profiles support
Baseline profile (BP)
Main profile (MP)
Extended profile (XP)
High profile (HiP)
High 10 profile (Hi10P)
High 4:2:2 profile (Hi422P)
High 4:4:4 predictive profile (Hi444PP)
Multiview high profile
High 10 intra profile
High 4:2:2 intra profile
High 4:4:4 intra profile
CAVLC 4:4:4 intra profile
Scalable baseline profile
Scalable high profile
Scalable high intra profile
Supported rate control strategies
Variable bitrate (VBR)
Constant bitrate (CBR)
# Software Characteristics
supported OS: Windows, Linux (e.g. Ubuntu), macOS
technical details: compression type, basic algorithm, highest supported bitrate/resolution, variable frame rate.
supported interfaces: VfW, DirectShow, etc.
price: value for money, volume discounts, etc.
license type: free, open-source, commercial
manufacturer,
version number
release date
Related Articles