Adobe Media Encoder is an essential tool for video editors and content creators, allowing them to encode and export their projects in various formats. However, like any software, it's not perfect, and users may experience issues such as crashes or failed renders. In this article offered by MiniTool video-making tool, we'll explore some common reasons why Media Encoder stops rendering, as well as potential solutions.
#1 Make Sure to Meet Adobe Media Encoder's Minimum System Requirements
One of the most common reasons why Adobe Media Encoder crashes when rendering is due to hardware limitations. If your computer's CPU or GPU is not powerful enough to handle the rendering process, Media Encoder may freeze or crash. To avoid this issue, ensure that your computer meets the minimum system requirements for Adobe Media Encoder, which can be found on Adobe's website. Additionally, try reducing the complexity of your project or rendering at a lower resolution or bitrate.
#2 Convert Source Footage into Compatible Formats
Another reason why Media Encoder not rendering is due to incompatible codecs. If you're importing footage into Media Encoder and it's causing crashes or failed renders, try transcoding the footage to a different format using professsional software such as MiniTool Video Converter, an easy-to-use media file format changer.
MiniTool Video ConverterClick to Download100%Clean & Safe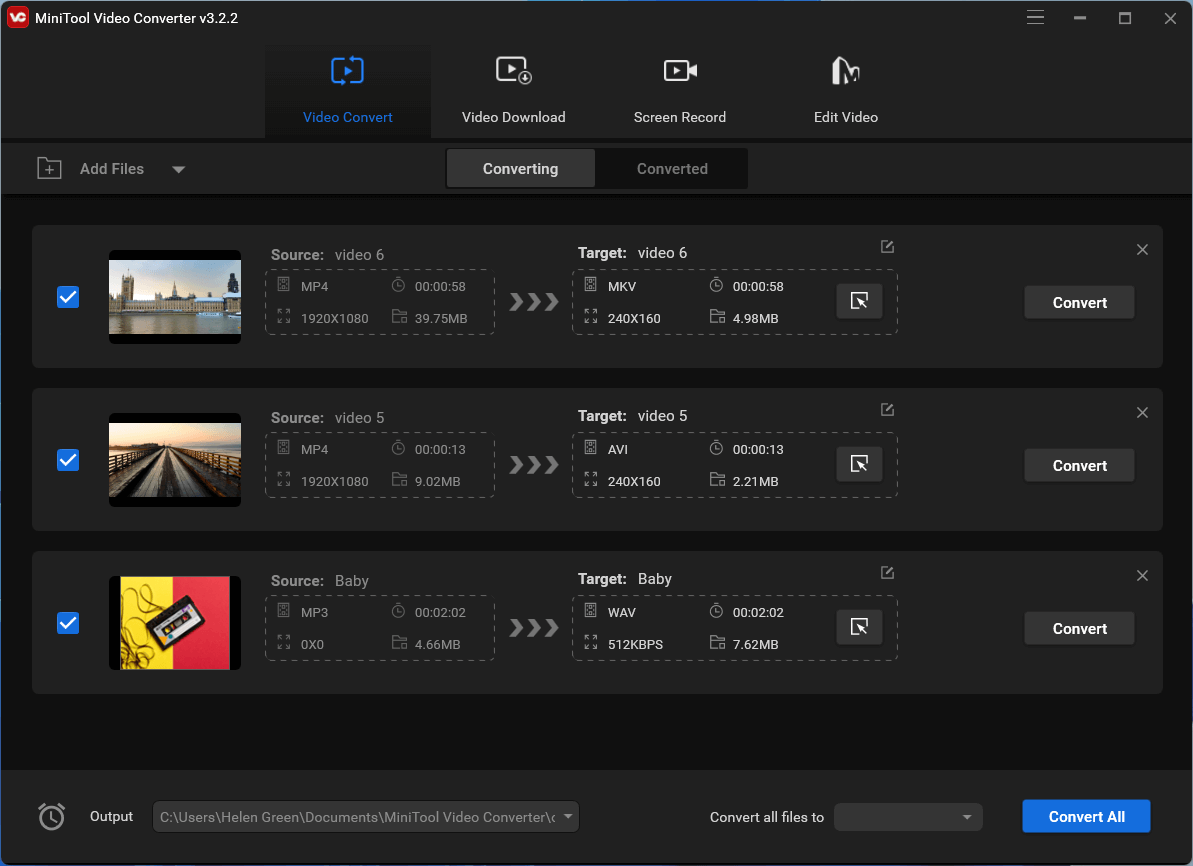 MiniTool Video Converter supports more than 1000 file formats including videos and audio. It enables you to customize not only the file format but also its video encoder, video bitrate, frame rate, resolution, audio encoder, audio bitrate, channel, as well as the sample rate.
Besides, MiniTool Video Converter also permits the conversion between audio and video. For example, you can convert MP3 to MP4. Moreover, batch conversion is available.
Alternatively, try updating or reinstalling the codecs on your computer. Therefore, it can support more media files that were incompatible before.
#3 Fix Corrupted Source Files
The Adobe Media Encoder failed render problem may be caused by corrupted media files that you don't notice. If so, you can first try to repair the damaged videos or music with a powerful media repair tool.
#4 Match Project Settings with Footage Settings
Media Encoder does not render if there are issues with the project settings. Make sure that the project settings match the settings of your footage, including the frame rate, aspect ratio, and resolution. Additionally, check that the output settings are correct and that you've selected the appropriate format and codec.
#5 Reset Adobe Media Encoder Preferences
If none of the above solutions work, it may be worth trying to reset Adobe Media Encoder preferences. To do this, quit Media Encoder, hold down the Shift and Alt keys, and then launch Media Encoder. A dialog box will appear, asking if you want to delete the preferences. Click Yes and then try rendering again.
Finally, if you've tried all the solutions above and are still experiencing issues with Media Encoder, it may be worth contacting Adobe support for further assistance. They can help troubleshoot the issue and provide additional solutions.
In a Nutshell
In conclusion, Adobe Media Encoder is a powerful tool that allows video editors and content creators to export their projects in various formats. However, like any software, it may experience crashes or failed renders. By ensuring that your computer meets the minimum system requirements, transcoding corrupted files, checking project settings, resetting preferences, and contacting Adobe support if necessary, you can troubleshoot and resolve these issues.
Videos/Audios/Photos Management Tools Recommended
These applications are completely compatible with Windows 11/10/8.1/8/7.
MiniTool MovieMaker
An easy-to-use and free video editing software without watermarks. The embedded templates enable you to quickly make personal slideshows and share them with your friends!
MiniTool MovieMakerClick to Download100%Clean & Safe
MiniTool uTube Downloader
Free download YouTube videos, audio, and subtitles without ads or bundles. It can operate multiple tasks simultaneously at a high speed and supports multiple file formats.
MiniTool uTube DownloaderClick to Download100%Clean & Safe
You May Also Like