Are you looking for a MPEG converter that can help you convert MP4 or other formats to MPEG? If yes, you should read this post carefully. You will find the best MPEG video converters, such as MiniTool Video Converter, and the steps on how to convert MPEG files.
Overview of MPEG
What is the MPEG file? MPEG is the abbreviation of Motion Pictures Expert Group and its file extension is .mpeg or .mpg.
MPEG is a popular video format for movies distributed on the Internet, which was developed by the Moving Picture Experts Group. It makes streaming and downloading much faster than other popular video formats by using a special compression method.
The major standards of MPEG are listed below:
MPEG-1: It is a widely compatible lossy video/audio codec, and its video resolution is usually 320 x 240, 352 x 240, or 352 x 288.
MPEG-2: It makes up for the shortcomings of MPEG-1 and is often used by TV stations, DVD players, and TV receivers. The allowed video resolutions are 704 x 480, 720 x 480, 704 x 576, 720 x 576, etc.
MPEG-3: It was incorporated into MPEG-2.
MPEG-4: It can encode audio and video digital data, and supports interaction with animated objects.
MPEG-7: It aims to represent multimedia content information based on the previous MPEG standard.
MPEG-21: It lets you exchange, access, consume, trade, and it's used to communicate machine-readable license information.
Then how to open the MPEG file? Since MPEG video files have a wide range of compatibility, there are many different programs on different platforms that can be used to open it including Windows Media Player, VLC Media Player, iTunes, QuickTime, etc.
Although previous MPEG files required a hardware decoder to process the format, now the format only requires the use of only a software codec. Therefore, you can make use of an efficient MPEG converter to convert MPEG files to other widely used video formats, and vice versa. The following are the top 6 MPEG converters for you.
Top 6 MPEG Converters
MiniTool Video Converter
Format Factory
iTunes
Tipard Video Converter Ultimate
Zamzar
ConvertFiles
MPEG Converter for Windows
If you are a Windows user, this section is suitable for you. Whether you want to find the MP4 to MPEG converter or MPEG to MP3 converter for Windows, the following 2 MPEG converters can satisfy your demands.
1. MiniTool Video Converter
Compatibility: Windows
Pricing: Free
Supported input formats: MPEG, MP4, MKV, MOV, M4V, AVI, WMV, OGV, TS, ASF, DIVX, DV, MP3, WAV, OGG, AAC, AIFF, AC3, M4B, M4R, M4A, WMA, etc.
Supported output formats: MPEG, MP4, MOV, MKV, WMA, XVID, ASF, DV, 3GP, FLV, SWF, VOB, MP3, WAV, M4A, AIFF, M4B, M4R, OGG, AAC, etc.
MiniTool Video Converter is the first recommended tool for you. It is the ultimate solution for your various video/audio conversion needs featuring fast conversion speed, various format support, and optional output quality.
This free converter allows you to convert multiple audio/video files to MPEG in batch without losing quality even if there is no Internet connection. Besides, it can also be used to download videos, audio tracks, playlists as well as subtitles from YouTube.
The steps of converting anything to MPEG are as follows. Here, we take converting MP4 to MPEG as an example.
Step 1: Click the Download button below to download MiniTool Video Converter, follow the on-screen instructions to install it, and then launch it on your computer.
MiniTool Video ConverterClick to Download100%Clean & Safe
Step 2: Click the Add Files button to import the MP4 file that you want to convert to MPEG. Alternatively, you can add the file by clicking the + icon or dragging.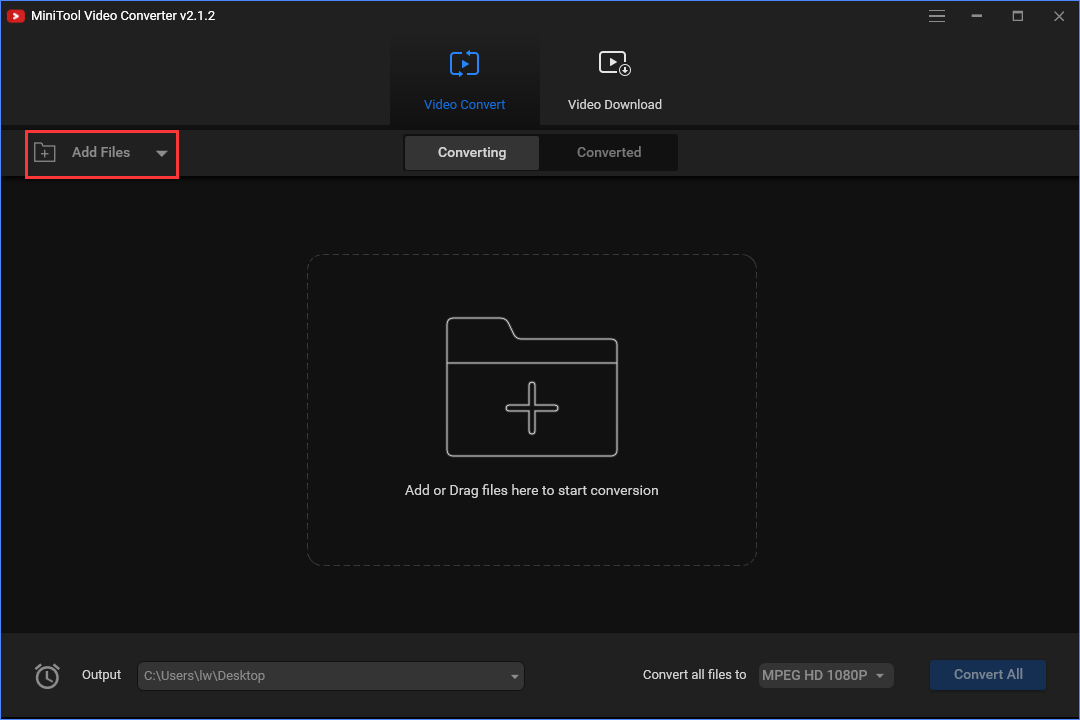 Step 3: Click the diagonal arrow under Target and tap on the Video option. Select MPEG from the list and then choose a video quality preset. Here you can click the Edit icon to change some parameters for the output video.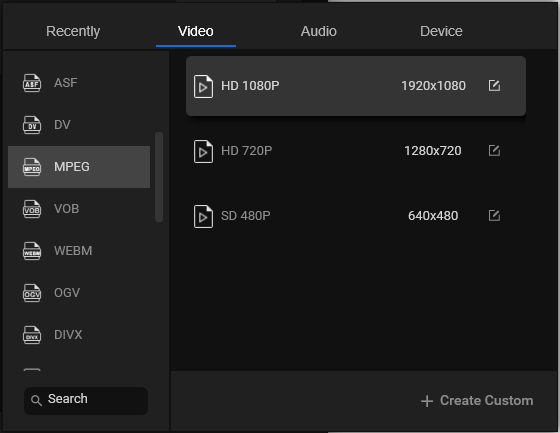 Step 4: Click the Edit icon behind Target to rename the file and specify the destination folder. Click OK to save your changes.
Step 5: Next, click the Convert button to start the conversion.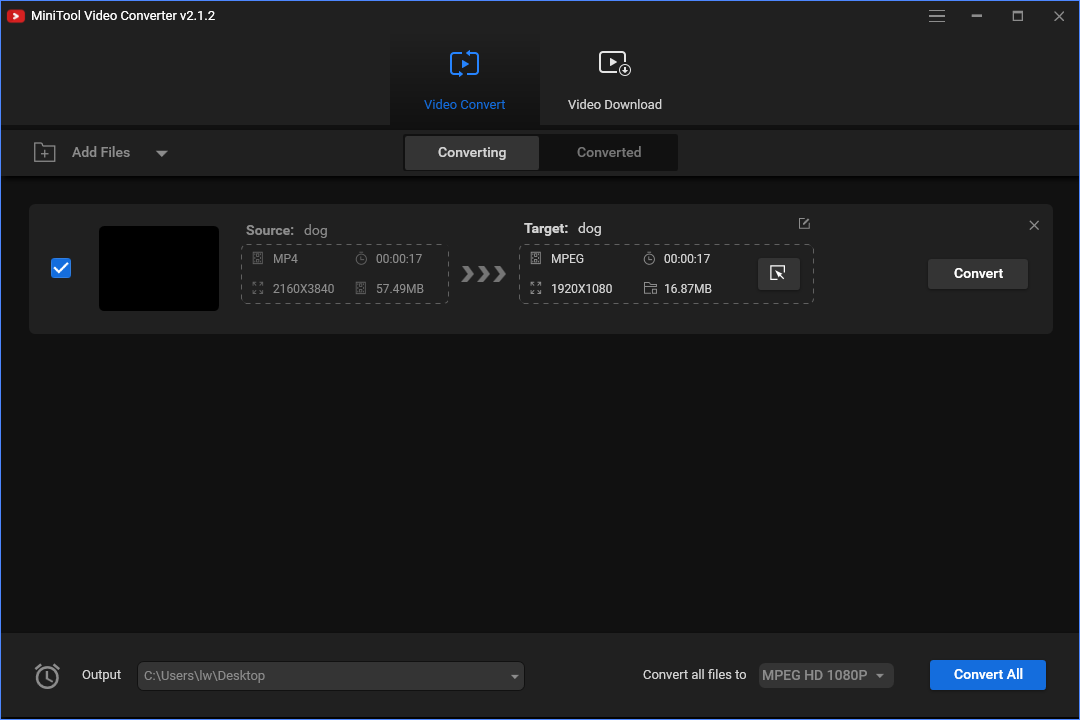 Main Features
100% free, no bundles, no ads, and no watermarks.
Customize the settings including video codec, and video resolution.
Convert media files to compatible with different mobile devices.
Fast conversion speed.
2. Format Factory
You can also use Format Factory as the MPEG converter. It is a multimedia file conversion tool that supports converting video, audio, picture, document format to others for free. It supports you converting any video format to MPEG/OGG/MP3/WMA/AAC/WAV/AMR.
It can also be used to edit the media file or reduce the file size to save disk space before you begin to convert anything to MPEG.
Here we take converting MPEG to MP3 as an example. Here is how to do that:
Step 1: Download Format Factory and install it on your computer. Then, launch it to get its main interface.
Step 2: Click Audio and scroll down the list to find MP3. Then, click it to continue.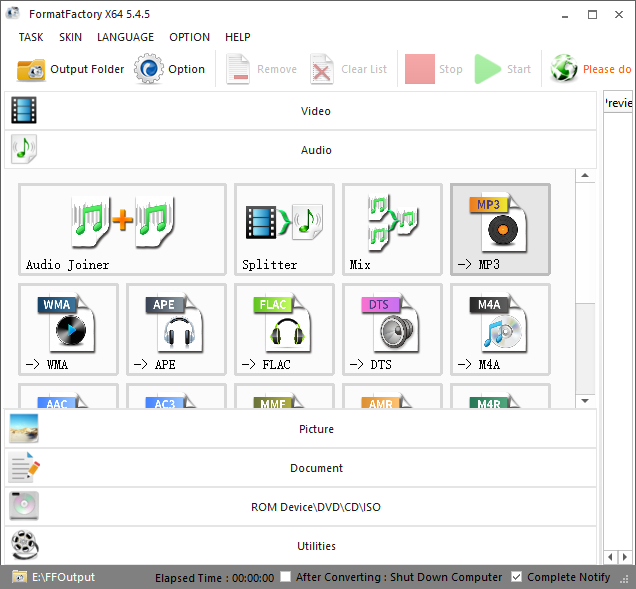 Step 3: Choose Add File to add your MPEG file. After that, click the OK button to get started.
Step 4: Then, it will start to convert MPEG to MP3.
Main Features
It can reduce the size of the file.
It supports 62 languages.
It's only available for Windows.
MPEG Converter for Mac
If you are a Mac user, then, iTunes and Tipard Video Converter Ultimate are useful for you.
3. iTunes
iTunes is a media player and media library developed by Apple. It provides music, movies, TV shows and podcasts for you. One thing you may not know is iTunes can be used to convert media files including MPEG files.
Here is how to use the MPEG converter to convert MPEG to MP3.
Step 1: Open iTunes and click the Edit tab and choose Preference… to continue.
Step 2: Then, you will see the General Preferences window. In this window, click Import Settings… under the General tab.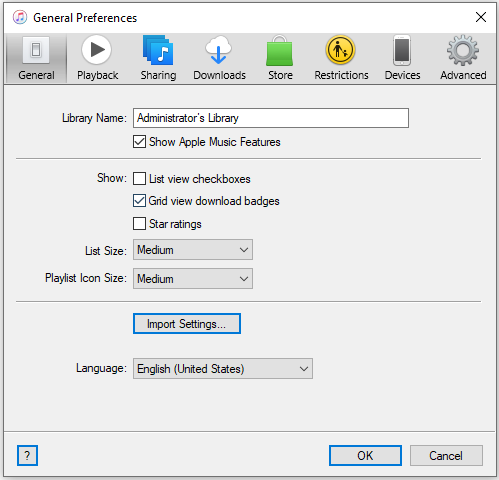 Step 3: Then choose the MP3 Encoder option in the Import Using box and press OK.
Step 4: Click File in the top left corner of the window and select the Add File to Library option from the drop-down list to load the MPEG file.
Step 5: Choose the MPEG file and go to File > Convert > Create MP3 Version to start converting MPEG to MP3.
Step 6: When the conversion is over, the converted MP3 file will appear in the Library.
Main Features
Free to change video/audio format.
Work on both Windows and macOS.
Also see: Step-by-Step Guide – How to Add Music to iTunes Easily?
4. Tipard Video Converter Ultimate
Tipard Video Converter Ultimate is also recommended for Mac users. It is capable of converting over 500 video and audio formats for playback on any device. With it, you can easily convert MPEG files to other file formats with the fastest speed and highest output quality.
Besides, it also provides you with extra editing tools that you can use. However, the trial version only supports the conversion of a single video or audio file that does not exceed 5 minutes. Besides, if you need batch conversion, you must upgrade to the Ultimate version.
Follow the guide to convert anything to MPEG.
Step 1: Launch Tipard Video Converter Ultimate, and then click the Add Files button to browse your local computer and add your file to the program.
Step 2: Open the Format drop-down list on the right side and set MPEG as the output video format.
Step 3: Click the Settings icon near the bottom to adjust preference settings and click OK to save all the changes.
Step 4: After finishing all customizations, click Convert All to convert your file to the MPEG format.
Step 5: Once the conversion task is finished, you can check the converted MPEG file under the Converted tab.
Main Features
Extract music or songs from videos and DVDs.
Compress the large video file size into the smaller.
Online MPEG Converter
If you don't want to use the software, the online MPEG converters can help you convert anything to MPEG quickly. You don't need to install any software or pay anyone. Besides, you can use online MPEG converters no matter which operating system you are using.
5. Zamzar
The first online MPEG converter is Zamzar. It supports more than 1200 file formats and it can work with any operating system. Besides, it has a remarkable conversion speed and the uploaded file can be as large as 150 MB. Here is how to use Zamzar to convert anything to MPEG windows 10.
Step 1: Go to Zamzar and choose Add File… to add the file that you want to convert.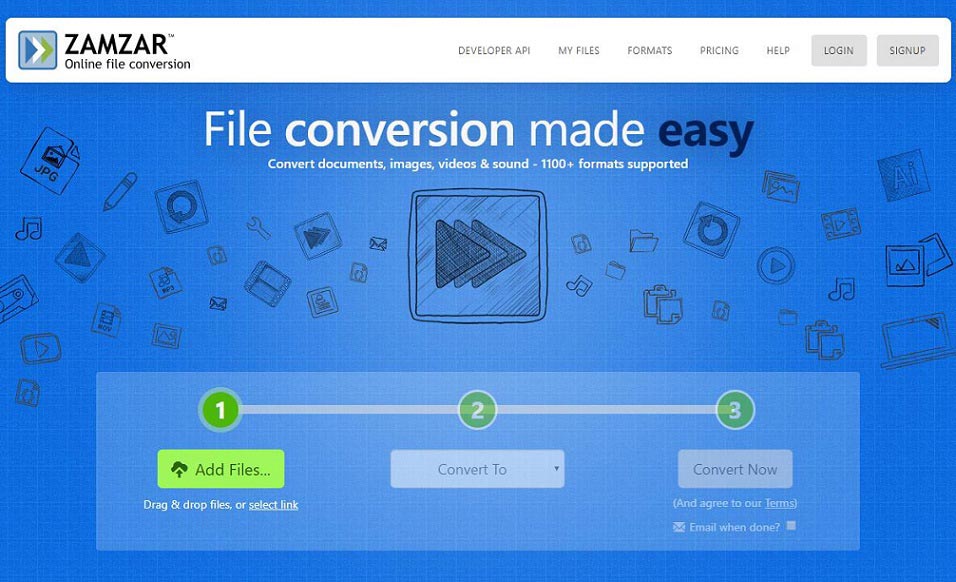 Step 2: Click Convert To to select the MPEG format and click the Convert Now option.
Step 3: Then, it will start the converting process. You just need to wait for it. After that, you can click the Download button to save the MPEG file on your device.
6. ConvertFiles
ConvertFiles, a free online converter, provides you with a wide range of options for you to convert files to MPEG, WAV, WMV, MOV, MVK, MP3, and other formats. It is very user-friendly, as it is very flexible but it's capable of processing files up to 250 MB.
Now, you can try the MPEG converter.
Step 1: Choose a local file and select the input format. Then, select the MPEG file as the output format.
Step 2: Click the Convert button to start the conversion. When the conversion is completed, this converter will display a message with a link to download the file.

Bottom Line
A total of 6 powerful MPEG converters are introduced above and MiniTool Video Converter is recommended for you. Choose a program that suits you best according to your actual needs, and then start converting MPEG to any format or any format to MPEG.
If you have any questions or suggestions about it, please let us know via [email protected] or share them in the comments section below.
MPEG Converter FAQ
Can I play MPEG on my iPhone?
Yes, you can play MPEG on your iPhone. You can use some popular media players, such as Windows Media Player and Apple QuickTime Player to play it.
How do I convert MOV to MP4?
Which is better MPEG or MP4?
MP4 is better than MPEG since MPEG-4 can store still images, subtitles, video, audio, etc. Besides, MP4 has been the most popular video format.
Which is better MPEG or AVI?
MPEG is better than AVI. Since the AVI format is uncompressed, the AVI video requires more hard disk space. In contrast, the MPEG file format compresses video and takes up less space on the hard drive.