This post updated by
MiniTool Software
mainly answers the question – do I need Adobe Media Encoder for Premiere Pro, After Effects, Character Animator… To answer the question, it also elaborates on the function of Media Encoder.
What Is Adobe Media Encoder?
Adobe Media Encoder (AME) is an encoding engine for Adobe Premiere Pro, Adobe After Effects, Adobe Audition, Adobe Character Animator, as well as Adobe Prelude. Of course, you can use Adobe Media Encoder as stand-alone transcoding and rendering application that enables you to deliver video and audio files in a wide range of formats.
Do You Need Adobe Media Encoder?
To answer the "is Adobe Media Encoder necessary" question, first of all, let's see what can Adobe Media Encoder do.
Relying on Adobe Media Encoder, you can export videos to video-sharing websites such as YouTube and Vimeo, devices ranging from professional tape decks to DVD players, mobile phones, as well as high-definition (HD) TV sets.
5 Sections of Adobe Media Encoder
Generally, there are five sections on Adobe Media Encoder's screen: Media Browser, Queue panel, Watch Folder, Preset Browser, and Encoding panel.
1. Media Browser
Media browser lets you browse media files of various formats from your system.
2. Preset Browser
In the Preset Browser, you can find any imaginable format to output your file. This is also the place where you can create your own engine presets to use with Premiere Pro.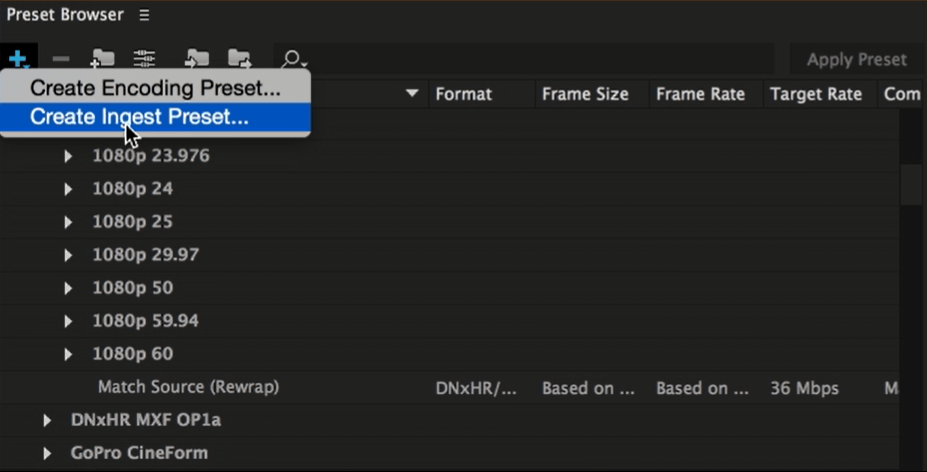 3. Queue Panel
In the Queue panel, you can find the list of your encoding jobs. There, you are able to add, remove, or reorder items.
4. Encoding Panel
The Encoding panel monitors the progress of the current encoding job.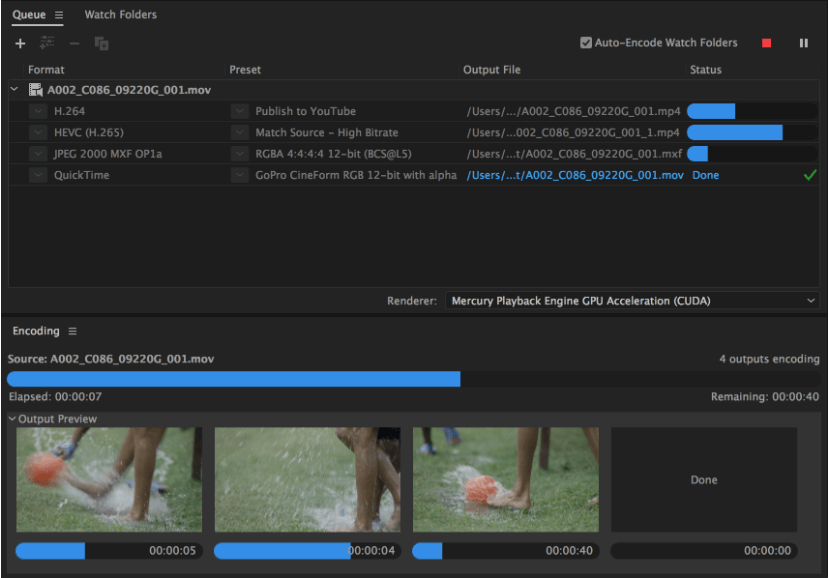 5. Watch Folder
Any folder on your hard disk can be designated as a Watch Folder. Once you choose your Watch Folder, any files you put into the folder are encoded based on the selected presets. Adobe Media Encoder detects media files being added to the folder and starts the encoding automatically.

How Does Adobe Media Encoder Work?
Next, let's see how to make use of Media Encoder.
In Media Browser, find the file you'd like to process. This is the same media browser as in other obligations like Adobe Premiere Pro or After Effects.
Drag the source file to the Queue. You can also add sources by exporting to Media Encoder from Premiere Pro, After Effects, Audition, Character Animator, or Prelude.
Select a preset or set up a custom user preset.
If you want to change the output name or location, click on the output file in the Queue tab to edit.
Click the Start Queue button (green triangle) to start the process.
When the task is complete, you can find the output file by clicking on it in the Queue section.
Do I Need Adobe Media Encoder?
Now, let's discuss how necessary Adobe Media Encoder is for you.
If you are a video or audio editor, Media Encoder can be an indispensable tool for you. It enables you to continue using Adobe Premiere Pro and Adobe After Effects while their project is being encoded. Without Adobe Media Encoder, you will be stuck watching the encoding process for hours or even days.
However, Adobe Media Encoder also has disadvantages like render limitations and CPU/GPU throttling. That is to say, it requires advanced computer equipment to run AME and Premiere Pro at the same time.
If you don't need advanced media editing, maybe you don't need Adobe Media Encoder. For unprofessional video/audio editing, you can rely on a much easier tool like MiniTool Video Converter, which is a video/audio format converter. It can quickly convert the original media files to the target formats. MiniTool Video Converter supports batch conversion.
MiniTool Video ConverterClick to Download100%Clean & Safe
Do You Need Media Encoder for Premiere Pro?
Let's answer this question by showing cases on forums.
Question 1
I'm trying to clear space on my PC. Media Encoder takes up 1.60GB. Do I need Media Encoder to run Premiere Pro properly? Googling it just gives conflicting answers.
Answered by a Reddit user
From my understanding, you do not need Adobe Media Encoder but it is strongly recommended. Without Media Encoder, many features will be unavailable such as the ability to queue exports or have proxies created automatically. Anyhow, it is worth keeping AME to enjoy a full set of functions of Premiere Pro.
Question 2
Is Media Encoder faster than Premiere? Or, does Media Encoder export faster?
Answered by a Quora user
The question itself isn't correct. The fact is that Adobe Premiere can export without Media Encoder. Yet, by cooperating with Media Encoder, Premiere Pro can render faster. This is the same with Adobe After Effects.
Also read: