Do usually you listen to music or watch movies on your Android phone? Do you know which audio codecs and formats does Android operating system (OS) supports? What to do if the audio format not supported Android? Find the answers below!
What Audio Codecs Does Android Phone Support?
The following are the audio codecs supported by Android OS.
#1 Sub-band Coding (SBC)
Sub-band coding is a low complexity sound codec that is the most commonly found one on the list of supported audio codecs Android. Every Android device that supports Advanced Audio Distribution Profile (A2DP), which is a set of standard specifications for transmissions over Bluetooth, has this codec.
Sub-band coding codec can't deliver the high-fidelity audio and has a higher latency compared with other codecs. Although SBC consumes less power, it is not an ideal codec for watching videos. It is suitable for casual listening for the audience who are not keen on high-definition or lossless audio.
#2 aptX
Qualcomm's aptX is a family of audio codecs and "apt" stands for audio processing technology. Besides the oldest aptX, there are other 6 variants. Each variant was designed to solve different problems related to Bluetooth sound. aptX adopts an encoding and decoding technology known as Adaptive Differential Pulse Code Modulation (ADPCM). ADPCM makes the sound quality of aptX better than SBC.
6 aptX variants
1. aptX
aptX is a better alternative to SBC. Yet, if you want lossless audio, it still doesn't enough.
2. Enhanced aptX
Enhanced aptX offers coding at a 4:1 compression ratio for professional audio broadcast apps. It is suitable for AM, FM, DAB, HD Radio, and 5.1.
3. aptX Live
aptX Live is a low-complexity audio codec that is specifically created to maximize digital wireless microphone channel density in bandwidth-constrained scenarios like a live performance.
4. aptX LL
aptX LL (aptX Low Latency) is designed for video and gaming apps requiring comfortable audio-video sync whenever the stereo audio is transferred over short-range radio to the listener(s) taking advantage of the Bluetooth A2DP audio profile standard.
5. aptX HD
aptX HD improves a lot based on apt-X. It has a much better audio quality and can transfer audio with minimum loss of data. Apt-X HD is a proper choice for listening to Hi-Fi audio and watching movies.
6. aptX Adaptive
aptX Adaptive adjusts its bitrate according to the signal strength to avoid jittery sound and transfer a seamless experience despite a fluctuating signal strength. It works well for nearly all purposes, ranging from gaming to calling to watching videos.
Apt-X Adaptive has a new feature called aptX Voice to significantly improve the quality of voice for those using Bluetooth accessories to make voice calls. Yet, aptX HD still owns the best quality out of the variants.
Some Android devices also support a new variant called aptX TWS+. Although Qualcomm does not offer much information about this codec, the main purpose of apt-X TWS+ is to enable a seamless switch between stereo to mono audio when you are using only one earbud while the other is charging.
#3 Low-latency and High-Definition Audio Codec (LHDC)
LHDC is designed by the Hi-Res Wireless Audio (HWA) Union and Savitech. It provides high-res audio quality while also minimizing the latency. LHDC is a good audio codec for generating high-fidelity audio.
To enhance the low latency function, HWA published a new variant of LHDC named LLAC (Low-Latency Audio Codec). Apart from significantly lowering the latency, LLAC keeps the great audio quality. That makes it a popular selection for mobile gaming.
#4 LDAC
LDAC is an audio codec that is similar to aptX Adaptive. LDAC is developed by Sony. While apt-X Adaptive adjusts freely as per the signal strength, LDAC switches between 3 preset bitrates, a factor that determines audio quality.
LDAC performs better than aptX Adaptive when the signal strength is good. Yet, the switch between the preset bitrates is bothersome when the connection deteriorates. Thus, LDAC is ideal only if the signal strength is strong and you would like to listen to high-resolution audio. Besides, with low latency, LDAC can be used to watch movies or play video games.
#5 Low Complexity Communication Codec (LC3)
LC3 is an audio codec specified by the Bluetooth Special Interest Group (SIG) for the Bluetooth Low Energy (LE) Audio protocol introduced in Bluetooth 5.2. It is created by Fraunhofer IIS and Ericsson as the successor of the SBC.
#6 Samsung Scalable Codec
Samsung Scalable Codec is released with the first-generation Samsung Galaxy Buds. It functions similarly to aptX Adaptive but is only compatible with Samsung devices such as Samsung Galaxy Buds Plus and Samsung Galaxy S20.
Samsung Scalable Codec avoids audio chopping by analyzing the radio frequency environment and adjusting the bitrate dynamically from 88 to 512 kbps.
#7 Advanced Audio Codec (AAC)
The advanced audio codec is very similar to sub-band coding. It consumes more power despite transferring only lossy audio. AAC is usually found in Apple devices since iOS is optimized to take full advantage of it, but such isn't the case for Android.
AAC should be your last choice if you are running Android. Regardless, it is not a good choice for high-res listening or game playing. However, you can select it if you are using it for casual listening.
Compare and Conclusion
In general, SBC is one of the most common audio codecs for Android phones and is suitable for casual listening; aptX and its variants provide better audio quality than SBC; LHDC offers high-resolution and high-fidelity audio for gaming and watching videos; LDAC is like aptX Adaptive and is proper for strong signal strength; while AAC seems the "worst" audio codec among others and can be applied for casual listening.
In a conclusion, there is no best Android audio codecs or best Bluetooth audio codec Android. There is only a suitable audio codec for specific situations.
What Audio Formats Does Android Support?
Next, let's have a quick look at audio formats supported by android.
AAC LC
HE-AACv2 (enhanced AAC+)
AAC ELD (enhanced low delay AAC)
AMR-NB
AMR-WB
MP3
Opus
PCM/WAVE
Vorbis/OGG
How to Change Android Bluetooth Audio Codecs?
Although earbuds are convenient to use, their sound quality doesn't match wired earphones. If you'd like to improve the audio quality of your android phones and wireless headphones, you can alter the default audio codec on your device. Here is the guide.
1. Go to the Settings of your Android phone.
2. Tap on System.
3. Move to Developer options. You may need to enable the Developer options first.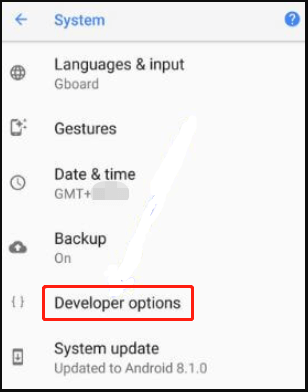 4. Find the Bluetooth audio codec menu and choose your favorite audio codec there.
In addition to making use of one of the built-in audio codecs for Android phones, you can also install new codec types on your mobile device. Just rely on the Enable optional codecs feature to achieve that.
Can't Change Bluetooth Audio Codec Android
If you fail to edit the wireless audio codec on your Android mobile following the above steps, you may fix your issue with one of the below solutions.
Fix 1. Restart Android Device
In the first place, you can power off and power on your Android phone. Then, try to change Bluetooth audio codec again to see whether it works or not. If you still can't alter the default audio codec, continue with the next method.
Fix 2. Deactivate Bluetooth/Disable Duo Audio
Some users reported that disabling Bluetooth and dual audio features of the phone solves the problem. That is to say, you need to switch off Bluetooth before changing its codec. You can reenable those functions after codec management.
Fix 3. Connect a Bluetooth Device
In a few cases, you need to first prepare a Bluetooth device before you can change your phone's default Bluetooth audio codec. You can connect a pair of Bluetooth earbuds and then try to make a change to the audio codec for Bluetooth to have a test.
Fix 4. Make Sure the Connected Bluetooth Device is Compatible
It is said that the Bluetooth device you paired with your Android smartphone should be compatible with the new Bluetooth audio codec you want to set. If not, Android will turn the codec back to the original one and stick it (which is supported by the connected Bluetooth device).
Fix 5. Update Android OS
The reason for the Bluetooth audio codec change failure may be due to an outdated operating system. If so, just check for your system version and update to its latest build.
Fix 6. Change Audio Bitrate
Some users claim that you need to alter your audio bitrate within the bits range of your target audio codec. Then, you can successfully change Bluetooth audio codec.
Fix 7. Edit Bluetooth Device's Settings
This way isn't applicable for every situation but only for connected Bluetooth devices that have an app setting. If you are in this situation, just find the Bluetooth device under the paired devices, click on the Settings icon (cog), and change some settings involves in audio or sound, such as "priority over sound" for Sony WH 1000 XM3. Finally, go to change Bluetooth audio codec in the developer options.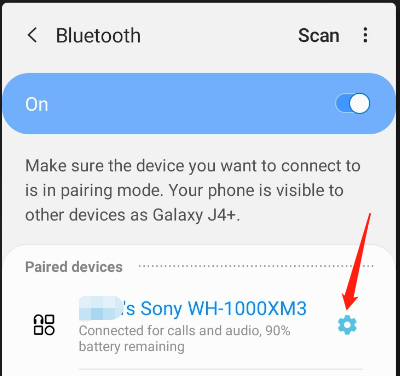 Sometimes, you can directly set up your desired audio codec within the connected Bluetooth device settings.
How to Convert to Audio Codecs for Android Phones?
How to fix audio codec not supported on android? If you get a piece of music or sound of Android unsupported audio codec but you want to make it the ringtone of your Android phone, you can convert the audio codec of the song to an Android-compatible format with a professional and easy-to-use program like MiniTool Video Converter, which enables you to export Android audio formats like MP3, AAC, and OGG and Android device formats including Android 1080P, 720P, General 1080P, etc.
MiniTool Video ConverterClick to Download100%Clean & Safe
1. Download, install, and launch MiniTool Video Converter on your Windows computer.
2. Upload the target audio to your PC.
3. In the main interface of MiniTool Video Converter, add the audio file to it.
4. Under the Target section, click on the output settings icon.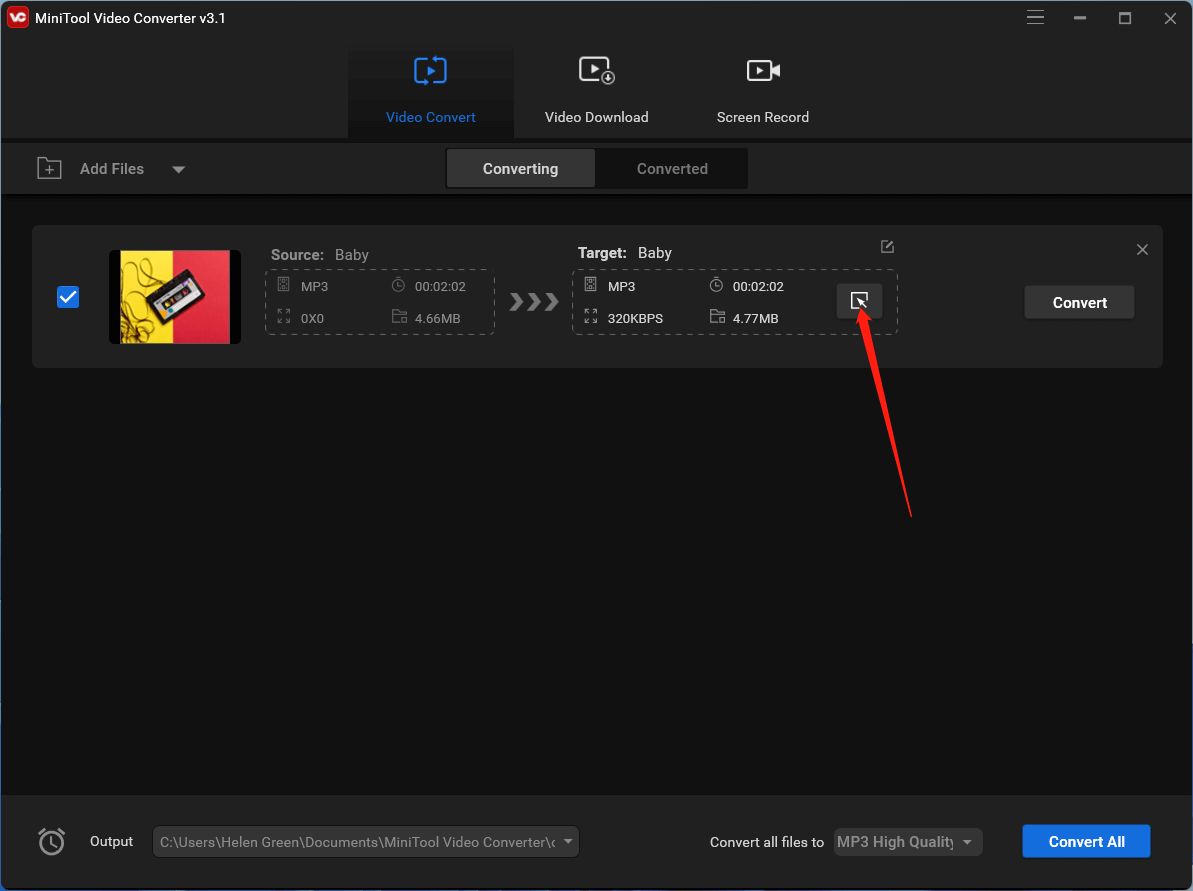 5. On the popup, go to the Audio tab from the top menu and select an Android-compatible audio format, and further select a quality type. You can edit each quality type to make a customized format.
6. You can also click on the Create Custom option in the lower right to completely customize the output audio format you choose.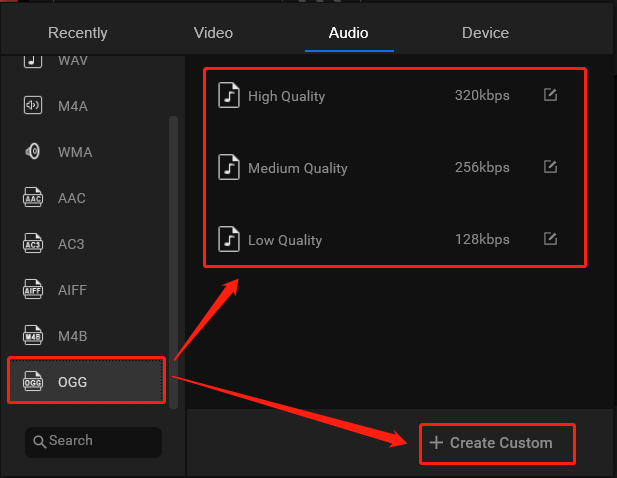 7. Specify the encoder, channel, sample rate, bitrate, etc. of the output audio format and click Create to save changes.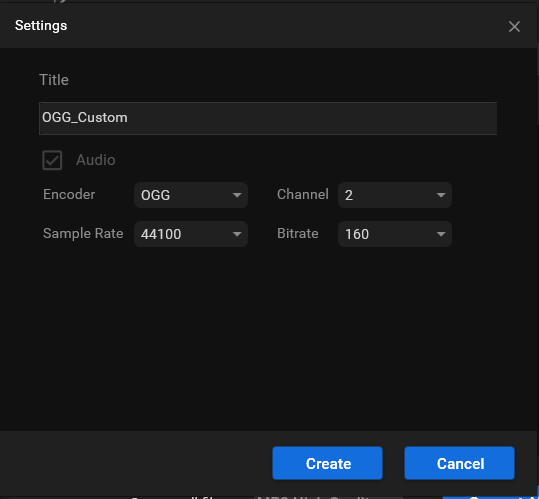 8. Select your customized audio output format.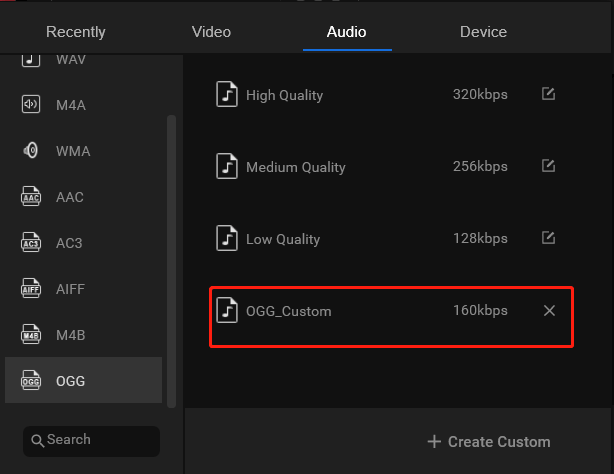 9. Or, you can directly navigate to the Device tab to pick up an Android device compatible format.
If you are using a Samsung or Huawei phone, you can directly select its compatible audio format and change the corresponding audio codec.
10. Finally, click on the Convert button on the main interface to start conversion.
When it completes, you can go to the Converted subtab in the main interface to find your converted audio file. Then, you can export it to your Android device to play.
Related Articles