In addition to Loom, there are many similar screen recorders on the market to choose from. To make sure you are choosing among excellent screen recorders, this article picks out the 14 best Loom alternatives for you.
What Is Loom
As we know, Loom is a screen recorder. With Loom, you can record your screen, and webcam, or record both at the same time, and it supports customizing recording dimensions. Also, it offers you some editing tools to make your recordings better. For example, it lets you trim recordings, draw on the key points, show mouse movements, add closed captions, and so on.
You can share your recorded videos instantly because you can get your video shareable link as soon as you finish the screen recording.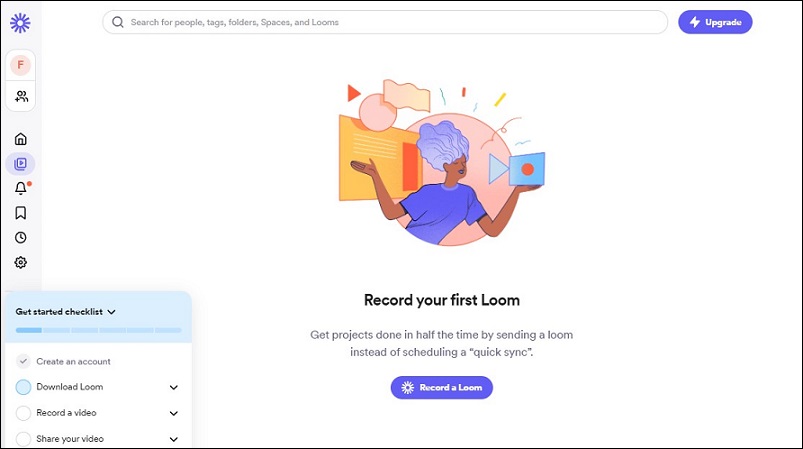 10 Best Loom Alternatives for PC
There are more screen recorders like Loom you can choose from. This part shows you the 10 best loom alternatives for PC.
MiniTool Video Converter
MiniTool Video Converter, a wonderful application for screen recording, is one of the best free Loom alternatives. It helps you to record the full screen or selected regions with system audio or audio from the microphone and supports saving these recordings in MP4, WMV, MKV, MOV, AVI, FLV, or TS formats.
What's more, MiniTool Video Converter allows you to make the output settings such as choosing the output folder, and changing frame rate and quality, and it lets you decide whether to record the mouse movement.
In addition to the function of recording screen, MiniTool Video Converter can also convert audio and video files and download videos and songs.
MiniTool Video ConverterClick to Download100%Clean & Safe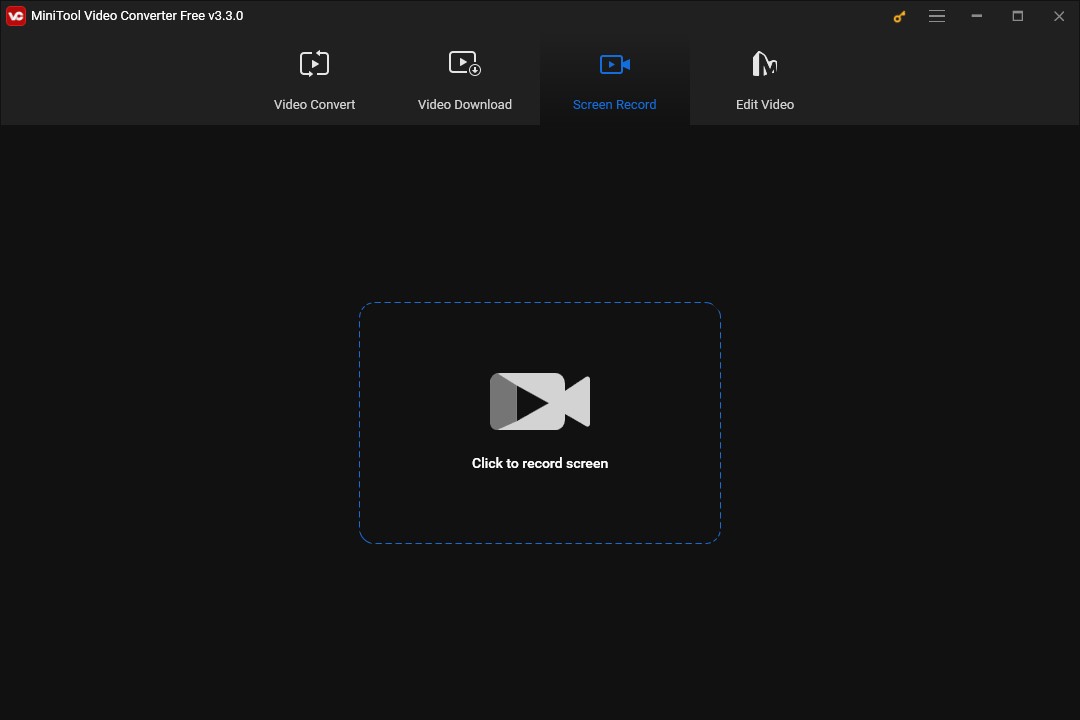 Key features:
High recording quality
An intuitive and user-friendly interface
100% clean and free
Supports popular output formats
Easy-to-use operation
Screen recording without time limits and watermarks
MiniTool MovieMakerClick to Download100%Clean & Safe
MiniTool Video Converter is the best screen recording software that is suitable for beginners.Click to Tweet
Camtasia
Camtasia is available for both Windows and macOS, and it is one of the best Loom alternatives that allow you to record screen and edit videos. It enables you to record the whole screen or selected region according to your need and supports recording system audio and audio from a microphone. What's more, to keep your viewers' attention, Camtasia allows you to record cursor movement, draw on the screen, add annotations, and use the function zoom-in to highlight details.
As a video editor, it helps you to edit and enhance your recordings in real-time. It provides you with a wide range of editing and special effects tools. Moreover, it allows you to view the timeline frame by frame by zooming in so as not to miss something important.
You can try its free trial for three days. If you want to keep using it, you need to pay $299.99 for one perpetual license of Camtasia.
Key features:
Support a wide range of output formats
An intuitive interface
Customizable recording parameters
OBS Studio
OBS Studio is a free and open-source software for screen recording and live streaming, and it is compatible with Windows, macOS, and Linux. You can use it to capture your computer screen, gameplay, webcam, etc., and it has various features such as multiple sound source capture, adjusting frame rate, and more.
It is also a screen recorder for low-end PC that allows you to adjust its configuration options to minimize the bad impact on your computer.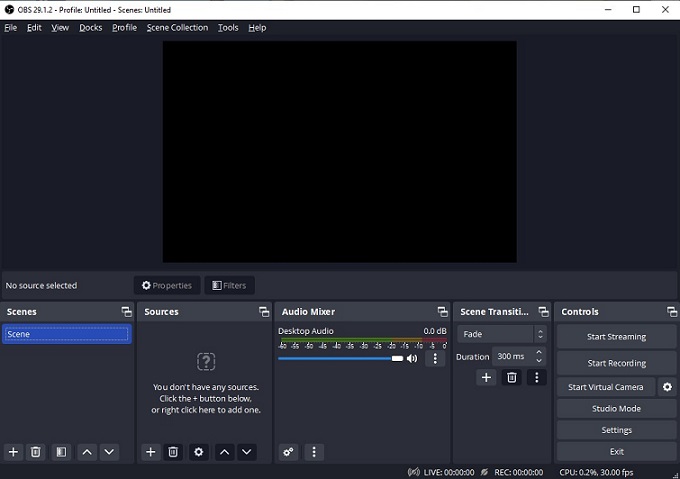 Key features:
A neat and clean interface
High-performance real-time video and audio capturing
Allow recording multiple scenes at the same time
Audio accurately synced with the video
Without watermarks and ads
Clip by ClickUp
Clip by ClickUp has a screen recorder without time limits that can capture your whole screen, app windows, or browser window. Then you can share your video message with a shareable link that plays directly in your browser and your video can be viewed instantly after recording.
Key features:
Integrate with other applications like YouTube, GIPHY, etc.
Screen recording without time limits
ScreenRec
ScreenRec, compatible with Windows/macOS/Linux, is a useful recorder that can record your screen, webcam, and audio from the system and microphone. This screen recorder is suitable for beginners because of its simple operation. Furthermore, it helps you record the screen in HD resolution.
Moreover, all screen videos are auto-saved to your private cloud account and you get a sharing link as soon as you press stop. In addition to screen recording, ScreenRec also can create annotated screenshots. In general, ScreenRec is one of the best free Loom alternatives.
Key features:
Cloud recording technology
No watermarks
A clean interface and simple operation
Lightweight screen recorder
No watermarks and time limits
Vidyard
Vidyard is a wonderful screen recording tool and one of the best Loom alternatives. It allows you to record screens and helps you share these recordings easily. You can share them through email or add them to your website with just a few clicks. But be aware that the recording is limited to one hour per video.
Key features:
Allow making quick edits like trimming
Generate a 3-second GIF preview automatically
Support uploading videos in MP4, MOV, WMV, and other formats
Snagit
Snagit is a great recording software that is compatible with Windows and macOS, and it is developed by TechSmith. It supports recording your screen and camera, or recording both simultaneously and then saving the recorded video as an MP4 or animated GIF. Also, you can use it to record audio from either a microphone or a computer's system audio. Furthermore, it is also an application for screen capture that allows you to capture the entire desktop, a selected region, a window, or a scrolling screen.
What's more, Snagit offers you some editing tools such as adding arrows, squares, annotation, trimming video clips, and so on. After finishing recording, you can share your recorded video via its shareable link or share it directly to the social apps. Generally, Snagit can be regarded as one of the best Loom alternatives.
Snagit is not a free screen recorder and it has no completely free version, but it provides a fully-functional free trial for 15 days. If you need to get all functions forever, you can pay a one-time fee of $62.99 for a standard single license.
Key features:
A variety of editing features
Allow turning short recordings into animated GIFs
Integrate with many software including YouTube, Twitter, Microsoft Powerpoint, and more
Easy-to-use operation
CloudApp
CloudApp is an easy-to-use application that is available for Windows, Mac, Chrome, and iOS. It can capture the entire or partial screenshots, and record screen with audio. Also, you can use it to trim, crop, and blur recorded videos, add text and arrows, and more. After you finish recording and editing, you can share your video as a link. If you are a free user, you can only record up to 90 seconds.
Key features:
Support adding annotations
Provide basic editing tools
Movavi Screen Recorder
Movavi Screen Recorder is a useful tool that enables you to choose the recording area and adjust its recording settings and gives you editing tools. Also, you can draw on the important content during the recording process.
What's more, it allows you to record the audio only from the system or microphone separately from the screen recording. Generally, Movavi Screen Recorder can be regarded as one of the best alternatives to Loom.
Key features:
High-quality video and audio recording
Schedule recording
Useful built-in editing options
Support tons of output formats
Show keystrokes and mouse movement
Vmaker
Vmaker is one of the best alternatives to Loom. You can use it to create an unlimited number of videos and can record your screen, webcam, or both as many times as you want. You can use its annotation tools as you're recording to emphasize the important parts of your video content and catch the attention of your audience.
Furthermore, Vmaker offers you a built-in video editor so that you can record and edit your videos in a single place without changing between tools.
Key features:
An intuitive interface
Customizable backgrounds
Auto-generated captions
Real-time collaboration
4 Best Online Loom Alternatives
This part shows you 4 wonderful Loom alternatives. Let's check them one by one.
Soapbox
Soapbox is a useful video recording for marketers, and you can not only use it to record but also polish and add branding to your videos. You don't need to download any software but just need to have a Chrome browser for your desktop. With Soapbox, you can cut off clips you don't need, pick a great thumbnail, add your logo, stitch recordings together, etc.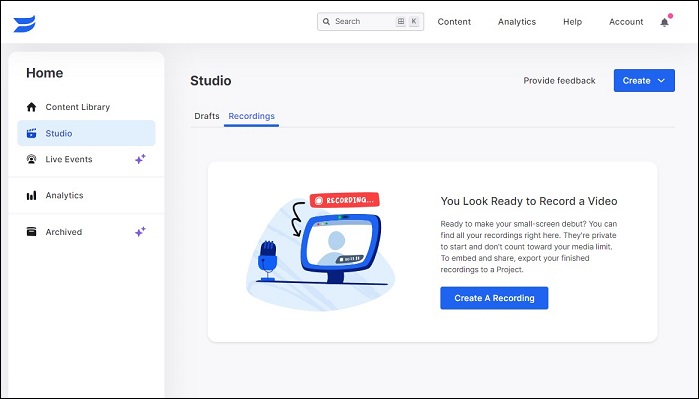 Key features:
Support team collaboration
Allow customizing your video player
VEED
VEED is one of the best online Loom alternatives that can work on any device. You can choose to record your screen, camera, or both simultaneously, and decide to record the system sound or audio from a microphone. It has some magic tools such as the AI eye contact tool for correcting eye movements, the magic cut tool, and others.
What's more, it has a full range of editing tools including trimming, cropping, adding subtitles, emojis, text, stickers, and more.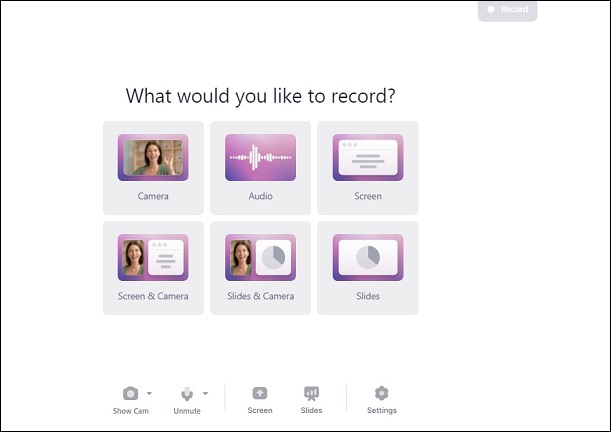 Key features:
A stock library including royalty-free music, sound effects, and others
Recording screen in HD resolution
Multiple layouts for screen recording
Screencastify
Screencastify is a free Chrome extension for screen recording and video editing. You can use it to record your entire screen, webcam, or both. It also gives you tools to make your videos stand out. For example, you can use its easy-to-use annotation tools to make your audience notice what is important.
Moreover, it provides users with high-definition recordings and file-sharing options allowing users to share their videos online easily. Also, it allows you to track those who have watched your video after you share your video with the Screencastify Watch Page.
You can use it for free, but you can only record videos for no more than 30 minutes. If you want to get a better user experience, you can pay $7 per month for the Starter version or pay $10 for the Pro version.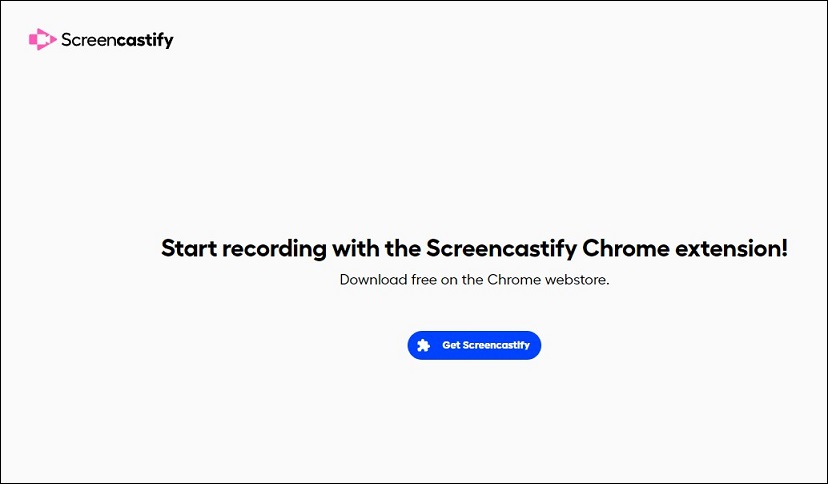 Key features:
Simple editing suite to beautify the recordings
All videos are saved in your Google Drive automatically
Provide real-time tools
Tella
Tella is a good screen recorder and you can use it to create demos and record online courses. You can change the background of your recording, and you can use its split or trim tools to remove unwanted parts and keep the good parts. Also, Tella is a webcam recorder that allows you to apply the layout if you want to record yourself on the webcam.
It costs $15 per month, and you can get unlimited recording duration, unlimited videos, 4K export, and so on. You can decide whether to buy it after a 7-day free trial.
Key features:
Provide a GIF thumbnail generator to make your videos attractive
Allow recording presentations
High-quality recordings
Customizable captions
Conclusion
After reading this article, you must have a better understanding of Loom and know the 14 best Loom alternatives. This article provides you with more options for screen recording and you can choose a better one from above to record your screen and then share the recordings with others.
If you have any questions or comments about MiniTool Video Converter, please don't hesitate to email us at [email protected].