Are to looking for the best tool to record your screen? There're many screen recording applications in the market like Snagit and Camtasia, two of the most popular screen capturing tools created and developed by TechSmith.
Many people want to know which program to choose when it comes to Snagit vs Camtasia for screen recording. This post will discuss the differences between Snagit and Camtasia to help you choose the right tool.
Snagit vs Camtasia: Features
First of all, let's learn the main features of Snagit and Camtasia.
What Is Snagit?
Here's a quick guide to Snagit features.
Take screenshots and record screens or camera.
A powerful Snagit Editor for editing screenshots.
Share your image/video to Dropbox, PowerPoint, Word, email, and more.
Snagit (formerly Snaglt) is a screen capture and screen recording application compatible with Windows and macOS. In short, you can use Snagit to take screenshots and record your screen as a video.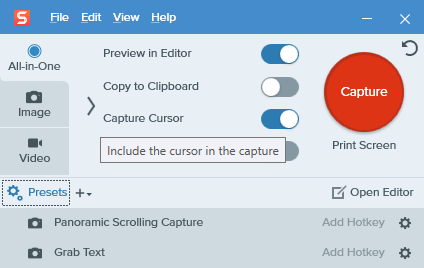 Use Snagit to Take Screenshots
As for screenshots, Snagit allows you to grab a region, windows, full-screen, scrolling window, panoramic content, etc. After taking a screenshot, it will immediately open in the Snagit Editor where you can edit the image as you like.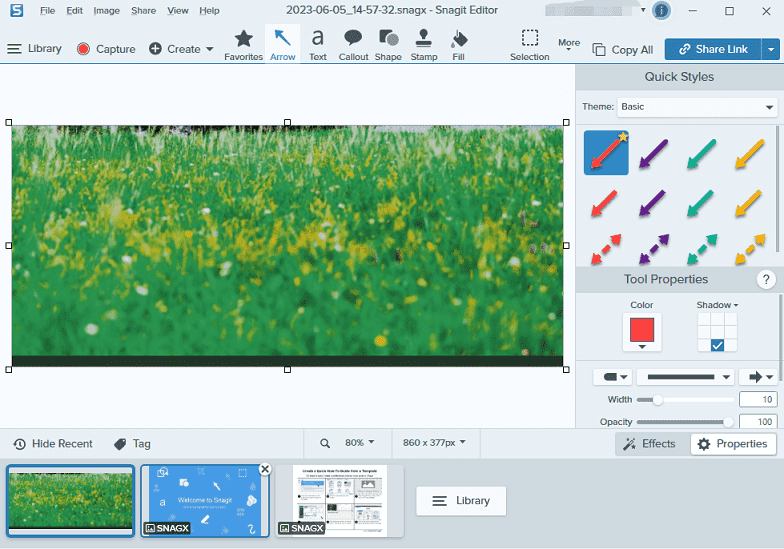 Snagit Editor, you can add your text, add comments with callouts, use arrows and stamps to point something out, highlight things with shapes, blur your screenshot, adjust the size of your image, edit colors, and more.
After editing, Snagit Editor allows you to save the screenshot in different formats like PNG, BMP, GIF, WebP, PSD, and more. Also, you can directly share the image to Knowmia, Word, PowerPoint, Excel, Google Drive, and more.
Use Snagit to Record Screen
Snagit screen recorder lets you record your screen (a selected region, a specific window, or full-screen) or camera, or record them simultaneously with picture-in-picture, and along with audio from your microphone or computer's system audio.
During recording, you can draw arrows, squares, and step numbers to highlight something important on your screen. Once you stop the recording, the video also immediately opens in the Snagit Editor where you can trim it to remove unwanted sections. Then, export the video to MP4.
Moreover, in Snagit Editor, you can send the video to Camtasia for further editing or share it on YouTube, Twitter, and more.
What Is Camtasia?
Here're the main features of Camtasia.
Record anything on your computer screen and camera.
A built-in powerful video editor to edit recorded videos.
Camtasia is a software suite for recording screens and editing videos on Windows and macOS. With Camtasia, you can easily record your screen or camera, or record them at the same time with microphone or system audio included.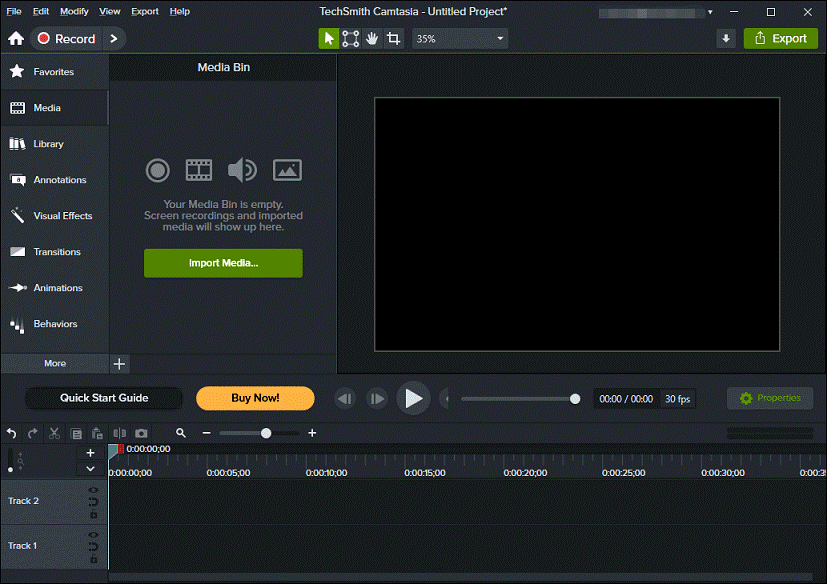 After recording, your video will open in the Camtasia Editor where you can edit it as you want. Camtasia Editor provides many editing features, such as trimming, rotation, annotations, filters, transitions, video speed adjustment, and more.
Snagit vs Camtasia: Differences
After knowing the key features of Snagit and Camtasia, let's continue to check their main differences to help you decide between Snagit vs Camtasia.
What do you want to do?
Snagit can take screenshots and record screen, while Camtasia only records screen. If you need to create images, Snagit is the right choice.
If you want to quickly record a simple video, you can try Snagit. However, if you need to create professional-looking videos, Camtasia is the best choice because it has a powerful video editor. Camtasia can be used to create tutorials, YouTube videos, videos for online learning, and more.
Do you want some editing features?
Snagit offers many image editing tools to edit screenshots, but it only lets you trim videos. If you want more tools to edit the video after recording, just try Camtasia. This application has many tools to help you create high-quality videos.
An Alternative Way for Screen Recording
There're many alternatives to Snagit screen recorder and Camtasia to record everything on your computer screen. MiniTool Video Converter is one of them. This application has a Screen Record feature that lets you record any activities on your screen.
MiniTool Video Converter is simple and free to use. With it, you can quickly record your screen with audio and save the video in different formats including MP4, WMV, MKV, AVI, MOV, FLV, and TS. More importantly, this screen recorder doesn't have a recording time limit or watermark your video.
MiniTool Video ConverterClick to Download100%Clean & Safe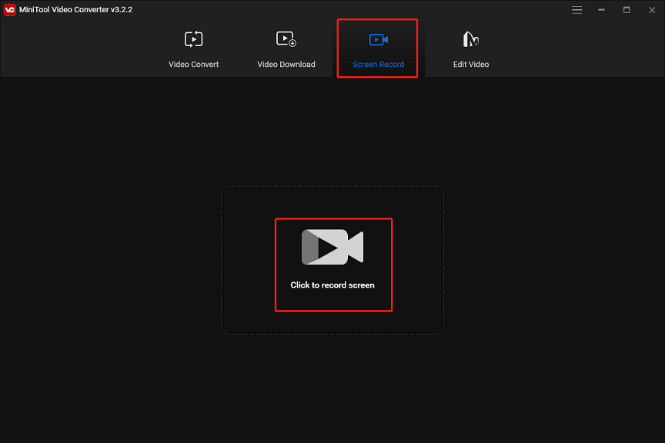 Here's a simple guide on how to use MiniTool Video Converter to record your screen.
Download and install MiniTool Video Converter on your PC.
Open MiniTool Video Converter, click the Screen Record tab, and tap on the Click to record screen area to enable MiniTool Screen Recorder.
Choose recording area: Click the arrow button next to Full screen, choose Select region, and drag your mouse to choose the recording region.
Click the Settings icon at the top right, and you can change the output folder, choose video format, adjust frame rate, do mouse settings, and more. Click OK to save your changes.
Click the red Record button to start recording. Press F9 to pause/resume recording. Press F6 to stop recording.
The video recording will display on the MiniTool Screen Recorder Video list. Right-click it to preview, delete, rename the recording, or check its folder.
Final Thoughts
Snagit vs Camtasia is always a hot topic and many people want to know which one is better. Both Snagit and Camtasia are useful tools. This guide tells you their key features and now you should know when to use Snagit or Camtasia.
Generally speaking, you should select Snagit when you want to create screenshots or create a simple video to share information. If you want to make profession-looking videos for marketing or other purposes, Camtasia is definitely the right option.
When people decide between Camtasia vs Snagit, some of them might also consider the price. Both of them are not free to use. You should choose the tool based on your goal. However, if you just occasionally need to record your screen and want a free tool, you can try MiniTool Video Converter.