Sometimes the recorded audio lags behind the video during screen recording, or the recorded video has unnecessary skips or pauses. These situations are called screen recording lag. Do you know why lag happens during screen recording? Do you want to find a screen recorder no lag? Please continue reading the following parts.
Why Lag Happens During Screen Recording
The main reason that causes lag during screen recording is the CPU processing power. CPU processing power is important to screen recording because recording the screen is a CPU-intensive task that would consume a high CPU when you record the screen with both internal audio and sound from a microphone. Other performance of the computer would be dragged down when the CPU of the computer reaches high usage, which may cause unexpected recording lags.
To make sure screen recording no lag, most of you may choose to sacrifice the recording quality or turn off other running programs. But there is a better way, which is to choose a screen recorder no lag.
9 Best Screen Recorders No Lag for PC
Here is a brief introduction to the 9 best screen recorders no lag for PC. Let's check them one by one.
MiniTool Video Converter
MiniTool Video Converter, a free screen recorder no lag, can help you record computer activities without a time limit and watermark. You can use it to capture all or part of your screen with the option to add audio from the system or microphone according to your needs.
What's more, MiniTool Video Converter allows you to adjust its output parameters such as frame rate and quality, and you can decide whether to show mouse cursor or mouse area or mouse clicks, etc. It provides you with 7 output formats including MP4, WMV, WKV, AVI, MOV, FLV, and TS.
In addition to the function of the recording screen, MiniTool Video Converter can also convert audio/video files and download videos.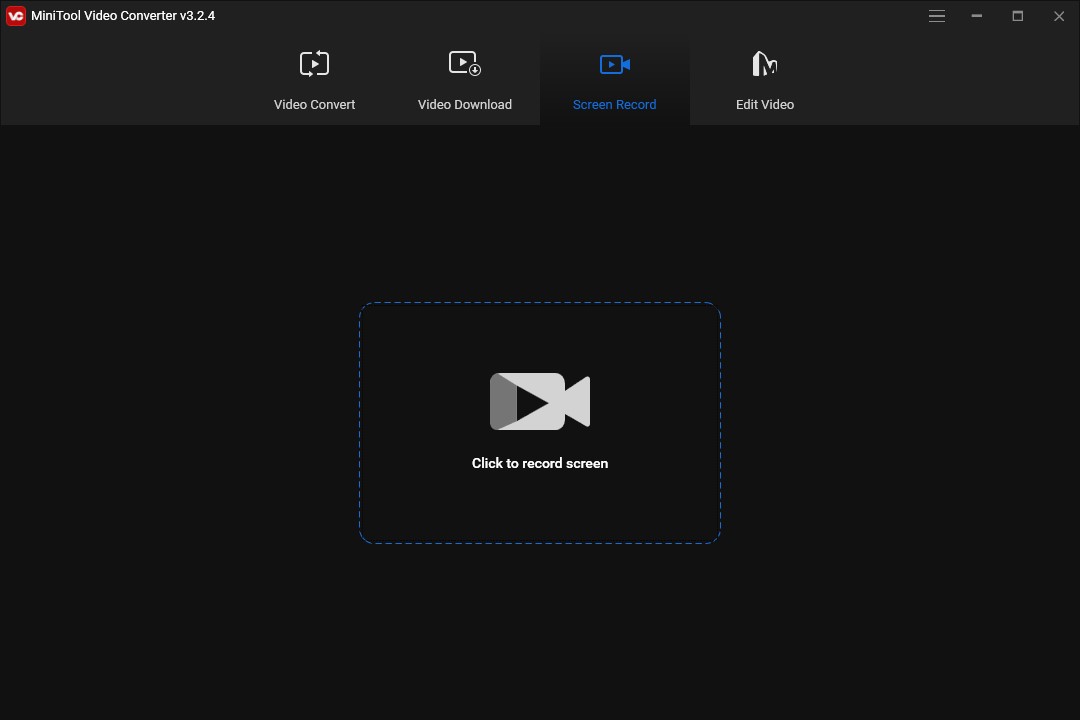 Key features:
An intuitive and user-friendly interface
Easy-to-use operation
100% clean and free
High recording quality
Record screen in different video formats
MiniTool Video Converter is one of the best screen recorders that suitable for beginners. It can help you record screen without lag.Click to Tweet
ScreenRec
ScreenRec is a useful recorder with the features of screen recording, webcam recording, and the ability to capture system audio and audio from the microphone. Recording screen with ScreenRec is as simple as a single click, and it allows you to record the screen in HD resolution.
More importantly, it is a lightweight screen recorder that has a lower requirement for CPU processing power. Therefore, it can be regarded as a good screen recorder no lag. In addition to screen recording, ScreenRec also has the capability to create annotated screenshots.
Key features:
Cloud recording technology
Clean interface and simple operation
No watermark
OBS Studio
OBS Studio is a free screen recorder no lag. You can use it to capture your computer screen, gameplay, webcam, etc. It is a professional and open-source screen recorder that has various features such as multiple sound source capture, real-time recording, resolution and frame rate adjustment, and more.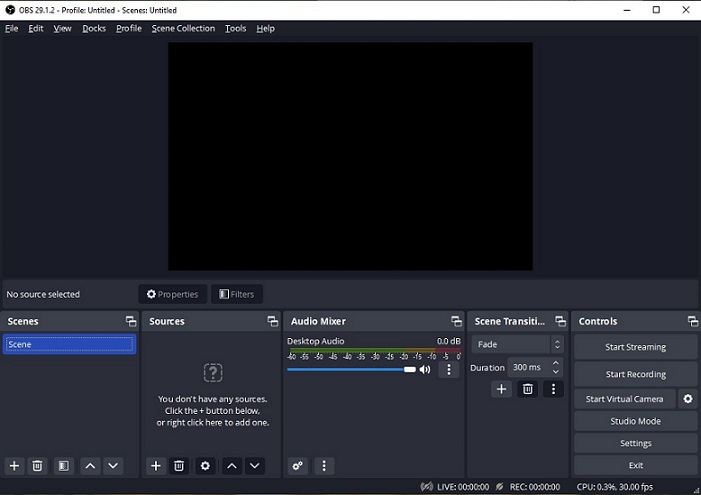 Key features:
Clean and neat interface
High-performance real-time audio/video recording
Multiple scenes can be recorded at the same time
Audio accurately synced with the video
Compatible with almost all computers
Bandicam
Bandicam is a simple and easy-to-use screen recording software that allows you to record all activities on the computer screen. As a screen recorder no lag, it provides you with some screen recording functions such as audio recording, webcam overlay, real-time drawing, scheduled recording, and 24-hour long-term recording.
It is also a high-performance game recorder that can record high-resolution gameplay requiring up to 4K UHD through hardware acceleration. But it has watermarks and only allows you to record 10 minutes in the free trial version.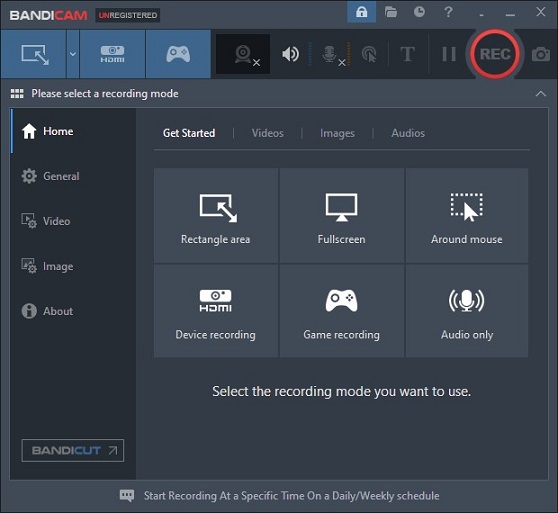 Key features:
Real-time drawing
The handy recording scheduling feature
Record the system audio and your voice at the same time
Recording video up to 480 FPS
VideoProc Converter
VideoProc Converter is a popular screen recorder and webcam recorder that can help you record gameplay, presentations, webinars, and live streams, and create screencasts, podcasts, online courses, video instructions, and more.
It allows you to record picture-in-picture videos and record green screen videos. The green screen recording can help you remove the background by applying the chroma key for webcam overlay, and create a virtual background. What's more, it provides you with utility tools including cropping, drawing, and adding texts, voiceover, images, and outlines during recording.
Key features:
Movavi Screen Recorder
Movavi Screen Recorder is a no lag screen recorder. It allows you to draw on your videos in real-time. Also, you can set it to show the mouse clicks or keyboard strokes to highlight something, what's more, it helps you edit webcam and screen recording easily.
Key features:
High-quality audio and video capture
Useful built-in editing options
Upload directly to YouTube, Vimeo, Google Drive, and others
Support various output formats such as MP4, AVI, MP3, and more
BB FlashBack Express
BB FlashBack Express is a multi-functional screen recorder. You can use it to capture your screen, web pages, and video calls, and the software also allows you to add narration to your videos. You can use it to record webcam, and add commentary.
Most of its editing tools are not free, but the video trimmer is free to use. There are limited tools and you can only save your recordings as MP4, MKV, AVI, or GIF in the free trial. If you want to get the full video editing suite, record HD/4K video, apply video effects, and save recordings in all file formats, you need to pay for its pro version.
You can also add stickers, arrows, etc. to your videos to make them more interesting and personal. It is an easy-to-use screen recorder that provides you with a step-by-step wizard to configure all the necessary settings such as recording area, video quality and sound source, etc.
Key features:
Support for various sound source
Share directly to YouTube and other sites
No time limits and watermarks
ScreenFlow
ScreenFlow is a useful tool that can capture screens and edit videos. As a screen recorder no lag, it can record screen, camera, and microphone simultaneously. Also, it provides you with a customizable title library, video filters, and multi-app recordings. You can save your recordings on nearly any device and send them to social media, websites, or the cloud with only a few clicks.
In addition to recording your screen, it also offers you video editing features where you can add annotations, music, and pictures to your videos.
It is software designed for professionals, and you can use it to create presentation videos, online teaching videos, training videos, and so on. After recording and editing the video, you can share it directly on YouTube, Vimeo, and other platforms.
Key features:
High-quality recording
The built-in media library for images, audio, and videos
User-friendly and clean interface
Multi-screen recording
Camtasia
Camtasia, compatible with Windows and Mac, is a no lag screen recorder that can easily suit your screen recording demands. You can use it to record screens and edit videos. It allows you to capture the selected area or the whole screen. This feature allows you to create a small demo of a specific area on the screen.
In addition to high-resolution screen capture, Camtasia records your microphone, system audio, camera, and cursor so that you can edit them separately or all at once.
As a video editor, it helps you to edit and enhance your recordings in real time. It provides you with a wide range of editing and special effects tools such as the ability to draw on the screen, add annotations, add subtitles, and more. It allows you to view the timeline frame by frame by zooming in so as not to miss something important.
What's more, it helps you to add personality to your video by capturing your camera as you record, and you can position your camera video anywhere on the canvas. You can try its free trial for three days.
Key features:
Support a variety of output format
An intuitive interface
Allow adjusting recording preference before recording
3 Best Screen Recorders No Lag for Android
This part recommends you 3 best screen recorders no lag for Android. You can refer to the following brief introduction to them.
AZ Screen Recorder
AZ Screen Recorder is designed to record gameplay on Android devices, which consumes fewer resources. As a no lag screen recorder, it has many features including screen recording, screen capture, video editor, and live streaming.
It can also record the facecam while recording the screen, and the facecam footage appears as an overlay window that can be moved around the screen according to your need. What's more, you can use AZ Screen Recorder to create GIFs out of the recorded videos.
Key features:
Pause/resume screen recording at any time
Allow customizing the output parameters such as quality, bitrate, frame rate, and others
Record the screen with internal audio or audio from the microphone
User-friendly interface
XRecorder
XRecorder is a free screen recorder no lag that can help you capture smooth and clear screen videos and screenshots easily. It can help you record HD video tutorials, video calls, and videos that can't be downloaded, and it provides you with flexible control for the start and end of screen recording through floating windows and notification bars.
Key features:
Internal audio recording without noise (only Android 10 and above)
Support exporting full HD video with custom settings
Export recording in different resolutions
No root needed
No time limits
YouTube and RTMP live stream
Integrated video editing
Mobizen Screen Recorder
Mobizen Screen Recorder, a screen recorder no lag, is awarded as the "Best of 2016 Apps" by Google, and it is selected by global 200 million users. You can use it to record your smartphone screen with the best quality and edit videos with your smartphone without a PC. Also, it allows you to record the internal sound of your mobile and your voice through the microphone
Key features:
Over 30 free sound effects
Highly effective screen recording
Without watermarks
How to Record Screen Using MiniTool Video Converter
MiniTool Video Converter is one of the best free screen recorders no lag for Windows. This part will show you how to record screens with MiniTool Video Converter.
Step 1. Download and install MiniTool Video Converter on your computer.
MiniTool Video ConverterClick to Download100%Clean & Safe
Step 2. Launch MiniTool Video Converter, tap the Screen Record button, and click on the Click to record screen area to open the screen recording window.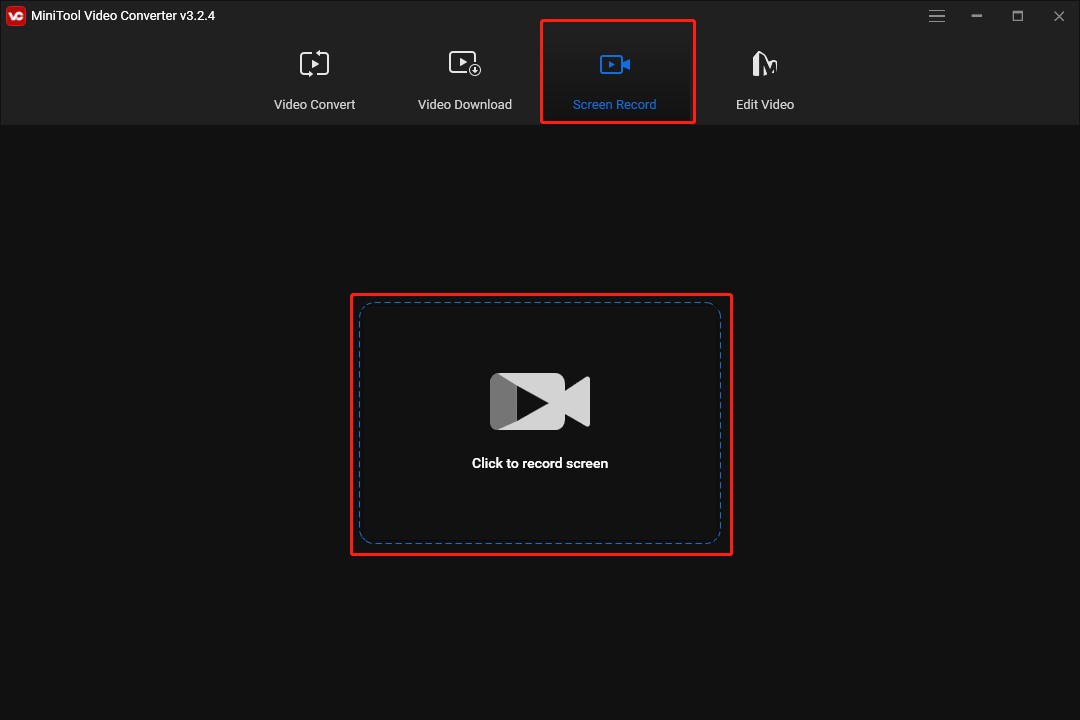 Step 3. By default, MiniTool Screen Recorder will record your entire screen. If you need to record a specific area, expand the Full screen dropdown to choose Select Region and drag your mouse to choose the recording region.

Step 4. Choose to open the System Audio, Microphone, or both according to your needs.
Step 5. Click the Settings icon in the upper-right corner and enter the Settings window to set output format, frame rate, quality, codec, and more, then click OK to save your change.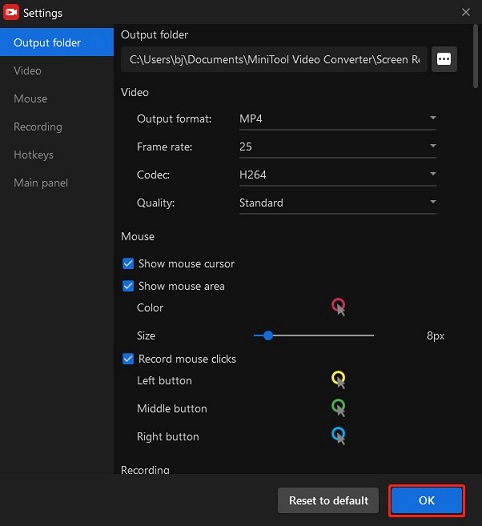 Step 6. Press the red Record button or press F6 to start recording, press F9 to pause/resume during recording, and once done, press F6 to stop recording.
Bottom Line
In summary, this article shows you the main factor that causes the lag happens during recording. To avoid this situation, we recommend you to choose a screen recorder no lag, and this article provides you with a brief introduction to the 12 best screen recorders no lag. You can choose one from them and record the screen with this no lag screen recorder.
If you have any questions or comments about MiniTool Video Converter, please don't hesitate to email us at [email protected].