Black screen recording is a common problem. The device may be a desktop/laptop computer running Windows or macOS, an Android-based mobile phone, or an iPhone. This post from MiniTool teaches you how to get rid of the "black screen records" issue.
Black Screen Records
Now many smart devices can perform screen recording, such as desktop computers, laptops, mobile phones, etc. However, you may encounter the "black screen records" issue due to some reasons when taking screen records.
The following are the main reasons.
You do not have the right to take screenshots: From the system, software to the target recording content, you may be prohibited from taking screenshots. Most likely, piracy protection or DRM is very important.
Also see: Can't Take Screenshot Due to Security Policy? Here Are Fixes!
Screen recorder error: The same reason as the previous one, any screen recorder application may sneak away due to its internal mechanism or recording settings and cause performance errors.
Inappropriate recording environment: Due to the heavy burden on your computer, your recording happens to turn black. In addition, when your screen recorder cannot work on the same GPU as the recording application, the screen will also turn black.
System bug: A small unknown bug in the machine system, especially the Android system, may cause you to be involved in this black error. Of course, this may be an occasional problem that you can get rid of by yourself, or it may be a serious error that requires further system updates.
Outdated GPU driver: The old graphics driver may have display abnormalities, of course, including the display during projection.
Next, we will introduce how to fix black screen records on Windows 11.
How to Fix Black Screen Records
Fix 1: Restart Your Devices/Software
First, you should try to restart your screen recorder. Besides, restarting a computer can always fix some issues on the device. Thus, you should restart devices including your computer or phone.
Fix 2: Update the Software, System, and Drivers to the Latest
Make sure that the software, system, and drivers (PC only) are up to date. If any one of them has not been upgraded to the latest version, especially the graphics driver of the PC, you may encounter black screen records on Windows 10.
Fix 3: Check the Limitation
If the target application or streaming media content has restrictions on screen recording, a black screen will appear. This is why many people find that they only experience black screen issues when recording certain applications or saving videos from Amazon Prime, Netflix, and similar platforms.
Also see: Fix Netflix Black Screen on Windows PC with 5 Solutions
In addition, your antivirus application can also protect you from unwanted screen captures, so please make sure your screen recorder application is on the whitelist. Or, you can choose to disable the antivirus, refer to this post - How to Disable Antivirus on Windows 10 Temporarily/Permanently.
Fix 4: Change Recording Settings
It is recommended that you change the in-app recording settings, such as resolution, frame rate, quality, etc. You should change the capture settings of the application according to the actual situation to see if it helps. For example, if your PC is low-end, please lower the quality level and parameter values; disable GPU hardware acceleration for video processing.
How to Disable Hardware Acceleration on Windows 10
Fix 5: Try Other Screen Recorders
If the above methods are not working, you can try other screen recorders to do the recording task. Here are some great screen recorders.
Windows Users
#MiniTool Video Converter
MiniTool Video Converter comes with a screen recording feature. It lets you record streaming videos in MP4, WMV, MKV, AVI, MOV, FLV, and TS. If you want to record audio from a computer, you can convert the recording to MP3 or other audio formats.
Moreover, MiniTool Video Converter supports batch conversion that lets you convert files up to 5. In addition to video and audio converter, this software has another two tools: video converter and YouTube downloader. MiniTool Video Converter is free, no ads, no bundles, no watermarks.
Now, let's see how to record the screen with MiniTool Video Converter.
Step 1: Download and install MiniTool Video Converter to enter its main interface.
Step 2: Navigate to the Screen Record tab and click the Click to record screen area to enter the screen recording window.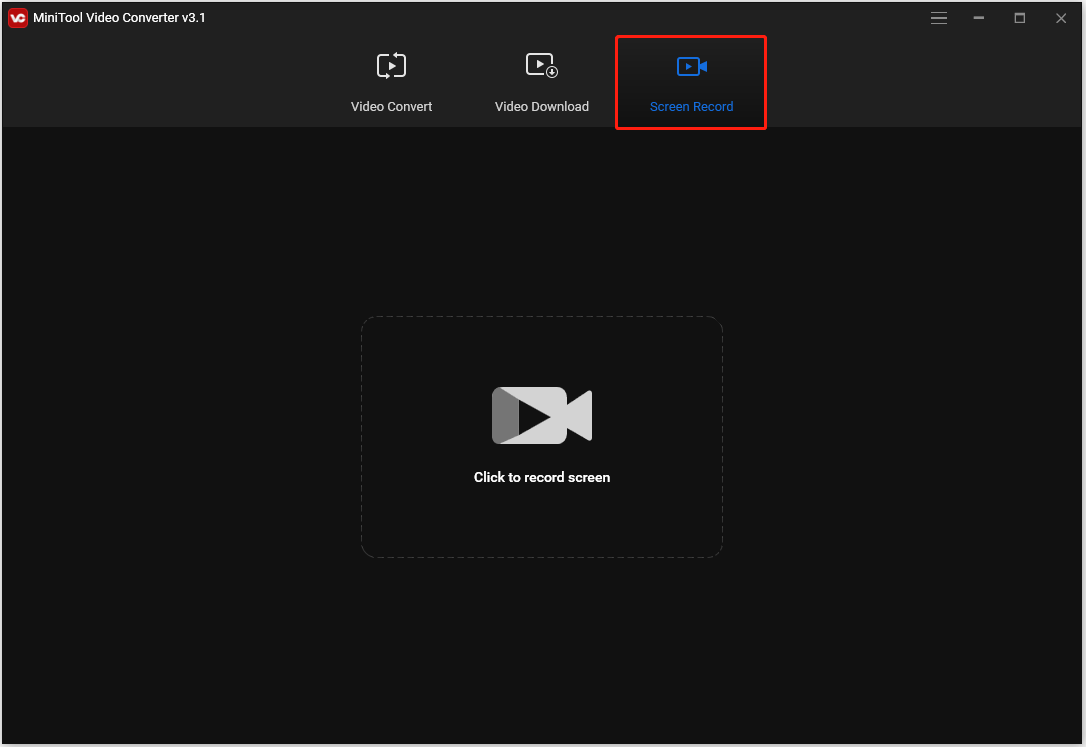 Step 3: Open the Full-screen drop-down list to select the area to be recorded. You can choose Full screen or Select region.
Step 4: Determine if you want to record sound from the system or microphone. Just click the icon to turn on or turn off the sound.
Step 5: Click the Settings icon to enter the advanced settings page, where you can modify the output folder, output format, video frame rate, video quality, choose whether to display the floating toolbar when recording and much more. Then, click OK to save your changes.
Step 6: Press the red Record button or F6 to start recording your screen.

Step 7: During the recording process, you can press F9 to pause/resume the recording. Once done, press F6 to stop recording.
#Game Bar
For Windows users, there is a built-in free screen recording tool named Game Bar. And this lets you record the screen on Windows 11/10 for free. You can turn on the Game Bar feature by following the instructions.
Step 1: Press Windows + I. Click Gaming > Game Bar. You can find the Game Bar tool and its settings now.
Step 2: To enable Game Bar, you can turn on the Record game clips, screenshots, and broadcast using Game bar option.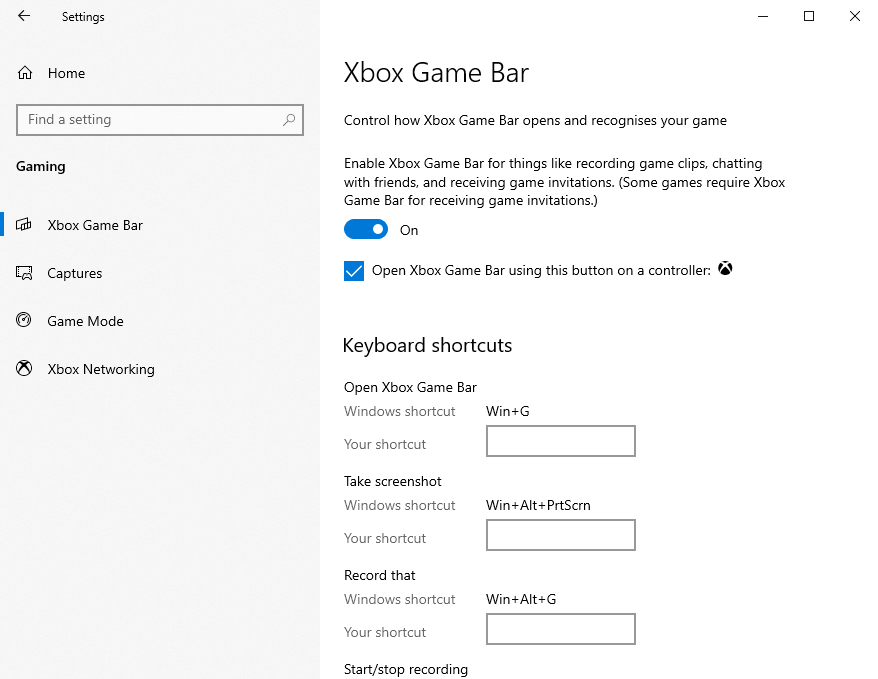 After turning on the Game Bar feature, you can use it to record the screen now.
Step 1: Open the screen you'd like to record.
Step 2: Press Windows + G keyboard shortcut to evoke Game Bar. Click Yes, this is a game, and then you can press the Win + Alt + R keyboard shortcut to start recording the video.
Step 3: To stop the recording, you can press the Win + Alt + R keyboard shortcut again.
Step 4: Then you can go to C:\Users\Administrator\Videos\Captures to find the recorded file.
Mac Users
#QuickTime Player
The easiest way to record video on your Mac is using the built-in QuickTime Player. Now let' get into the specific steps.
Step 1: Open QuickTime Player on your Mac.
Step 2: Click the File option to open the drop-down menu and choose New Movie Recording.
Step 3: Then the FaceTime webcam will activate and show on the screen, click the red record button to start recording your video.
Step 4: When finished recording, hit the Stop button to end it. Go to the File menu and choose Save or Export.
Step 6: Give the recorded video a name and save the recorded movie to the location of your choice.
Recorded video file types are saved as .mov QuickTime files by default, but you can save them to other formats as you need, or convert them to other video formats later. If you want to convert the video, you can try MiniTool Video Converter.
#OBS Studio
You can use another Mac video recorder – OBS Studio. It's a free and open-source screen recorder and live streaming software available for macOS, Windows, and Linux. It can record screens in different qualities and formats including MP4, FLV, MKV, etc.
Here's how to record the screen on Mac.
Step 1. Launch OBS Studio after installing it on your Mac computer.
Step 2. Click the + in the Sources section to select the Display Capture option. Click OK.
Step 3. In the Controls section, choose Settings to change the output settings.
Step 4. After you save the changes, click on Start Recording in the Controls section.
Step 5. Then it will start recording your screen. To end the recording, open the OBS window and click the Stop Recording button.
Phone Users
If you want to screen record on Andriod's phone, you can try Mobizen Screen Recorder. It allows you to record screen, capture, and edit recordings for free. The editing features including video trimming and splitting, adding background music or Intro/Outro videos, etc. And it's a screen recorder without watermarks.
Step 1: Download and install Mobizen from Google Play Store, and open this screen recorder.
Step 2: Select the Record button from the recording widget.
Step 3: A dialog saying "Mobizen will start capturing video" appears, and click the Start now.
Step 4: After a three-second countdown, the recording starts.
Step 5: When you want to finish the recording, tap the Mobizen icon, and tap the Stop button.
Step 6: Click the WATCH VIDEO button to view the recording.
If you want to capture your iPhone screen, there is no need to download a third-party application from the App Store. Apple offers a free tool for iOS 11 or later that you can add to your iPhone's Control Center to screen record with sound. Next, we will show you how to screen record on iPhone.
Step 1: Go to Settings > Control Center and tap on More Controls (or Customize Controls if you're using iOS 13 or earlier).
Step 2: Then click the green + button next to Screen Recording, which will move it from the MORE CONTROLS section to the INCLUDE section.
Step 3: Open Control Center on your iPhone.
Step 4: Press and hold the gray Record icon. If you want to record your voiceover, just click Microphone. Hit Start Recording.
Step 5: After a three-second countdown, it will record everything you do.
Step 6: To stop the recording, open Control Center again and tap on the red Record icon. Or tap on the red status bar at the top left of your screen and select Stop.
Step 8. Go to the Photos app and check your screen recording.
Bottom Line
After reading this post, you must know how to fix the "black screen records" issue. Besides, you can choose a screen recorder for your device. If you have questions about this post or encounter problems when using MiniTool Video Converter, please feel free to contact us via [email protected] or leave comments below.