What Is M2TS File?
M2TS, short for MPEG-2 Transport Stream, is a container file format used for Blu-ray disc Audio-Video video files. It's based on the MPEG-2 transport stream container, commonly used for high-definition video on Blu-ray Disc and AVCHD.
When it comes to M2TS, we have to mention the MTS video format. MTS is short for MPEG Transport Steam. It uses MPEG-4/H.264 video compression and supports 720P and 1080i videos. MTS is the video recording format from Sony and Panasonic camcorders.
When transferring MTS recorded data to the computer for storing the video in a Blu-ray disc, the MTS file extension will be changed to M2TS.
Compared with MTS, M2TS files are playable on a variety of devices. M2TS is also recognized as the best solution for storing videos on Blu-ray disks.
Best 8 M2TS Converters
If you want to convert an M2TS file to other video formats or turn a video file into M2TS, you can try out the following 8 M2TS converters.
4 M2TS Converters for Desktop Computers
#1. MiniTool Video Converter
MiniTool Video Converter is a free M2TS converter. It allows you to convert M2TS to different video formats like MP4, MKV, WMV, MXF, MPG, and more. It also lets you import various video formats and turn them into M2TS.
MiniTool Video Converter lets you convert up to 5 files at once. It's 100% free to use and does not have any limits. It doesn't watermark the converted videos or limit the number of conversions per day.
When converting a file, you can choose a preset format. Also, MiniTool Video Converter allows you to create a custom format with desired quality, video encoder, resolution, frame rate, and bitrate.
Here's how to use MiniTool Video Converter to convert M2TS files.
Step 1. Launch MiniTool Video Converter after the installation.
Step 2. Click the Add or Drag files here to start conversion area to browse for the M2TS file you want to convert or the file you'd like to turn into M2TS. Select this file and click Open.
Step 3. Click the icon in the below screenshot that is marked out with a red square and click Video.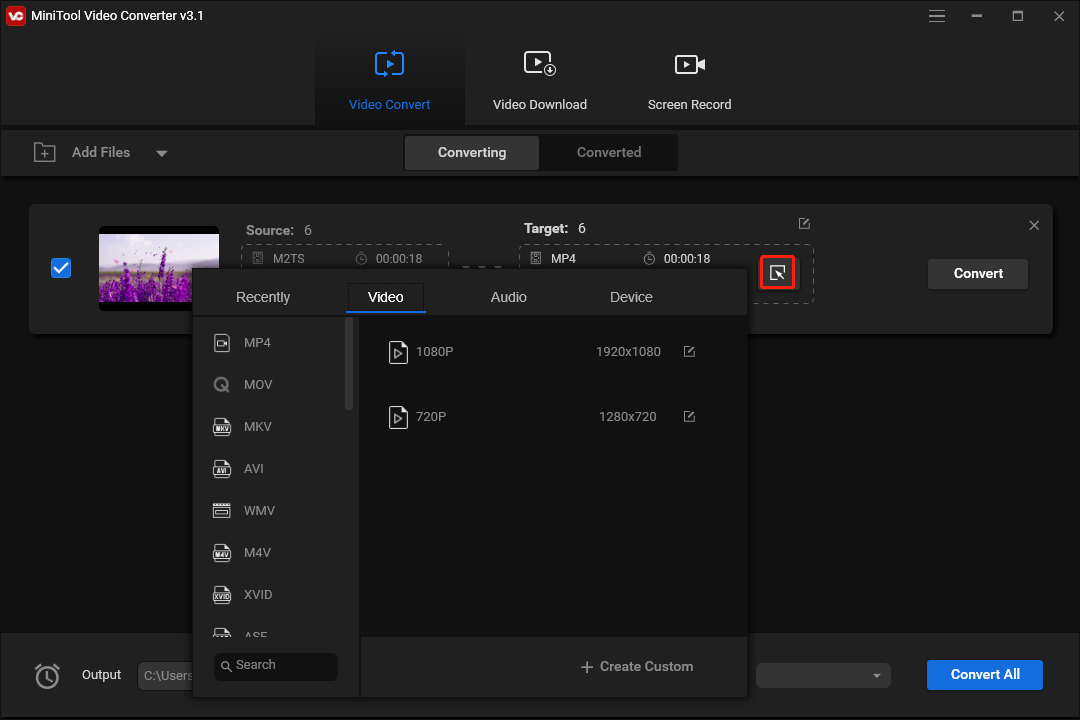 Step 4. Click the desired video format and then choose the desired resolution.
If you want to convert this video to M2TS, scroll down to M2TS, and choose 1080p or 720p.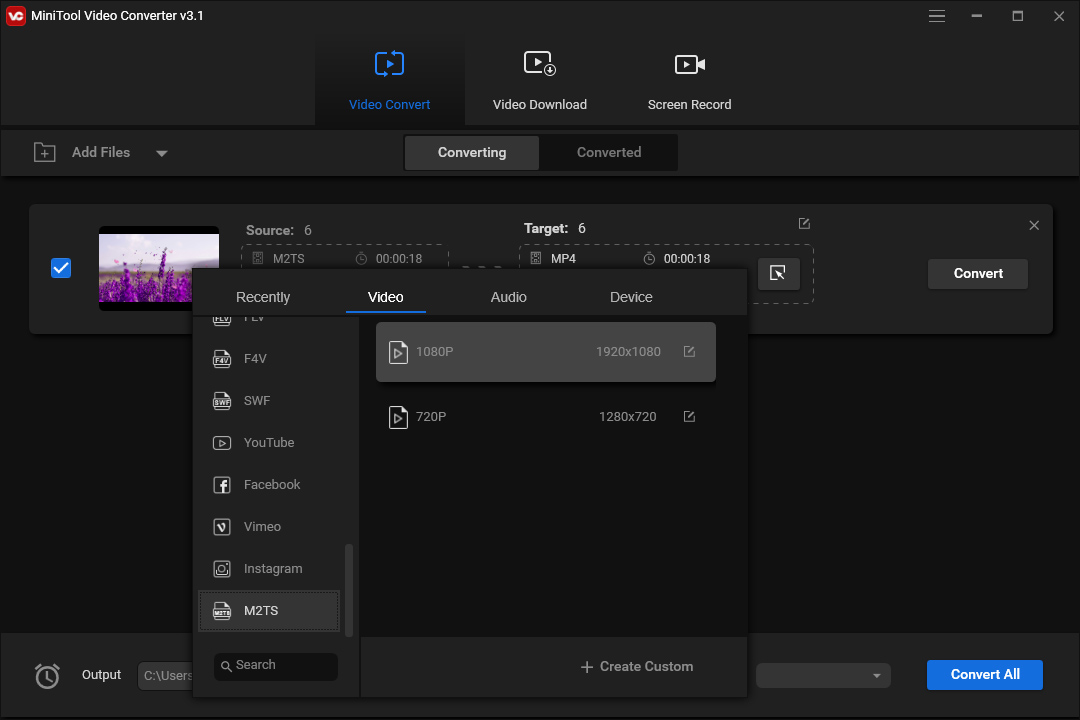 Step 4. At the bottom left corner, click the Output drop-down menu and select Browse to choose a different location to save the converted files.
Step 5. Click the Convert to start the conversion task. Once done, go to the Converted tab and click the Show in folder to locate the converted file.
What's more, MiniTool Video Converter allows you to convert videos for Facebook, Vimeo, YouTube, Instagram, and many mobile devices, record screens, and download YouTube videos.
Main features:
A wide range of output formats, including some ones that rea compatible with mobile devices.
Convert video up to 4K resolution.
Separate audio from video.
Support batch video conversion.
Record screens in different formats.
Download video and audio from YouTube.
Compatibility: Windows 11/10/8/7
Price: Free
#2. Any Video Converter
Developed by Anvsoft, Any Video Converter is also a great M2TS converter. You can upload M2TS files and convert them to AVI, MP4, WMV, and more, or convert a different video file to M2TS (AVCHD 710p or 1080p movie).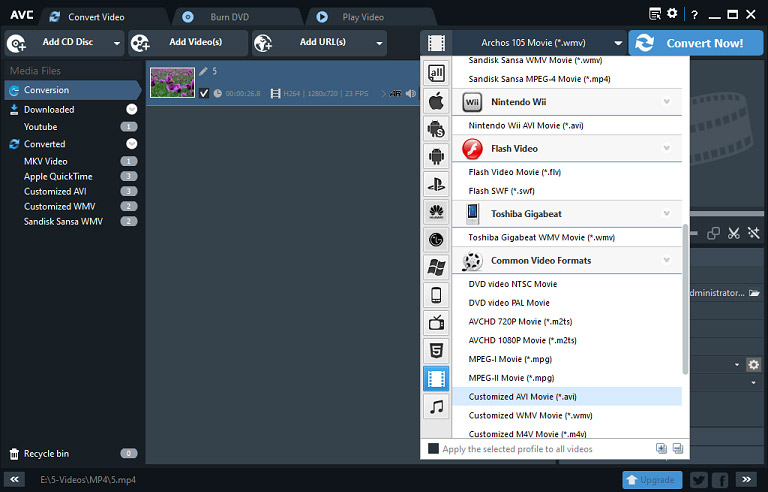 In addition to converting M2TS files, Any Video Converter supports various conversions like WTV to MP4, ASF to AVI, MKV to FLV, and more. Besides the general video files, this software enables you to convert videos into formats compatible with many devices.
Any Video Converter has several editing features. Before conversion, you can adjust the clip's color, crop, and rotate the video you want to convert. It also has a built-in video player to preview videos.
Main features:
Convert various video files.
Support batch conversion.
Fast conversion speed.
Compatibility: Windows 11/10/8/7, Mac OS X 10.7 or later
Price: A free version, $49.95 for the Ultimate version
#3. Prism Video Converter Software
Prism Video Converter is a professional video converter. It supports a considerable number of video formats for input like FLV, ASF, M2V, M2TS, WebM, OGV, TRP, and more files. You can convert them to MKV, MOV, M2TS, MP4, MPG, SWF, and more.
Therefore, Prism Video Converter is another M2TS converter you can try. It also supports video formats for popular devices.
Prism Video Converter not only can convert videos but also compress videos. It lets you set the compression rate, change resolution and frame rate, or directly set a specific size for output files to reduce video file size.
Main features:
Convert a long list of video file types to popular video formats.
Convert multiple video files at once.
Compress videos to reduce file size.
Compatibility: Windows 11/10/8/7, Mac OS X 10.5 or above
Price: A free version. The Plus Edition Quarterly Plan: $1.11/month, Plus Edition: $14.99, Plus MPEG2 Edition: $24.99
#4. AVS Video Converter
AVS Video Converter is also one of the best M2TS converters. It has a friendly interface and supports a variety of video formats. It can convert videos between almost any format like AVI, M2TS, WMV, 3GP, VOB, MKV, and more.
The batch conversion feature enables you to convert several video files at once. AVS Video Converter can also convert videos for various devices, convert and edit Blu-ray videos, and share videos on Facebook, YouTube, etc.
Before conversion, AVS Video Converter allows you to split a video into parts, merge videos, change the aspect ratio, and more.
Main features:
Support a variety of video formats.
Several editing features in the Full version.
Convert videos easily and quickly.
Compatibility: Windows 11/10/8/
Price: A free version. 1-year subscription: $49, Unlimited subscription: $79.
4 Online M2TS Converters
#1. CloudConvert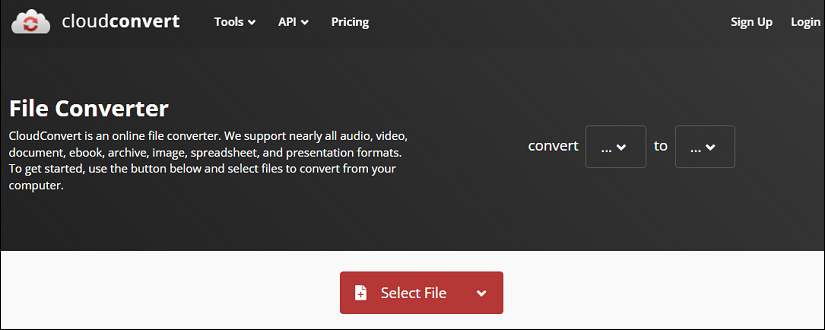 If you need to convert M2TS files online, CloudConvert is a great choice. It allows you to convert M2TS to AAC, MP3, AVI, MP4, WMV, MKV, and more. As an online video converter, CloudConvert also converts MXF, MTS, MPG, VOB, WMV, FLV, M4V, and more files.
Besides, CloudConvert can function as an audio converter, image converter, vector converter, document converter, e-book converter, etc. It also lets you compress PNG, JPG, and PDF files.
CloudConvert allows you to upload files from your computer, Google Drive, Dropbox, and OneDrive. You can use CloudConvert for free and without registration for up to 25 conversions per day.
#2. Convertio
Convertio is also an online file converter to convert videos, audio files, images, documents, e-books, fonts, etc. As a video converter, Convertio can convert 30+ video formats like 3GP, M2TS, XVID, WebM, SWF, MOV, M4V, and more.
With Convertio, you can convert M2TS to MP4, GIF AVI, MKV, MOV, and vice versa. It lets you upload files from your computer, Dropbox, and Google Drive. The maximum input file size is 100MB if you don't sign up.
#3. AConvert
AConvert allows you to convert different types of documents, images, videos, e-books, audio files, icons, and archives for free. It allows choosing 2 files at once and may restrict the file size.
As a video converter, AConvert can turn various video files into MP4, MPG, MKV, M2TS, OGV, and more. Before conversion, you have options to change video size, bitrate, frame rate, aspect ratio, audio bitrate, and mute this video.
With AConvert, you can cut, merge, compress, and rotate videos, too.
#4. AnyConv
AnyConv is also a free M2TS converter. It supports M2TS to AVI, H264, MKV, MOV, and AVI/MKV/MP4 to M2TS, etc. You can use this service without registration. After one hour, the uploaded files will be automatically deleted.
Apart from converting videos, AnyConv can convert images, documents, audio files, e-books, archives, fonts, etc. It works with 400+ file formats.
The maximum input file size of AnyConv is 100MB. You can convert up to 60 files per hour.
How to Play M2TS Files
When you play M2TS video files with the Movies & TV app on Windows, you'll see the message saying that to play this video, you need a codec.
It means M2TS files can't be directly opened on your computer. You can choose an M2TS converter and convert your M2TS file to the most popular format- MP4. Then you can play it.
The second way to open M2TS files is to use M2TS players. You can try out the following 3 M2TS players.
VLC is a universal media player and it can open almost all video and audio files. You can use it to play M2TS files quickly and easily. VLC can also function as a video converter. You can also use VLC to convert M2TS to many different formats like MP4 and WebM.
ALLPlayer is a cross-platform media player and supports many file formats, including MKV, M2TS, 3GP, MOV, video CD, and more. This software can also play movies from torrent files. If ALLPlayer finds that the movie you're watching doesn't have subtitles, it can search for them and automatically download subtitles for you.
PotPlayer can play various video files, including M2TS files. It offers smooth and seamless video playback. This software supports multiple devices like DVD, TV, HDTV, and more.
Also read: 5 Helpful Methods to Fix iPhone Videos Won't Play on Windows
How to Burn M2TS to DVD
If you want to burn M2TS to DVD, you can try WinX DVD Author. It can burn M2TS, MP4, MKV, AVI, VOB, FLV, MOV, and other videos to DVD disc easily.
Here's how to convert M2TS to DVD with WinX DVD Author.
Step 1. Insert a blank DVD and launch WinX DVD Author. Click the Video DVD Author to continue.
Step 2. Click + to upload your M2TS video files and click the right-pointing arrow.
Step 3. Choose the output folder and output format.
Step 4. Click the Start to begin M2TS to DVD conversion and burning.
Conclusion
Now, you can choose from the 8 M2TS converters to convert M2TS to any format and vice versa. You can also select an M2TS player to view M2TS files directly without conversion.
If you have any questions when using MiniTool Video Converter, you can contact us via [email protected] for help.