What Decides the Video File Size
Before learning how to make an MP4 file smaller, first of all, let's understand the factors that determine the video file size and quality.
When you want to send a video via email or text message or upload it to social media, you'll find it hard to deal with a video of a large file size. You may need to reduce the file size to make it easier to share and upload.
However, the concept of reducing video file size can be tricky. When trying to reduce the file size, it's difficult to know where to start. In this part, we'll walk you through all the main factors that decide the video file size to help you understand the process of decreasing video file size.
#Video Format & Codecs
A video format is the file format used to store digital video data on a computer system, and you can check the file name extension to know the format of your video. Videos are almost always stored using lossy compression to reduce file size. There're many different video file types and currently MP4 is the most popular and wide-supported video format. Other common video formats include MOV, AVI, MKV, WebM, FLV, etc.
A video format is like a container to store video information on digital devices. In addition, it has a main component – codec.
Codec is an acronym for encoder and decoder (standing for compressor and decompressor), and a video codec is software or hardware that compresses and decompressed digital videos. A video file contains much information like images, video, audio, subtitles, and other data, so it takes up a lot of space.
The purpose of a codec is to reduce the amount of storage required to accommodate each file. In storage, a video codec reduces the file size by combining similar data, minimizing the number of colors in the video and lowering the resolution.
Different video codecs have different compression ratios. You may have heard of some video compression standards like H.264, H.265 or HEVC, AV1, VP9, etc. (To learn more about video codecs, read this post: Video Encoder and Video Codecs: How to Change Video Encoder.)
For instance, H.265 (HEVC) provides better compression efficiency than H.264, but the latter has better compatibility. Generally speaking, MP4 using H.264 codec is the most recommended video format for storage. But if you need a small video file for online sharing, MP4 H.265 is the best option.
#Video Resolution
What is the video resolution? The 1080p we often refer to is a common resolution. The resolution of a video determines the amount of detail in the video, or the authenticity and clarity of the video and it's measured by the frame's width by width in pixels.
Video resolution not only affects the quality of the video image but also the size of the file. A higher resolution video means a larger file size. Because of this, a 1080p video has a smaller file size compared to a 4K video with the same duration.
#Frame Rate
Frame rate is another significant parameter that influences the file size of a video. It's the frequency or rate at which consecutive images (frames) are displayed or captured within a second. For example, most movies are in 24 FPS, which means each second of the video has 24 still images.
Think of it this way – if you shoot a one-minute video at 30 FPS, in fact, you have pieced together 1800 individual images to create a video. Now, if you shoot the same video at 60 FPS, there will be 3600 images. Finally, you'll end up with a file that's twice the size of your 30 FPS video. In summary, a higher frame rate when exporting results in a larger file size.
#Bitrate
In addition to the above factors, bitrate is also one of the most important factors that have a direct impact on the size and quality of the video file. Video bitrate is the amount of video data transmitted per unit.
Generally, a high-quality video consists of a high bitrate along with a high video resolution and frame rate but also results in a large video file size. Therefore, a higher bitrate is not always better. Choose the right bitrate depending on the video resolution. For instance, the ideal bitrate for 1080p videos ranges from 3,500 to 6,000 Kbps.
Hopefully, these tips can help you shrink the file size of your video.
How to Make an MP4 File Smaller on Windows
After understanding the parameters that determine the video file size, in this section, you'll learn how to make an MP4 file smaller. Also, you can use these methods and tools to compress other video files and don't forget to export them as MP4 in the end.
Option 1: MiniTool Video Converter
When you want to share a large MP4 file, use MiniTool Video Converter to reduce file size to make it easy to post. MiniTool Video Converter is a free MP4 compressor without watermarks. This application allows you to reduce MP4 file size by adjusting the encoder, frame rate, resolution, and bitrate. Also, it lets you convert other video file types to MP4 or other formats.
Here's how to make an MP4 file smaller using MiniTool Video Converter.
Step 1. Click the button below to download and install MiniTool Video Converter on your computer.
MiniTool Video ConverterClick to Download100%Clean & Safe
Step 2. Launch MiniTool Video Converter and click Add Files or click on the Add or Drag files here to start conversion area to upload your MP4 video file.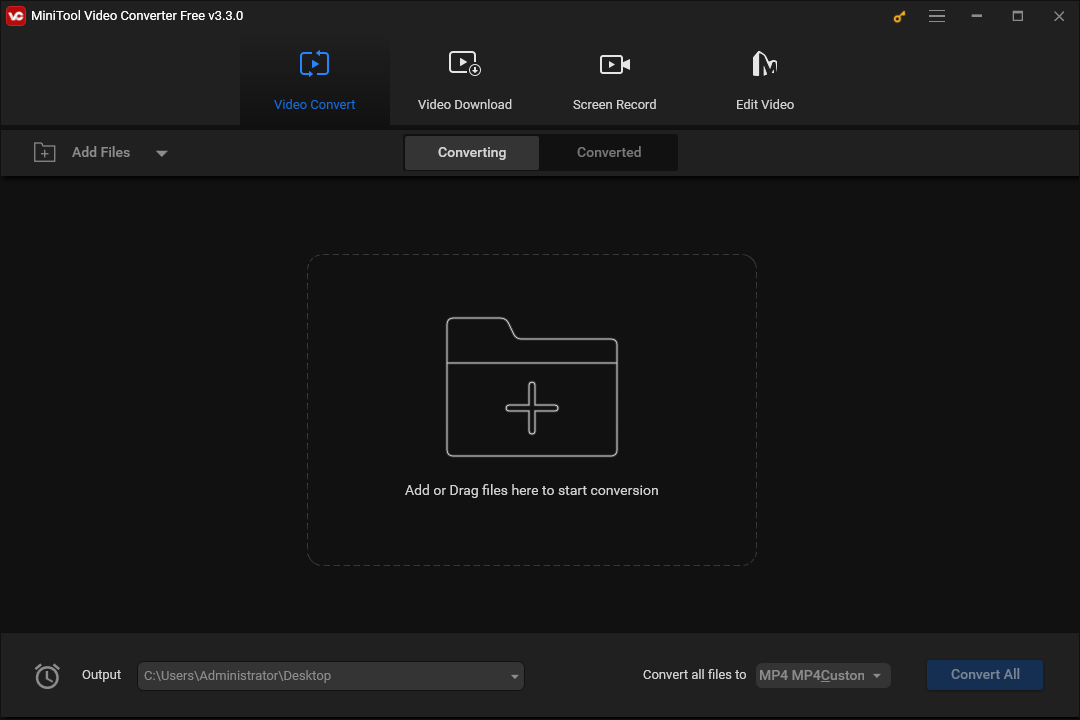 Step 3. Once uploaded, you'll see the resolution of the original video on the left Source box. Click the diagonal arrow circled in the below screenshot, then go to the Video tab, and select MP4. Then, you'll see multiple profiles with different resolutions. Click the profile with a lower resolution. For instance, if you want to compress a 1080P MP4 video, click the HD 720p profile.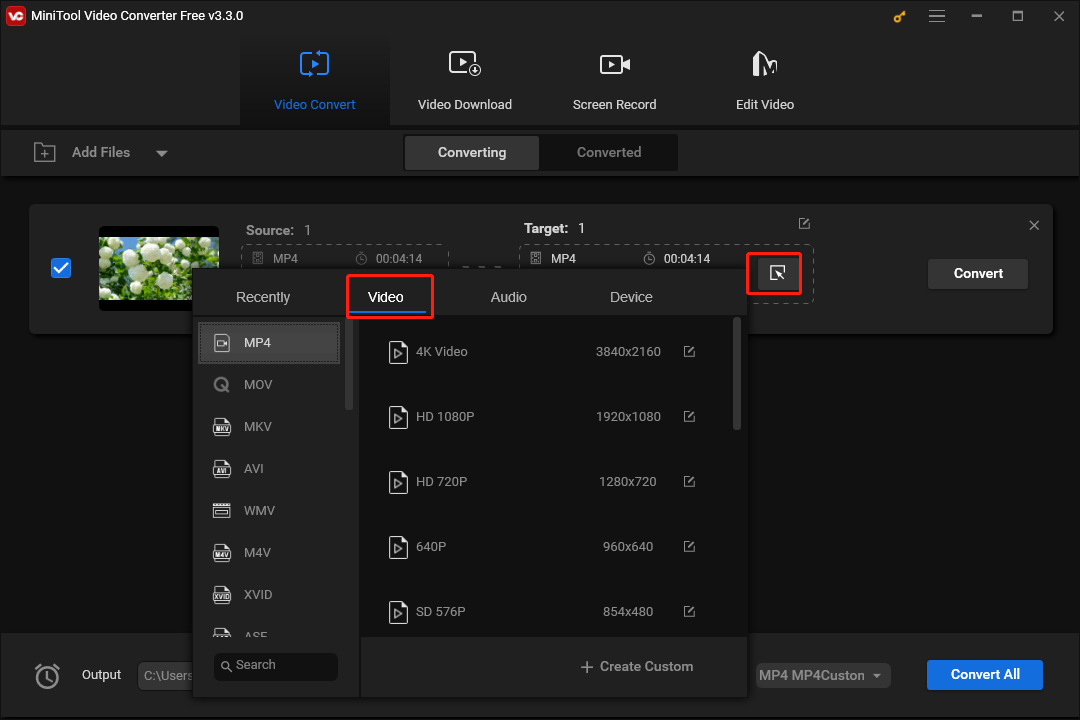 Alternatively, you can create a custom MP4 format by adjusting some parameters. To do this, follow the steps below:
Click the + Create Custom button to open the Settings window.
Name the custom format and select Medium Quality.
Click the Encoder menu and choose HEVC, H264, or MPEG-4.
Expand the Resolution list and click the target one. Then if you expand the Bitrate menu and you'll find it's set to the smallest number.
Optionally, you can adjust the video bitrate and frame rate as you like.
Click Create to finish the custom format. Then, find and click the custom format.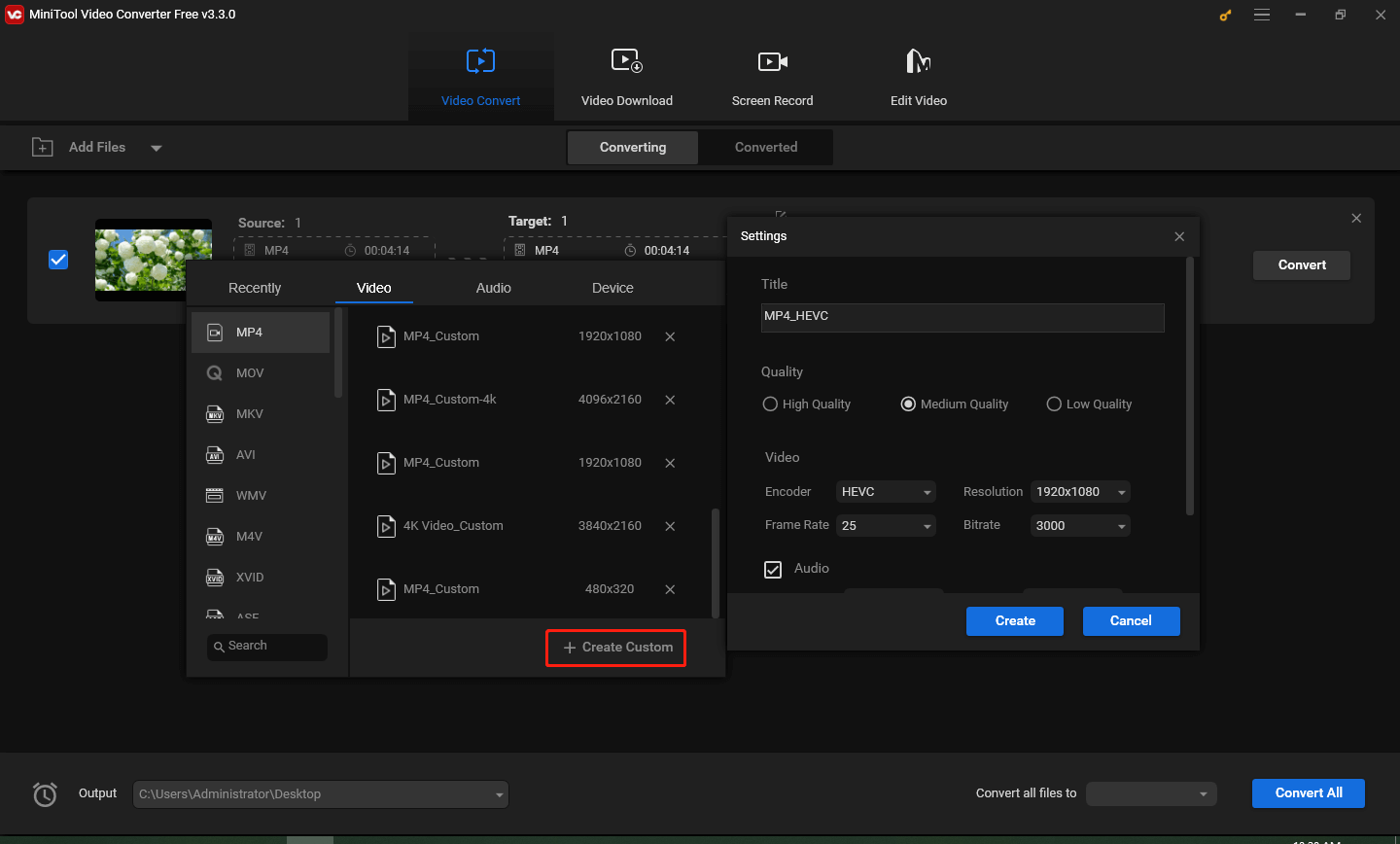 Step 4. Now, check the size of your target video. If you're happy with it, click Convert to convert MP4 to a smaller file size. Once done, go to the Converted tab, and click Show in folder to locate the converted video file.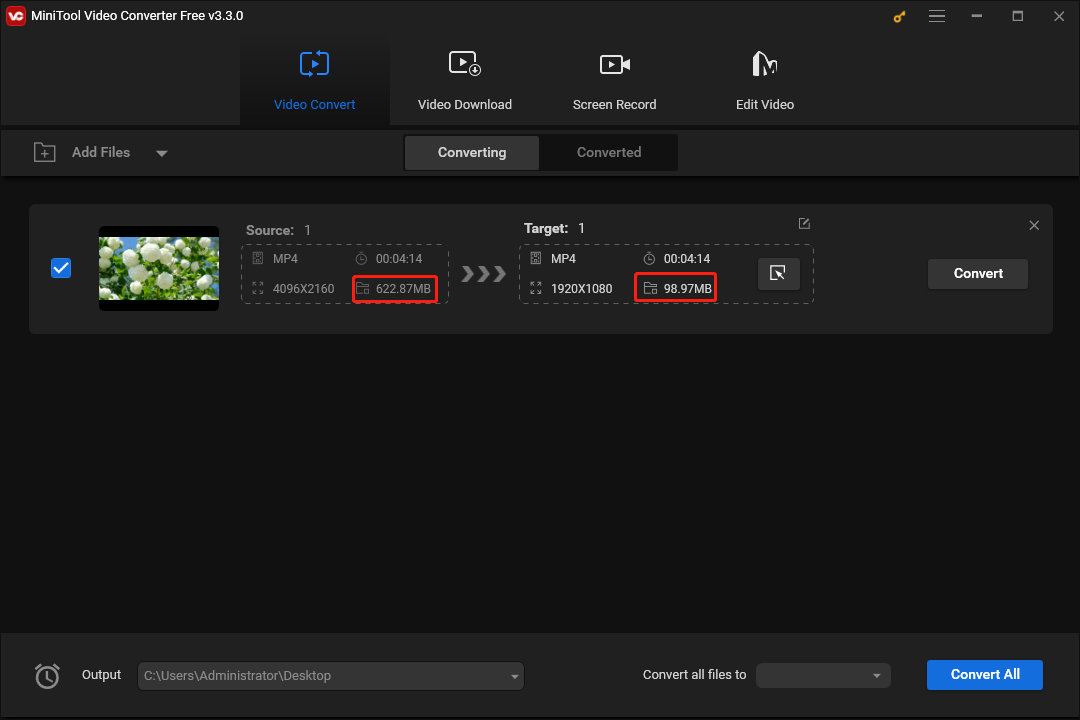 What's more, MiniTool Video Converter allows you to convert YouTube to MP4, MP3, WAV, WebM, etc. and it has a free screen recorder feature that lets you capture everything on your PC screen.
Option 2: MiniTool MovieMaker
If video compression isn't enough, consider reducing the video size by trimming unnecessary footage or speeding up the video to reduce your video's length. The duration of a video also affects the file size so you can increase the speed of the video to decrease the video file size. To do this, you need an MP4 compressor with editing features. MiniTool MovieMaker is one of the best options to reduce MP4 file size.
MiniTool MovieMaker is an easy-to-use yet feature-rich video editor. This program enables you to trim, split, crop, and rotate videos, adjust playback speed, apply filters, add stickers, and more.
Now, let's learn how to make an MP4 file smaller with MiniTool MovieMaker.
Step 1. Download and install MiniTool MovieMaker on your PC.
MiniTool MovieMakerClick to Download100%Clean & Safe
Step 2. Launch MiniTool MovieMaker, select the desired aspect ratio for your project, and close the promotion window.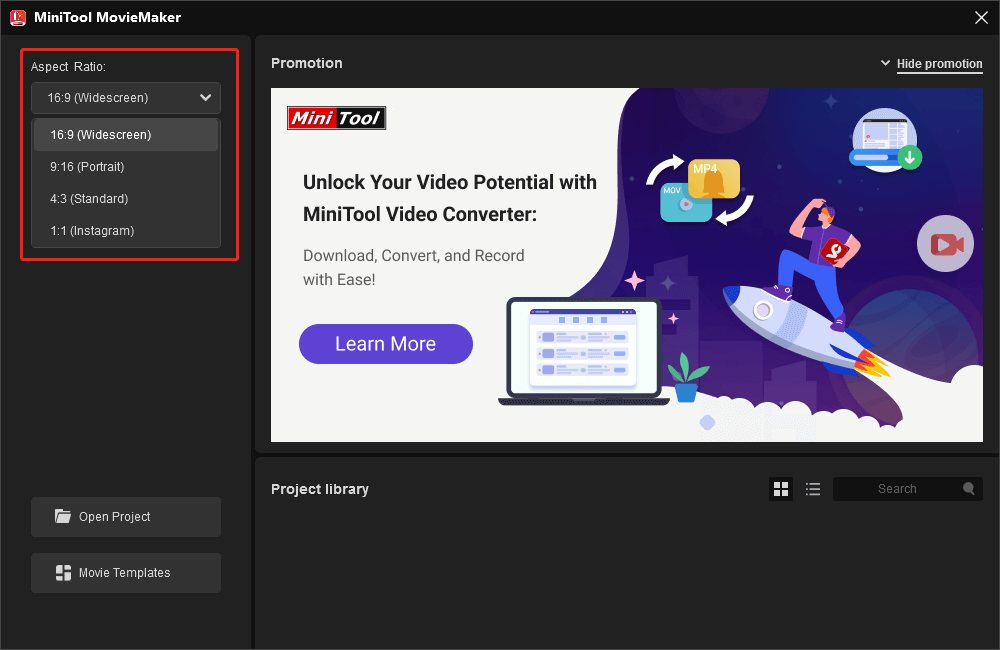 Step 3. Click Import Media Files to open your MP4 video and drag it to the timeline.
Step 4. To quickly trim the video, select it on the timeline, mouse over the start point of the clip until a double-headed arrow appears, and drag the arrow right to the beginning of the part you want to keep. Mouse over the endpoint of the video and repeat this step to delete excess footage at the end of your video.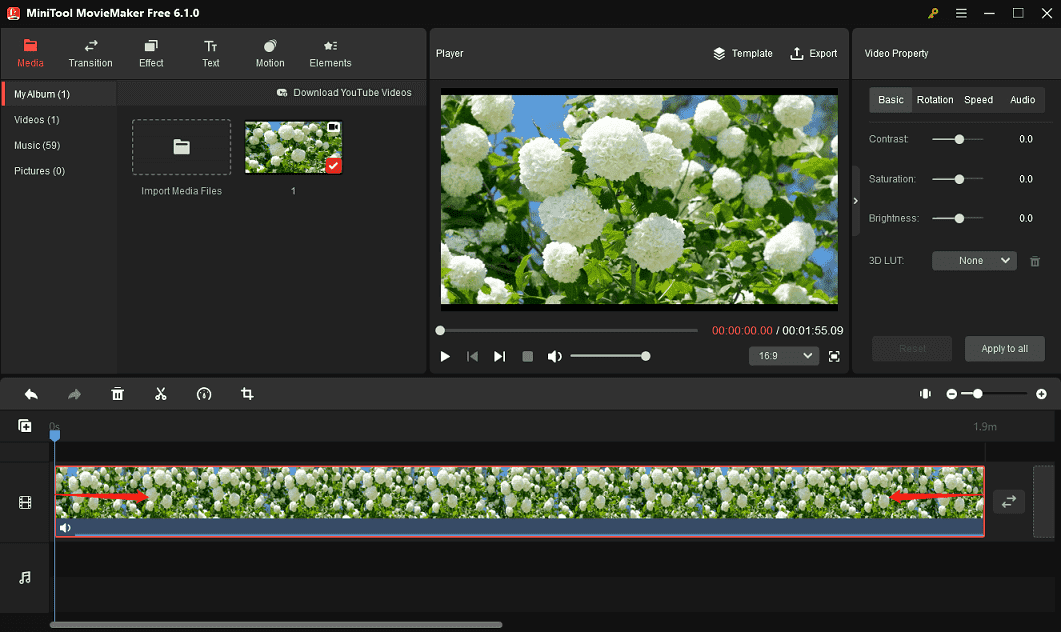 Step 5. To speed up the whole video, click the Speed button, choose Fast, and choose from 2X, 4X, 8X, 20X, and 50X.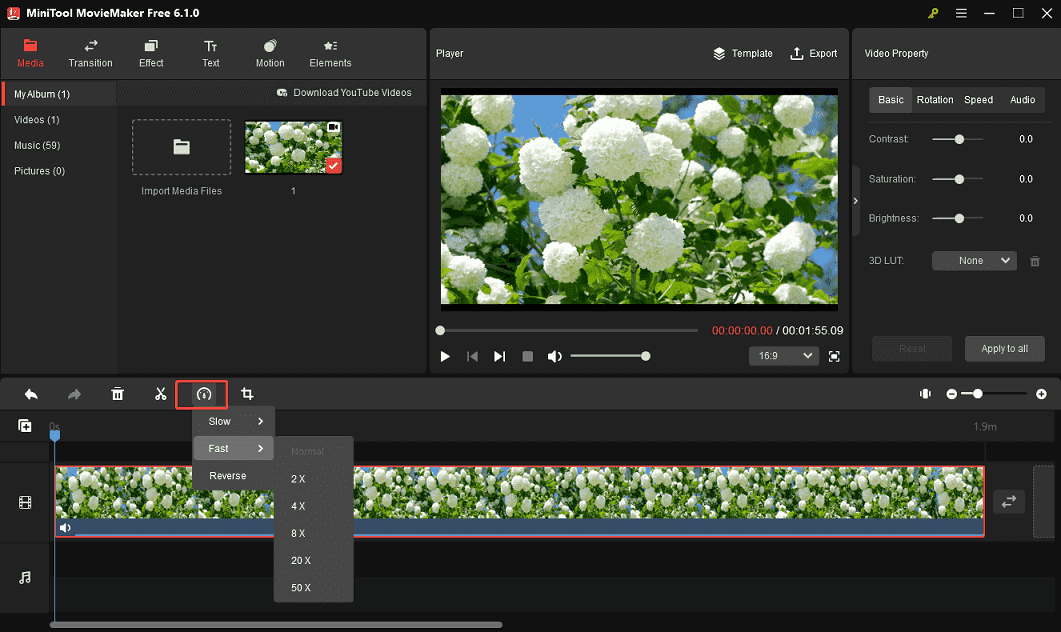 Please note: If you only want to speed up a part of the video or delete some sections in the middle, first, you need to split the video. To do this, click the video on the timeline, click the Split (scissor) button, and choose Full Split.
First, use the Zoom in/Zoom out slider to locate each frame precisely. Next, drag the blue playhead to the target place where you want to start splitting and click the scissor icon. Repeat this step to split the video into as many parts as you need, and click OK to apply changes.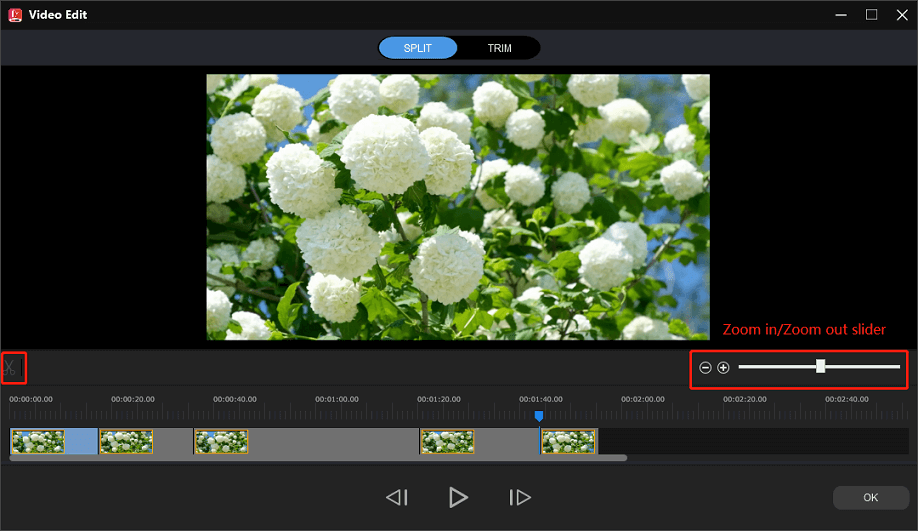 Step 6. After editing, click the Export button at the top right. By default, your video will be exported as MP4 in 1080p and you can check the current file size. Also, you can click Settings to adjust video quality, resolution, bitrate, and frame rate to convert MP4 to smaller file size.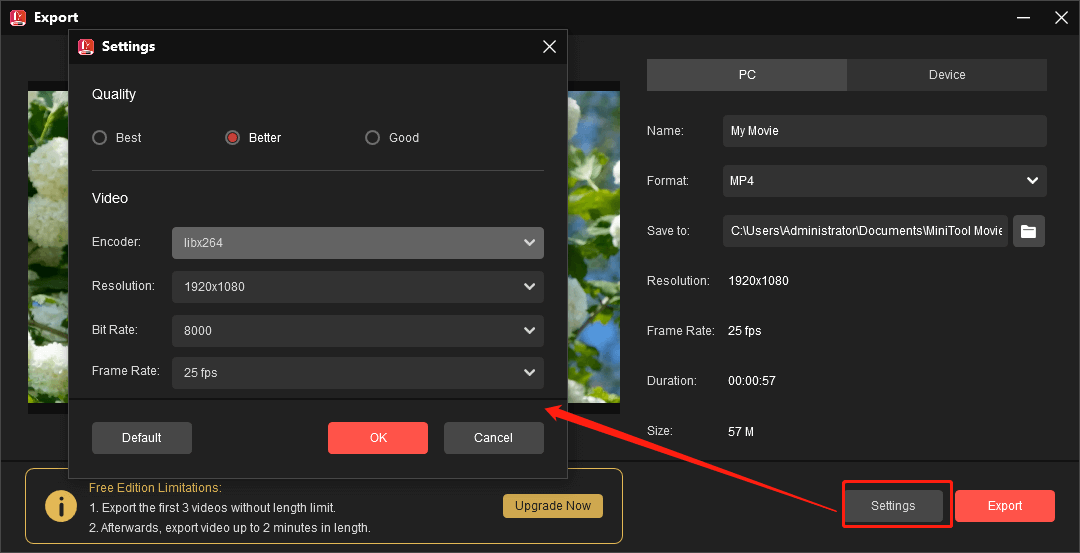 Finally, click the red Export button to start the compression process and save it on your PC.
How to Make an MP4 File Smaller Online
Also, you can use some online MP4 compressors to reduce MP4 file size. In this section, we'll introduce two of the best online tools to shrink MP4 file size.
Option 1: FreeConvert
FreeConvert is an online file converter that supports converting between video, audio, image, document, and more. Also, it lets you compress, crop, and trim videos. So, if you need an online MP4 compressor, you can try FreeConvert. Here's how to use it to reduce MP4 file size.
Step 1. Navigate to the FreeConvert website, mouse over the Tools option, and click Video Compressor.
Step 2. Click on Choose Files to upload an MP4 video file.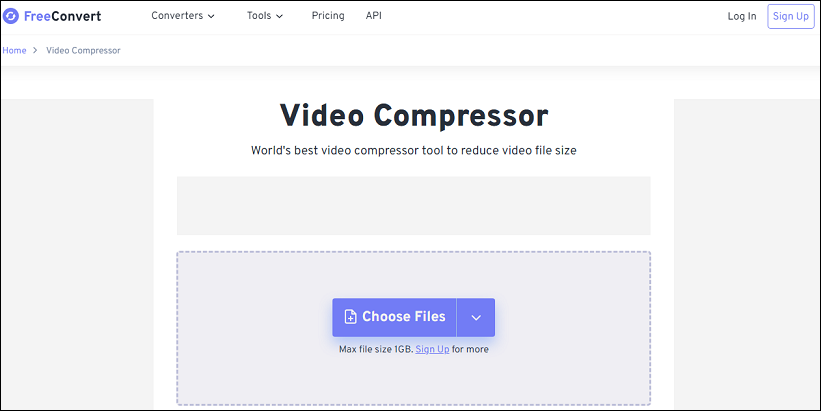 Step 3. Make sure MP4 is set as the output format.
Step 4. Click the Settings button and then you can choose a video codec H.265 or H.264 and choose a compression method and do some settings, and click Apply Settings.
Step 5. Click the Compress Now button to start the video conversion task. Once done, download the video.
Option 2: VEED
VEED is an online video suite for screen recording and editing videos. It offers diverse editing tools like cutting, trimming, cropping, adding subtitles, and more. Also, it can function as an online video compressor to reduce video file size for all platforms. Here's how to make an MP4 smaller with VEED.
Step 1. Go to the VEED website and sign in with your Google or Apple account.
Step 2. Find and click Video Compressor on the VEED Tools page.
Step 3. Click the Compress Videos button and click Upload a file to open your MP4 file.
Step 4. Select the video quality and resolution, and click the Compress Video button to start.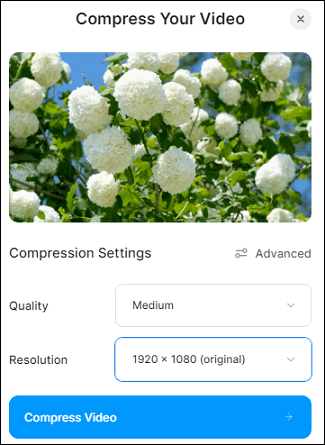 Final Thoughts
In general, there are several important parameters that affect the file size of a video, including format, codec, resolution, bitrate, frame rate, length, etc. This post explains these factors in detail to help you easily reduce video file size and provides 4 tools that can shrink MP4 file size.
Finally, if you have any questions while using MiniTool Video Converter or MovieMaker, you can contact us via [email protected] for help.