This post from MiniTool Video Converter mainly shares some key information about audio sample rate with you, including the definition and common rates.
When you convert an audio file, in most cases, you would do some settings before starting conversions, such as sample rate and bitrate. What is audio sample rate?
What Is Audio Sample Rate?
Before talking about the audio sample rate, first, let's figure out a related term – audio sampling. Audio sampling is the process of converting a musical source to a digital file. During this process, the number of samples per second taken is the audio sample rate, also called sampling frequency, measured in kilohertz (kHz).
When professional musicians use DAW software for their music production, they will find adjustable sample rates in the application preferences.
Generally speaking, a higher audio sample rate tends to produce better-quality audio. The higher the sampling rate is, the closer the recorded sound is to the original sound.
Common Sample Rates for Audio
Here're common audio sample rates in digital audio production.
44.1kHz (or 44,100 Hz) is the standard audio sample rate for CD audio, and it's also used for MPEG-1 audio. Also, there're some other sample rates used for other cases.
8kHz is the audio sample rate used by telephones enough for human speech.
32kHz is widely used by MiniDV digital video camcorders, DAT, videotape, etc.
48kHz is the sampling rate often used by digital video equipment, DVD, digital TV, films, and most professional audio equipment.
50kHz is the sample rate mainly used for commercial digital recorders.
88.2kHz is the sample rate used by some professional recording equipment when targeting a CD to take hi-res recordings.
96kHz is twice the 48kHz standard and it's mainly used by DVD-Audio, Blu-ray Disc audio tracks, High-Definition DVD audio tracks, etc. And it's also available in some professional recording and audio production equipment.
What's the best sample rate for audio? There's no one specific answer. You should select the sample rate based on your specific purpose, and that's the best.
Tips:
To learn more about audio sample rates and their uses, click here to check the sample rate table from Wikipedia.
As we've mentioned, a higher audio sample rate generates clearer audio. However, this does not mean that the higher the sample rate is, the audio quality must be better.
Different sample rates deliver different quality of audio. Some people may wonder if they can hear the difference between them.
Some well-experienced engineers may be able to hear the difference. But for most, this is not possible.
If you choose a high sample rate for your audio production, you'll get a large file. It's difficult to transfer and deal with audio files in large sizes. You can compress the file by changing it to an MP3 file.
MP3 is a compressed audio format and it helps to reduce the overall file size of your audio.
To convert your audio to MP3, MiniTool Video Converter is recommended here. It's a free MP3 audio converter.
MiniTool Video ConverterClick to Download100%Clean & Safe
How to Convert an Audio File to a Different Sample Rate
You can easily change the sample rate of your audio with some audio converters or professional audio editing software like Adobe Audition.
Here, we'll show you how to convert an audio file with MiniTool Video Converter.
MiniTool Video ConverterClick to Download100%Clean & Safe
Step 1. Download and install MiniTool Video Converter on your PC.
Step 2. Launch it and click Add Files to upload your audio.
Step 3. Click the Edit icon at the end of the Target box, go to the Audio tab, and choose a format from the left side.
Click + Create Custom, set the sample rate and bitrate from the available options, and click Create to make a custom format.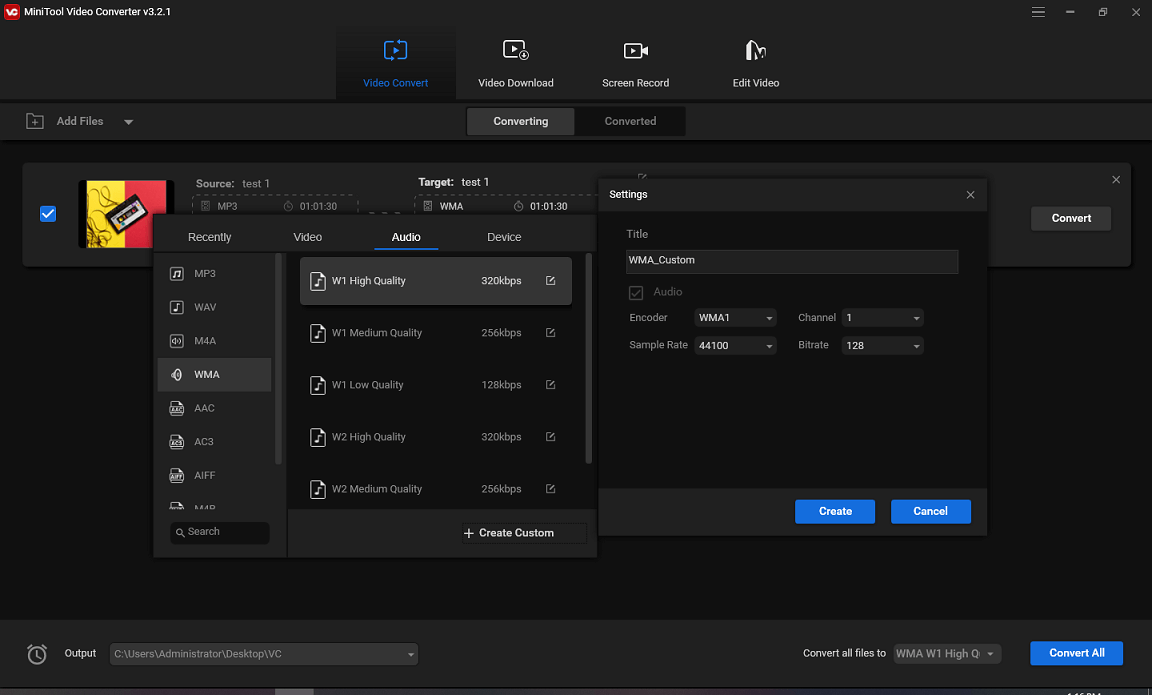 Step 4. Find and click the custom format to select it. Click Convert to start conversion. Once done, go to the Converted tab and click Show in folder to locate your file.
Tips:
To edit the original audio in your video or add background music to your video, try MiniTool MovieMaker, a simple video editor for everyone.
MiniTool MovieMakerClick to Download100%Clean & Safe
Conclusion
That's all about the audio sample rate. There're many sample rates for audio. You should choose the right one for your use.