If you are wondering why 4K is better than 1080p and the difference between 4K and 1080p, you can check the 4K vs 1080p tutorial below. Also, to better handle the 4K video content, MiniTool software offers users some popular free tools, e.g. MiniTool Video Converter, MiniTool uTube Downloader, MiniTool MovieMaker.
4K resolution is in vogue nowadays. Most digital devices like TVs, cameras, smartphones support both 4K and 1080p resolution. So, when buying a TV or recording a video, which resolution to choose? 4K vs 1080p, is 4K better than 1080p?
This post contains a detailed guide to help you dig out the difference between 4K and 1080p. Detailed guides for how to free convert 4K to 1080p, download 4K YouTube video, edit 4K video and export to preferred format, are also attached.
4K vs 1080p – Difference Between 4K and 1080p
1080p vs 4K: Summary
4K resolution is 3840 x 2160 1080p resolution has 1920 x 1080 pixels.
4K is also known for 2160p, UHD (Ultra High Definition). 1080p is also referred as HD (High Definition), FHD, or Full HD.
The 4K image has more details than 1080p, and the image quality is clearer than 1080p, especially when playing media on a 4K monitor.
4K video file size is much larger than 1080p. This means you can record less files on your memory card or other digital devices, compared to 1080p.
1080p streams more smoothly online than 4K content since its file size is smaller and costs less bandwidth.
It requires more power to process 4K video on your computer. It may cause high CPU usage and overheating in computer, and lead to shorter life span of your computer. Editing 4K videos need a fast and powerful computer.
1080p HD resolution is more suitable for slow motion videos that are recorded with high frame rate like 120fps. 4K usually shoots at 30fps.
To get the real 4K visual experience, you should play the 4K media on a 4K monitor.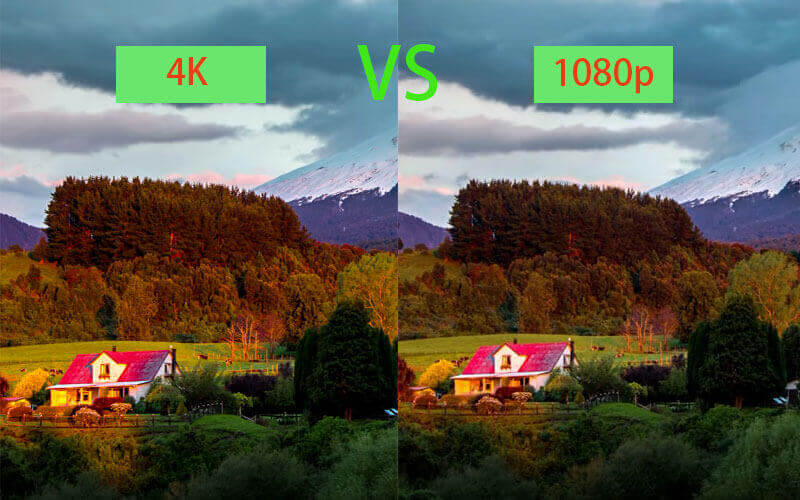 4K vs 1080p: Analysis
You can check the detailed explanations below to better know the difference between 4K and 1080p resolution.
Pixels are the building blocks of the image you see on the screen. Thousands of them build the image. 4K vs HD, 4K UHD contains four times as many as the pixels as 1080p. Therefore, a 4K image captures more details than 1080p. The more the pixels, the better the image quality, but the larger the file size.
Resolution is used to indicate the number of pixels on a screen. Similarly, the higher the resolution, the more the pixels, the better the quality, the larger the file size.
If you crop a part of the 4K image and zoom in it, you can see more details than zooming in a part of 1080p resolution image. This may be a point you consider when choosing a security camera or dash cam camera.
There are many devices that support capturing 4K videos, for instance, GoPro Hero Black 8, Canon, Sony, Panasonic cameras and camcorders. If you recorded some RAW 4K videos, and want to convert them to MP4 or compress 4K to 1080p for uploading to YouTube, Facebook, etc. you can check the guide below for how to convert 4K to 1080p for free.
How to Convert 4K to 1080p for Free with High Quality
MiniTool Video Converter is a free video converter for Windows. This free application lets you convert video and audio files at a very fast speed. It is also a free YouTube downloader allowing to free download YouTube videos, audios, subtitles to PC in a few clicks.
Killer features of MiniTool Video Converter:
Convert various video and audio formats.
Convert video to video, audio to audio, video to audio, audio to video.
Support 1000+ file formats. Fully support 4K video conversion.
Convert video/audio file to specific device supported formats.
Convert multiple files in batch.
Freely choose output resolution, frame rate, etc.
Very fast conversion speed and keep high output quality.
Download YouTube videos for free in MP4/WebM, incl. YouTube 4K videos.
Download YouTube audio for free in MP3 or WAV. (> YouTube music converter)
Extremely intuitive interface and simple operation.
100% clean, free, no ads, no bundle.
Free download and install the 100% clean and free MiniTool Video Converter on your Windows 10/8/7 computer, and check below for how to convert 4K to 1080p and export the video in MP4 format.
Step 1. Launch MiniTool Video Converter and click Video Convert module
Run this free 4K to 1080p converter to get into its main interface. As you can see, MiniTool Video Converter has two main modules: Video Convert and Video Download. Here we click Video Convert module.
Related: Top 8 Free Online Video Converters to MP4/MP3 High Quality
Step 2. Add source 4K video file
Next you can click the "+" icon in the middle of UI or Add Files button to select source 4K video to load. You can also open the folder that contains the source video file on your computer, and drag the file into the software directly.
If you want to add a folder, you can click the drop-down arrow next to Add Files button and click Add Folder to add a folder to this program.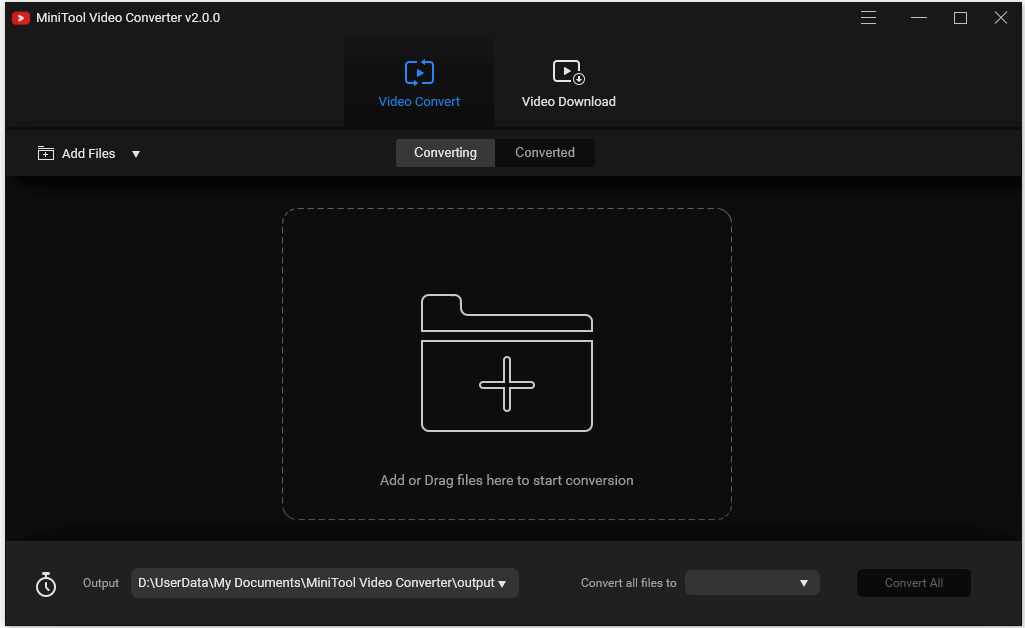 Step 3. Choose 1080p MP4 as the output and convert
Then you can click the Edit icon in the target section to open the output preset window.
Click Video tab. Select MP4 format in the left pane, and choose HD 1080p resolution in the right window.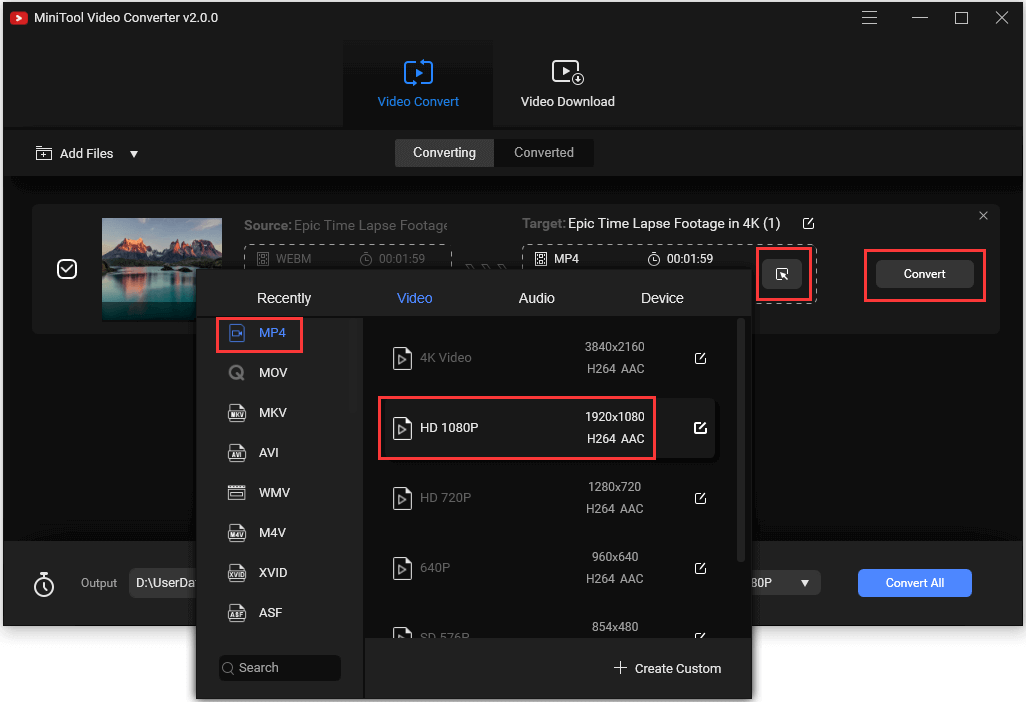 If you want to adjust the output video parameters like quality, codec, frame rate, bit rate, etc. you can click the Edit icon at the right of HD 1080p resolution.
When everything is set, you can click Convert button, and this free 4K video converter will start converting 4K to 1080p at ultrafast speed.
After the conversion, you can click Converted tab, and click Show in folder button to open the folder that contains the converted video file.
If you want to upscale 1080p to 4K, you can also follow the same operation to easily achieve it.
Related: 2020 Top 3 Free Movie Video Converters for Windows 10
How to Download 4K/1080p YouTube Videos for Free in MP4
There are many 4K or 1080p video content on YouTube. If you'd like to free download the 4K/1080p YouTube videos for offline playback or editing, you can use the Video Download module of MiniTool Video Converter.
Step 1. Click Video Download module
After you enter into the main UI of MiniTool Video Converter, you can click Video Download module at the top to open the video downloading interface.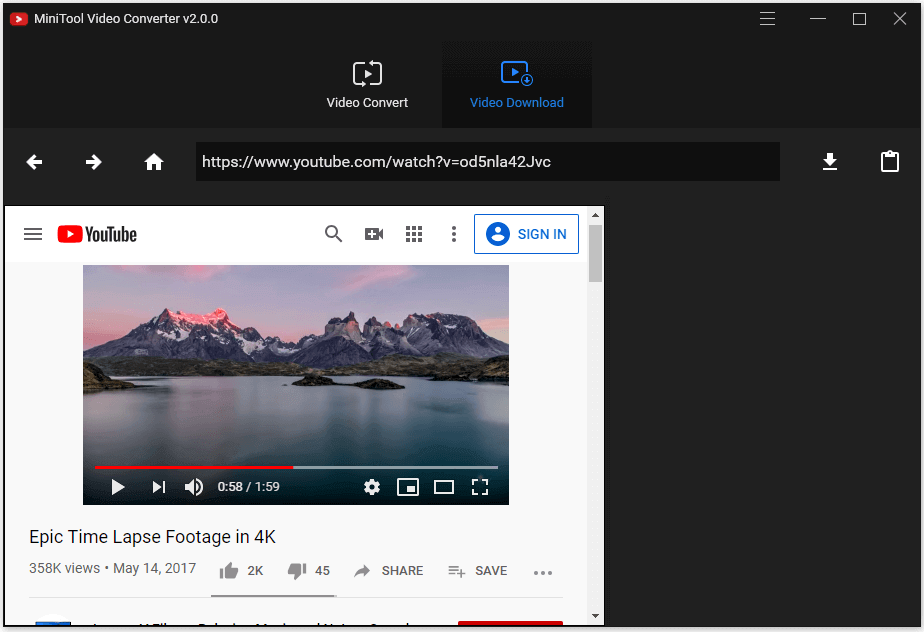 Step 2. Copy and paste YouTube video URL
Then you can copy and paste the target YouTube video link in the address bar of this application.
You can also click the Search icon in the software to directly search the target YouTube 4K/1080p video you'd like to download, and play the video. Its URL will be automatically displayed in the address bar.
After that, click the Download button.
Step 3. Choose output and download the 4K/1080p video
In the pop-up format window, select a preferred format and resolution, and click DOWNLOAD to start downloading the YouTube 4K/1080p video to PC.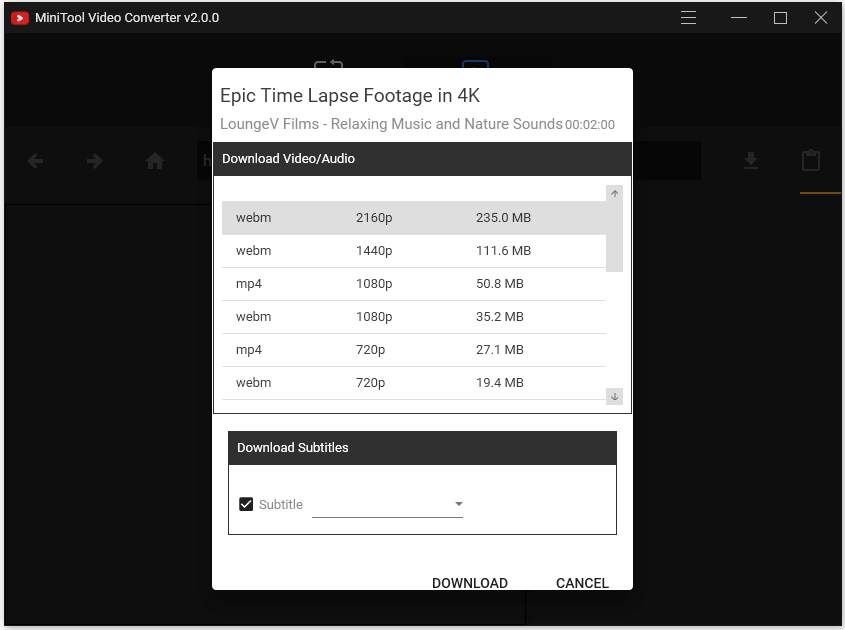 You can also download YouTube playlist for free with MiniTool Video Converter.
4K vs 1080p TV – Should You Go to a 4K or 1080p TV
If you intend to buy a TV, and don't know which one to choose, you can check the reasons below for when you should go 4K and when you should stick to 1080p.
4K TV:
A 4K TV has greater color and sharpness than 1080p.
YouTube, Netflix, HBO, Hulu and many other video streaming services provide 4K content. You can fully enjoy the 4K visual experience with a 4K TV.
If you like to play games, many game consoles like Xbox One S, Xbox One X, PS4 Pro support 4K resolution, you can have a good gaming playing experience with a 4K TV.
4K is becoming popular now and its price is dropping. It's more affordable now.
1080p TV:
A 1080p TV is cheaper than a 4K TV.
1080p TVs equip the same smart features as 4K TVs.
Now most media content is still streaming in HD 1080p or 720p. If you don't have a fast internet connection or large bandwidth, streaming 1080p HD content would be smoother.
4K vs 1080p Gaming – Which Resolution is Best for Gaming
As for 1080p vs 4K gaming, which resolution is best for gaming? True 4K gaming is increasingly accessible nowadays. The best resolution for PC gaming is decided by what GPU your computer has and how much you'd like to cost for buying a powerful GPU to support the monitor.
A 4K gaming setup requires a 4K monitor and a high-end GPU. 4K vs 1080p monitor, 1080p monitor is almost half the price of 4K monitor. Still, a high-end GPU that supports 4K gaming will also cost more.
Related tutorial: Top 10 Free MP4 Converters Windows 10 and Online
Conclusion
This post explains the difference between 4K and 1080p resolution. 4K UHD vs 1080p Full HD resolution, 4K does present a significant increase in image quality. However, 4K monitor, 4K streaming and 4K gaming require more advanced and powerful hardware and that would cost more. If you don't care much about money, you can go to 4K. If you don't need to rush to the latest visual quality like 4K and want to save money, 1080p can still serve you well.
Should you have any problems with how to use MiniTool Video Converter, MiniTool uTube Downloader, MiniTool MovieMaker, etc. you can contact [email protected].
4K vs 1080p FAQ
Can you tell the difference between 1080p and 4K?
From a distance, generally human eye can't tell the quality difference between 4K and 1080p. If you are close enough to the screen, you can see some differences. 4K UHD screen displays four times the number of pixels as a 1080p screen.
Is 4K worth it over 1080p?
A 4K TV is worth buying over a 1080p TV. A 4K TV definitely displays more details than a 1080p TV. However, for a cheap budget aim, 1080p is also a good choice.
How much better is 4K than HD?
4K (2160p, 3840 x 2160 pixels) has about 8 million pixels in total, and this is the four times of 1080p ( 1920 x 1080 pixels). 4K is definitely better than HD.
Is 4K TV better than HD?
Yes. A 4K TV has a resolution of 3840 x 2160 and it displays a sharper image quality. If you have enough budget, you can buy a 4K TV.