In this tutorial, you will learn how to easily convert HEVC/H.265 to H.264 by using a free-to-use HEVC converter. Some top free HEVC video converters are included. Also check what HEVC codec is, which devices can record HEVC videos, how to download HEVC codec or video extension, etc. To get a free video converter, movie maker, video downloader, data recovery program, etc. you can go to MiniTool Software.
This post introduces how to convert HEVC codec video to H.264 MP4 or other formats by using some top free HEVC converters. Also, you can learn what HEVC codec is, how to download HEVC codec or HEVC video extension, etc. in this post.
How to Convert HEVC/H265 to H.264 MP4 for Free
If you have an HEVC video or have some HEVC codec recordings at hand and want to convert the video to H.264 MP4 format, you can use the 100% clean and free MiniTool Video Converter to easily do it.
MiniTool Video Converter is a top free video converter for Windows. It includes three main features: Video Convert, Video Download, and Screen Record.
This tool allows you to easily convert any video or audio file to your desired format with high quality. It supports 1000+ formats.
You can also use this program to download YouTube videos in MP4, WebM, MP3, or WAV for offline playback.
Besides, its built-in screen recorder lets you record your computer screen with ease. You can record full screen or select any part of the screen to record. It also lets you record screen and audio at the same time. You can select to record microphone audio or system audio.
MiniTool Video Converter is free, clean, safe, and with no watermark.
Download and install MiniTool Video Converter on your Windows computer. Check below for how to convert H.265/HEVC to H.264 in 4 simple steps with this free HEVC converter for Windows 10.
MiniTool Video ConverterClick to Download100%Clean & Safe
Step 1. Load source HEVC video.
Launch MiniTool Video Converter to access its main interface. Click the "+" icon or Add Files icon to select and load your source HEVC codec video. Alternatively, you can also locate the source video in File Explorer and drag it directly into the software.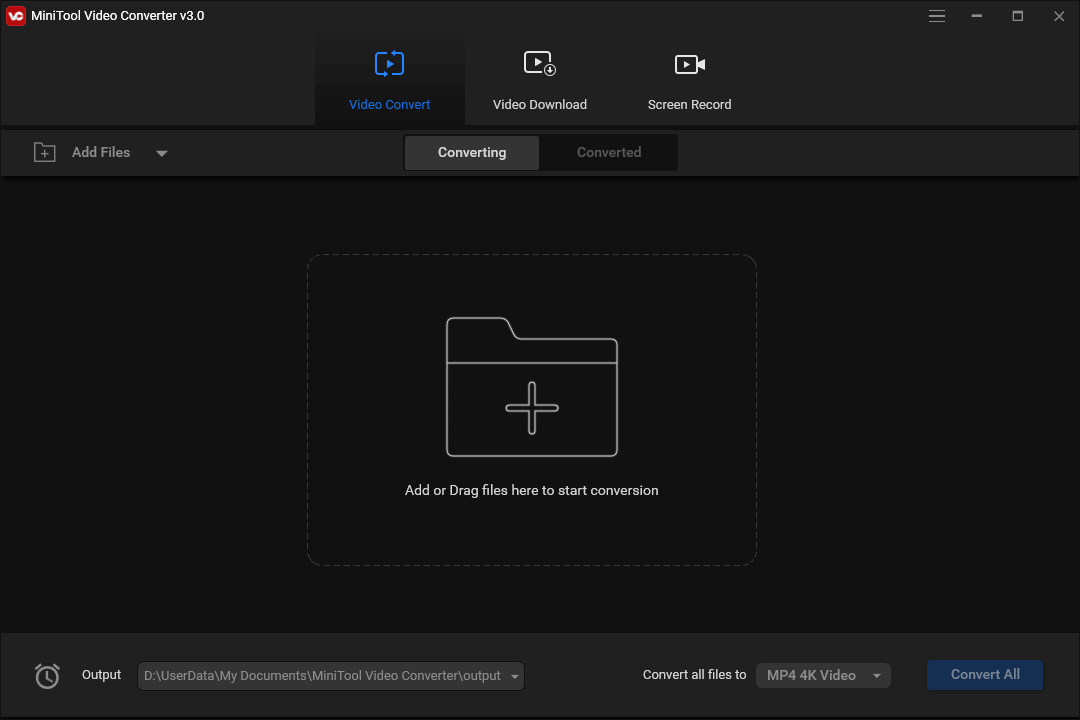 Step 2. Choose output format
Next, you can click the Edit icon (a square with an arrow) under the Target section. In the pop-up output profile window, click Video tab, select MP4, and choose a preferred resolution in the right column like HD 1080p, HD 720p, etc.
The default preset of the MP4 output profile of this software is H.264 codec.
If you like, you can click the Edit icon next to the resolution to check the preset or create a custom output setting. For MP4 output, you can choose MPEG-4, H.264, or HEVC codec.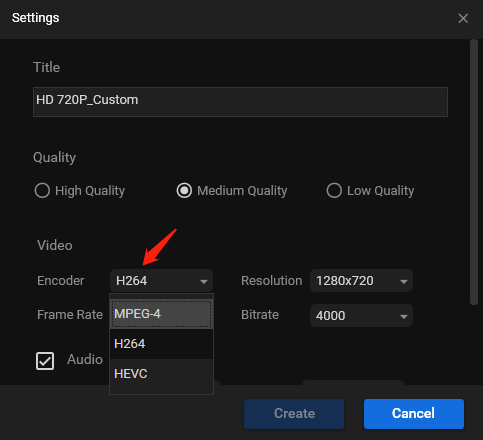 Step 3. Start conversion
After selecting the output format, resolution, and codec, you can click Convert button to instantly convert HEVC to H.264 MP4 with high quality.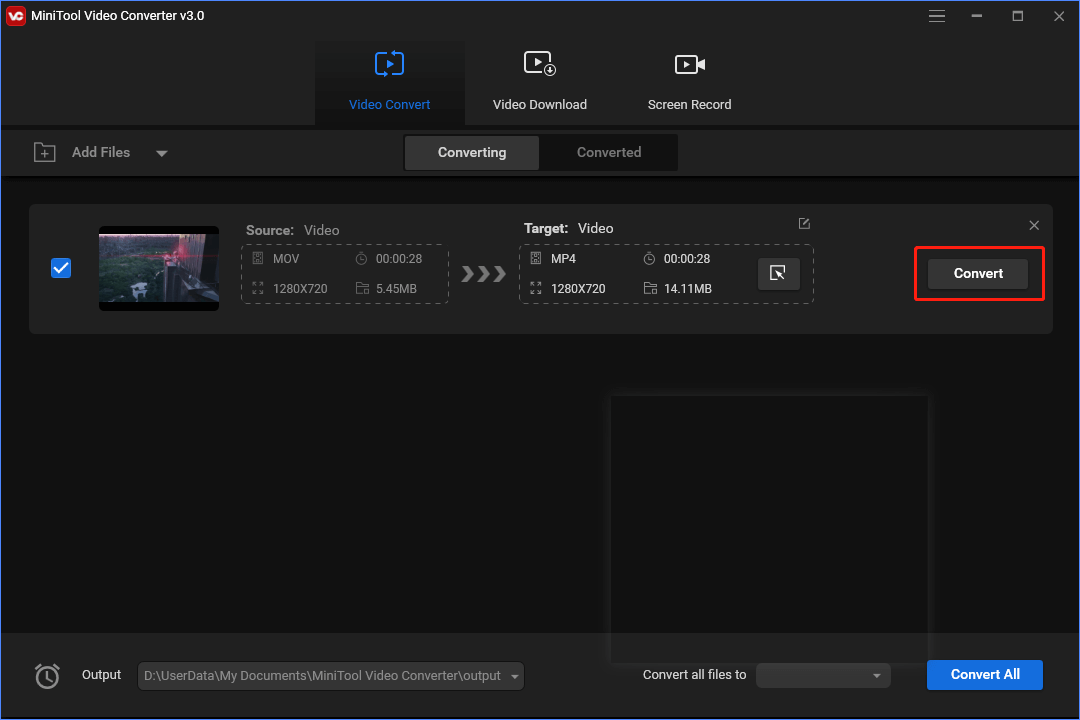 Step 4. Check the output video
The conversion speed depends on the file size and your computer hardware equipment. This free HEVC converter will try to deliver the fastest speed for the conversion.
After conversion, you can click Converted tab, and click Show in folder button next to the target video to open the file location and check the converted video file.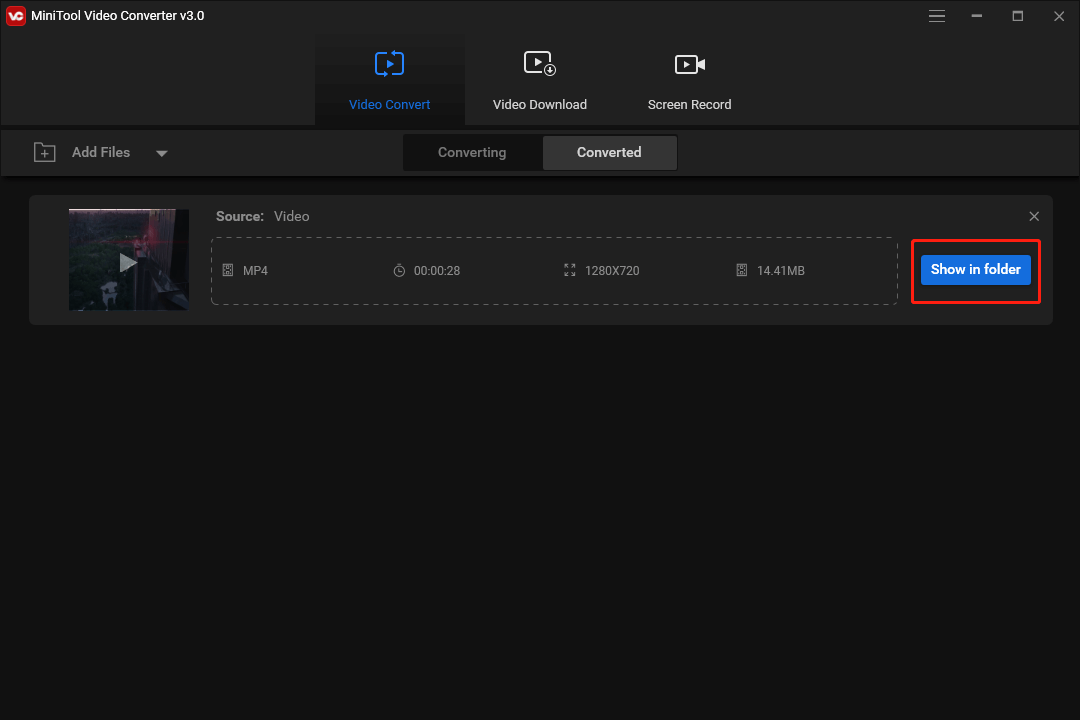 MiniTool Video ConverterClick to Download100%Clean & Safe
Top Online Free HEVC/H.265 Video Converters
convert-video-online.com
This free online video converter lets you convert video files for free. It supports HEVC/H.265 codec and constantly updates its supported codecs to support the newest video codecs. You can upload video files up to 4 GB and convert more than 300 formats. It is free to use and doesn't need to sign up or sign in. Your uploaded files will be automatically deleted from its server after a few hours so the security is guaranteed.
FreeFileConvert
Another free online tool lets you easily convert HEVC files to MP4. You can go to this website and click Choose File button to choose the source HEVC file to upload. You can upload files up to 300 MB. Then click Convert files to button under Output Format section to select a preferred output format. At last, click Convert button to convert HEVC to MP4 H.264. After the conversion, you can download the converted file or delete the file from the Download page.
Convertio
Convertio is also a browser-based tool that lets you convert your HEVC video files for free. You can add video not only from your computer but also from Google Drive, Dropbox, or other external resources. It supports 88 output formats and supports HEVC conversion. You can convert various video formats from/to HEVC by using this free online HEVC converter.
www.onlineconverter.com
This online free HEVC to MP4 converter can also convert HEVC files to MP4 video. You can select an HEVC file and click Convert to rightly convert it to MP4. The maximum file size of the uploaded video is 200 MB.
What Is HEVC Codec?
HEVC is short for High Efficiency Video Coding. HEVC/H.265 is the upgraded version of H.264. HEVC codec offers the same level of video quality as H.264 (AVC) but with higher compression. HEVC has lower bitrate without losing the image quality. This is why HEVC/H.265 video file is twice smaller than H.264 file.
The default video format of Apple devices like iPhone, iPad is HEVC. Some camcorders like GoPro Hero 6/7/8 can also record video in HEVC/H.265 codec. More and more devices support HEVC format nowadays. The file extension of HEVC codec can be .mp4, .mov, .mkv, .hevc, .ts, .h265, .265, etc.
How to Open and Play HEVC Video Files on Windows 10
Does Windows 10 support HEVC? Microsoft adds the support for HEVC codec in Windows 10 operating system, but they disable it for unknown reasons. To play HEVC video on Windows 10, you need a third-party video player that supports HEVC playback. Alternatively, you can use MiniTool Video Converter to convert HEVC to MP4 H.264 for free or install the HEVC video extension on Windows 10 from Microsoft Store.
HEVC Codec/Video Extensions Download
To view HEVC or HEIC files on Windows 10, you can install the HEVC video extension on your computer. By installing this extension, you can play HEVC videos in any video app on your Windows 10 computer. This extension also lets you encode HEVC video on devices that don't have a hardware-based HEVC video encoder.
You can find two different HEVC codec packages from Microsoft Store. One costs $0.99 and one is free. Both are identical and you can choose to install either one.
To buy the HEVC video extensions, you can go to Microsoft Store and search the HEVC video extensions, click Buy button to install this extension for Windows 10.
To install the free extension, you can go to the HEVC Video Extensions from Device Manufacturer page and click Get or Install/Open button to download and install it.
Note: Need to mention that the free option is only available when you are signed in with your Microsoft account. Otherwise, it will ask you to redeem a code to get it. Still, if your computer isn't from a major OEM with Windows 10 already installed, namely, if you assemble the computer by yourself, this free option may be also unavailable. Anyway, if the free option for the HEVC extension is not available, you can pay $0.99 to install it. After all, it's not much.
Conclusion
You can use the free HEVC converters introduced in this post to easily convert HEVC/H.265 to MP4 H.264. MiniTool Video Converter is a free and clean program that allows you to convert video/audio format, download YouTube videos, and record screen with audio.
You can also find MiniTool Power Data Recovery, MiniTool Partition Wizard, MiniTool ShadowMaker, MiniTool MovieMaker, MiniTool uTube Downloader, and more products from MiniTool.
If you have any issues with our products, please contact [email protected].
HEVC Converter FAQ
How to convert HEVC to MP4 for free?
Some online free HEVC/H.265 converters help you easily do the task. If you want a free desktop video converter to convert HEVC to H.264, you can try MiniTool Video Converter.
What can play HEVC files?
You can use some free
HEVC players
to easily play HEVC videos, for instance, VLC, DivX Player, Potplayer, etc.
Is HEVC good quality?
HEVC/H.265 is twice compressed as AVC (H.264) while maintaining the same video quality.
How do I play an HEVC video on my computer?
To play HEVC on Windows computers with any video player, you can install the HEVC codecs on Windows 10. Find more details in this post.