What Is an FLP File?
An FLP file is a project file created by FL Studio, a digital audio workstation to create music on Microsoft Windows and macOS.
In fact, an FLP file is not an actual audio file and it does not store any audio data. Instead, an FLP file contains all information about the mixing and editing process like the track settings and demo plugins you made in FL Studio.
It's similar to the video project file of video editing programs, such as the PRPROJ file of Adobe Premiere Pro, MLT file of Shotcut Video Editor, etc.
How to open FLP files? You can open an FLP file in FL Studio by clicking FILE > Open.
How to Convert FLP to MP3/MIDI/MP4…
Can you convert FLP to other common audio formats like MP3, WAV, or OGG? The answer is Yes. Using FL Studio program, you can quickly and easily convert an FLP file to MP3, WAV, OGG, and MIDI.
What's more, FL Studio allows you to convert an FLP file to a video file in MP4 format for uploading on YouTube, Instagram, TikTok, Facebook, and Spotify. Also, it allows you to save the video in AVI, MOV, WebM, MKV, WMV formats, etc.
Follow the steps below to convert FLP to MP3, FLP to MIDI, or FLP to MP4.
Step 1. Launch FL Studio on your computer. Click FILE > Open or press Ctrl + O to open your FLP file.
Step 2. You can continue to edit your music. After editing, click File > Export, and you'll see some media file format options shown in the below picture.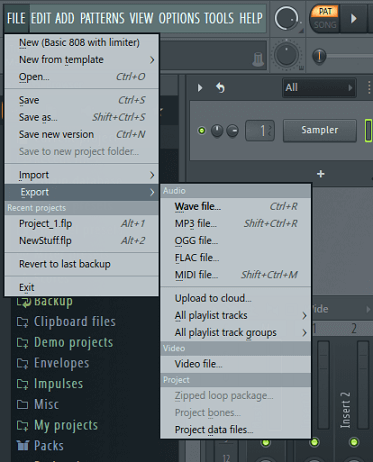 Step 3. To convert FLP to MP3, or other audio formats, click the target format. From the Save as window, rename this file, choose a destination folder, and click Save.
Step 4. The Rendering pop-up window opens. You can customize the audio parameters and adjust the quality. Finally, click the Start button to enable the conversion process.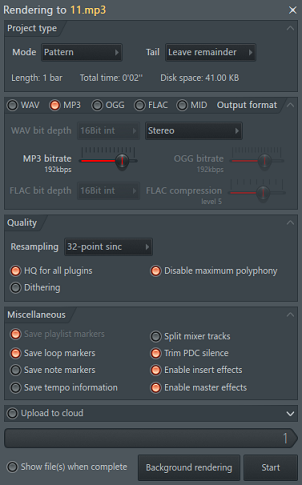 Step 5. If you want to convert FLP to MP4 or other video file formats, choose Video file in step 2.
From the Video wizard, you can choose a preset to set it as the video background. You can click Browse to add your own images or videos. Click the Continue to render and save video button.
Step 6. From the Video export settings window, you can click Browse to change the file name, choose a destination folder, or select another video format, and click Save. (MP4 is the default and recommended format.)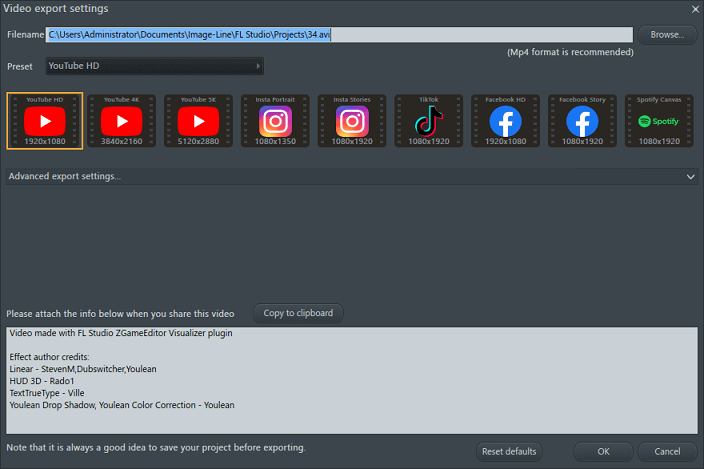 Also, you can choose a preset like YouTube HD, YouTube 4K, TikTok, Spotify Canvas, and more.  Click OK to continue.
Step 7. Click Start to convert your FLP file to MP4 or other video formats. Once done, you will get a video file and a separate audio file.
Best Free MP3 Converter for Windows 11/10
If you need a free MP3 converter, MiniTool Video Converter is recommended here. It can convert between multiple common audio file formats like WAV, WMA, AIFF, and more.
Moreover, MiniTool Video Converter enables you to convert between multiple video formats or turn a video into a format compatible with some mobile devices. This software also can separate audio from video, record your computer screen, etc.
Conclusion
Now, you can follow the above steps to convert FLP to MP3, MP4, MIDI, or other media formats.
Also read: