Audacity is free audio recording software. You can use it to record computer audio and your voice. But sometimes, Audacity will not record sound on your device. How to fix Audacity not recording? The top 4 fixes are listed in this post for you.
I've been using audacity for a few months now to record music. It's worked pretty smoothly up until today. Since this morning, it is not picking up any audio from the computer or earbuds, barring me from recording anything.https://www.reddit.com/r/audacity/comments/8c343v/audio_not_recording/
Audacity not recording Windows 10? Audacity not detecting microphone? Audacity can't find audio devices? Here are 4 solutions to help you solve these problems.
Change Audio Host to MME
Enable All Recording Devices
Allow Audacity to access your microphone
Use an Audacity alternative – MiniTool Video Converter
Fix 1. Change Audio Host to MME
MME is the default audio host for Audacity. If Audacity is not recording desktop audio, you can change the audio host to MME.
Step 1. Open the Audacity app and drop down the Audio Host list.
Step 2. From the dropdown list, choose the MME option and choose Stereo Mix as the recording device.
Fix 2. Enable All Recording Devices
If you can record audio with Audacity after setting the audio host to MME, then you should check for your recording device and make sure that all disabled and disconnected devices are enabled.
Step 1. Click the Start menu and choose Settings.
Step 2. Go to System > Sound and choose Sound Control Panel under the Related Settings.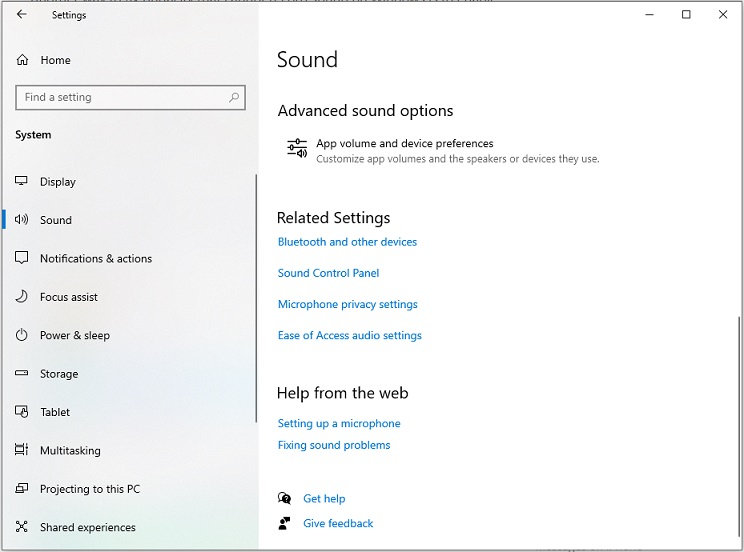 Step 3. On the Sound window, shift to the Recording tab. Right-click on the blank area and select both Show Disabled Devices and Show Disconnected Devices.
Step 4. Click on the disable device and then click the Properties option. Select the Use this device option from the Device usage list and click OK.
Step 5. Open Audacity and check if it can record audio.
Also read: 4 Best Streaming Audio Recorders You Should Try
Fix 3. Allow Audacity to Access Your Microphone
The Audacity not recording sound issue mat caused by Privacy settings. You can check if Audacity is allowed to use your microphone.
On Windows
Step 1. Open Settings, find the Privacy option, and click on it.
Step 2. Go to App permissions and tap on Microphone.
Step 3. Turn on the button under the Allow apps to access your microphone.
Step 4. Under the Choose which apps can access your microphone, find Audacity and turn it on.
Related article: How to Use Audacity? Here are 7 Tips for You!
On Mac
Step 1. Choose Apple menu > System Preferences.
Step 2. Head to Security & Privacy > Privacy.
Step 3. Choose Microphone from the left panel.
Step 4. Check the Audacity option to allow it to access your microphone.
Fix 4. Use an Audacity Alternative
If the above methods can't fix the Audacity not recording problem, you should use another audio recorder or screen recorder. Here recommend MiniTool Video Converter.
It's a free screen recorder that can record screen with both external and internal audio and lets you extract audio from the recording.
Here's how:
Step 1. Open MiniTool Video Converter after the installation.
MiniTool Video ConverterClick to Download100%Clean & Safe
Step 2. Click on Screen Record and launch MiniTool Screen Recorder.
Step 3. Enable the microphone or system audio as needed.
Step 4. Play the file you want to record and click the Record button.
Step 5. Press the F6 key to stop the recording. Then right-click the recorded file and choose the Open folder to locate it.
Step 6. Exit the screen recorder and go to Video Convert to convert the recording file to MP3.
Conclusion
This post offers you 4 solutions to fix the Audacity not recording problem. Now, try them and check if your problem is solved!