In this article, we delve into the world of
high-resolution audio converters
, exploring software and hardware solutions that cater to audiophiles' discerning ears.
In the realm of audio enthusiasts, the pursuit of sonic perfection is unending. As technology evolves, the demand for high-fidelity sound reproduction has led to the rise of high-res audio. To fully appreciate the beauty of this format, one requires powerful tools that can faithfully translate musical nuances. Enter high res audio converters – the key to transforming and preserving the auditory splendor locked within music files.
Demystifying High Resolution Audio and its Significance
High-resolution audio is a breath of fresh air in a world of compressed music formats. Unlike conventional formats like MP3, which sacrifice quality for file size, high resolution audio retains the intricacies of the original recording. This is achieved through formats like FLAC, ALAC, WAV, and DSD, which offer higher bit depths and sampling rates. The result? A listening experience that mirrors the artist's intent, capturing delicate harmonics and subtle details that were once lost.
Elevating Audio Quality: Software Converters
The following are some popular high resolution audio converters among users.
#1 MiniTool Video Converter
MiniTool Video Converter is a free and reliable video format converting program. It can quickly convert videos and audio from one file format to another to apply to more devices. This software supports 1000+ popular output formats and batch conversion. Besides, it enables you to specify the target audio bitrate, sample rate, channel, and encoder before conversion. Moreover, MiniTool Video Converter can also record PC screens without any watermark and download YouTube videos.
#2 Audirvana
A favorite among audiophiles, Audirvana is a powerhouse software converter for high-resolution audio. Its intuitive interface and Mac optimization provide an immersive listening journey. Audirvana's ability to convert various formats while preserving quality makes it a standout choice for music aficionados.
#3 XLD (X Lossless Decoder)
Exclusively for Mac users, XLD stands as an open-source gem. It supports an array of formats and employs sophisticated algorithms to ensure accurate audio conversion. With its focus on lossless compression and high-resolution formats, XLD is a versatile companion for audiophiles who cherish sound quality.
#4 dBpoweramp
When precision meets efficiency, you get dBpoweramp. Renowned for its reliability, this software accommodates batch conversion and offers compatibility with a wide range of formats. Its interface might be less flashy, but its ability to maintain audio integrity sets it apart.
Seamless Conversions: High-Resolution Audio Converter Online
For those seeking convenience without software installations, online high resolution audio converter software come to the rescue. CloudConvert and Online Audio Converter are popular choices. They allow you to upload your audio files and convert them without fuss. While these platforms might lack advanced features, they offer a quick fix for users on the move.
Hardware Harmonies: HDMI Audio to Coaxial Converters
In the world of hardware, the quest for retaining high-resolution signals takes an interesting turn with the HDMI audio-only to coaxial converter. This ingenious device extracts audio signals from HDMI sources and transforms them into coaxial output while preserving high-resolution quality. It's a savior for connecting advanced audio sources to systems with coaxial inputs.
Breathing Life into MP3: High-Resolution Conversion
Even MP3 files, notorious for their lossy compression, can benefit from the magic of high-resolution conversion. While it won't restore lost data, it can enhance audio quality. Leading software converters like MiniTool Video Converter, Audirvana, XLD, and dBpoweramp facilitate this transformation, breathing new life into your music collection.
The following are the steps of the conversion with mp3 to high resolution audio converter – MiniTool Video Converter.
MiniTool Video ConverterClick to Download100%Clean & Safe
1. Download, install, and launch MiniTool Video Converter on your Windows PC.
2. In its default Converting subtab of the Video Convert tab, add or drag the target audio file for conversion.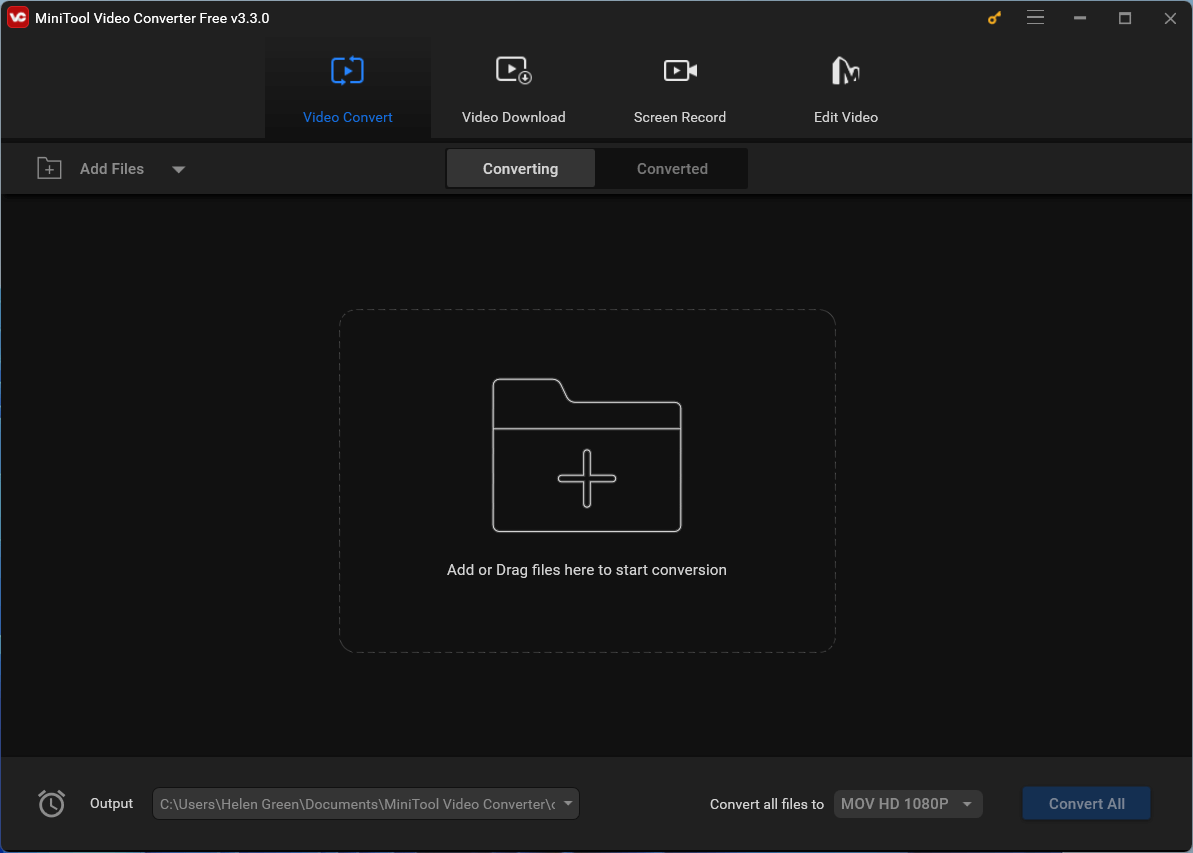 3. Then, the program will create a conversion task within the main interface. There, click the settings icon of the Target section to trigger the corresponding window.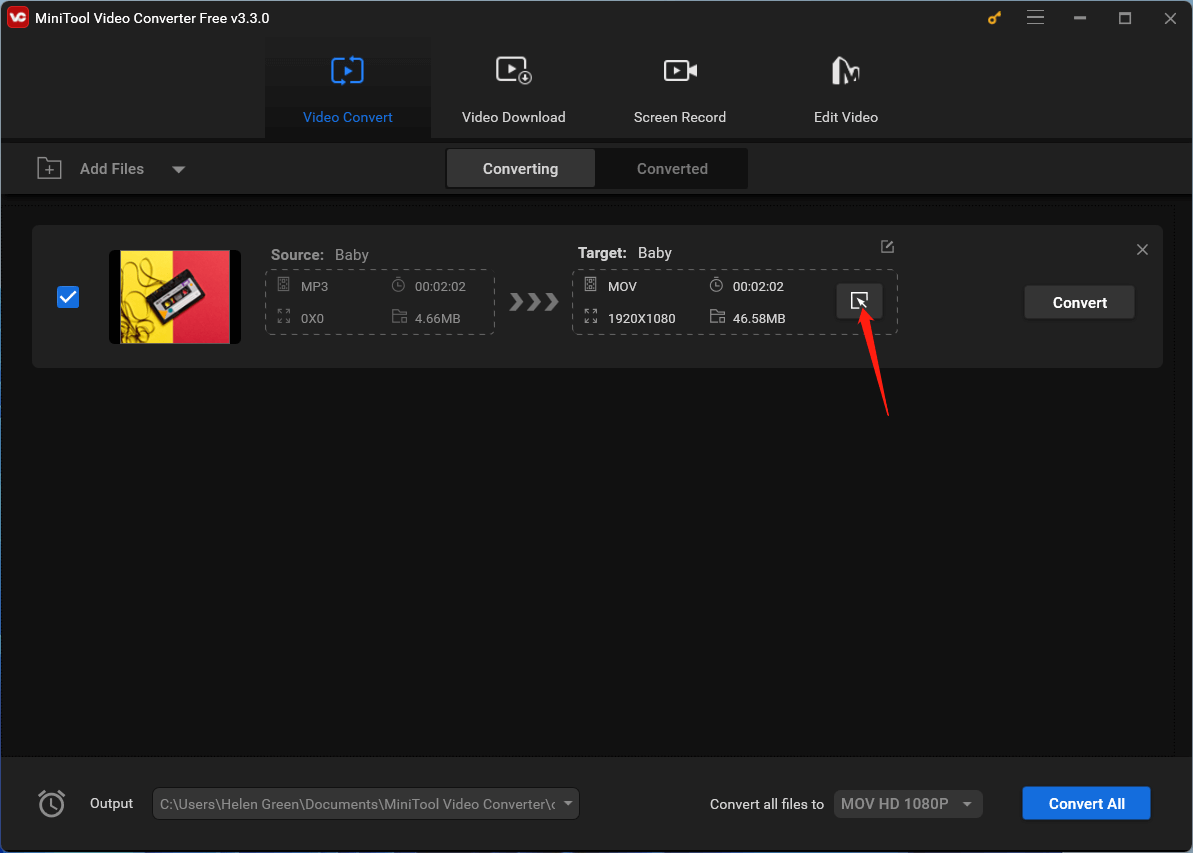 4. In the next popup, switch to the Audio tab, select an audio format from the left menu, and choose an audio quality in the right area. You can further specify the parameters of the target audio through clicking either the settings icon of the selected audio quality option or the Create Custom option.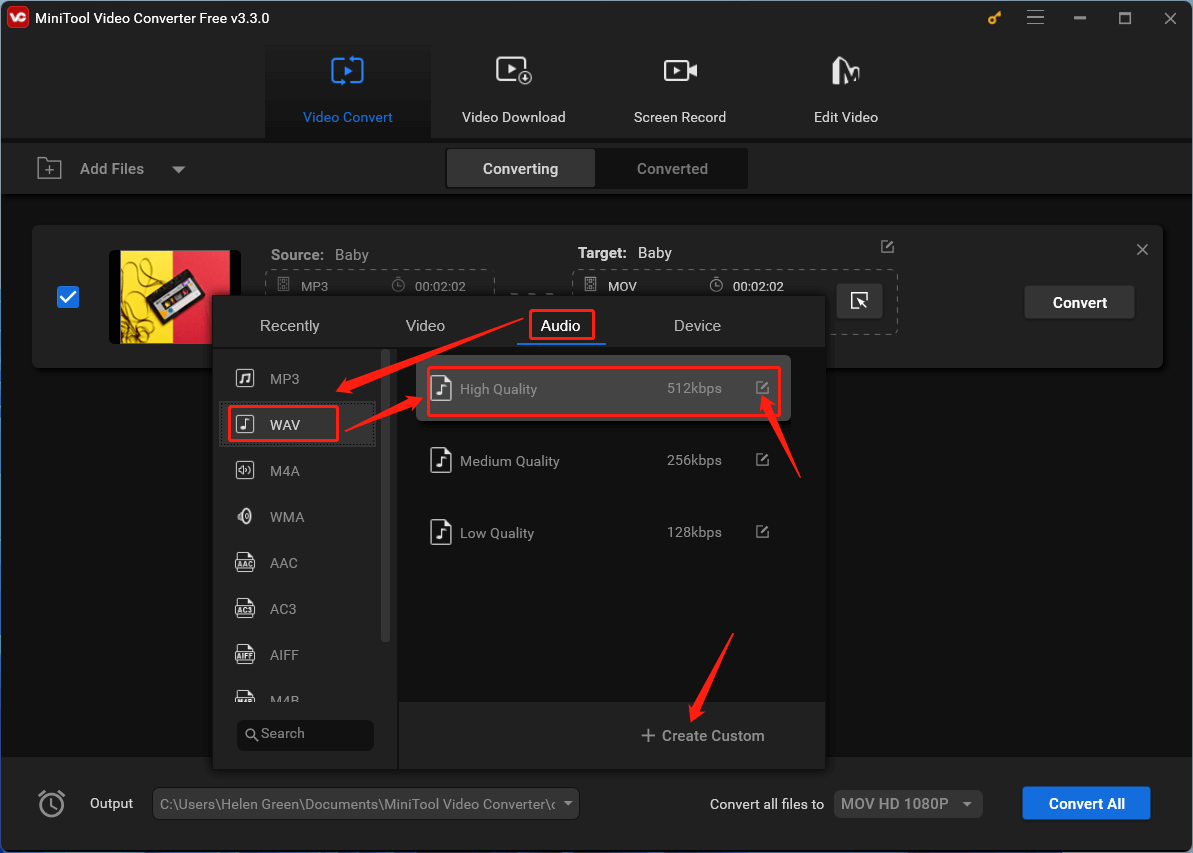 5. Next, you are able to customize the audio encoder, channel, sample rate, and bitrate. Click the Create button to save the changes.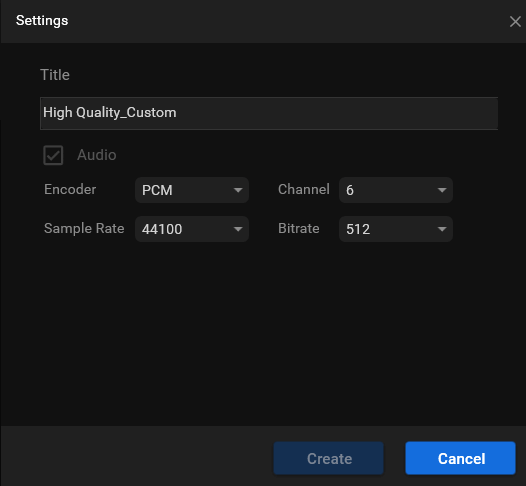 6. Finally, choose the customized audio format and click the Convert button to start the conversion.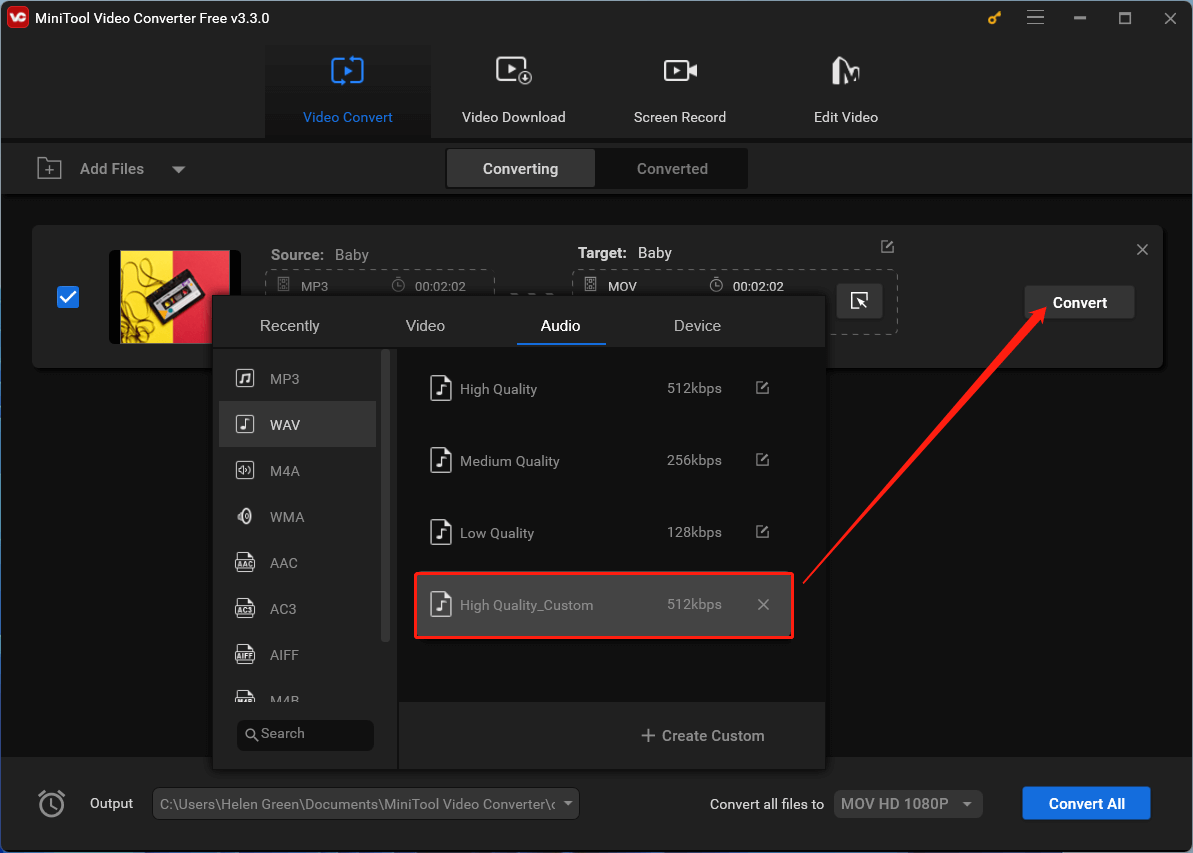 Wait until the process finishes. The time it takes depends on how large the original audio file is. The larger, the longer. Yet, it won't take long in general.
Once you have successfully got your high-res audio, you can enjoy it and compare it with its former version to find the difference in audio quality.
The Sound of Conclusion
In the ever-evolving landscape of audio technology, high res audio converters play a pivotal role in bridging the gap between sonic dreams and reality. Whether you're exploring software solutions, seeking online convenience, or delving into hardware converters to preserve high-resolution signals, the options cater to audiophiles of varying preferences. As innovation pushes boundaries, the partnership between high-resolution audio converters and music enthusiasts ensures that every note, every beat, and every emotion within the music is preserved and cherished in all its splendor.
Also Read