CloudConvert is a popular web-based conversion tool launched in 2012. With CloudConvert, you can easily convert between any file formats without installation. But many people are skeptical of its safety. So, is it safe to use CloudConvert? The answer is positive. If CloudConvert crashes, try MiniTool Video Converter.
What is CloudConvert? Is CloudConvert safe to use? How does CloudConvert work? What are its best alternatives? All the questions will be answered in this post. Let' get started!
Is CloudConvert Safe?
# What Is CloudConvert
CloudConvert is an online file converter, which supports nearly any audio, video, document, ebook, archive, image, spreadsheet, or presentation format. Its website is straightforward, which makes it easy to get started.
The entire conversion process takes place in the cloud, and output settings like aspect ratio, codec, bitrate, and resolution can also be adjusted on the webpage before the conversion. However, if you're using the free version, you'll find yourself limited to 25 conversions per day.

Features:
An advanced and scalable API
Handle 218 different formats
Batch converting is supported
# Is CloudConvert Safe to Use
CloudConvert is a reliable online service because all transmissions to and from CloudConvert are encrypted by SSL, and no one can access your files.
# How does CloudConvert Work
With a simple and intuitive interface, CloudConvert is an ideal option for those who want to convert media files for free. Here is how to do it.
Step 1. Go to the CloudConvert site on your web browser.
Step 2. Select the input and output format from the supported formats.
Step 3. Choose one method from the given 5 options (From my Computer, By URL, From Google Drive, From Dropbox, and From OneDrive) to import your file.
Step 4. Choose the grey wrench icon to make advanced settings.
Step 5. Click Convert to start the conversion process.
Step 6. Once done, you can download the file by clicking the Download button.
Best CloudConvert Alternatives
On top of CloudConvert, you can also convert between various file formats using the following 10 remarkable video converters. They're simple to use and support multiple file formats.
1. Convertio
Convertio is an online video converter that lets you convert any number of videos to different audio and video formats. It supports more than 25600 different conversions between more than 300 different file formats and lets you process up to 2 media files simultaneously.
You can add media files to the program from multiple approaches and then choose quality, codec, aspect ratio, etc. It also provides other advanced tools like MP3 Cutter, Slideshow Maker, Flip Video, Video Cutter, Crop Video, Resize Video, etc. The only drawback is 100 MB maximum file size.
Features:
300+ formats supported
Support batch conversion
Delete uploaded files instantly and converted ones after 24 hours
2. Online-Convert
Online-Convert is a one-stop solution for all your file conversion needs. It works as an advanced video converter, audio converter, image converter, PDF to JPG converter, and PDF to Word converter. And all it requires is a functional browser.
It allows you to add files from your local PC, from Dropbox or Google Drive, or using online URLs. Moreover, it provides more optional settings, which gives you the right to change screen size, video bitrate, select audio codec, and more. To convert a file larger than 100M, you have to purchase.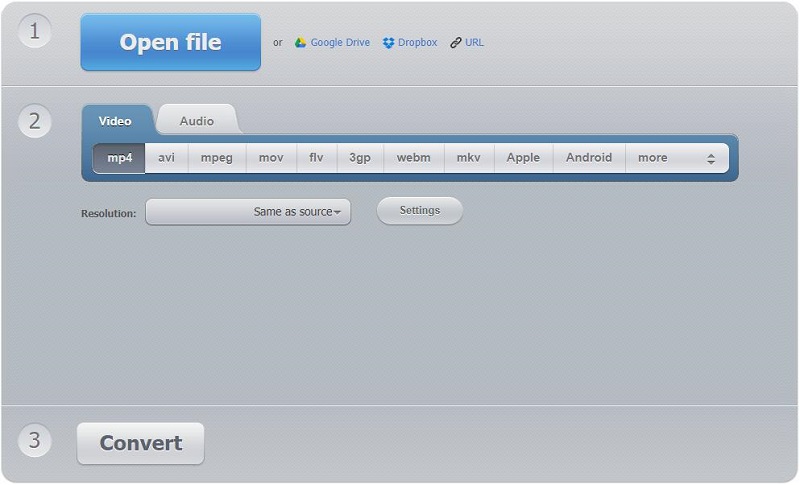 Features:
Large choices of formats to convert.
Customize the frame per second rate, bitrate and even resolution.
Save the converted files on the user account created for later download.
3. Zamzar
Zamzar is another excellent online alternative to CloudConvert. It can be used to convert image, audio, video, or other types of documents, and can work with multiple modern web browsers on any operating system.
The program is easy to use and supports more than 1200 file formats. In addition, the converted file link can also be sent to the provided email address. However, on the free ZamZar service, you can upload a maximum of 50 MB of data.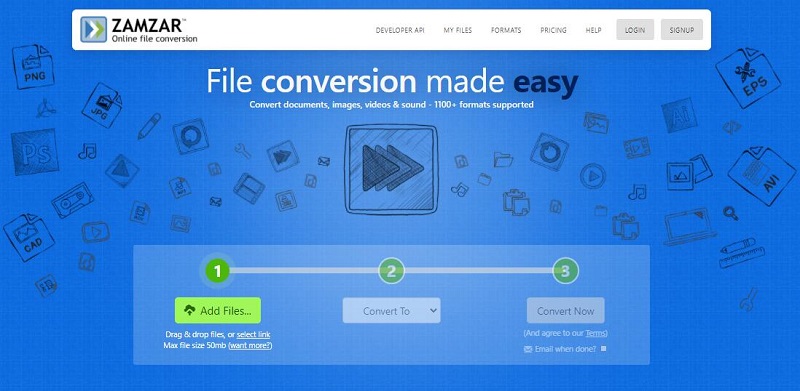 Features:
Work on any operating system
Remarkable conversion speed
Download the converted files now or wait for an email
4. OnlineVideoConverter
OnlineVideoConverter is a free and excellent online converter that is fully compatible with all modern browsers. It can not only convert local media files, but also convert links from YouTube, Dailymotion, and Vimeo to various video/audio formats.
There is no limitation to the number of conversions or downloads that can be performed using the software. Besides, this website is also compatible with mobile devices, which means that you can convert videos on your Android or Apple device.
Features:
Work with mobile devices
Download and convert files from popular streaming sites
No limit to the size and number of files you convert
5. Convert Video Online
Convert Video Online is a free web tool that allows you to change the video format, resolution, or size right in your browser. The standout feature of this free online converter is it supports file uploads of up to 2GB.
It supports 300+ file formats, including HEVC/H.365 and it allows you to import media files from multiple approaches. If you want to pick an alternative to CloudConvert, then this is the converter you should consider.
Features:
Upload files of up to 2GB
Convert more than 300 formats
265/HVEC support
High-performance conversion
No limit on the number of files you can convert
6. MiniTool Video Converter
If you are looking for a simple yet powerful desktop alternative to CloudConvert, MiniTool Video Converter may suit you.
It is an ultimate solution for your various video/audio conversion needs featuring fast conversion speed, various format support, and optional output quality. This free converter allows you to convert multiple files in batch without losing quality even if there is no Internet connection.
Besides, this free file converter not only supports you to make any video or audio files compatible with your devices, but also download videos, audio tracks, playlists as well as subtitles from YouTube.
MiniTool Video ConverterClick to Download100%Clean & Safe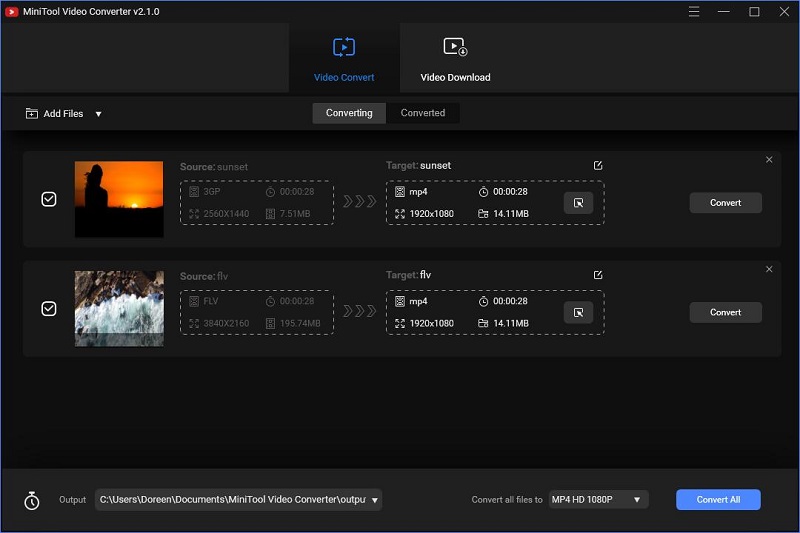 Features:
Batch file conversion at once
Offer multiple output presets
Convert video/audio file of any size
Customize the settings including video codec, and video resolution
Support 1000+ conversions between popular video and audio formats
Convert media files to compatible with different mobile devices
Download your favorite content from YouTube
7. HandBrake
HandBrake is an open-source video converter tool that is compatible with Windows, Mac OS, and Linux. This video converter offers extensive video file format support. Plus, it has numerous video conversion presets for those who do not want to manually customize the output.
With this converter, you can change the format of one or more videos at a time. It also comes with a couple of features, such as cropping, advanced filtering, frame rate adjustment, a vast range of presets, and a live preview, etc. However, the interface is not so user-friendly.
Features:
Free and open source
Batch conversion is supported
Built-in device presets
Offer various video filters
8. Any Video Converter
Any Video Converter, with an attractive and minimalist interface, is one of the best alternatives to CloudConvert. This video conversion program is easy to use and supports almost all video formats (100+ input formats and 160+ output ones).
Apart from this, it offers some video-editing features, such as cropping, rotating, adding video effects, combining multiple videos into one file. If you need more options, it also offers a premium version, which can remove DRM protection, convert videos in batches, and burn videos to disc.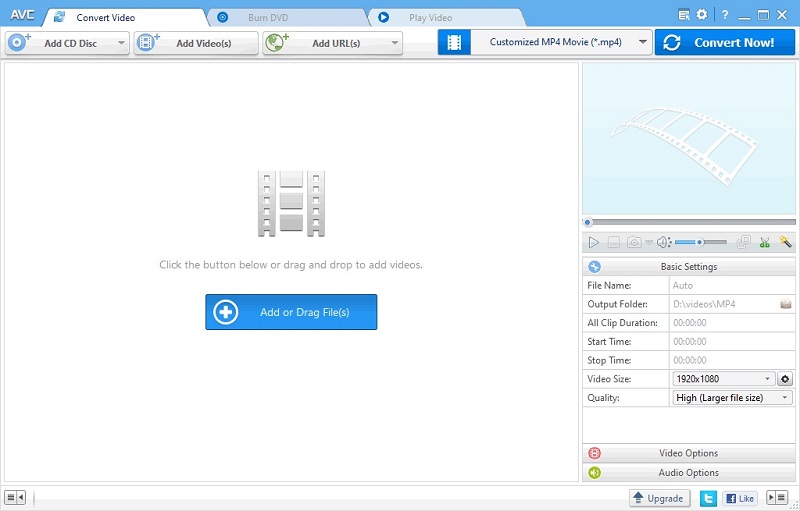 Features:
100% lossless quality
Basic video-editing tools
Rip audio from CDs/DVDs
Download videos & music from YouTube
9. DivX Converter
DivX Converter is a great option when you need a CloudConvert alternative, which comes with a clean interface and lots of built-in options for inputs and outputs. Although the software provides a premium version, the free one works rather well.
When adding files, you can choose to import files from a local drive, or directly from Blu-ray discs. The software also supports Google Drive and Dropbox. Besides, you can set bitrate, video resolution, and file size, combine multiple clips or rotate video before you convert.
Features:
Convert videos to play anywhere
Back up your DVDs
Transcode video according to your needs
Advanced audio features
Customize your workflow
10. Freemake Video Converter
Another best CloudConvert alternative is called Freemake Video Converter that it supports different conversions between 500+ video and audio file formats. It not only lets you convert a whole file but also empowers you with the option to convert just a specific segment of the original file.
Besides, you can convert media files in bulk, adjust the output quality of the converted files, convert videos directly to a DVD or Blu-ray disc, download clips from online video sites. Unfortunately, for all free conversions, the Freemake logo is added at the beginning and end of all converted videos.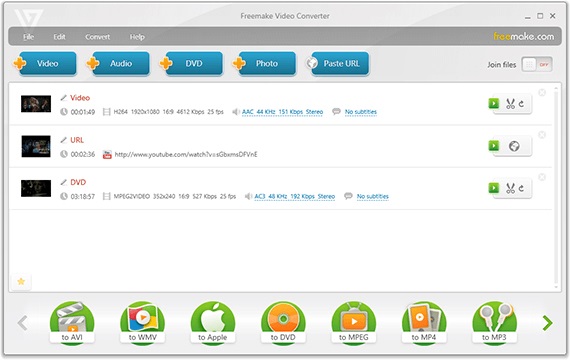 Features:
Support 500+ formats
Burn videos to DVDs
Built-in editing tools
Make photo slideshows
Download and convert videos hosted online
This post details 10 excellent alternatives to CloudConvert. If CloudConvert crashes suddenly, try any one of them.Click to Tweet
Bottom Line
Is CloudConvert safe? Absolute Yes. You can use it to convert almost all popular file formats.
In case of the sudden crash of CloudConvert, the above detailed 10 best excellent CloudConvert alternatives for you to choose from. Which one do you prefer?
If you have any questions or suggestions about it, please let us know via [email protected] or share them in the comments section below.
Is CloudConvert Free FAQ
Is CloudConvert free?
CloudConvert can be used absolutely free for up to 25 conversions per day. Beyond that, we do offer flexible payment options. Use the quantity sliders to customize the packages or subscriptions according to your needs.
What is CloudConvert for?
CloudConvert is a safe online platform that uses SSL encryption, which is designed for transforming a file from one format into another. It recognizes files in more than 200 different formats and connects with Dropbox, Google Drive, and OneDrive.
How do I use CloudConvert?
Select a source format and an output format.
Choose one method to upload your media file.
Click the grey wrench icon to make advanced settings.
Hit the Convert button to start the conversion.
A professional video converter should have options for multiple file formats and in high qualities with fewer restrictions, such as MiniTool Video Converter, Any Video Converter, Freemake Video Converter, HandBrake, DivX Converter, Online-Convert, Convertio, etc.