Zoom is a video conferencing app with a built-in screen recording function. After you end a Zoom meeting, the recording will be automatically converted to an MP4 video file. But when Zoom fails conversion or your Zoom recording is interrupted, you will get a .zoom file. Can you convert it to MP4? This post will show you how to convert Zoom recording to MP4.
Zoom lets you record a meeting and it will automatically start converting recording to MP4 after you end a meeting. But this step may fail because of many reasons. When you face the Zoom failed to convert recording error, you may wonder "how do I convert a Zoom recording to MP4?".
How to fix the Zoom recording not converting issue? Follow the two methods below to convert Zoom recording to MP4.
Want to try other Zoom recorders to record your Zoom meeting? MiniTool Video Converter is recommended here.
2 Methods to Convert Zoom Recording to MP4
Method 1. Manually Convert the Local Recording
If Zoom fails conversion of local recordings, first you can try to convert the recording to MP4 manually. Just follow the steps.
Step 1. Open the Zoom Desktop Client and sign in to it.
Step 2. Tap on the Meetings, then click the Recorded button.

Step 3. Select the Zoom recording you want to convert, and click the Convert tab to start the Zoom file to MP4 conversion.
Method 2. Use zTscoder.exe
If your recording is not in the Recorded tab, the first method won't work for you. In this situation, you can try zTscoder.exe to convert Zoom recording to MP4. And zTscoder.exe is part of the Zoom file package. Here's how to convert Zoom recording to MP4 via zTscoder.exe.
Step 1. Go to the folder in which Zoom saves recordings, right-click on the zoom file and click Open with…> More apps, scroll down to the Look for another app on this PC.
Step 2. Follow this path C:UsersUserNameAppDataRoamingZoombin, select zTscoder.exe, and click the Open.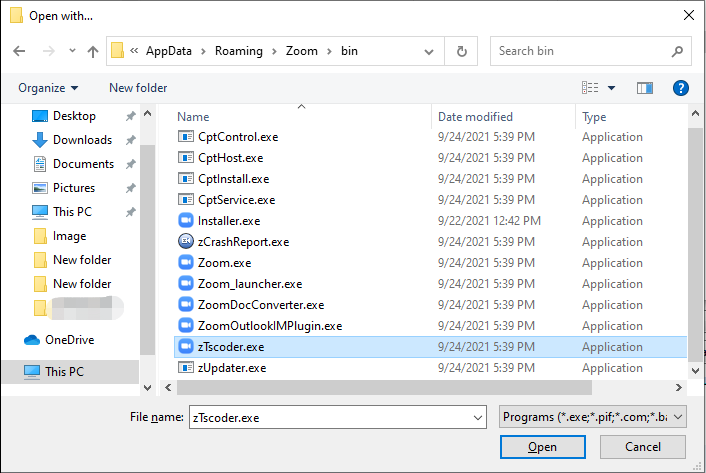 Step 3. Then the Zoom recording to MP4 conversion will start automatically. After that, you'll see an MP4 video file.
However, if the zTscoder.exe has no response, you should follow the below steps to run zTscoder.exe first and then perform the conversion.
Run zTscoder.exe:
Open Control Panel, click the System and Security > System
Tap on Advanced system settings
Under the Advanced tab, click the Environment Variables…
Select the Path variable from System variables, click Edit…
Add C:Usersusername*AppDataRoamingZoombin to the Variable value box and click OK.
Reasons for Zoom Failing to Convert Recording
Why does Zoom fail to convert recording? Here're two common issues: low storage space and invalid path. When you encounter Zoom recording not converting error, you can check the disk space and free up some space if necessary.
And if you turn off the computer while converting the recording or you change the name of the .zoom file, you will also encounter the same error.
If your Zoom recording conversion fails, you can try the above two ways to convert Zoom recording to MP4.
Related article: What's Taking Up Space on Your Hard Drive & How to Free up Space 
About Zoom Recording File Types
Zoom offers local recording and cloud recording. The former is available to both free and paid subscribers, allowing users to record meeting video and audio. The latter is for paid subscribers to record the meeting audio, video, and text. And the recording file types include MP4, M4A, M3U, and TXT formats.
An MP4 file saves both video and audio data in a .mp4 file. M4A only contains audio files. M3U is a playlist file to play all MP4 files. And a TXT file is used to store chat messages in a meeting.
Conclusion
This post shows you how to convert Zoom recording to MP4 with two solutions, and it also offers common reasons for Zoom failing to convert recording issue. If Zoom recording fails to convert, just try these two methods.