In this article provided by
MiniTool video compressor
, we will explore common Adobe Media Encoder freezing problems and provide tips and solutions to resolve them.
Adobe Media Encoder is a powerful tool used by video professionals to encode, transcode, and export media files. However, like any software, it can occasionally encounter issues, including freezing during various tasks.
1. Adobe Media Encoder Freezes When Launching
Sometimes, when you open Adobe Media Encoder, it may get stuck on the loading screen without going into its default main user interface (UI). It seems like it will take forever to prepare the application for usage. If you encounter such a problem, you can try one of the following solutions to get the issue fixed.
Update Adobe Media Encoder to the latest version.
Ensure that your computer meets the minimum system requirements for Adobe Media Encoder.
Disable or uninstall any conflicting third-party plugins.
Clear cache and preferences by going to Edit > Preferences > Media Cache and Media Cache Database > Clean Database and Delete.
2. Adobe Media Encoder Freezes When Importing Files
If Adobe Media Encoder freezes on adding items to queue, try these steps:
Ensure that the source files are not corrupted. Play them using a media player to check.
Convert the source files to a different format before importing.
Check if other applications or processes are consuming too many system resources, as this can affect importing.
3. Adobe Media Encoder Freezes During Encoding
You may find Adobe Media Encoder freezes during the process of media file encoding. Sometimes, the problem may disappear and the video or audio finally get encoded if you take your patience and wait for some time. Yet, the issue may persist even after hours of waiting. No matter which situation you are in, Adobe Media Encoder freezes before finishing an encode or Adobe Media Encoder freezes during encoding but video still finished, it is recommended to take action and handle the problem with one of the fixes below.
Update your graphics card drivers to the latest version.
Check if you have enough available disk space on your destination drive.
Adjust your export settings, such as the codec and format. Some settings may be causing instability.
4. Adobe Media Encoder Freezes When Rendering H.265 (HEVC) Files
High Efficiency Video Coding (HEVC), also called H.265 or MPEG-H Part2, is a video compression standard created to replace the popular Advanced Video Coding (AVC, H.264, or MPEG-4 Part 10). Nowadays, many people choose to convert their videos into HEVC (h.265) with Adobe Media Encoder. However, since the task is resource-intensive, you may get stuck while rendering the media files.  
What should you do if you fall into the same pit? Don't worry! Just rely on these methods!
Lower the resolution or bitrate settings when encoding to H.265.
Ensure your computer's hardware supports H.265 encoding, as it may require a compatible graphics card.
5. Adobe Media Encoder Freezes at End
If the Media Encoder stops working at the end of the encoding, this issue can be related to output settings. So, try the following:
Change the output format or codec to see if the issue persists.
Clear cache and preferences as mentioned in the former solution.
6. Adobe Media Encoder CS6 Freezes
If you're using Adobe Media Encoder CS6 and it freezes, consider upgrading to a more recent version. CS6 is quite old, and compatibility issues may arise with modern operating systems.
Adobe Media Encoder Alternative – MiniTool Video Converter
If, unfortunately, none of the above solutions make to get rid of your problem, the final way you can try is to turn to one of the alternatives to Adobe Media Encoder such as MiniTool Video Converter. Why choose MiniTool Video Converter?
Quickly decode and encode media files.
Support 1000+ file formats.
Support batch conversion.
Support PC screen recording.
Support YouTube videos and songs downloading.
No watermarks, no bundles, no ads.
Free and easy to use.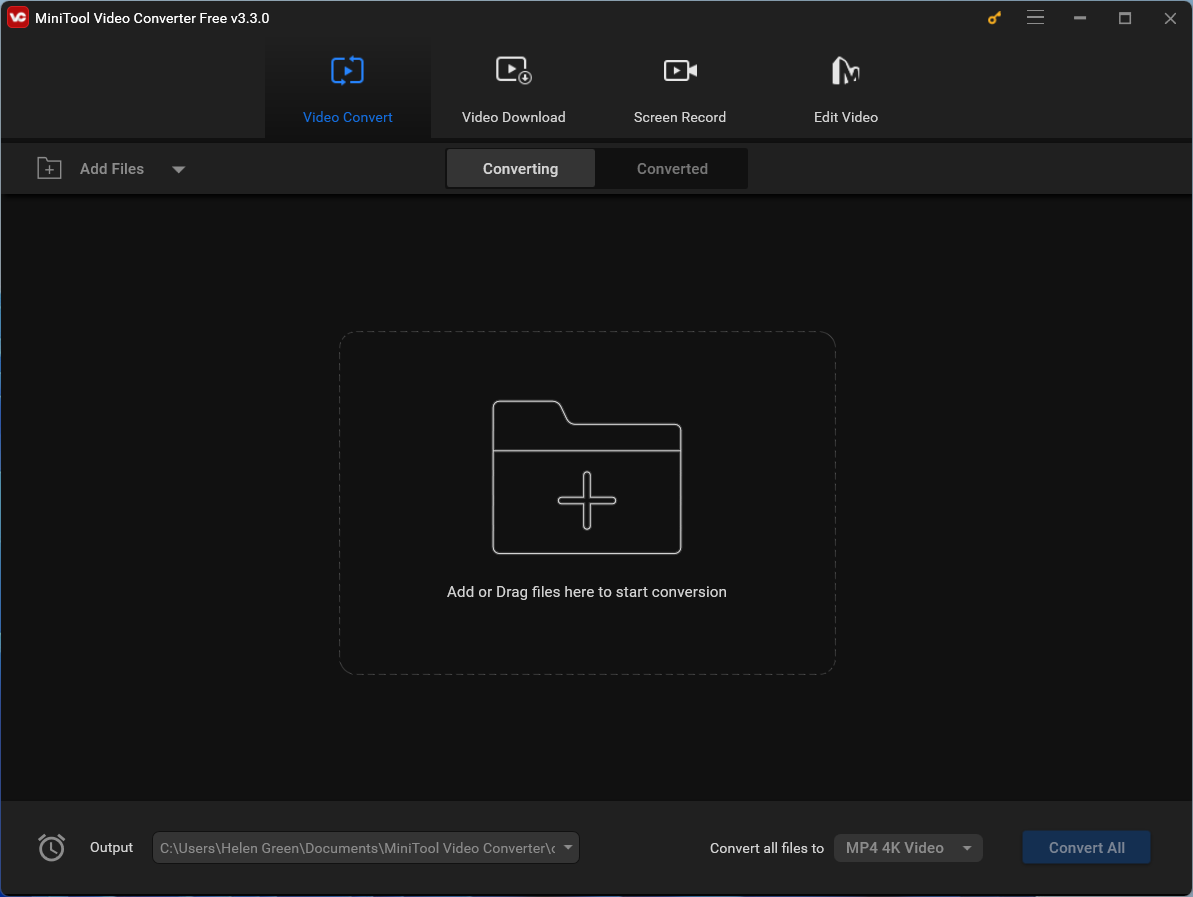 General Tips for Preventing Freezing Issues
Even if you haven't encountered a freezing problem while using Media Encoder of Adobe, it is still necessary to take the below suggestions into consideration.
Keep your operating system, Adobe software, and hardware drivers up to date.
Close unnecessary background applications to free up system resources.
Monitor your computer's CPU, RAM, and GPU usage during encoding to identify potential bottlenecks.
Check for overheating issues. Ensure that your computer is adequately cooled and clean of dust.
Avoid encoding large files if you have limited available storage space.
Consider increasing the priority of Adobe Media Encoder in your operating system's task manager to allocate more resources.
Conclusion
Adobe Media Encoder is a valuable tool for video professionals, but it may encounter freezing issues from time to time. By following the troubleshooting tips and solutions outlined in this article, you can resolve common freezing problems and enjoy a smoother encoding experience. Remember to keep your software and hardware up to date and adjust your settings as needed to achieve the best results.
Also Read