VLC not recording video on your computer? How to solve this problem? This post collects 6 useful solutions to fix the VLC recording not working issue. Check out this post right now! (MiniTool Video Converter is a free screen recorder for Windows, try it now!)
VLC supports various streaming protocols, which enables you to play streaming videos. Another great advantage is it features screen capture. When you watch streaming videos in VLC, you can use the screen capture function to record the streaming video or take a screenshot from it. But sometimes you may encounter a problem like "VLC not recording video".
How to fix it? Here are 6 solutions for you.
Solution 1. Disable Video Acceleration
VLC not recording video only audio? You can choose to disable the Hardware-accelerated decoding.
Here's how:
Step 1. Open VLC.
Step 2. Click on Tools in the top menu bar. From the drop-down menu, select Preferences.
Step 3. Go to the Input / Codecs tab. In the Codecs section, select Disable from the Hardware-accelerated decoding list. Click Save.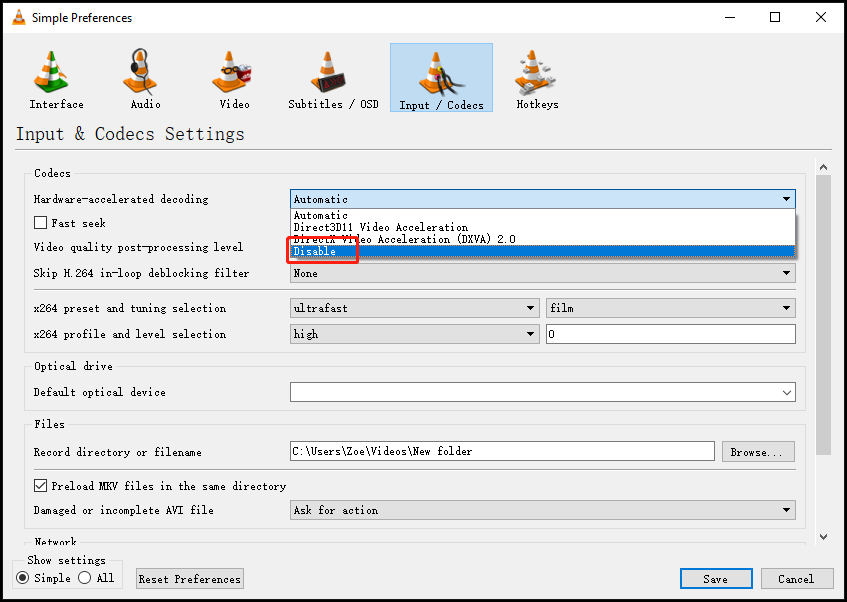 Solution 2. Change Audio Output Module
If the VLC recording not working, you can adjust the audio output settings.
Step 1. Run VLC and go to Tools > Preferences.
Step 2. In the Simple Preferences window, click Audio.
Step 3. Then select the option DirectX audio output from the Output module list. Click the Save button.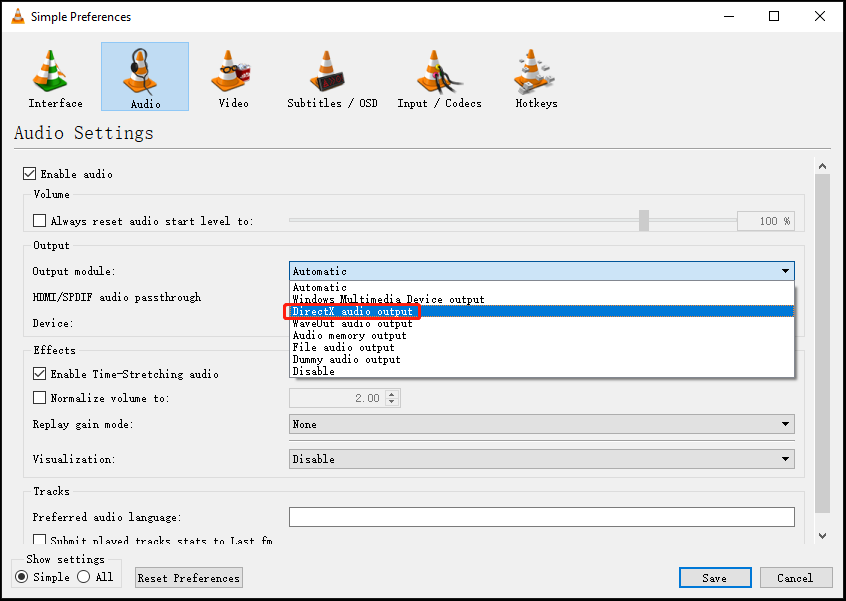 Related article: How to Fix the VLC Error "Your Input Can't be Opened"
Solution 3. Update VLC
The outdated version of VLC could cause the VLC not recording issue. Open VLC, click Help, and select Check for Updates… If there is an update available, click Yes and Install to update your VLC.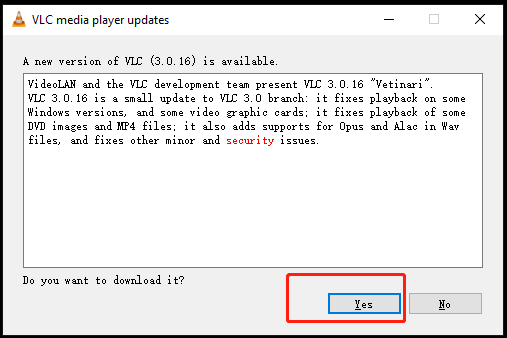 Solution 4. Reinstall VLC
When VLC screen capture not working or VLC crashes when playing a video, you can fix it by reinstalling the VLC app.
Solution 5. Restart Your Computer
Restarting the computer can fix many problems. To solve the VLC not recording video issue, you can restart your computer.
Solution 6. Use Another Screen Recorder
If the above methods are not working, then you should use another screen recorder. MiniTool Video Converter is a video converter, screen recorder, and YouTube downloader. It's free and works on Windows 11/10/8.
This free screen recorder allows you to record video with audio from the computer and the microphone. It also supports recording part of screen.
MiniTool Video ConverterClick to Download100%Clean & Safe
Here's how to use MiniTool Video Converter step by step.
Step 1. Launch MiniTool Video Converter.
Step 2. Tap on Screen Record and click the camera icon in the center of the window.
Step 3. Enable the system audio and the microphone as needed. Click the down arrow icon next to Full screen, you will see another screen recording mode Select region. If you want to record part of your screen, choose Select region. If not, choose Full screen.

Step 4. Then press the Record button. When you want to finish the recording, press the F6 key.
Step 5. Right-click the recording file and choose Open folder to check the recorded video.
Conclusion
VLC not recording on your computer? Try the 6 methods mentioned in this post to fix the issue.