Since OGV files are not supported by all applications, some people may wish to convert their OGV files to the MOV format or other formats supported by their programs. How to get the task done? Here are the top 6 OGV to MOV converters, including MiniTool Video Converter.
OGV is a container that uses OGG open-source format. Although OGV files can be played by a wide variety of media players, there are still some programs that cannot recognize the OGV format. How to solve this problem? Try the following 6 excellent OGV to MOV converters.
1. MiniTool Video Converter
Available on Windows, MiniTool Video Converter is a free audio and video converter, featuring various format support, large file processing, fast conversion speed, batch conversion, rich output presets, and optional output quality.
In addition to being an OGV to MOV converter, the software can also be used to download videos, music, playlists, and subtitles from YouTube, and record computer screen activities with no watermarks.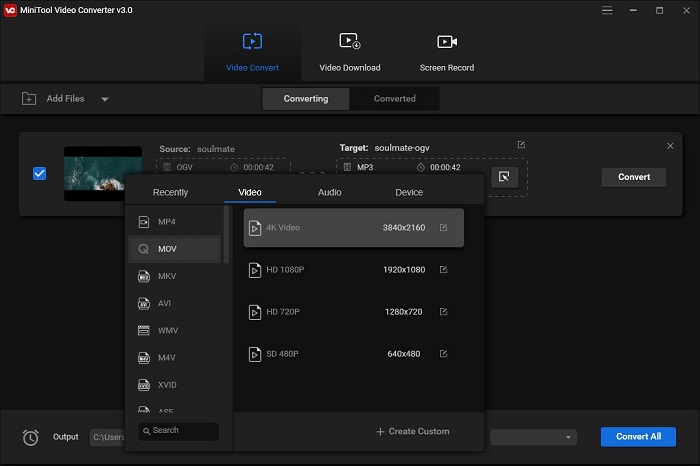 2. Convertio
Convertio is a web-based file converter that supports more than 300 file formats - audio, video, image, document, archive, presentation, eBook, and font. You can add OGV files from your drive, Dropbox, Google Drive, and even from the URL of the video.
What's nice about Convertio is that you can convert multiple files simultaneously and all conversion tasks take place in the cloud. Besides, it provides you with options to cut video, resize video, rotate and flip video, etc. However, the maximum file size is 100 MB.
3. Online-Convert
Online-Convert is another great online file converter, which lets you convert various file types, such as image, audio, video, document, eBook, achieve, software, webservice, and device. With it, you can convert up to 4 OGV files at a time.
Your OGV files can be added from your computer, Dropbox, Google Drive, or by pasting the URLs. Before conversion, the site allows you to edit video and normalize audio. However, the total file size per conversion is 100 MB.
4. Media.io
The next online solution to convert OGV to MOV is to use Media.io. It is also a web-based media converter that supports all common image, audio, and video formats. On the site, you can your OGV files from your local computer, Dropbox, and Google Drive.
You can add up to 2 OGV files for conversion at a time, no more than 100MB for each. Additionally, it allows you to change the video encoder, video resolution, video frame rate, audio encoder, audio channel, audio bitrate, etc.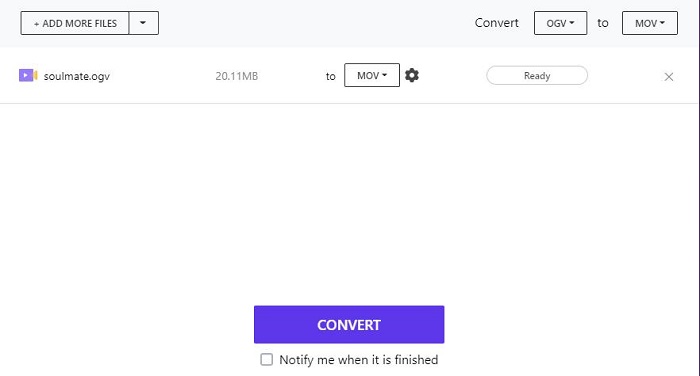 5. FreeConvert
FreeConvert is a nice online OGV to MOV converter as well. It is capable of converting your files (image, music, video, document, and eBook) from one format to another. You can upload your OGV files from multiple sources.
Plus, it allows you to change video screen size, set video aspect ratio, cut video, rotate video, flip video, add subtitles, adjust audio bitrate, fade in/out audio, remove audio, etc. More importantly, its maximum file size is 1 GB.
6. FreeFileConvert
FreeFileConvert is the last OGV to MOV converter we'd like to introduce. It is a web-based file converter that supports audio, video, image, document, archive, presentation, eBook, font, CAD, and vector file types.
The site offers you 4 sources to add OGV files. And you can convert 5 files (the same file type) simultaneously, up to 300 MB combined. However, unfortunately, the site doesn't offer any custom options.
Also read: How to Convert Video to MOV – 4 Methods
Bottom Line
Among the above 6 outstanding OGV to MOV converters, which one do you want to try first? If you have any questions when using MiniTool Video Converter, please let us know via [email protected] or share them in the comments section below.