You can find easily on the internet that users said they want to convert an AVI video to MP3 due to certain reasons. Besides, some people want to change the file format from MP3 to AVI. Here, in the following content, I will first introduce MP3 and AVI to you separately. After that, I'll show you how to convert MP3 to AVI (and vice versa) step by step with different tools; for instance, MiniTool Video Converter.
What Is MP3
MP3, previously known as MPEG-1 Audio Layer 3 or MPEG-2 Audio Layer 3, is one of the most popular coding formats for digital audio. You can find MP3 files everywhere nowadays.
MP3 was created by the Moving Pictures Experts Group (MPEG) and was first defined as the third audio format of the MPEG-1 standard.
Then, MP3 was kept and been extended further to be the third audio format of the MPEG-2 standard: it defines the additional bit-rates and gives support for more audio channels.
The third version is known as MPEG 2.5; it can support lower bit rates in a better way. But this is not a world-recognized standard.
MPEG4 VS MP4: What Is The Difference & How To Convert?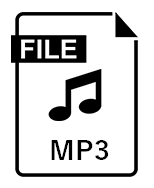 MP3 uses a lossy data-compression algorithm to encode data. You can find a large reduction in file sizes when compared to other uncompressed audio formats due to the using of inexact approximations and the partial discarding of data. Though the file size is reduced a lot, the fidelity of MP3 files is still acceptable. That finally contributes to a boom in the distribution of music over the Internet in the mid-to-late-1990s. Later, with the fast development of portable media players and smartphones, MP3 is at the height of its popularity.
The extension of an MP3 file is .mp3; you can change it to another audio format like AAC and WAV easily. Besides, you can also convert MP3 to a video format like AVI if you need it.
Advantages of MP3 Format
Reduced file size: small size is one of the most outstanding features of MP3. The size of a 3-minute lossless audio file (like WAV) can be up to 30 MB, while the size of a 3-minute MP3 file maybe around 3 MB, only one-tenth of the uncompressed audio. This allows users to rip a large number of music files on one disc. (How to recover lost music files?)
Acceptable quality: though the MP3 file size is greatly reduced compared to the uncompressed formats, there isn't a noticeable loss in its quality. It only removes the parts of the audio file that human ears can barely hear – the highest and lowest ends.
Not fixed compression ratio & bit rate: users can compress the audio file to the desired size by choosing a preferred compression ratio or bit rate.
Strong compatibility: the MP3 file format is supported by most platforms, systems, and applications, and it can be shared easily & upload/download quickly due to the small size.
Limitations of MP3 Format
Quality loss: though the loss of quality in MP3 audio is not noticeable to common users, you still can't ignore it in some special cases. Besides, it includes the compression artifacts or noises that are not present in the original audio recording.
Copyright: the popularity of the MP3 format boosts both virtual and physical piracy. Cheaper or even free duplicate versions of MP3 music files can be purchased or downloaded easily from the internet. This does bring bad effects on copyright.
Data loss: MP3 files can be easily attacked by viruses or malware during the uploading, downloading, or file sharing process. (What are the best file hosting services?)
AAC successor: MP3 can be replaced by the Advanced Audio Coding (AAC) format, which achieves better sound quality at the same bit rate.
Do you want to know how to convert CDA to MP3?
What Is AVI
The full name of AVI is Audio Video Interleaved; it is a multimedia container format introduced by Microsoft in November 1992 as a standard video format for Windows software. AVI supports synchronous audio-with-video playback since it can contain both audio data and video data. AVI is developed on the basis of Resource Interchange File Format (RIFF), which divides file data into blocks/chunks and is used as a container format for storing multimedia data.
In February 1996, Matrox OpenDML group developed some file format extensions and many AVI files used them. Microsoft gave support to those AVI files and called them AVI 2.0, unofficially.
Later in 2010, AVI was considered as the official wrapper by the US government's National Archives and Records Administration for keeping digital video.
Do you need a free AVI converter?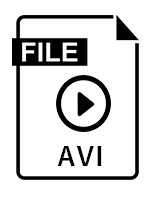 The extension of an AVI file is .avi; you can change it to another video format (such as WMV and MPEG) or audio format like (MP3 and AAC).
Advantages of AVI Format
Strong compatibility: the AVI videos are supported by many programs and systems. It can be played on all Windows systems and devices and widely used for promos, short movies, and advertisements.
Supporting various codecs: users are allowed to compress AVI files by using a lot of codecs (such as DivX and XviD) to achieve the desired ratio.
Good quality of audio fidelity: the quality audio fidelity of videos created in the AVI format is exceptionally high.
Supporting various standards: unlike other video or audio formats, the AVI video can be compatible with many standards like DV standard and DV-AVI standard.
Easy to run: no additional hardware device or software application is required when you try to play an AVI file.
Limitations of AVI Format
Large file size: an AVI file often takes up more space than other video formats, such as MPEG and MOV, since it is less compressed.
Extra codecs installation: you need to install the codecs used to compress the AVI video to play or retrieve the file.
Loss of quality: compressing the AVI videos to a certain degree will definitely lead to bad quality; the quality of the original video will be reduced a lot.
How to fix when Windows Media Player can't play AVI file:
Convert MP3 to AVI
Now, let's talk about MP3 to AVI. Sometimes, users may need to convert MP3 to video, like AVI. Can you convert your audio track to a video file type? Of course, yes. There are various ways available for you to choose from.
Choice 1: Using MiniTool Video Converter
MiniTool Video Converter is a good tool to try to convert MP3 to AVI. How to use it as an MP3 to AVI converter? Please follow the steps below.
Step 1: Download, Install, and Launch the Software
MiniTool Video ConverterClick to Download100%Clean & Safe
Please click on the download button to save the setup program of MiniTool Video Converter to your local drive.
Open the storage path to locate the vc-setup Application file (vc-setup.exe).
Double click on the setup file and click Yes in the User Account Control window to start the installation process.
Click Install Now in the middle of the pop-up window. If you want to change the default language or installation path, please click Custom Installation.
Wait for the installation process to finish itself.
Click on the Start Now button in the middle to launch the converter immediately. If you need to do something else, please close the window; later, double click on the software icon on the desktop to start it manually.
The software will be launched and the Video Convert tab will be selected by default.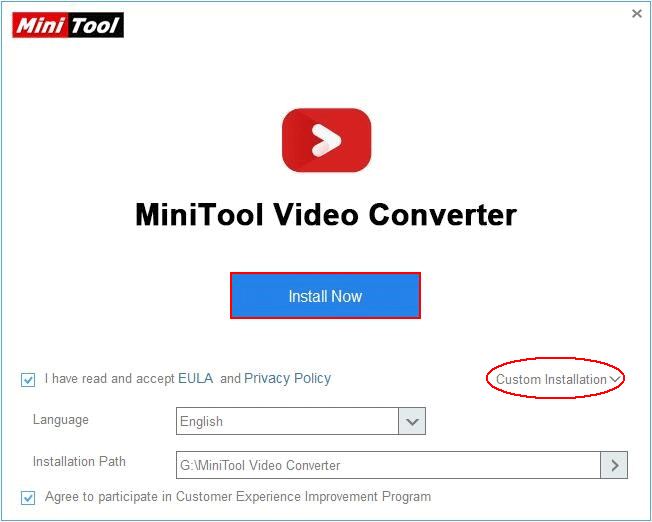 Step 2: Load the MP3 Files into the Software
You can add the MP3 files you want to convert to MiniTool Video Converter in 3 different ways:
Click on the Add Files button in the top left section -> browse and select the MP3 files -> click Open.
Click on the down arrow next to the Add Files button -> choose from Add Files and Add Folder -> select the MP3 files & click Open or select the folder containing MP3 files & click Select Folder.
Click on the Add or Drag files here to start conversion dotted box -> select the MP3 files you want to convert -> click Open.
You can also drag the MP3 files directly and drop them into the dotted box to load them. But this feature is not available when you first use MiniTool Video Converter; you may close and re-launch it to enable the drag and drop feature.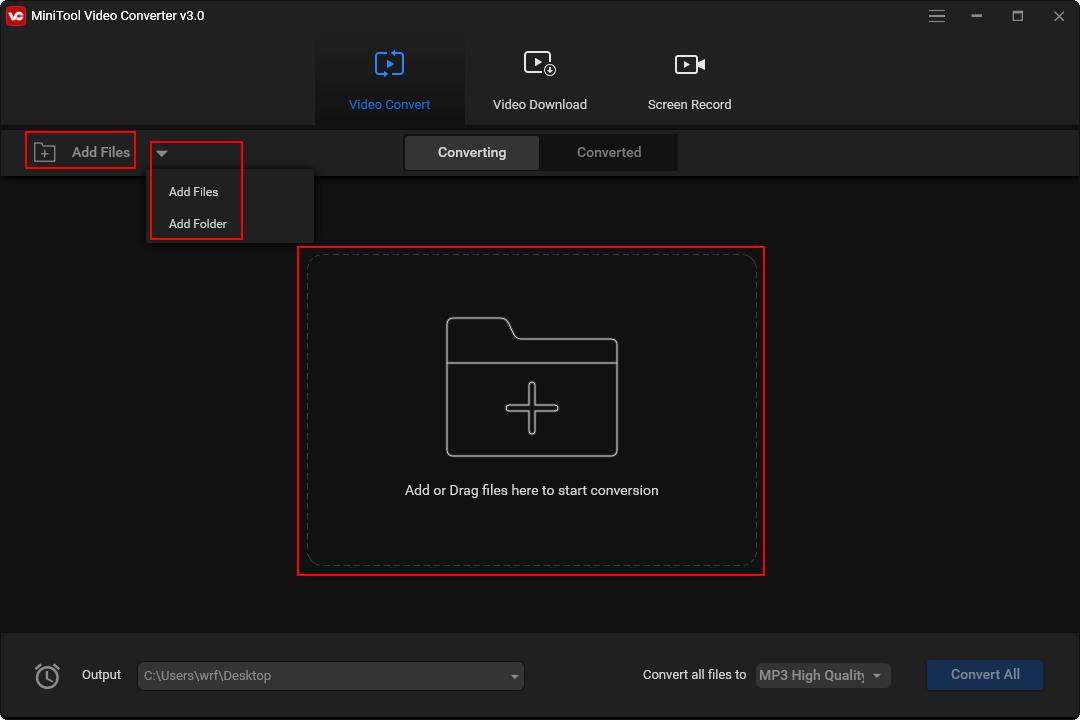 Step 3: Change the Output Settings
Your MP3 files will be listed in order in the software. You can click on the down arrow after Output at the bottom to choose a storage path for the converted files. Besides, you can follow this guide to set the File Name, Output path, and Output format.
Click on the Edit button after Target to change File Name: type the new name you like. And change the default Output path: click on the down arrow to select Same as Source Folder or Browse. Then, click OK to confirm.
Click on the Edit button within the dotted box to change output format: choose from Recently, Video, Audio, and Device tab; select the format you need from the left pane; choose a proper resolution from the right pane. To convert MP3 to AVI, you should shift to the Video tab, select AVI, and choose from HD 1080P, HD 720P, and SD 480P.
How to convert MP3 to video? Please read on.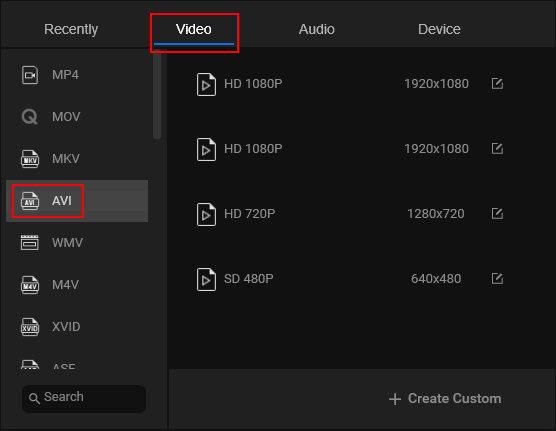 Step 4: Convert the MP3 Files
Now, you should start to convert your MP3 files to AVI.
You may convert the MP3 files one by one by clicking on the Convert button after each file. Also, you can batch convert the MP3 files automatically by clicking on the Convert All button in the lower right corner.
Wait for the MP3 to AVI conversion process to complete; the progress bar will go from 0% to 100%.
Now, you can view your converted files by navigating to the Output path manually or click on the Show in folder button in the software.

Well, what about AVI to MP3? Can you convert AVI to MP3 using MiniTool Video Converter? Yes, you can also use it as an AVI to MP3 converter and the conversion steps are basically the same except:
you should load the AVI files into the software in step 1.
you should select MP3 as the output format and choose a quality level for it in step 3.
Choice 2: Using Other Third-party Converters
MiniTool Video Converter doesn't support macOS, so you can't use it to convert video or audio files for you on Mac. In this case, you should refer to another third-party conversion tool that is compatible with your system. Here are some common free converters:
FormatFactory
VLC media player
HandBrake
Etc.
Choice 3: Using Online Converters
You still have another choice in addition to the third-party converter: using the online converters. You neither need to download the converter program to your local drive nor install it. This will save a lot of time.
How to convert your MP3 files to AVI online?
Open a browser on your computer like you usually do.
Visit Google or another search engine.
Type the keyword that contains the source and target file type you want to convert; for instance: MP3 to AVI. Then, press Enter.
Click on the links below to access corresponding online converters.
Follow the on-screen instructions to complete the conversion process step by step.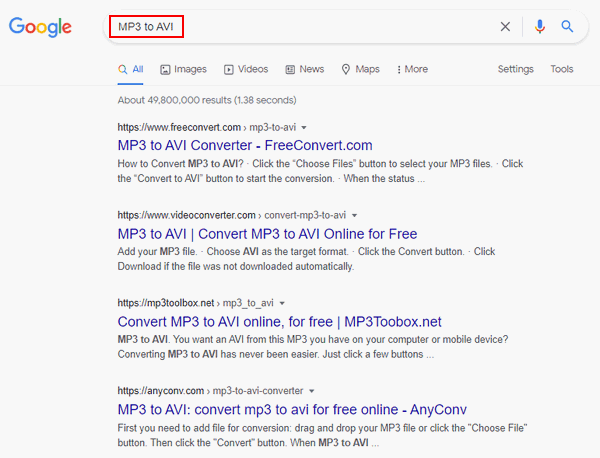 Let's take FreeConvert.com as an example:
Access the MP3 to AVI conversion page.
Click on the Choose Files button in the middle -> select the MP3 file -> click Open.
You can also click on the down arrow after that button to choose file From Device, From Dropbox, From Google Drive, or From URL.
Click on the Convert To AVI button that appeared just now and then wait.
Click on the Download AVI button when the file uploading and converting processes are finished.
Choose a location to save the converted AVI file. Also, this online converter allows you to save the file to Google Drive or Dropbox.

There are some popular online converters for MP3 (you can also search online yourself):
FreeConvert
Video Converter
MP3 Toolbox
AnyConv
clideo
Conclusion
MP3 is a very popular file format for audios while AVI is a common format for storing both audio data and video data. Sometimes, people may even need to change their files from MP3 to AVI. This article introduces MP3 and AVI (their advantages & limitations) to you; then, offers 3 choices to convert MP3 to AVI. These tools and methods also work for converting an audio or video file in other common formats.