Both MPEG4 and MP4 are common video formats used by many programs and supported by various systems. But how much do you know about them? Do you know the differences between MPEG4 and MP4? If not, you should read the following content carefully. Later in this article, I will also show you some effective ways to convert MPEG to MP4.
MPEG4 vs MP4
Are you familiar with MPEG4 and MP4? I bet most of your answers are Yes. It is no exaggeration to say that MPEG4 and MP4 can be found everywhere around us. You may have seen an MPEG4/MP4 movie or listened to an MPEG4/MP4 song and didn't notice it. But it doesn't matter; I will focus on MPEG4 vs MP4 in the following content. Also, I will list some methods that can be used to convert MPEG4 to MP4 easily.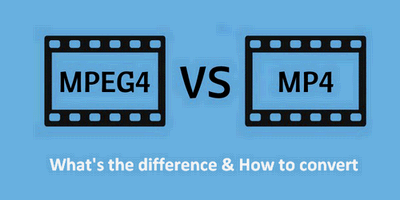 MiniTool software is a good choice for you to protect data, secure systems, and troubleshoot disk issues.
Is MPEG4 the same as MP4?
In some people's point of view, MPEG4 is the long version of the term MP4. MPEG4 and MP4 are two of the most common formats for a video/audio/music file and many people confuse them. But in fact, they are not the same; in contrast, there are some differences between them.
Quick Fix – Music Missing From SD Card Suddenly!
What Is MPEG4
Introduced in late 1998, the MPEG4 is a popular method (also called an algorithm) for defining the compression of audio and visual (AV) digital data (how to compress audio and visual digital data). So it is very important for voice (telephone & videophone) and broadcast TV application, web and streaming media, and CD distribution. MPEG4 specified a standard for a group of video and audio coding formats as well as the related technology. The standard was then agreed by the ISO/IEC Moving Picture Experts Group (MPEG) (ISO/IEC JTC1/SC29/WG11); and the agreement was made under the formal standard ISO/IEC 14496 – Coding of audio-visual objects.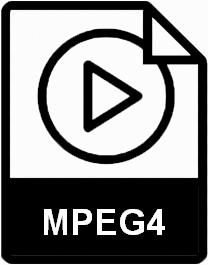 Till now, the MPEG4 can be divided into many parts, MPEG4 part 2, MPEG4 part 3, MPEG4 part 10, MPEG4 part 14, and so on. Each part is meaningful and indispensable since it covers a certain aspect of the entire specification:
MPEG4 part 2: e.g. XviD video codec
MPEG4 part 3: e.g. AAC audio codec
MPEG4 part 10: H.264 video codec
MPEG4 part 14: MP4 media container
Etc.
BTW: media container is a bundle that comprises of an audio format and video format with subtitles.
Tip:
If you find your precious video files are lost suddenly, don't panic; they didn't disappear completely until new data write in and overwrite them. You should follow the steps introduced in
this post
to recover video files efficiently.
What Is MP4
What is an MP4 file? MP4 is actually short for MPEG4 part 14 and it stands for the digital multimedia container format which is frequently used to save video and audio. But it can store more than that; subtitles, still images, and other data can also be stored. As you can see easily, MPEG4 part 14 is one of the parts of the MPEG4 compressing algorithm mentioned above.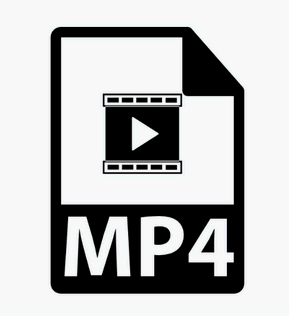 One of the most obvious features of MP4 is that it supports streaming over the Internet, just like other modern container formats. Though .mp4 is the only official filename extension for the MPEG4 part 14 files, it still has many other extensions, including .m4v, .m4p, and .m4a (it is audio-only) – M4A stands for MPEG4 audio (the last letter A refers to audio files).
All in all, MP4 can be either a container format or a video file extension (.mp4).
Tip: Undoubtedly, MP4 is one of the most popular file formats used in portable devices and media players since it can be compatible with most of the devices you can find. That also explains why manufacturers like to describe their portable media players as "MP4 Players", though some of them are only MP3 (MPEG1 Audio Layer 3) players – which can play videos of AMV or some other formats, but not including MPEG4 part 14 format.
MP4 vs MPEG4: What's the Difference
1. History and application.
MP4: also known as MPEG4 part 14, is evolved from MPEG4 Part 12, which is developed on the basis of Apple's MOV file (QuickTime File Format). MP4 can be a file extension, a video format, or a media container.
MPEG4: developed in late 1998 as a standard of AV coding format, MPEG4 is only a famous compression method of the MPEG group and designed epically for low-bandwidth (which is less than 1.5 MBit/sec bitrate) audio/video encoding purposes.
MP4 is only one of the popular media container formats for MPEG4. You can also find other media container formats in videos encoded in MPEG4: MKV (Matroska), MOV, AVI, OGG, MXF, and so on.
To sum up:
MP4 is not necessarily encoded by MPEG-4 video and audio, and MPEG-4 video and audio encoding are also not necessary to be included in the MP4 container.
MP4 (.mp4) = MPEG-4 video codec (H.264/XviD) + MPEG-4 audio codec (AAC)
MP4 (.mp4) = MPEG-H video codec (H.265) + Dolby Digital audio codec (AC3)
AVI (.avi) = MPEG-4 video codec (H.264/DivX) + MPEG-2 audio codec (MP3)
2. Compatibility.
The MP4 files are supported by all the devices in use today while MPEG4 cannot be supported by some players (and you'll receive an error message like an unknown video file on that device). An MPEG4 encoded video file can be stored in an MP4 file, but it is not only encoded by MP4 (it also can be encoded by other codecs, such as Xvid, Divx, X264, and others).
That's the difference between MP4 and MPEG4.
Do you have a clear understanding of MPEG4 and MP4? If not, this page will be very helpful since it tells exactly what MPEG4 is and what MP4 is. In addition, the main differences between these two file formats are displayed clearly.Click to Tweet
MPEG4 to MP4
Why do you need to convert MPEG to MP4?
Compatibility is the most important reason why people want to convert an MPEG4 file to an MP4 file. As I said before, MPEG4 format can be supported by the majority of media players on the current market. But what if the device or player you're using now is not compatible with the different MPEG4 format? You have no choice but to convert MPEG4 to MP4, right?
How to Convert MPEG4 to MP4
There are 4 commonly used ways to convert MPEG to MP4 or vice versa.
Top 1: using MiniTool Video Converter.
Step 1: download the setup program of MiniTool Video Converter. Then, open the storage path and double click on the program to run it.
MiniTool Video ConverterClick to Download100%Clean & Safe
Step 2: click on the Add Files button under Video Convert tab.
Step 3: select the MPEG4 video and click Open.
Step 4: change the File Name or Output path if you want.
Step 5: choose MP4 as the target file format.
Step 6: click on the Convert button and wait for it to end.
Step 7: go to the certain path to check the converted MP4 file.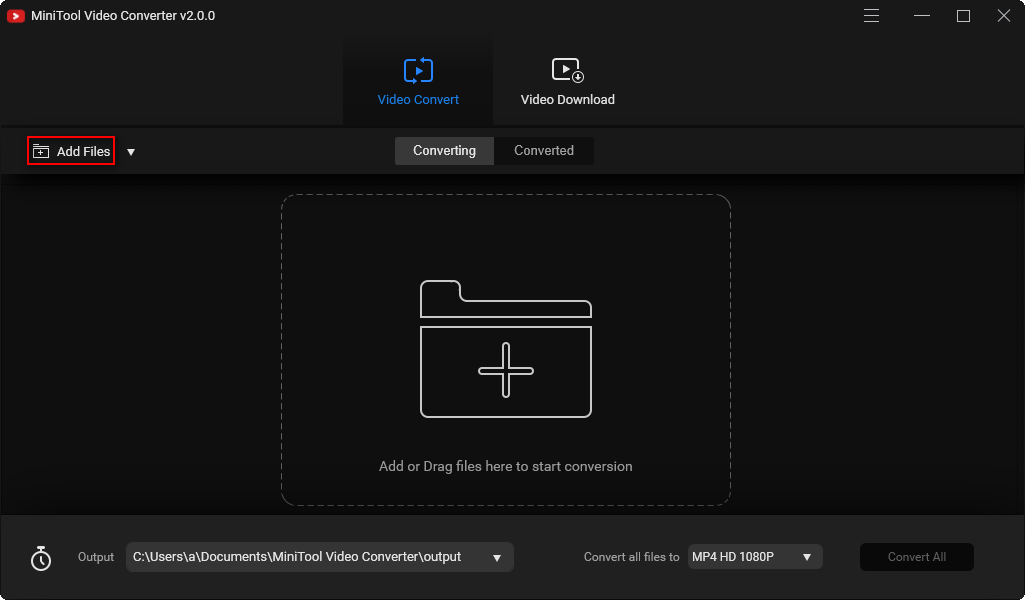 Top 2: using MiniTool MovieMaker.
Get MiniTool MovieMaker & install it.
Launch the software and close the pop-up window you see to get into the main interface.
Media will be selected by default; keep it unchanged. You should now look for the Import Media Files option in the middle and click on it.
Open File Explorer and locate the MPEG4 file you want to convert. Drag it directly and drop it to the timeline. This software also allows you to edit the MPEG4 file if you want.
Move your cursor to the upper right corner and click on the Export button here and wait.
Tip: You should know that the MP4 format is the default output format of MiniTool MovieMaker. You don't need to make any changes in output settings. (If you need, you can also convert a file to AVI, WebM, MOV, GIF, or other formats). Then, you just need to wait for the process to complete.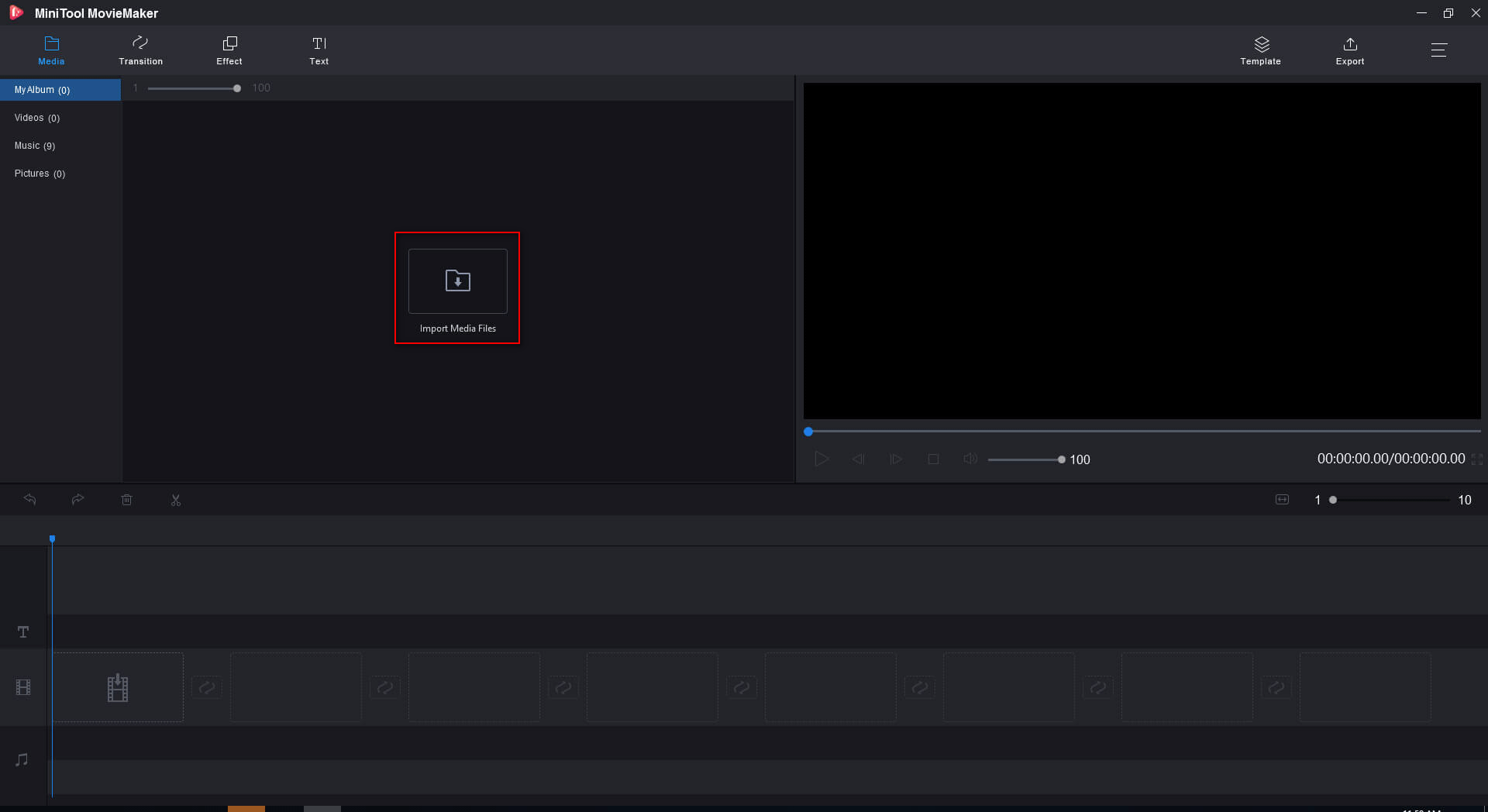 Warm prompt.
Your File Explorer/Windows Explorer may run into these problems easily: Windows Explorer has stopped working or Windows Explorer is not responding.
If it really occurs on your device, you should follow the steps mentioned in this page to fix:
Top 3: using Window Movie Maker.
Download Window Movie Maker and install it.
Download the codec required for the MPEG4 file.
Launch Windows Movie Maker and drag the MPEG4 file to the storyboard directly (you can also click Add videos and photos to import the certain file).
Also, this software allows you to edit the file if you want.
Click Save movies from the menu bar and choose MP4 as the target file format.
Wait for the format conversion process to finish automatically.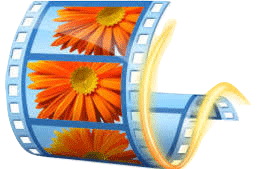 Note:
It's a pity that Movie Maker was officially discontinued on January 10, 2017. So if you're using Windows 10, you'd better turn to Video Editor (formerly Microsoft Story Remix) which is built in
Microsoft Photos
.
Top 4: resorting to the online converter.
If you search on the internet, you'll find there are lots of online video converter services available for you. You can choose quality but free converter to convert MPEG4 to MP4 or vice versa.
Open the official website of a certain video converter.
Click on the certain button to select your source files (for example, MPEG4).
Click on the Convert button (the name is not the same) and wait for the conversion to finish.
Adjust the output settings when necessary to choose the format you need (for example, MP4).
Choose a safe location to save the converted file and click on a certain button to confirm.

If you have better choices for MPEG4 to MP4 conversion, please share it with others by leaving a message below.
Please read this page to know how to convert DAV to MP4 for free.
Protect MPEG4 & MP4 Files
Part 1: Back up Your Files
A sudden crash occurs now and then and will cause file damage sometimes. Therefore, it's good for anyone to form the habit of backing up files (at least the important data). In this way, even if some files get lost unexpectedly, you can bring them back directly.
I recommend MiniTool ShadowMaker among the many backup apps you can find on the internet. Here's how to backup videos with it.
Download the setup program of MiniTool ShadowMaker (you can use the trial edition at first).
Run the program to install the backup software on your computer.
Launch the software and choose Keep Trial.
Click on the Connect button within This Computer module.
Choose Backup from the menu bar in the main interface.
Choose Source to select the type from Disk and Partitions and Folders and Files.
After that, please choose the disk/partition/folder/file you want to backup.
Go back to the Backup page and click Destination.
Choose a location to save the backup image (an external drive is recommended).
Click on the Back up Now button and wait for the action to complete. (You can also click on the Back up Later button to back up data some other time.)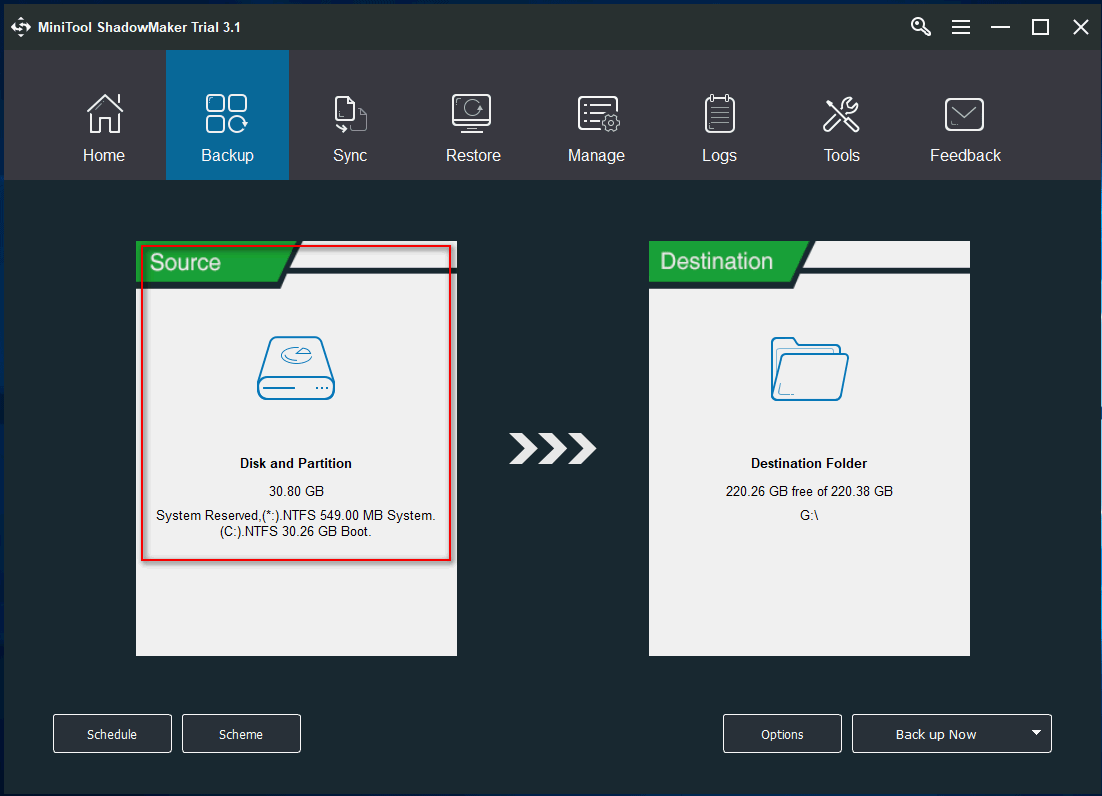 Warm prompt.
If you want to back up data regularly and automatically, you can click on the Schedule button in the lower left corner (this feature is disabled by default). After that, you can determine the backup interval, ranging from every day (Daily), every week (Weekly), every month (Monthly), to every time you log in or off the computer (On Event).
Part 2: Recover the Lost Videos
If the data loss happens before you have a chance to make a backup, you should turn to professional recovery tools like MiniTool Power Data Recovery for getting back lost files.
How to recover deleted/lost videos with MiniTool Power Data Recovery:
Download the setup program (you can also experience the trial edition at first).
Install the data recovery software properly and launch it.
This PC will be selected by default in the left sidebar. (You should keep it when you need to recover data from a local drive.)
Specify the drive that contains the deleted/lost video files.
Click on the Settings button at the bottom right.
Expand the Audio & Video option under Extra search for known file types.
Check the file formats you want; e.g. MP4 Video File (*.mp4) and click on the OK button to confirm.
Click on the Scan button (next to Settings) and wait for the scan process.
Browse the found files and pick out the video files you really need.
Click on the Save button and choose a storage location for the video files.
Click on the OK button and wait for the recovery to complete.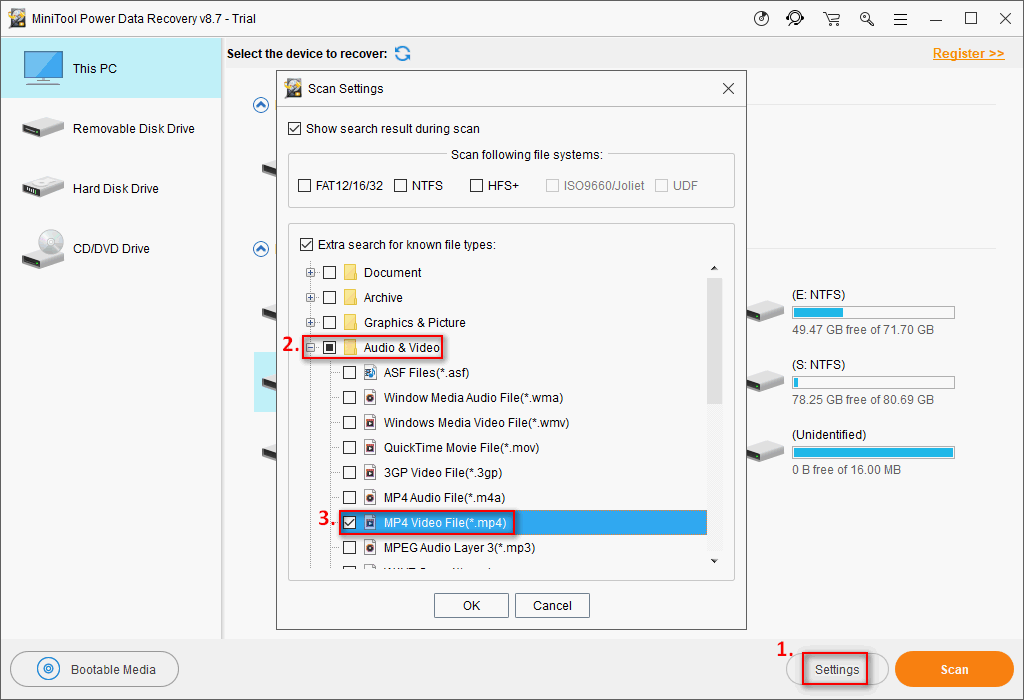 FYI: please click here to know more about how to recover music files.
Please choose the way you prefer to convert a file from one format to another easily (for instance, from MPEG to MP4) when necessary. Besides, I think it's good for you to back up your data automatically or at fixed periods.Click to Tweet
Verdict
There are various kinds of file formats for different file types (videos, documents, system files, etc.). I noticed MPEG4 and MP4 since they are two of the most commonly used video file formats. Many users are curious about these two formats and they'd like to perform a conversion from MPEG4 to MP4 (or vice versa).
This post introduces MPEG4 vs MP4 at the beginning. Then, it tells you the main differences between MP4 and MPEG4. After that, it provides 4 different ways to convert a video file, from MPEG4 to MP4 for example. In the end, it recommends two useful programs to protect your data in a good way (back up important files and recover the lost ones when necessary).
If you think this page is helpful, please share it out with more people.