This article introduced on
MiniTool official web page
mainly focuses on solving the Win 10 Movies and TV no sound problem. Firstly, it analyzes the possible reasons that cause the issue. Then, it provides workable solutions accordingly.
Microsoft Movies & TV, also called Microsoft Films & TV in some other countries and named Xbox Video or Zune Video previously, is a digital video service provided by Microsoft. It can not only play video files but also offers full HD movies and TV shows available for rental or purchase in its Video Store.
Movies & TV is available on all Xbox consoles since Xbox 360 and all Windows computers since Windows 8. Besides the application, you can also get access to Movies & TV services from the web version.
Movies & TV is powerful and convenient to use. However, you may still encounter some problems while using it. For example, you may find Movies and TV app no sound or not working. Then, let's see how to deal with such issues.
Why There Is No Sound on Movies and TV App from Windows 10/11?
Before teaching you the solutions for solving the Windows 10 Movies and TV no sound problem, first of all, you need to know the reason that causes the error. Let's take the MKV video files for example to show you the possible reasons.
MKV is a multimedia container that combines video, audio, as well as subtitles into one file. So, the MKV file format is widely used to save videos with multi-tracks. Yet, Windows used to be incompatible with the .mkv file format and failed to play MKV videos.
In order to support MKV and FLAC media files, Microsoft improved its media player apps since Win10. However, some users still report some unsupported issues (e.g. no sound) related to MKV files in Movies & TV or Windows Media Player. For instance, while playing an MKV file with two audio tracks, only one audio track works while the other one is not heard.
There can be various causes for MKV files no sound in Movies & TV software:
# MKV DTS Audio Codec Problem
MKV videos are mostly encoded with DTS codec, which is less compatible than MP3/AAC codec in most video players. Besides, if your Windows has not yet been configured with 5.1 audio, your MKV files won't have sound in Movies & TV, Windows Media Player, VLC Media Player, etc.
# Outdated Audio Drivers
Sometimes, the old and outdated audio drivers can also result in MKV files having no sound due to compatibility issues.
# Improper Media Player Installation
Nowadays, the update of the system can barely function properly. Even worse, it may interfere with the operation of media players. When your media player malfunctions with uncompleted or substandard system file installation, you can receive a strike including no sound or picture.
# Damaged MKV Files
Finally, if your MKV files are corrupted, you will probably get no sound, no display, and even nothing.
After knowing the possible causes of videos no sound from movies and tv windows 10, then, it is easier to find the corresponding fixes.
#1 Fix Windows Movies and TV No Sound by Converting Video Format
In the first place, if your media file format is not supported by Movies & TV, you can directly convert the file format to Movies & TV compatible file format. Thus, you need a file format conversion program like MiniTool Video Converter, which can quickly convert video or audio from one format to another. It supports most common file formats including MKV, MP4, MOV, WMV, HEVC/H265, AVC/H264, MP3, WAV, AAC, AIFF…
The following is the process for converting an MKV file to MP4, for example.
MiniTool Video ConverterClick to Download100%Clean & Safe
Step 1. Download, install, and launch MiniTool Video Converter on your PC.
Step 2. Click Add or Drag files here to start conversion to add the target MKV video.
Step 3. Click the settings icon under the Target section.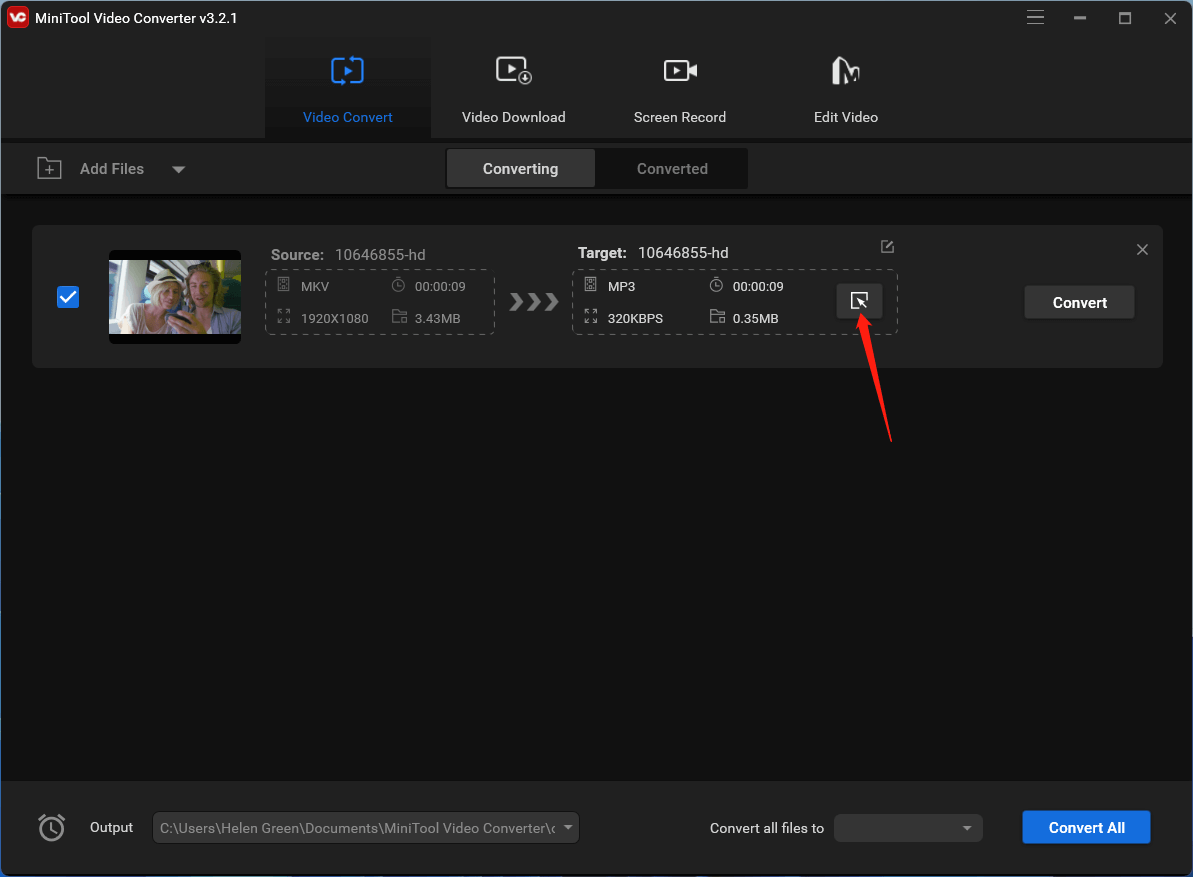 Step 4. In the new window, move to the Video tab, select MP4 as the target file format, and choose the quality for the target video.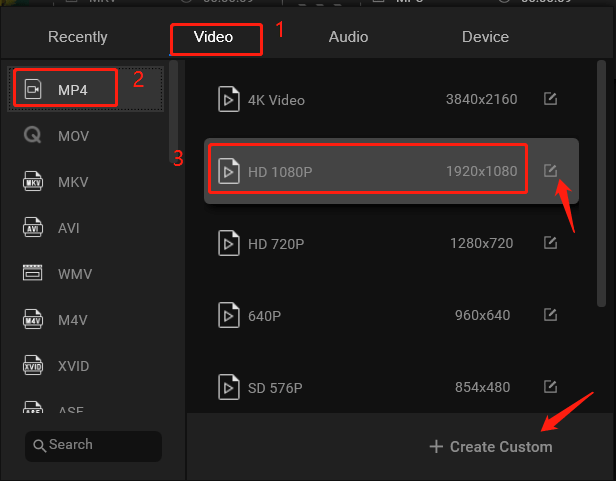 Step 5. You can further customize the video encoder, video resolution, frame rate, video bitrate, audio encoder, audio channel, sample rate, audio bitrate, etc. Just click the settings icon behind the quality option or click the Create Custom option.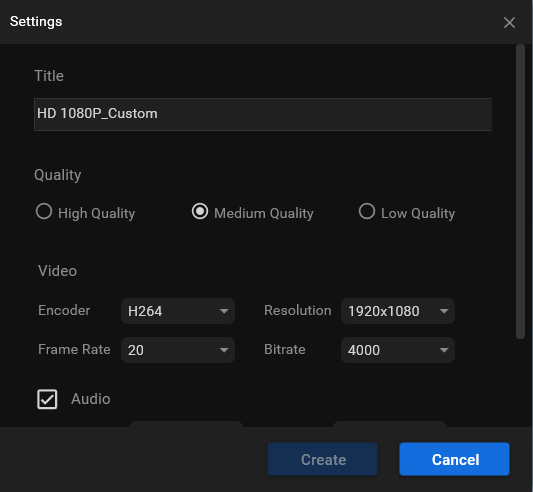 Step 6. When all settings are done, select the customized file format.
Step 7. Click Convert to start the conversion.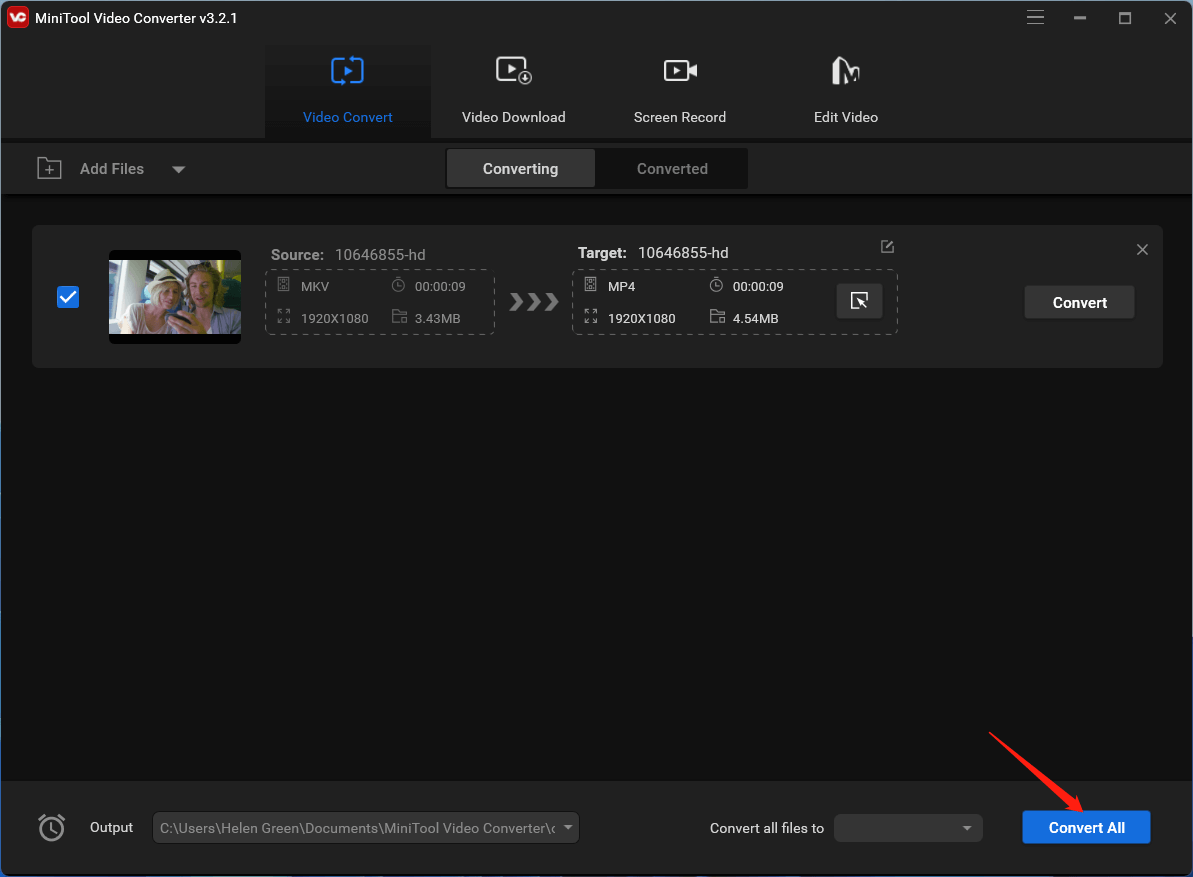 Wait until the process finishes. The time needed to complete the task is depending on how large the video is. Generally, it won't take long. After conversion, play the video again and you will hear its sound while seeing its image.
#2 Play Media Files with Another Media Player
If no sound on Movies and TV app while playing a media file, you can resort to another media player such as Windows new Media Player or the traditional one. If Windows Media Player also fails to play the media file, you can rely on a third-party app that can support the target media file format like MiniTool MovieMaker. Although MiniTool MovieMaker is mainly a video editing and creating program, it can also play the video files uploaded to it.
MiniTool MovieMakerClick to Download100%Clean & Safe
Download, install, and open MiniTool MovieMaker on your computer.
Go to its main interface and click Import Media Files under the Media tab to upload the target video.
Add the target video to the below timeline.
Move to the Player section and click the Play button to play the video file.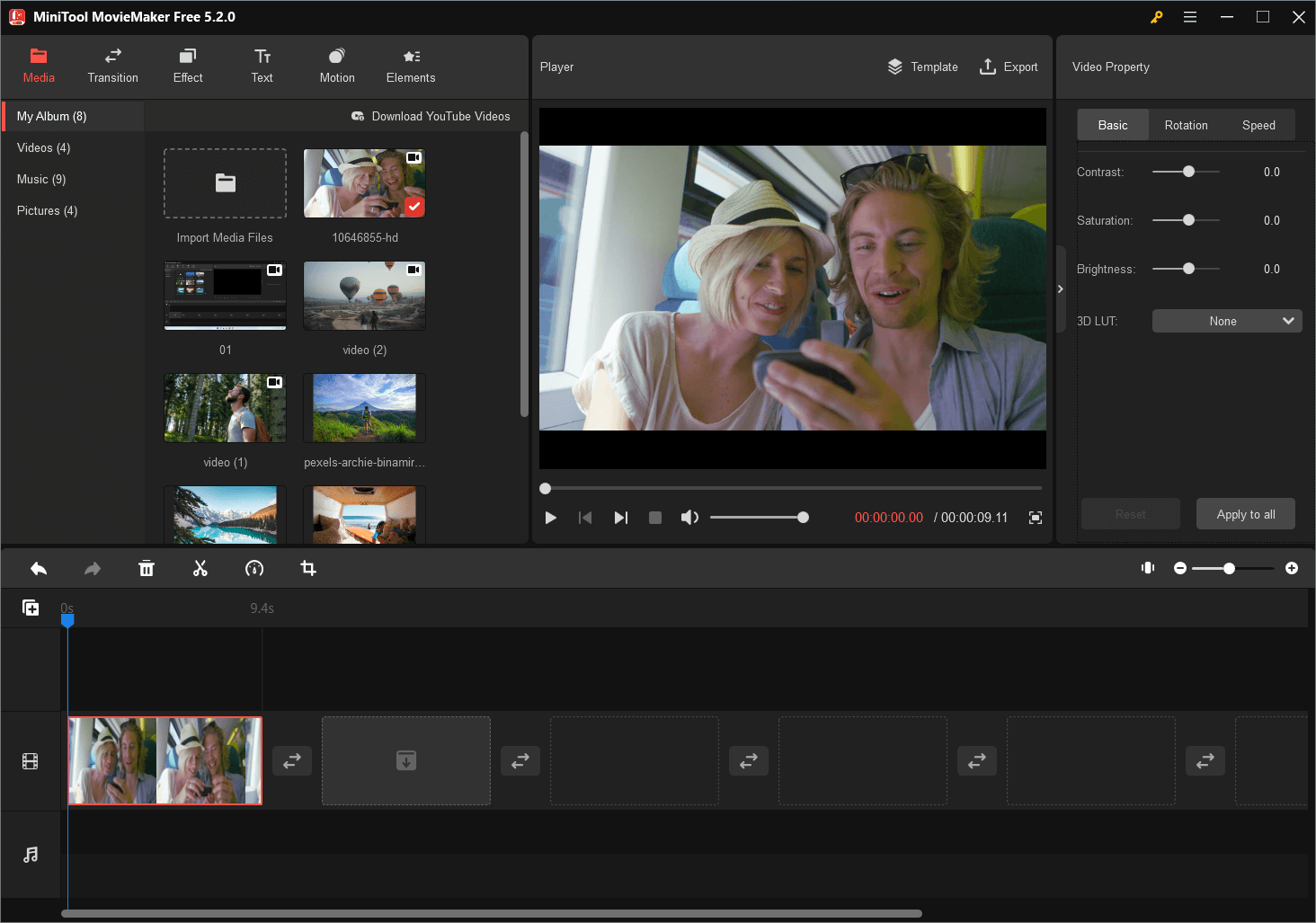 If you'd like to do some adjusting to the video like add effect, 3D LUT, text, motion, or elements to it; change the image contrast, saturation, or brightness; flip or rotate the video; change the video speed or reverse it, you can complete those operations all in MiniTool MovieMaker. Then, export the target video.
You can export the video in various formats. So, you can also use MiniTool MovieMaker to change the format of your video if the Microsoft movies and tv has no sound problem caused by unsupported file format.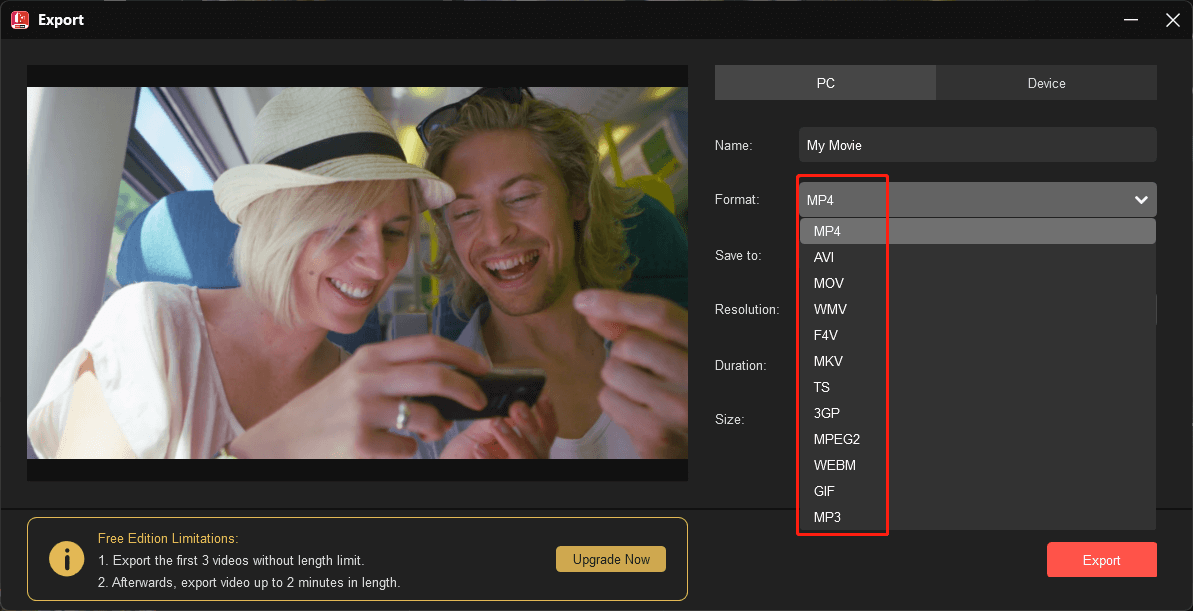 #3 Get the Required Codec
Another way to handle the Windows 10 Movies and TV app no sound MKV issue is to download and install its needed but missing codec (probably DTS). Just search online and find a reliable source to get that codec. Here, we can recommend one of the popular codec packages that support a wide range of video and audio codec formats – K-Lite Codec Pack.
#4 Run Windows Audio Troubleshooter
Fourthly, you can try to run the audio troubleshooter in Windows operating system to resolve the no sound coming from Movies and TV problem. Here, we take the troubleshooter in Windows 11 for example.
Click Start and select Settings.
In the default System tab of the pop-up Settings window, scroll down to choose Troubleshoot.
Click Other troubleshooters.
Then, click the Run button behind Playing Audio.
Follow the instruction to complete the troubleshooting.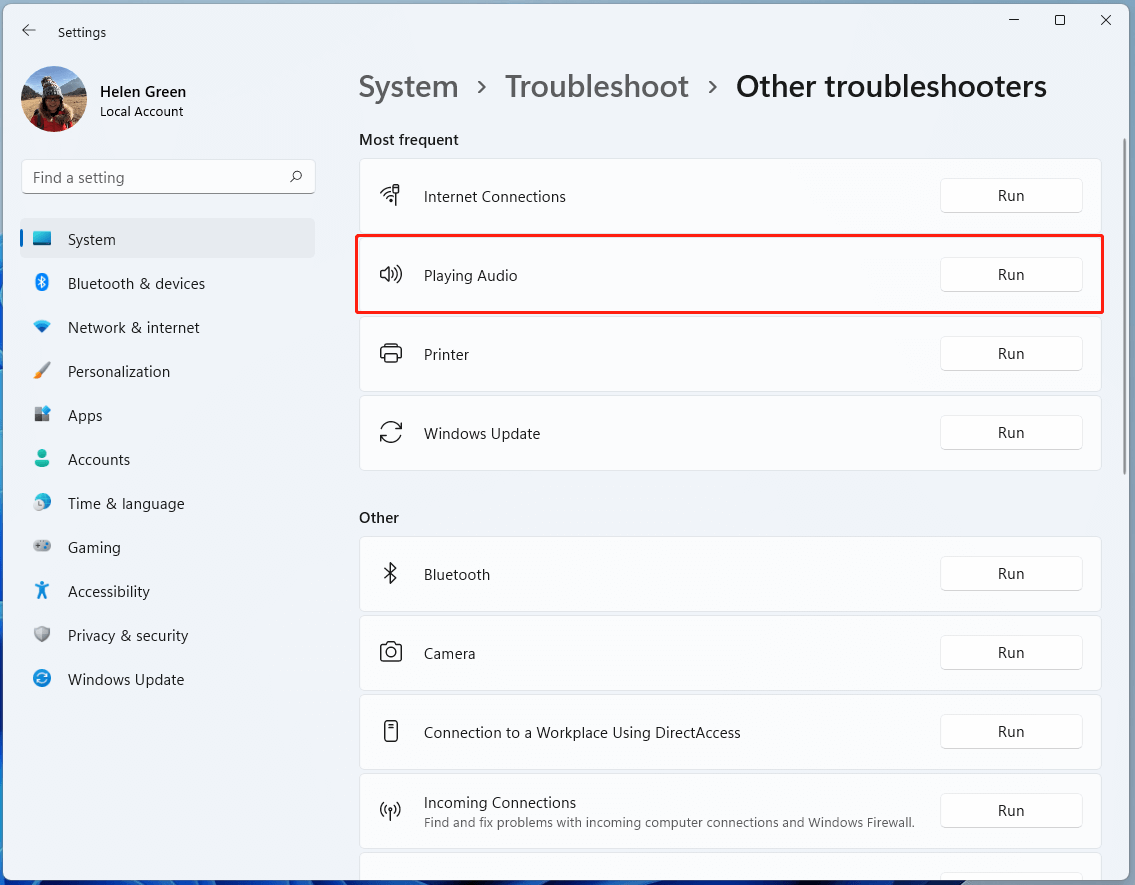 #5 Update/Reinstall Audio Driver
If your audio driver is old and outdated, it may also cause Windows 10 Movies and TV no sound with movies/videos issues. If so, you need to update your audio driver.
Unfold Sound, video and game controllers.
Right-click on the audio device in the sub-list and select Update driver.
Then, follow the guide to complete the process.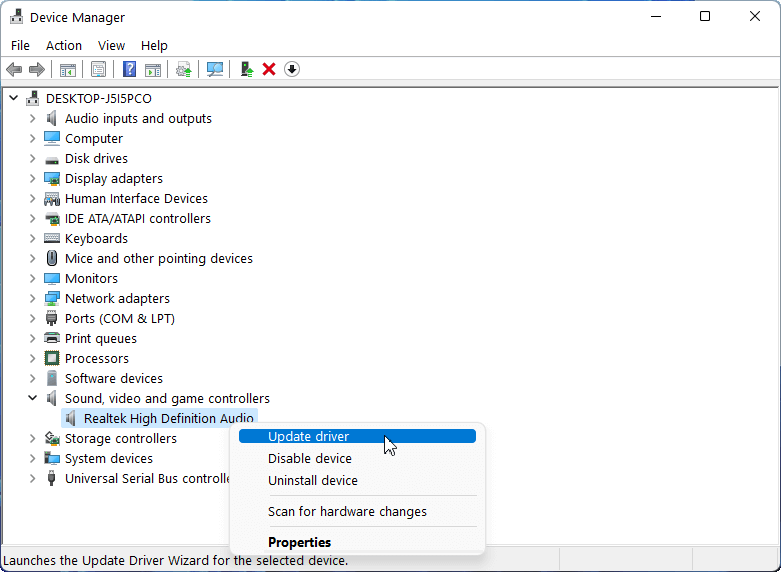 If updating drivers can't solve the no sound while playing movies on Movies and TV problem, you can try to reinstall your audio driver. Just click Uninstall device in the above picture. Then, click Action > Scan for hardware changes from the top menu. It will automatically search for the missing driver and install it. You may need to restart your computer to let Windows do the job.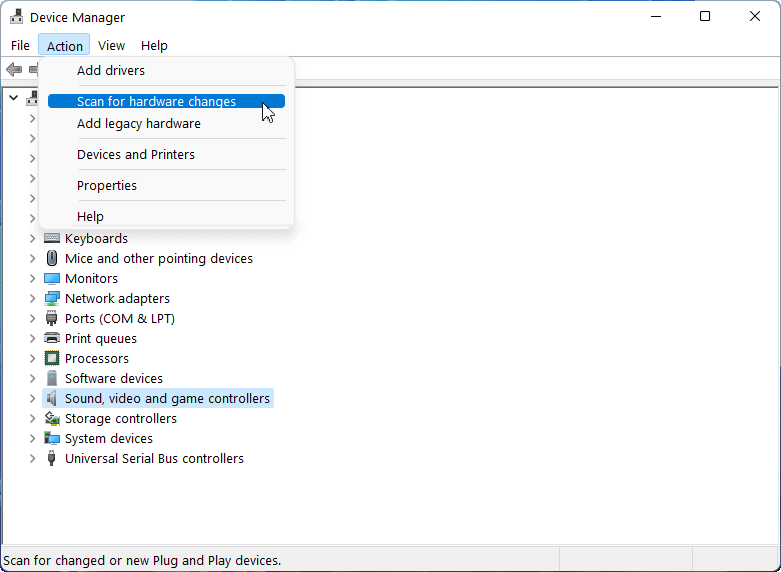 Sometimes, you may need to update your OS to update your audio driver together with the system. Or, directly go to Settings > Windows Update > Advanced options > Optional updates to check for whether there are additional driver updates available or not. If it is, just update them all. (based on Windows 11)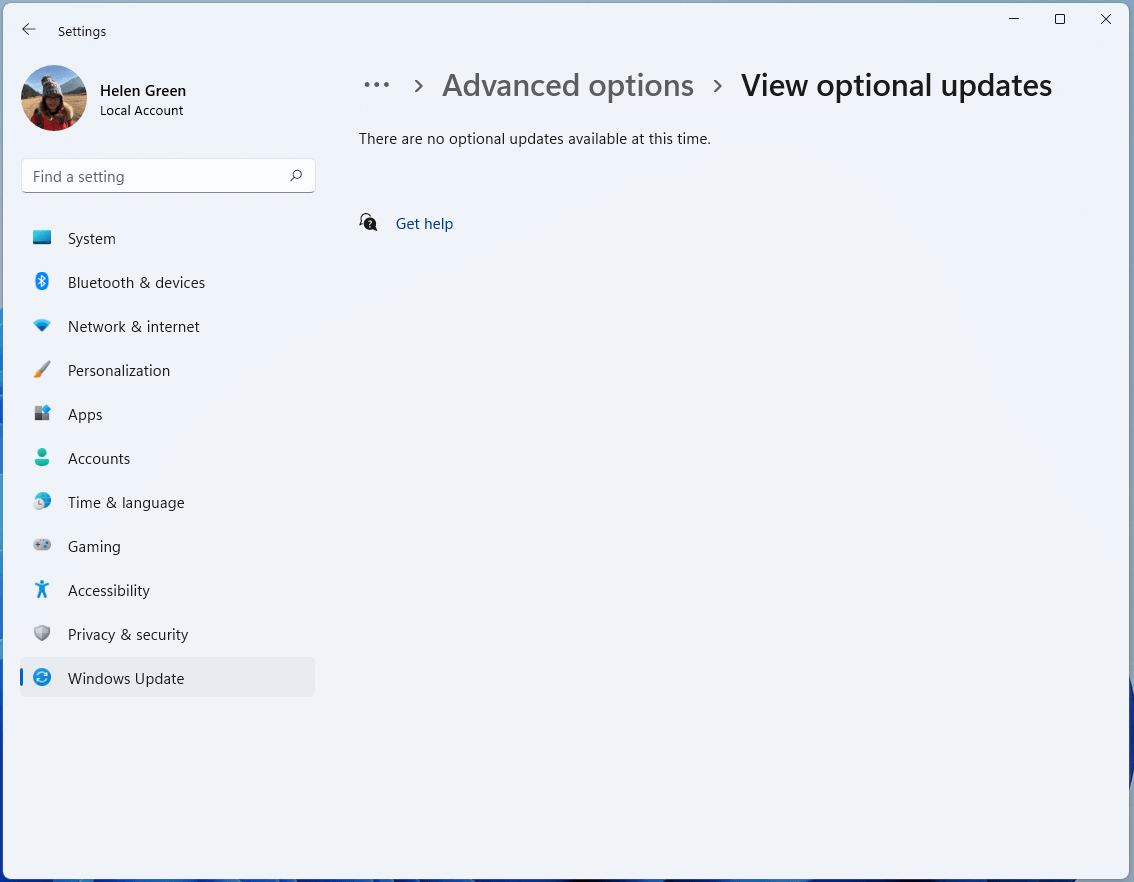 #6 Regain the Media File
Finally, if none of the above solutions manage to fix the Movies and TV app no sound issue, you may consider that your media file itself is damaged. If so, just regain it from where you got it before. If there is no way to regain it, you can try to fix it with a video repair tool like MiniTool Video Repair.
How to Fix Movies and TV App Not Working?
Additionally, let's provide some solutions for Microsoft Movies & TV app not working problem. Actually, some of the above solutions also apply here like converting file format, updating drivers, and installing corresponding codecs. Besides, the following methods can also help.
Reboot PC.
Choose the correct time, date, language, and region in your Windows Settings.
Restore to the default video library.
Reset or reinstall the Movies & TV app.
Conclusion
Until now, do you know why no sound coming out of Movies & TV app? Have you found your solution? If you are still struggling for a fix, search online for more help or contact the support service of Windows Movies & TV.
Also read: