MKV vs AVCHD: which is better? What are the differences between MKV and AVCHD? This post from MiniTool Video Converter gives you the right answer. In addition, it talks about how to convert MKV to AVCHD or vice versa. Now, let's see it together.
Videos are stored, shared, viewed, and edited with a program called codecs. Codecs encode data to compress large video files to store and share. Codecs decode the data to decompress video files to view and edit. Video files include two parts: the codecs and the container. The video format is the form of storing digital video data.
There are various digital video formats, like MP4, AVI, WMV, MOV, MKV, F4V, WEBM, and so on.  Every format has its advantages and disadvantages. Most video formats will lose data in compression to reduce the file size.
Here, we are going to make a comparison between the two most common digital video formats-MKV VS AVCHD, including what they are, what differences they have, and how to convert them.
What Is MKV
Launched in December 2002, MKV is a free and open-source container video format. It's a video file saved in Matroska Multimedia Container developed by Steve Lhomme.
The Matroska involves four kinds of file extensions, they are .mkv for video (also include subtitles or audio), .mk3d for stereoscopic video, .mka only for audio files (may include subtitles), and .mks for subtitles only.
The MKV format supports storing an unlimited number of video, audio, image, or subtitle tracks in a single file. Besides, it allows you to mix and match file formats, such as H.264 video and MP3 audio, or add multiple files of the same type, such as two audio files for multilingual support.
The MKV files are usually used to store short video clips, movies, and TV shows. So, it's becoming more and more popular in the anime fan subtitles community. MKV is a good choice if you expect to watch your video on a TV or computer by using open-source media players like VLC or Miro.
The Matroska team is aimed at creating a modern, cross-platform, extensible, flexible container format. They also seek to extend Matroska support to applications. Until now, it's supported by many applications, including, notably, MPlayer, MPV, VLC, Foobar2000, Media Player Classic-HC, BS.player, Google Chrome, Mozilla Firefox, Blender, Kdenlive, Handbrake, MKVToolNix as well as YouTube.
See also: [Problem Solved!] MKV Not Playing in Windows 10 Media Player [Video Converter].
What Is AVCHD
AVCHD, short for Advanced Video Coding High Definition, is a format for the digital recording and playback of high-definition videos, such as recordable DVD media, hard disk drives, and memory cards. It was developed by Sony and Panasonic in 2006.
To compress video, it adopted the MPEG-4 AVC/H.264 format, which supports a lot of standards, high-definition, and stereoscopic (3D) video resolutions. Compared with conventional image compression formats, the MPEG-4 AVC/H.264 format can compress images more efficiently.
To compress audio, it used both Dolby Digital and uncompressed linear PCM audio. The audio data rate can vary from 64 kbit/s to 640 kbit/s.
Moreover, the 3D (MVC format) and 1080/60p(1080/50p) video formats have been added as an extension to make the AVCHD Version 2.0 (AVCHD 3D, AVCHD Progressive) format.
To handle AVCHD Version 2.0-related videos, the device must be compatible with AVCHD Version 2.0.
In addition to this, AVCHD supports not only standard definition (AVCHD-SD) and high definition (AVCHD 1080i) interlaced video, but also 720-line progressive recording mode.
MKV VS AVCHD: What Are their Differences
Next, let's see the differences between MKV and AVCHD. The details are as follows.
MKV VS AVCHD: Compatibility
In the compatibility respect, you can easily notice the difference between them. The AVCHD format is compatible with the Blu-ray Disc format, xv.Color technology, and several recording media devices. It is mainly used in the video recording field, and some devices don't support this.
On the contrary, the MKV format is compatible with most mainstream media players and video editing applications like VLC, KMPlayer, Adobe Premiere Pro, and so on. It means videos in MKV format could be played and edited on almost all devices. Thus, MKV wins AVCHD in this aspect.
MKV VS AVCHD: Video/Audio Codecs
MKV is a universal container that can contain virtually any video or audio codec, while AVCHD is a video container widely used in camcorders for high-definition video recording and playback.
About video codecs, MKV uses MPEG-1, MPEG-2, MPEG-4 (A)SP, H.264/MPEG-4 AVC, H.265/HEVC, VC-1/WMV, Real Video, Theora, Microsoft MPEG4 V2, VP8, VP9, and MVC. However, AVCHD uses H.264/MPEG-4 AVC only.
As to audio codecs, MKV has MP3, WMA, Vorbis, Opus, AAC, AC-3, DTS, PCM, LPCM, FLAC, ALAC, MLP/Dolby TrueHD, and DTS-HD codecs, whereas AVCHD uses Dolby AC-3 or uncompressed linear PCM.
MKV VS AVCHD: File Extension
Once the video is stored on your computer, the file extension of the Matroska video is .mkv, while the AVCHD format has three kinds of file extensions: .mts, .m2ts, and .ts.
In video quality and file size respects, there is no obvious difference between the two containers.  
MKV VS AVCHD: Which One Is Better to Choose
After making a comparison between MKV and AVCHD, you should know more information about them. However, MKV VS AVCHD: which is better to choose? There is no right answer. Every video format has its advantages and disadvantages. It depends on the specific occasion.
Next, we will provide the pros and cons of both MKV and AVCHD. You can make a decision according to your need and situation.
Pros & cons of MKV:
Pros: Files in MKV format supports lossless quality and an unlimited number of images, videos or audio could be contained in a single file. Since it is an open-source video format, it supports a variety of available codecs and has better compatibility.
Cons: Although MKV is supported by many media players and video editing tools, some mobile devices do not support it. And the video container format is still in its initial stages of development.
Pros & cons of AVCHD:
Pros: Videos in AVCHD format have high standard and high quality with the AC-3 Dolby Digital codec. It can easily record images in 1920 x 1080 resolution and at a 16:9 aspect ratio. In addition, it is compatible with the Blu-ray Disc format to record high-quality videos.
Cons: Compared to MKV, it is difficult to be saved it in a single file. Besides, the compatibility is not as good as MKV, and the size of the file is large.
How to Convert MKV to AVCHD Or Vice Versa
If you want your AVCHD videos to be played on different devices, you need a video format converter to help you solve this problem. In this part, we will show you some offline AVCHD to MKV converters and online AVCHD to MKV converters.
Offline Conversion
1. Wondershare UniConverter
Wondershare Uniconverter is an all-in-one video converter, which supports 1000+ formats to convert at fast speed and high quality. Except for this, you can also edit the AVCHD video, like trimming, adding subtitles, cutting, and so on.
Here we'll show you how to convert AVCHD to MKV or vice versa step by step:
Step 1. Download, install and run Wondershare Uniconverter on your Windows or Mac.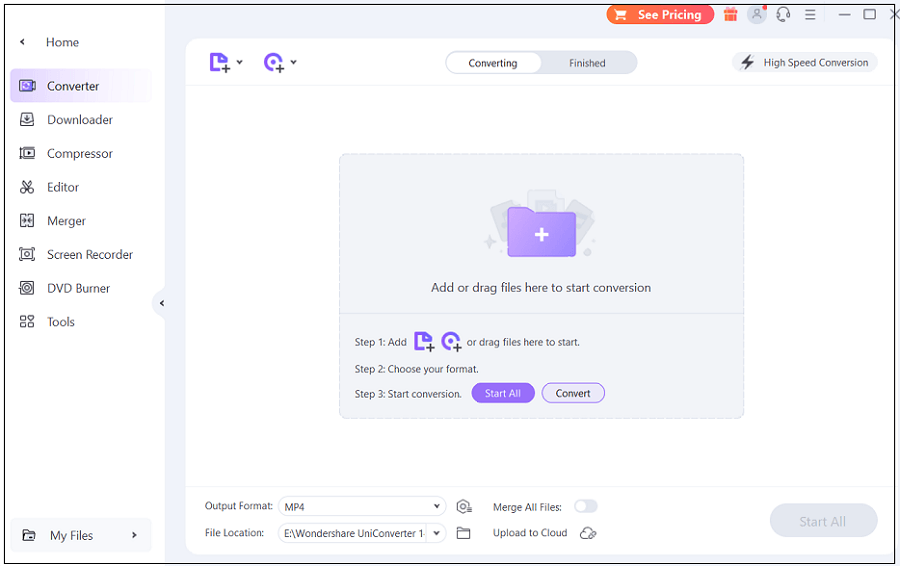 Step 2. Click on the Add Files or just drag and drop the file to add the AVCHD video to Wondershare Uniconverter.
Step 3. Click the Setting icon and choose MKV as your output format under the Video tab.
Step 4. Tab the Convert to start your conversion, then you can see the MKV format video under the Finished tab.
If you want to convert MKV videos to AVCHD, just choose MTS, M2TS, or TS as the output format.
2. MiniTool Video Converter
MiniTool Video Converter is a free and simple video converter. It supports various video formats and offers a user-friendly interface. More importantly, you can conduct batch video conversion at once. In addition to video conversion, screen recording and watching YouTube videos offline are also supported.
Just follow these simple steps.
Step 1. Click the Free Download below to download MiniTool Video Converter to your computer. Then, install and open it.
Step 2. Tap the Add Files to add AVCHD or MKV video files.
Step 3. Click the arrow on the target video, then click on the Video and choose the M2TS or MKV as the output format under the video tab on the pop-up window.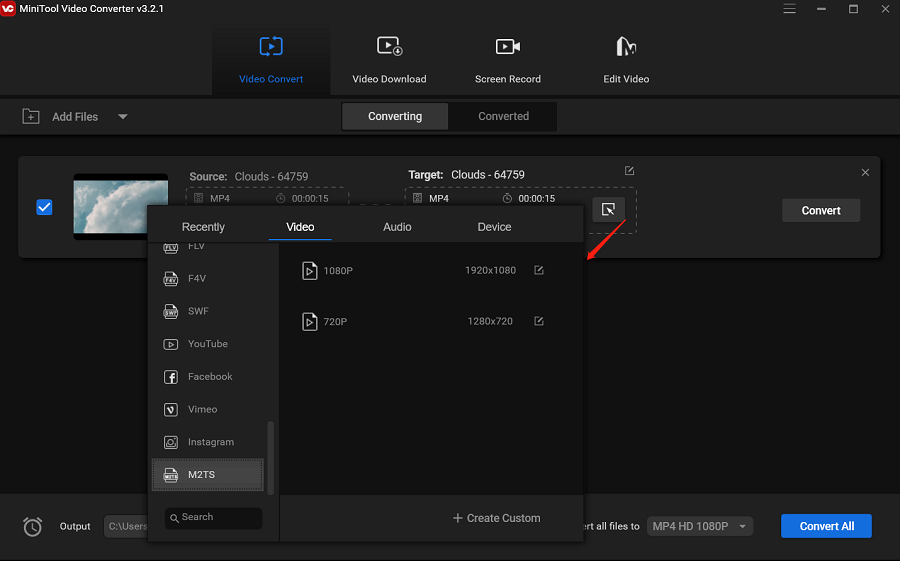 Step 4. Click the Convert button to begin the conversion. Next, you can see the finished task in the Converted tab.
With the help of MiniTool Video Converter, it's easy to convert MKV to AVCHD.Click to Tweet
3. TalkHelper Video Converter
TalkHelper Video Converter enables you to convert to and from many video formats. Besides, it has a full range of device compatibility, which lets you play these videos on any device, such as Samsung, Xiaomi, Apple iPhone, Huawei, iPad, Xbox, Google Android, Nokia, Sony PSP, and so on.
Step 1. Download, install and open TalkHelper Video Converter on your Windows PC.
Step 2. Click on Add Files from the Add Media tab to import your AVCHD or MKV videos.
Step 3. From the drop-down window, select the output format.
Step 4. Click the Start Convert to convert the AVCHD or MKV video.
Online Conversion
There are also many online video format converters, and I will recommend some of them.
1. Convertio
Convertio is a powerful and simple video converter, which supports converting videos to any format without quality damage. You can use it on your browser or any device, like Windows, Mac or Linux, Android, and iPhone.
Step 1. Go to Convertio on your browser.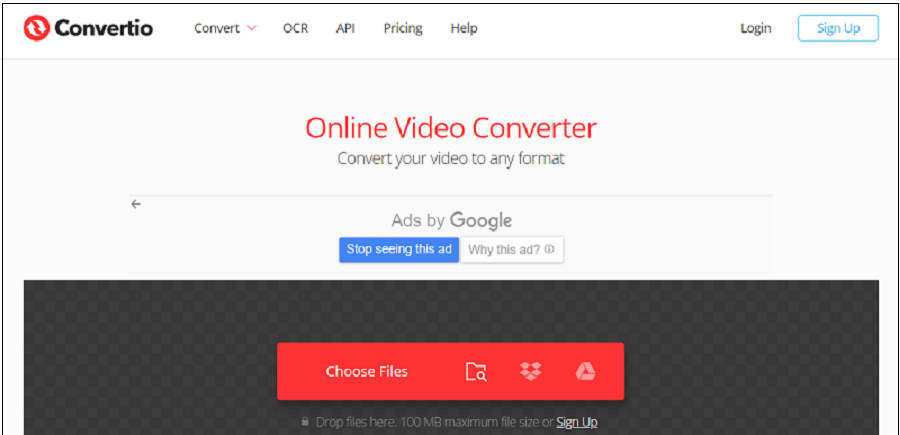 Step 2. Tap Choose Files or drag and drop to import your AVCHD or MKV videos from your computer to Convertio.
Step 3. Click Convert to start the conversion.
If needed, you can adjust the videos' resolution, quality, and aspect ratio by clicking the gear icon.
Step 4. Click the Download button to download the converted video files to your device.
2. OnlineConverterFree
OnlineConverterFree is a free online AVCHD to MKV video converter. You don't need to worry about security because it will delete conversion files after 24 hours and all AVCHD and MKV video conversions are stored in the cloud.
Step 1. Go to OnlineConverterFree on your browser.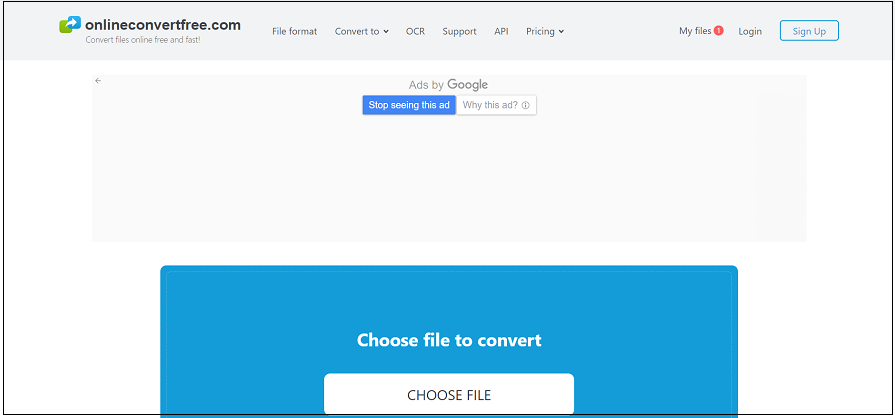 Step 2. Click CHOOSE FILE to select an AVCHD or MKV file from your computer or drag and drop it to this page.
The file size can't be more than 100 MB.
Step 3. Tap Convert to convert AVCHD to MKV or vice versa.
Step 4. After the conversion is done, click Download to save the converted files to your computer.
In addition to the video converters we mentioned above, there are many other online and offline converters. Choose the one that you like most.
Conclusion
In this post, we explain what MKV and AVCHD formats are, what differences they have in many aspects, and finally, we have listed several online and offline easy-to-use video converters. Hope this article can solve your confusion and problem.
 If you have any questions while you use MiniTool Video Converter, please contact us via [email protected].