What is AVCHD video format? Is MP4 high quality? What is the difference between AVCHD and MP4? Can you convert AVCHD to MP4? In this post from MiniTool, you can know the answers to these questions. Just read the guide on AVCHD vs MP4.
When recording videos, you may don't know to choose which video formats to record in, AVCHD or MP4. These two formats are the most popular video file formats for storing recorded videos. Among camcorder users, AVCHD vs MP4 has become a hot topic.
To make a choice between these two formats, you need to understand what they are, what the difference between AVCHD and MP4 is, and their advantages & disadvantages. Besides, if you want to convert AVCHD to MP4 or vice versa, some converters are recommended.
What Is AVCHD?
AVCHD is short for Advanced Video Coding High Definition that is a file-based format for the high-definition video's digital recording and playback. This format was developed by Sony and Panasonic and it is mainly used in high definition consumer camcorders.
For video compression, AVCHD uses the H.264/MPEG-4 AVC standard. For audio compression, this format supports Dolby AC-3 and uncompressed linear PCM audio.
AVCHD was improved to include stereoscopic video and 1080-line 50-frame/s and 60-frame/s modes in 2011. This means this format has double the data rate compared to the previous modes.
It is worth mentioning that AVCHD is compatible with the Blu-ray disc format. That is, you can directly burn the AVCHD videos to Blue-ray discs and DVDs without any format conversion.
What Is MP4?
MP4, also known as MPEG-4 Part 14, is a popular digital multimedia container format that can be used to store videos, audios, subtitles and still images as a single file. Since MP4 works by compressing the files making the overall size much smaller, it is easy to stream over the Internet and access & play videos.
Besides, MP4 can hold a variety of data as well as the size reduction, making it an ideal option for offline and online use.
The MP4 file format is based on the QuickTime format that was published in 2001. Also, it was part of the ISO Base Media File Format ISO/IEC 14496-12:2004, which defines a general structure for time-based media files.
For more information on MP4, refer to our previous post – What Is MP4 and What Are the Differences Between It and MP3.
AVCHD VS MP4: What's Difference Between Them?
After learning what AVCHD and MP4 are, now let's make a comparison to help you know which one to choose.
File Extension
From a layman's perspective, the most obvious difference between these two formats is the file extension. In general, once the AVCHD-formatted video is processed and transferred to a computer, it is stored with the .m2ts extension in a file with the PMB (Picture Motion Browser) software.
While the MP4-formatted video uses .mp4 file extension saved with the PMB software. Although they use the same video codec, the container format they use is different.
In this aspect, they fight to a standoff.
Video and Audio Codecs
From a technical perspective, the audio codecs that these two formats use are different greatly. AVCHD uses Dolby AC-3 as the audio codec whereas MP4 uses MPEG-4 AAC-LC codec. As to the video codec, both of them use MPEG-4 AVC/H.264.
Although they use different audio codecs, there is no much difference in the quality they produce. Thus, in terms of codes, no winner exists in AVCHD vs MP4.
Video Quality
Sony and Panasonic devices capture the highest resolution quality images in AVCHD only. This format records HD (1080i, 1080p, and 720p) and SD videos. But JVC captures MP4 up to 1080p at 60 frames per second. That is, the quality of MP4 is inferior to AVCHD.
If you regard quality as important, the AVCHD video format is your good choice and it wins hands down in AVCHD vs MP4.
File Size
Due to the high-quality video image, AVCHD is very popular among consumers. But high quality means an over-large file size. However, the MP4 video file is small.
Usually, a 30-minute AVCHD video with 1920*1080 resolution can take up 300-400MB while the file size of an MP4 video is only 100MB.
Besides, MP4 also supports HEVC/H.265 codec, so it can offer smaller file size at the same quality than H.264.
In conclusion, an MP4 file takes up 3 times less space compared to an AVCHD file. If you concern about the file size, MP4 is your choice.
Compatibility
In terms of AVCHD vs MP4, compatibility shouldn't be the factor that you ignore. AVCHD can be compatible with Blu-ray Disc format, xv.Color technology, and several recording media devices like memory sticks or hard disks.
But compared to MP4, the compatible devices are less. MP4 is a universal format that is famous for its perfect compatibility with a large number of recording media and networks, players, and more. Besides, it works well with Apple QuickTime format.
This shows MP4 wins in compatibility. This is why many of you convert other video formats to MP4 for better compatibility, for example, WAV to MP4, VOB to MP4, etc.
Usage
Technically speaking, the AVCHD format is suitable for creating AVCHD and Blu-ray Disc recordings and watching on an HDTV.
For MP4, it can be saved as a single movie file and can be easily moved, copied, uploaded, and shared via the web or hard disks. You can play the MP4 video on multiple devices including Android, iPhone, QuickTime, VLC, iMovie, Windows Media Player, etc.
In usage, the winner is MP4.
What is the difference between AVCHD and MP4? After reading this part of AVCHD vs MP4, you know the answer. Also, you can share these 6 aspects with your friends on Twitter.Click to Tweet
MP4 VS AVHD: Which One to Choose?
After reading the above part, you know the difference between AVCHD and MP4. You may ask which one you should use? Here, we will make a conclusion to help you make a decision.
Pros and Cons of AVCHD
AVCHD can have good quality audio with the AC-3 Dolby Digital codec; it is compatible with Blu-ray Disc format and can easily record 1920*1080 resolution at 16:9 aspect ration, 60i, 50i footage.
But it is difficult to save in one file due to the .m2ts format. Besides, the file size is large and the compatibility isn't good.
Pros and Cons of MP4
You can save the MP4 video to a single file to access it easily and play it on multiple devices & players. Besides, it is easy to move, copy, share, and upload the MP4 file. Usually, its file size is small.
But the quality of MP4 file format is low and the highest resolution the MP4 can attain is only 1440*1080 at 30p and 16:9 aspect ratio.
Which One to Choose?
To sum up, the choice depends on your preference and taste. As to AVCHD, it offers high-quality videos but the disk space it takes up is much. This means the number of videos you can store is limited.
As to MP4, the video quality is lower than AVCHD although it occupies small disk space. But you can save many videos in this format.
But no matter which video format you use, you can make a conversion. In the following part, let's focus on how to convert AVCHD to MP4 or vice versa with some professional converters.
How to Convert MP4 to AVCHD or AVCHD to MP4
When searching for AVCHD vs MP4 converter in Google, you may find there are many online tools for you to convert AVCHD to MP4 or MP4 to AVCHD. Also, you can find some offline converters. In this part, we will show you some.
Online AVCHD to MP4 or MP4 to AVCHD Converters
1. AnyConv
AnyConv.com offers you a 100% free online file converter tool. It offers you the simplest way to convert your documents, images, audio and video files, ebooks, and archives online. You don't need to download and install any tool on your computer.
If you want to make a conversion between AVCHD and MP4, open this website. Then, click CHOOSE FILE, choose your MP4 or AVCHD (.m2ts) file, and then choose the output format. Finally, click CONVERT.

2. Convertio
Another online converter is convertio.co. It supports more than 300 formats and the conversion way is very easy. It is browser-based and can work on all platforms. There is no need to download and install any software.
With this tool, you can easily and fast convert your image, audio, and video file to another format. Just drag your file to this page, choose an output format, and click Convert. To make the conversion between AVCHD and MP4, just follow these steps to start the conversion.

3. Onlineconvertfree
Onlineconvertfree.com supports multiple kinds of conversions, including documents, images, audios, videos, books, and archives. The operation is also very simple and you only need to choose the file, select the output format, and click CONVERT. This website allows you to convert AVCHD to MP4 and MP4 to AVCHD.

But there is an obvious defect. If the file you choose is too large, for example, my AVCHD file is 44.3 MB, this website requires to pay some money to remove the restriction.
In addition to these three online AVCHD and MP4 converters, there are some other tools. You can look for another on the Internet. Besides, you can use the offline AVCHD vs MP4 converters to perform the audio or video conversion, and now let's see two tools.
Offline Converters for MP4 and AVCHD Conversion
1. MiniTool Video Converter
The first offline AVCHD vs MP4 converter we will recommend is MiniTool Video Converter. It offers a friendly and simple user interface, letting you easily perform the conversion task. With this video converter, the conversion between audios and videos is an easy job.
Besides, it supports several file formats and the video input formats are AVI, MP4, MOV, MKV, WMV, M4V, MPEG, VOB, WEBM, MXF, MPG, FLV, M2TS and more. The output video formats include MP4, MOV, MKV, AVI, WMV, M4V, M2TS, etc. To learn more formats, refer to the help document.
Also, you can use this video converter to convert multiple files at once. When performing video conversions, the quality of videos won't damage. Now, why not download it to have a free trial?
MiniTool Video ConverterClick to Download100%Clean & Safe
Step 1: Run MiniTool Video Converter and choose your source file. Here, you can choose your AVCHD or MP4 video file.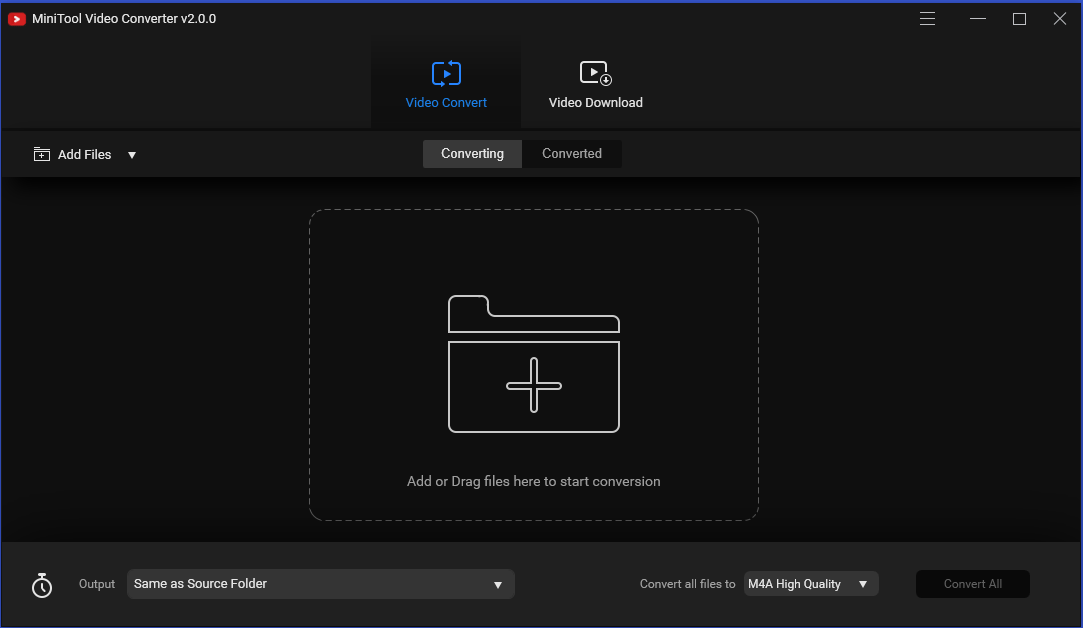 Step 2: After selecting a file, choose an output format.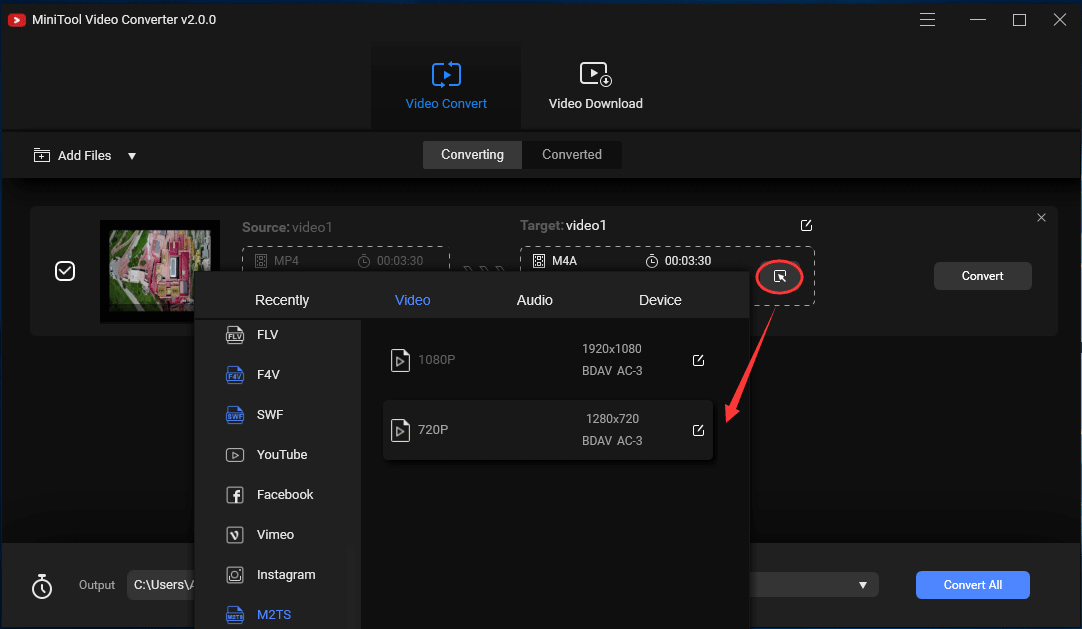 Step 3: Click Convert to start the conversion task.
2. Wondershare UniConverter
One of the best video converters is Wondershare UniConverter. It is an all-in-one video converter and it can help convert videos to 1000 formats at 30X faster speed without quality loss. It offers multiple features, for example, download, compress, edit, burn, add video metadata, transfer videos, etc.
As to the conversion between AVCHD and MP4, UniConverter can help you easily finish the work. How to convert AVCHD to MP4 or MP4 to AVCHD? Follow these steps:
Step 1: Download this converter from the Internet, install it on your Windows PC, and run it.
Step 2: Click Add Files to select the original file and click Target to choose the output format.
Step 3: Click Convert to start the conversion.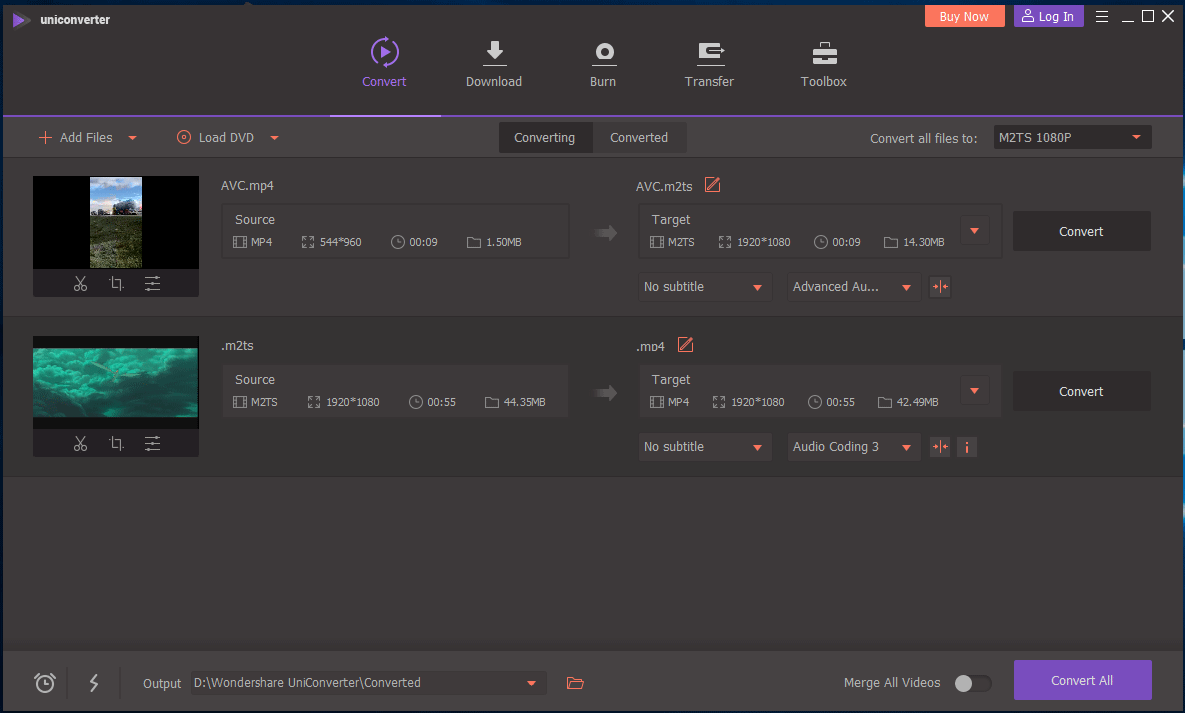 3. Movavi Video Converter
This video converter supports converting videos, audios, DVDs, and image files. It offers fast conversion without quality loss. Before the conversion, you can adjust sound, trim, and join files to improve quality.
As to converting AVCHD to MP4, it can help you easily finish the operation. But if you want to convert to AVCHD from MP4, it seems to not support. Besides, it only allows you to free use for 7 days.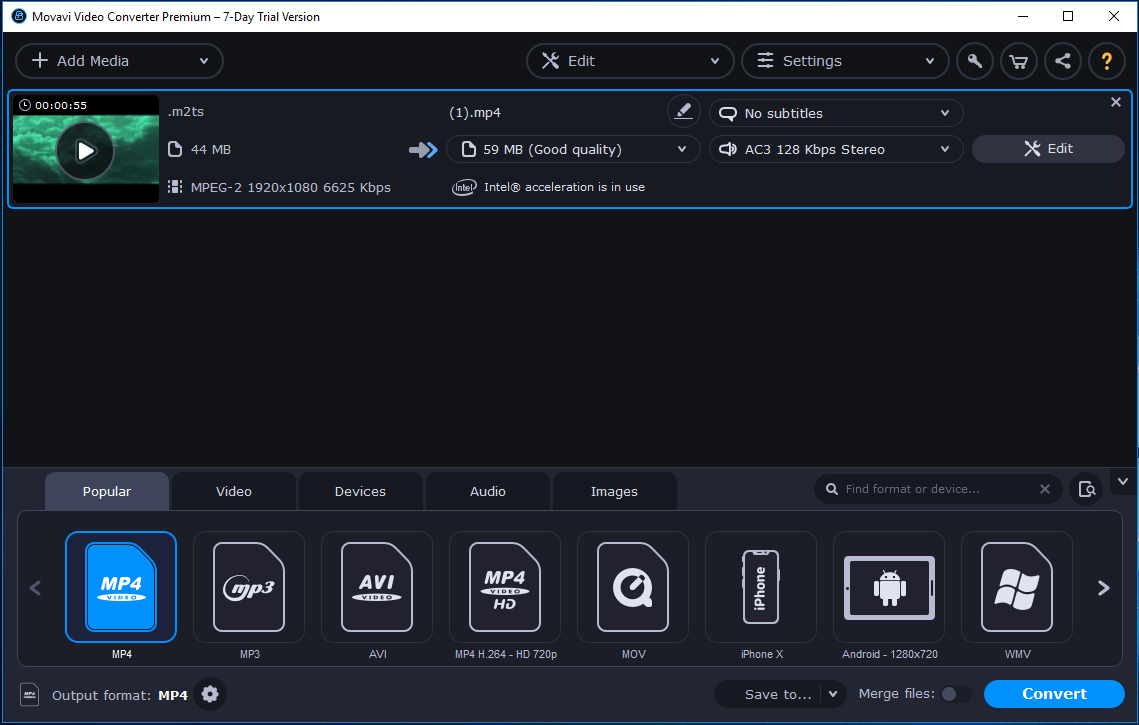 Bottom Line
AVCHD vs MP4: what's the difference between them? Which one should you choose? How to convert these two formats to each other? After reading this post, you know much information. Just choose a proper video format based on your actual needs.
If you have any idea of MP4 vs AVCHD, please let us know by leaving it in the comment part or contacting [email protected].
AVCHD VS MP4 FAQ
What is the highest quality video format?
MP4, MOV, WMV, FLV, AVI, and AVCHD are the 6 highest quality video formats. And you can search for this question online and find a detailed answer.
How do I convert AVCHD to MP4?
There are many tools you can use, for example, some online websites (AnyConv.com, convertio.co, and onlineconvertfree.com) and some offline converters like Wondershare UniConverter and Movavi Video Converter. Just use one of these tools to convert AVCHD to MP4 easily.
What is avchd video format?
AVCHD, also known as Advanced Video Coding High Definition, is a video file format developed by Sony and Panasonic. Mainly, it is used in high definition consumer camcorders.
Is MP4 high quality?
MP4 is one of the most widely used formats for compressed video. Compared to AVCHD, its quality is a bit low. But it can offer high quality at relatively low bitrates. That is, it can shrink the video more while reducing quality less.