You have some AUP files and want to convert these AUP files to MP3. How to convert AUP to MP3? You can use Audacity to export AUP files as MP3. This post illustrates how to convert AUP to MP3 step by step.
Accidentally save audio files in .aup format? What is an AUP file? How to convert AUP to MP3? (To convert MP3 to other audio formats, you can use MiniTool Video Converter) Let's dive into this post and get the answer.
What Is an AUP File?
An AUP file is an audio project file created by Audacity. It doesn't contain any actual audio data and can't be opened with any third-party software. The only way to open an AUP file is by using Audacity.
How to Convert AUP to MP3
Audacity is a free and open-source audio editor, working on Windows, macOS, Linux, and other operating systems. It supports WAV, AIFF, MP3, AU, FLAC, and OGG. It has the ability to convert audio files, edit audio files and record audio through a microphone.
It's also an AUP to MP3 converter that can edit and export AUP files as MP3.
Here's how to convert AUP to MP3 with Audacity.
Step 1. Find the .aup file that you want to convert to MP3.
Step 2. Right-click on the AUP file, choose the Open with… option from the pop-up window, and open it with Audacity.
Step 3. After loading the AUP file, you can continue to edit it as needed.
Step 4. Then click on File in the menu bar and head to Export > Export as MP3.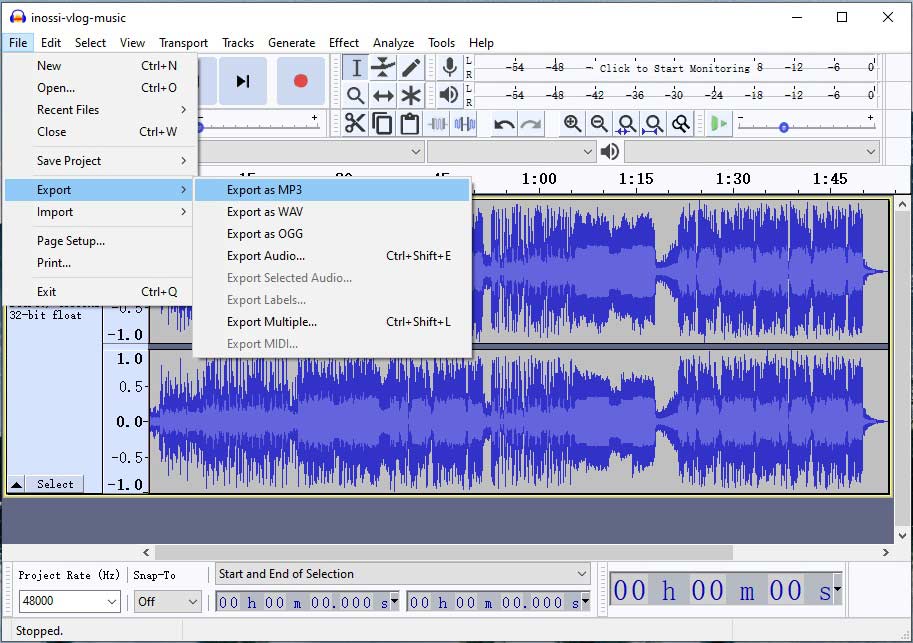 Step 5. Select a folder to save the audio file and change the file name, quality, or bit rate mode as required.
Step 6. Finally, press on Save to export AUP to MP3.
Related article: 6 Best Free MKV to MP3 Converters You Should Try
Best MP3 Converters That You Should Try
To convert audio files to MP3, here recommend two robust MP3 converters – MiniTool Video Converter and Online Converter. They are not AUP to MP3 converters but can handle the most popular audio conversions such as OGG to MP3, MP3 to WMA, M4A to MP3, M4R to MP3, WAV to M4A, and more.
MiniTool Video Converter
MiniTool Video Converter is a free video converter that supports both video and audio conversions. With over 40 formats support, MiniTool Video Converter can complete any popular conversion effortlessly. This video converter also allows you to batch convert video & audio files, extract audio tracks from videos, download YouTube videos to MP3/MP4 and record video & audio from computer.
It's 100% free without hidden costs and won't put watermarks on your output videos. The only downside is that it's only compatible with Windows.
Online Converter
As its name implies, Online Converter is a web-based file conversion tool that can convert media files online. It supports converting videos, audio files, images, eBooks, and documents. Besides file conversions, Online Converter comes with some video & audio editing features, such as merge, cut, compress, resize, rotate, and so on. However, the uploaded file is limited to 200 MB.
Conclusion
With Audacity, you can convert AUP to MP3 without losing quality in just a few steps. Try Audacity to export your AUP files to MP3!