There is a lot of demand from people to convert video from one format to another: certain formats are not supported by programs/systems/apps, video size needs to be reduced to save storage, etc. Some free converters do the job well, but they'll tag a watermark to the converted video. What people really want is a free video converter with no watermark.
What Is Video Converter
Video converter refers to the program that is able to change the storage format of a digital video. It either recompresses the video to another format in a process called transcoding or simply changes the container format without changing the video format. Well, video conversion refers to the process of converting videos from one format to another. The resolution, the container format, the video & audio codecs, the bit rate, and even the aspect ratio may be changed during the conversion process.
When people want to change a video from one format to another, they need a converter and most of them prefer a free converter. However, some converters will add a watermark to the video it converts or has a time limit. This can be very annoying, so people published posts on the internet, expressing their demands for a free video converter no watermark.
Tip:
I advise you to back up your videos before converting them. Why? When any mistake or problem occurs all of a sudden, your videos may be damaged. If that happens and you have backups, you can restore the videos easily. However, if you didn't back them up, you can still try to
recover video files
by using a powerful recovery tool, like the one provided by
MiniTool
.
Why Do You Need a Video Converter
Why there are many users asking for a free video converter without watermark? Or why do they even need to convert videos?
There are some common reasons that show you why a video converter is needed.
You want to play the videos using the media player on your computer or other devices, but you failed. It tells you that the format or codec is not supported.
You want to upload the videos to a particular distribution channel, but you're not allowed to do so since the video format is not accepted.
Your storage device is running out of space; reducing the size of your videos is a good way to get more space.
Your teacher or boss asks you to send the video in a certain format, but your video is saved in another format now.
You want to send your videos to your friends or family members through emails/apps or using specific functions, but the video size exceeds the limit.
The uploading speed (to YouTube, for example) or transmission speed is slowing down greatly due to the extremely large file size.
You want to save and play a movie on your mobile phone; it must be kept in a supported format.
Under all these circumstances, you need the help of a converter. If you know nothing about the video converter but want to get the best freeware video converter, please read the following content with care; it introduces some choices for free video converter without watermark or time limit.
What's the best free video converter for Windows? Several popular converters are listed and introduced briefly in this part to help users find a video converter no watermark that suits them the best. The following converters are displayed in no particular order; they share three things in common: free, no watermark, no time limit.
#1. MiniTool Video Converter
MiniTool Video Converter is an all-in-one free video converter to convert audio and video files to multiple formats in the most direct way. It's capable of converting video to audio and vice versa. The conversion speed is fast and the video quality is high.
MiniTool Video Converter supports 1000+ conversion formats, including video formats (4K/FHD/HD MP4, MOV, MKV, AVI, WMV, M4V), audio formats (high quality MP3, WAV, M4A, WMA, AAC, AC3), and devices (Apple, Huawei, Samsung, Android). Besides, it even allows users to convert multiple files at once. Users can select different output formats for each file and then batch convert them at a fast speed.
What MiniTool Video Converter surprises us most apart from these features are:
It also provides a Video Download module to help people download YouTube videos and YouTube playlists. Then, they can start video conversion or extract audios to popular formats for free whenever they want.
There's also a Screen Record module in the software to help people capture all or part of their screen. Then, they can decide to add audio from the system/microphone or not and save the recording as a video in formats like MP4, WMV, MKV, AVI, and MOV.
How to Convert Video Files without Watermark
Step 1: add your video files into the video converter without watermark.
MiniTool Video ConverterClick to Download100%Clean & Safe
Get the setup file (vc-setup.exe) by clicking on the Download button above. Please save it to a safe place.
Navigate to the downloaded file and double click on it to run the setup program.
Follow the wizard to install the converter properly on your PC: click Install Now (change language or installation path before this if you want) -> wait for the process to complete itself -> click Start Now to run the software immediately (you can also close the window and double click on the software icon to run it later).
Click on the Add Files button at the top left of the software interface or the big icon in the middle to open the Import Media window -> browse your drive and navigate to the location where your video files are saved -> select one or more videos you plan to convert -> click on the Open button in the lower right corner of the opening window to add them into the software.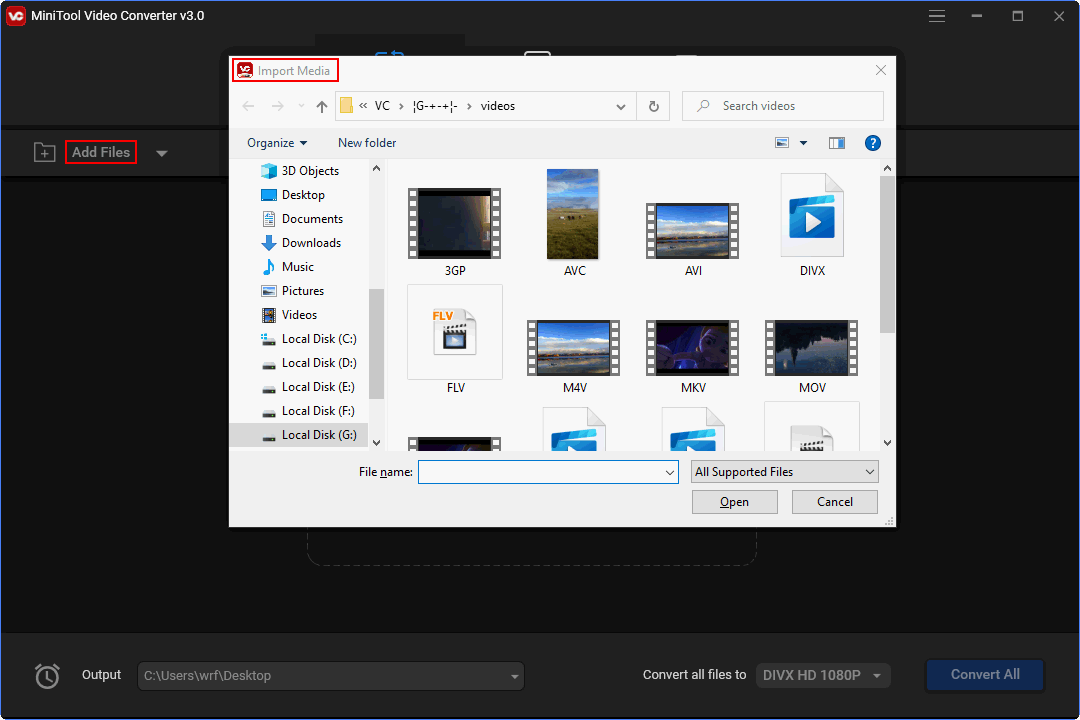 Step 2: configure the output settings.
Click on the edit icon after the word "Target" -> change the File Name and Output path according to needs -> click on the OK button to confirm.
Click on the edit icon in the dotted box under Target -> select Video, Audio, or Device tab -> select the target format you want to convert your video files to -> choose the desired resolution or quality level.
Also, you can click on the down arrow after "Output" in the bottom left corner to set an Output path or click on the down arrow after "Convert all files to" in the bottom right corner to choose an Output format for all files waiting to be converted.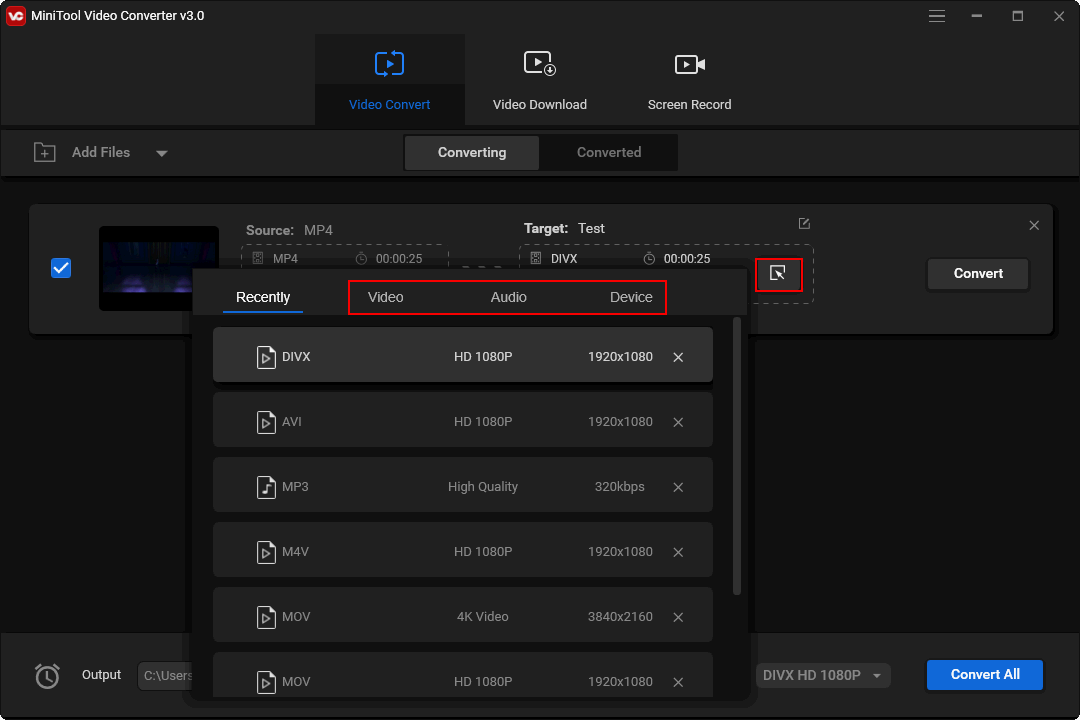 Step 3: start video conversion without watermark or time limit.
Click on the Convert button after each file you have added to the software.
Wait patiently while the converting is in progress. The conversion process will go from 0% to 100%.
A Success notification will appear to inform you that the conversion is finished completely.
Please shift to the Converted tab (from the Converting tab) at the top.
Click on the Show in folder button after each file you've converted to view it.
Also, you can click on the Convert All button in the lower right corner of the software window to batch convert your video files. When the conversion is finished, you can navigate to the Output path set in step 2 to take a look at the converted files manually.
MP4 To MPG: How To Convert A Video File For Free?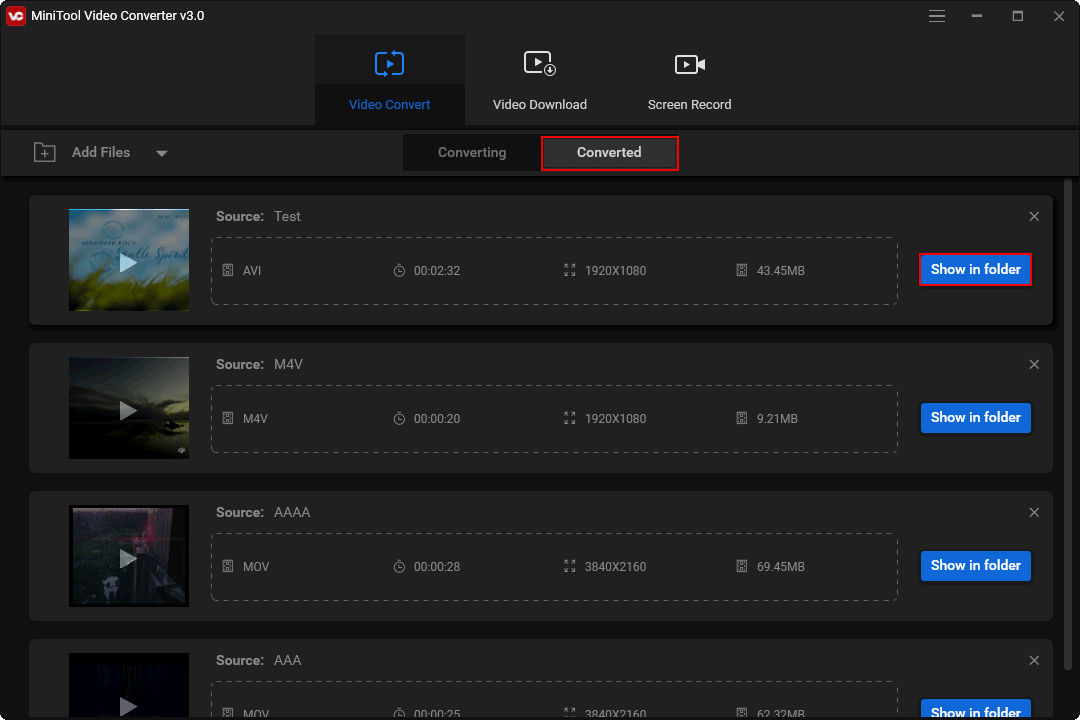 MiniTool Video Converter can't be used as the free DVD converter and burner without watermark. You need to find a proper free MP4 to DVD converter no watermark online. For instance, Wondershare's Free Video Converter.
This is a free video converter without watermark or time limit. If you find it useful and meet your needs most of the time, please share it with other people to make video conversion an easy task.Click to Tweet
#2. HandBrake
Handbrake is an open-source converter that allows you to convert videos for free at a fast speed. Besides, Handbrake can be used as a tool to compress a file easily (it's called a file compressor).
Some of its advantages include:
It supports most common video formats, including those used by professional cameras.
It is available for Windows, Mac, and Linux users.
It could work with DVD and Blu-ray disks.
The output of the Handbrake is crispy clean.
It can convert videos without damaging the quality.

#3. Video Grabber
Video Grabber is a little bit different; it's a cloud-based video platform. Video Grabber allows you to grab videos from any online video site easily. Then, it can help you convert videos on Windows and Mac in easy steps without paying any money.
Some of its advantages include:
It is a web app; you don't need to download the converter.
You don't even need to download the video; just paste in the URL.
It doesn't require you to create an account and register.
There are many basic video editing features provided.
It supports all common video and audio formats.
It can convert files on mobile devices like iPhone and Android phones.

#4. FileZigZag
FileZigZag is also an online video converter without watermark. It is considered as one of the safest video converters: all files are kept confidential and they will be deleted immediately and automatically after use.
Some of its advantages include:
It can recognize more than 180 formats and deal with more than 3150 different conversions.
It supports not only audio & video, but also documents, images, and eBooks.
It is available for both Windows and Mac users.
It doesn't require you to enter an email or start registration.

#5. Online-convert.com
Obviously, online-convert.com is an online website for converting your videos for free. It is one of the most flexible and full-featured converters without any watermarks. The well-known companies, such as Dell, Hasbro, and even the BBC, will access this website to convert files when necessary.
Some of its advantages include:
It supports a lot of different conversion formats.
It supports not only audio & video, but also documents, images, eBooks, and archive files.
It can even convert files for certain web services, software, devices.
It is available for both Windows and Mac users.
It doesn't require you to perform a registration for the converter.
It allows you to generate a hash if you need it.
#6. WonderFox
WonderFox is a freeware powerful enough and very easy to use; it's claimed to be the best HD video converter keeping a good balance between definition and file size. WonderFox is able to handle all of your needs for video conversion and it works great converting videos from standard definition to high-definition. It seems that the only disadvantage of WonderFox is that it is only compatible with Windows systems.
Some of its advantages include:
It supports over 200 video formats and device combinations.
It can help you convert HD videos to over 300 formats and devices.
It allows you to convert all common audio formats and extract audio from a video file if you only need the sound.
The conversion speed is fast and the video quality won't be degraded during the conversion.
If these converters are not what you want, you still have other choices in terms of the free video converter without watermark or time limit:
Freemake Video Converter
Any Video Converter Free
Pavtube Video Converter Ultimate
HD Video Converter Factory Pro
All the converters mentioned above can be used as a free online video converter to mp4 with no limit.
To help more people convert videos easily and safely, we summarized some popular choices of free video converter no watermark. Hope they can help you convert your video files with ease when they can't be played, used, or transferred properly.Click to Tweet
Wrap Things up
While social networking is more and more developed, the transmission of multimedia files also becomes more and more frequent. Sometimes, people need to change the format of a video file (or an audio file) in order to play it in certain players or transfer it to other people via certain apps.
This page introduces mainly 6 free video converters that can help you convert video files easily without adding watermarks or limiting the video time. You may choose one to use when necessary or search for other free converters online yourself.