The WMA is a popular format for audio and video files. Designed by Microsoft, WMA is used widely around the world and a lot of programs and applications give support to this file format. Well, some people want to convert WMA to another format because they don't like WMA or they want to use the file in a certain application that doesn't support WMA. In this case, a WMA converter is necessary.
Many people are asking about WMA converter since they need to convert WMA files or convert other file types to WMA sometimes. Why do they take file converting into consideration? How to convert a WMA file to MP3 (or other file types)? I will discuss questions like these in the following parts.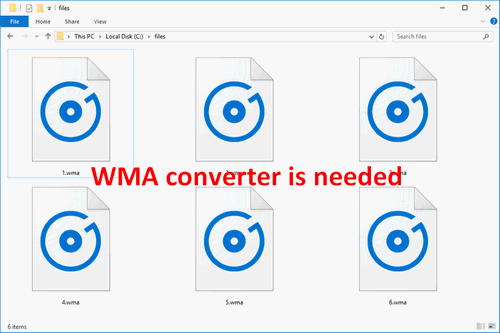 You'd better go to the home page and get corresponding software to help you backup data, disk, & system, and recover lost files/solve problems when necessary.
What Is WMA
What does WMA mean? In fact, the word WMA is short for Windows Media Audio, which is created initially in 1999. WMA is both an audio codec and an audio format. It is a series of audio codecs and the corresponding audio coding formats. It also becomes a popular audio format since it was developed and released by Microsoft's senior researcher Henrique Malvar and his team. WMA expanded itself into a wide range of sub-formats, from low-bandwidth voice audio to lossless multi-channel surround sound.
4 versions of the WMA codec (including 3 sub-formats):
WMA: the original codec created in 1999.
WMA Pro: this is a newer, more advanced, but lossy codec; it is improved for audio professionals. It gives support to high-res audio. However, there's limitation in the current range of hardware and software required for supporting this codec.
WMA Lossless: apparently, this is a lossless codec which is designed for archival and storage purposes. But what's amazing is that the lossless codec is able to compress an audio file without any loss of fidelity and quality, all thanks to VBR.
WMA Voice: targeted at voice content, WMA Voice is a lossy codec which is specially designed for the low bandwith voice playback programs and applications.
Tip: Windows Media Audio (WMA) is the most common codec of the four WMA codecs listed here. What's more, a digital container format was developed and released by Microsoft to store the audio content encoded by WMA; the name of that container format is Advanced Systems Format.
The main purpose of Microsoft to create this compressed/lossy audio format is to compete with MP3 as well as RealAudio audio formats (what's more, to combat Apple's AAC compression methods). In addition, the licensing issues associated with MP3 will be avoided. Therefore, WMA is used widely for streaming online music.
If you have lost your favorite music files all of sudden, you must want to find a way to get them back quickly, right? Here's your chance:
How to Open a WMA File
Since WMA is a dedicated Microsoft format, it's reasonable that Windows will be equipped with a program to open the files in WMA format; Windows Media Player is such program. Microsoft designed Windows Media Player to help users play audios & videos and view images on a personal computer, Pocket PC, or Windows Mobile-based device, as long as the device is running the Microsoft Windows operating system.
This Teaches You How Video File Recovery Can Be Done!
Though you can download third-party software you're in favor of (such as VLC, Winamp, AllPlayer, MPlayer, and MPC-HC), Windows Media Player is still the best choice for anyone to play WMA files. You don't need to make any changes on your systems since Microsoft has already put Windows Media Player into most versions of Windows.
The only thing you need to do to open a WMA file in Windows Media Player is opening Windows Explorer and double clicking on the certain WMA file. This method works well unless you have installed third-party programs to play your audio files and set one of them as the default for WMA files.
Tip:
You may find your Windows Explorer needs to be restarted (not responding/has stopped working). Don't worry, you fix it yourself by following the methods mentioned
here
.
How to troubleshoot when double clicking WMA file didn't work?
Right click on the WMA file you want to play. (If it's located on desktop, just right click on it; if it's saved somewhere else, please open Windows File Explorer to find it first, then, right click on it.)
Choose Add to Windows Media Player list/Play with Windows Media Player from the context menu. Otherwise, you can navigate to the Open with option and choose Windows Media Player from its submenu.
Choose Recommended settings to make Windows Media Player the default program for playing media, automatically download usage rights and media information to update your media files, and send usage data from the Player to Microsoft.
Click on the Finish button in the lower right corner of the Windows Media Player window.
Your WMA audio will be played in seconds.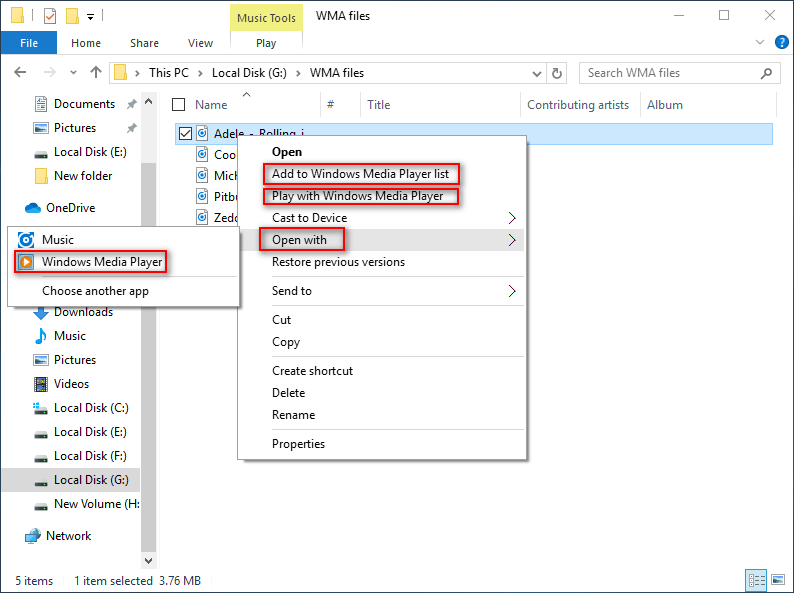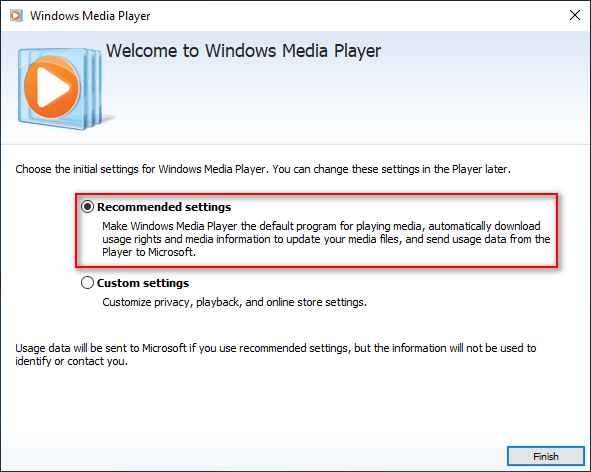 Other choices of playing WMA audios:
Using third-party application: what you should notice is that it's more difficult to play WMA audios on a Mac or Linux system since those platforms are not equipped with a built-in app giving support to WMA. That means you have to download a third-party app to play audio files.
Turning to browser-based audio editor: if you refuse to get a third-party program and install it on your device, there's still another choice to open WMA file easily and quickly – using a browser-based audio editor, such as TwistedWave Online Audio Editor.
WMA to MP3: Need a Good WMA Converter
As a proprietary technology designed by Microsoft, WMA forms part of the Windows Media framework. Just because of this, there are far fewer programs that support WMA format than the MP3 format (which is used widely throughout the world). That explains why some people ask for a WMA audio converter.
Let's see a true example in which the user wants to convert WMA to MP3 for free.
WMA to MP3 Conversion:
Does anyone know of a decent piece of software, simple and preferably free, that can achieve this conversion? I've tried around a half-dozen so far and they either don't work, are supposedly free (and then you find you have to pay for them) or they are 'fronts' for Viruses and RootKits.– said G3UZF in think broadband forums
Apparently, G3UZF wants to get a decent audio converter to help him convert WMA to MP3. But which is better WMA or MP3 in your opinion? Do you also want to do the conversion from WMA to MP3?
WMA vs MP3
If you understand what I'm saying in the above content, you'll have a rough idea of the advantages and disadvantages of WMA files.
Advantages of WMA audios when compared to MP3:
WMA audio format can keep better sound quality in low bitrates. And it is convenient for Windows users to play.
WMA is able to protect music copyrights since WMA editions after WMA 7 give support to certificate encryption (till now, MS has released 8 editions of WMA). It can prevent piracy greatly by making use of the DRM (Digital Rights Management) facility.
WMA is capable of compressing the audio at a higher rate. That is to say, less storage is required to save a high-quality audio.
Musicians and music publishers love this format due to these reasons.
Disadvantages of WMA audios when compared to MP3:
The compatibility of WMA format is poor since it is a proprietary technology of Microsoft and protected by DRM. Microsoft doesn't share WMA standard with other operators. Therefore, WMA is not supported by other platforms or many of the mainstream devices. Well, as for MP3, it is supported by almost all platforms and devices.
Compressing audio via WMA codec will lose some quality definitely. Therefore, WMA is not a good choice for people who care a lot about sound quality. For them, the alternatives should be FLAC (Free Lossless Audio Codec) and APE (also called Monkey's Audio).
Which is better WMA or MP3?
You can never say a file format is better than another one under any circumstances. The fundamental reason why people choose A format over B is because of different actual needs.
When to choose WMA:
According to the study, WMA format appeals to many online users and used by a lot of websites. The root reason is that it can be streamed easily.
WMA is a better choice than MP3 for people who want to keep a good balance between quality and file size.
The performance of WMA is wonderful than that of MP3 at low bit rate. WMA produces the best sound quality as long as the bit rate is lower than 128k. However, the high-frequency part of MP3 will be lost in the same situation.
When to choose MP3:
If you have a lot of different devices and systems, you'd better use MP3 instead of WMA as the audio format.
MP3 file format should also be chosen when you need to transfer audios to other people (your family members, friends, or colleagues).
In order to get better sound effects at high bit rate (for instance, at 192k bit rate), you should use MP3.
Convert WMA to MP3 Windows 10
How to convert WMA to MP3 in an application?
Method 1: using Windows Media Player.
Play the target WMA file in Windows Media Player by double clicking on it. (If this didn't work, please read How to Open a WMA File part.)
Click on the Switch to Library button in the upper right corner.
Select Organize from the menu bar in Windows Media Player library.
Choose Options… from the drop-down list of Organize.
Shift to the Rip Music tab.
Click the arrow to open drop-down list of Format under Rip settings area.
Choose MP3 from the list and click on the OK button to confirm.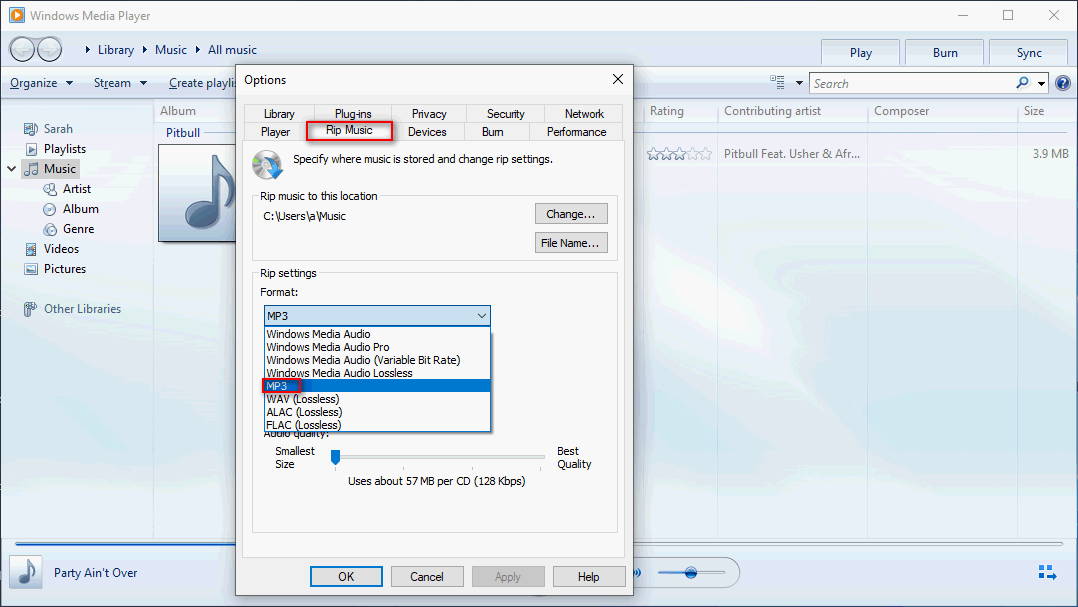 Attention!
What if you find some of the important files are missing from Windows 10? How to get them back? Please click Top 4 Ways to Convert WMA to MP3 for Free and follow the instructions carefully.
Method 2: using MiniTool Video Converter.
MiniTool Video Converter is a user-friendly tool for users to convert video and audio files quickly; it gives support to 1000+ popular output formats and includes no bundle/no ads.
MiniTool Video ConverterClick to Download100%Clean & Safe
Download MiniTool Video Converter & install it properly.
Launch the software by double clicking on it.
Video Convert tab is selected by default. Please click Add Files under it.
Browse your computer to select WMA file and click Open.
Choose MP4 as the target format.
Click Convert and wait till the end of the conversion.
Shift to Converted tab and click Show in Folder to have a look.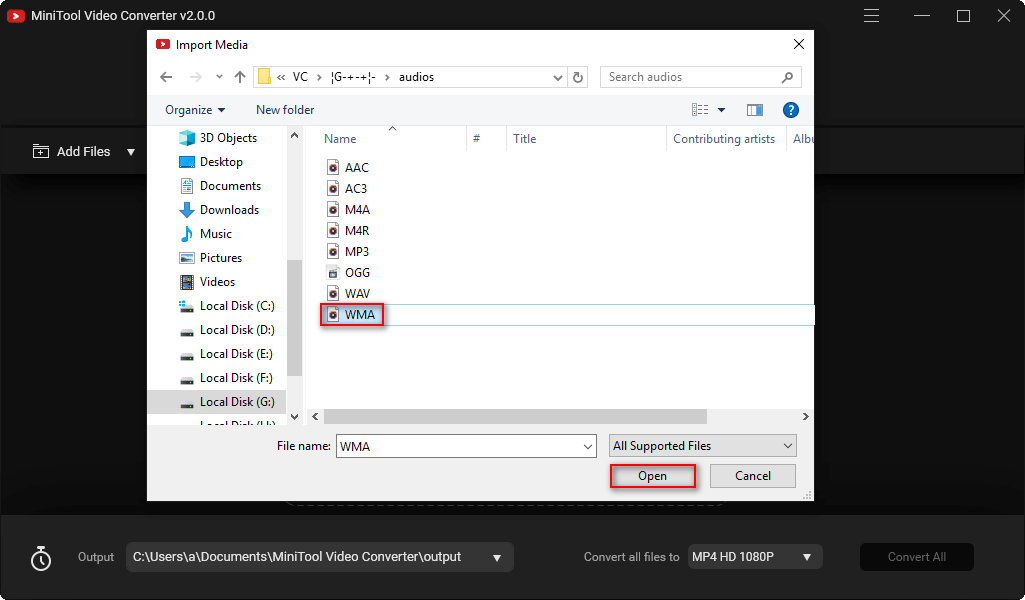 Method 3: using VLC media player.
Why choose VLC media player?
It is very popular since it's free and open source.
What's more important, it gives support to all the common file formats and it can help people convert files from one format to another easily.
Last but not the least, it can run on mainstream platforms, including Windows, macOS, Linux, iOS, and Android.
How to use it as a WMA converter?
Download VLC from official website and install it properly.
Launch the player and select Media from menu bar.
Choose Convert/Save from the submenu.
Click on the Add button to choose the WMA file you want to convert.
Go to the file location and click Open.
Click Convert/Save to continue.
Choose MP3 from the drop-down list of Profile.
Click on the Browse button to choose location for saving the converted file.
Select MP3 from the drop-down list of Save as type and click Save.
Click on the Start button and wait for the file conversion to complete.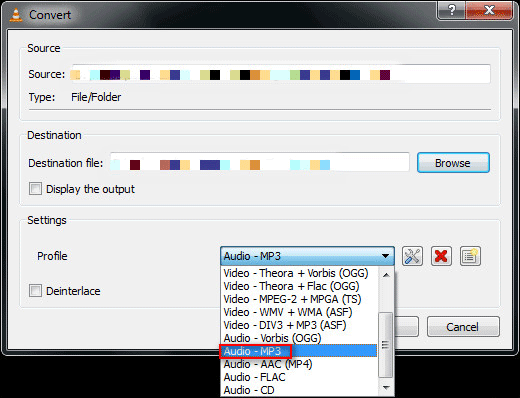 WMA to MP3 online service.
Choice 1: Convertio.
Go to Convertio website; choose WMA as the source format and MP3 as the destination format.
Choose Files from local Computer, Dropbox, Google Drive, or URL by clicking on the red button -> choosing file -> clicking Open. (You can also drag the WMA file and drop it directly on the page).
Click on the red Convert button and wait patiently while the conversion is in progress.
Click on the blue Download button when the conversion is completed.
Set a storage location for the MP3 file you get. (The file will be saved to the Google downloads folder by default if you're doing this in Chrome.)

Choice 2: Zamzar.
Go to the official website of Zamzar.
Click on the green Add Files button.
Open the target drive and folder to choose the target WMA file and click on the Open button.
Make sure MP3 is selected from the drop-down list of Audio Formats.
Click on the green Convert Now button and wait for the conversion to finish.
Click on the blue Download button and save the converted file to a safe location.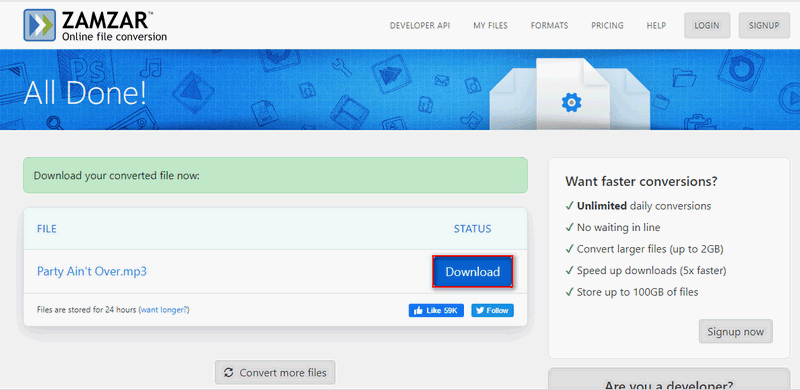 Of course, there are many other online file converter services you can find on the internet.
You may ask how to convert MP3 to WMA or convert MP4 to WMA? The methods are basically the same; you only need to change the source file format and destination file format according to needs.
Related reading:
Click here if you want to know more details on how to convert WMA to MP3.
This post tells you how to convert WMA to WAV.
By the way, if you'd like to change the format of a partition/drive, you should use Convert FAT to NTFS, Convert NTFS to FAT, or Format Partition function in MiniTool Partition Wizard.
Verdict
Though WMA is a popular audio format designed and used by Microsoft Windows, people need to change it to other formats like MP3 due to different reasons. For example, WMA is not supported by some platforms and applications. This post shows you how to open a WMA file conveniently and how to convert it to MP3 (or other formats) with different methods. You may choose the best WMA to MP3 converter you think to complete your file conversion task.