MPG is a common file format used widely in videos. Although this format has many advantages, users still need to convert an MPG file to other formats (such as MP4) in certain cases. That's why an MPG converter is required. This page will firstly introduce the MPG file format to you; then, it will offer several ways to help you convert MPG to MP4 (or other file formats).
What Is MPG
In fact, MPG refers to the extension of the file: .mpg; it's the extension of a common video file. The files having a file extension of .mpg are called MPG files. In addition to vides, the MPG file format can also store audio and metadata interleaved together. Most movies created and distributed on the internet are made into MPG format; it's no wonder that MPG files are everywhere on Web pages.
If you'd like to convert a video file from MPG to other file formats, such as MP4, you definitely need an MPG converter (an MPG to MP4 converter maybe).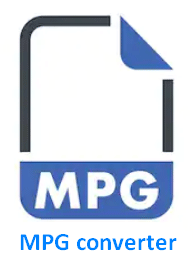 If you run into any disk, system, or data problems, please remember MiniTool Solution is your first choice; it's professional in disk management, data recovery, system backup, video editing, and many other aspects.
Let's begin with two true examples.
Case 1: convert MPG to MP4.
Hi everyone, I hope you can help me solve my problem. I have a bunch of video in .mpg format that I want to convert to .mp4 files so I can add them to my iTunes library. Each .mpeg file contains an h.264 video stream and an AC3 audio stream. From what I understand, I need to demux the .mpg file and mux them back to .mp4. Is this the right solution? If yes does anyone know a program that can demux mux and batch convert at the same time. For the moment I need to use 3 programs to do this job and none of them can convert multiple files. I'd like a faster solution… Thanks– asked sc20k1 in VideoHelp Forum
Case 2: convert MP4 to MPG.
I'm hoping someone more experienced than I can help with this problem. My friend has an MP4 video that he wants to convert to DVD and has asked if I can help him since his conversions are causing the final DVD to have missed or dropped frames. The original file is and MP4. Scan type: Progressive. Frame rate: 25.000 fps. So it is PAL (SD) but usually PAL is interlaced. In this case the file is progressive. He is a Windows user so I don't know the software programs he uses. I had hoped that MPEGStreamclip could work to convert since that program handles MP4 and MPG and there is a Save As option. But there is not a Save As from MP4 to MPG. Does anyone have a recommendation for converting from MP4 to MPG that will not result in lost or dropped frames where I can keep bitrate the same? My sense is that he'd like this to be an interlaced DVD but if we can make a PAL dvd that is progressive then that's what we will do. I am posting in the Mac forum because I'm a Mac user; however, if there isn't a Mac program that will do this but you know a good Windows program then I can share that with him. Thanks.– asked danielmak in VideoHelp Forum
MPG vs MPEG
The MPEG video data compression specifications and data encoding algorithms are built into video files stored in MPG format. So MPG file is also known as MPEG file.
What is MPEG?
Being short for Moving Picture Experts Group, the MPEG is a working group of authorities; it consists of ISO and IEC, aiming at making standards for both audio and video compression and transmission. MPEG was founded in 1988 and the first meeting was held in May 1988 in Ottawa, Canada. The number of members attending the MPEG meeting has increased to about 350 at the end of the year 2005. The members are coming from all walks of life, including universities and research institutions. The official designation of MPEG is ISO/IEC JTC 1/SC 29/WG 11, which is the coding of moving pictures and audio.
MPEG is not only a file extension (also known as filename extension) but also a type of compression. That is to say, the MPG, MPEG, or MPE file extension is not necessary for an MPEG video or audio file.
MPG2 file extension is used in an MPEG2 video or audio file.
MP2 file extension is used in the video/audio files that are compressed with the MPEG-2 codec.
MP4 file extension is added to an MPEG-4 video file generally.
All the file extensions mentioned above indicate an MPEG file, but you can't find none of them actually included the .MPEG.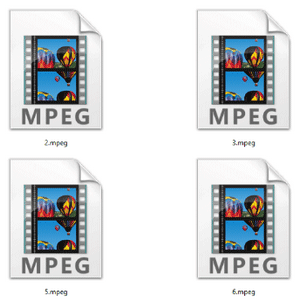 The data will be compressed at a high rate if you're using an MPEG format. Why? That is simply because this file format only saves changes found between each frame, instead of keeping every frame of the certain video/audio.
What are MPEG-1 and MPEG-2?
Moving Picture Experts Group developed MPEG-1 and MPEG-2, which are digital video data compression specifications and algorithms. And these two formatting standards are usually incorporated into MPG files.
MPEG-1: there are many lossy video and audio formats in the world; MPEG-1 is one of the most widely used standards. It is developed especially to compress CD audio as well as VHS-quality raw video down to 1.5 megabits per second, without too much loss of quality. In general, the MPEG-1 video data is about 30 fps (frames per second) and the resolution is about 352×240. A lot of video and audio programs/applications on the market give support to MPEG-1.
MPEG-2: the MPEG-2 is developed on the basis of MPEG-1; it is actually an optimized version of MPEG-1, improving on the shortcomings. It is used to compress video and audio for higher-quality videos. Besides, it's the best compression scheme for many services: digital TV, DVD video, over-the-air digital television, satellite TV services, etc. The MPEG-2 video data is also about 30 fps normally; and the max resolution of it is about 720×480.
Please note the following things:
The MPEG-2 is not able to meet the requirements of higher resolution video since it only has a two-channel audio compression system.
Using MPEG-2 format can help you get higher bitrates than that of MPEG-1 (about 6 megabits per second) while capturing videos or audios.
MPEG vs MPEG4
MPEG is named after the working group – Moving Pictures Expert Group. MPEG is actually a set of compression technologies used for videos and audios and it's very important in the history of digital video recording and playback. MPEG is not a single standard; on the contrary, it contains multiple parts used for different purposes. The popular MPEG4 compression algorithm is part of MPEG.
MPEG4 is an improved standard used widely in a lot of devices: DVDs, Bluray discs, smartphones, tablets, personal music, and video players, etc. The root reason for using MPEG4 in these devices is that it can compress videos with minimal loss in quality. In fact, MPEG4 provides the best combination of quality and size. (How to recover music files yourself?)
That is to say, there's no big difference between MPEG and MPEG4 as long as the size is not an issue.
In short:
MPEG4 is only a part of MPEG.
MPEG4 is more widely used while MPEG is initially and mainly used in CDs.
MPEG4 is a better choice for portable devices on the market.
Tip:
The MPEG-4 Part 14 is what we know as
MP4
, which is a popular digital multimedia container format used to save video, audio, subtitles, still images, etc.
How to Open an MPEG File
The MPG files are saved in PS or MPEG-PS, which is a program stream container format, to keep audio, video, and metadata. They are interleaved together in one stream to achieve efficient deliverability. The streaming and downloading speed of MPG files are faster than that of many other popular video formats; the main reason is that a specific type of compression is used in this file format.
The MPEG video files can be supported by various programs on different platforms, like Windows, Mac, and mobile phone, all thanks to its strong compatibility. You can use Windows Media Player, QuickTime, iTunes, and even third-party media players like VLC Media Player to open an MPG video file successfully.
The Best Windows Media Center On Windows 10 – Check It Out!
Open an MPG File with Windows Media Player
Open File Explorer. (How to fix when File Explorer is not working?)
Double click on the drive containing target MPG file (both local drive and external hard disk are included).
Open a certain folder and navigate to the MPG file waiting to be played.
Double click on the MPG file and wait a second. It will be played in Windows Media Player automatically.
Windows Media Player can be used as an MPG player in this way if you have set it the default player in advance.
If the previous steps are not working well or the Windows Media Player is not set as the default player before, you should try the following method:
Open File Explorer in the way you like.
Open the certain drive and folder to locate the target MPG audio/video files.
Right click on the file you want to play.
Choose Open with from the context menu.
Choose Windows Media Player from the submenu you see.

Play MPEG Video Files with QuickTime on Mac
Open QuickTime on your Mac computer.
Look for the Add File option in the toolbar at the top of the window.
Choose the target MPEG file you'd like to play. (You can also import the file by dragging and dropping it onto the middle panel of the software window.)
Click on the Profile button to see a pull-down menu.
Choose General Video and select an appropriate output video format from the list: MOV – QuickTime Video (*.mov), MPEG-4 Video (*.mp4), M4V MPEG-4 Video (*.m4v), etc.
You can click on the Settings on the right side of Profile to control bitrate, video resolution, frame rate, and other things manually. (This step is optional.)
Look for the Destination section and click Browse to choose a storage path for the converted file.
Click Convert and wait for the process to end.
Now, you can play the converted file in QuickTime successfully.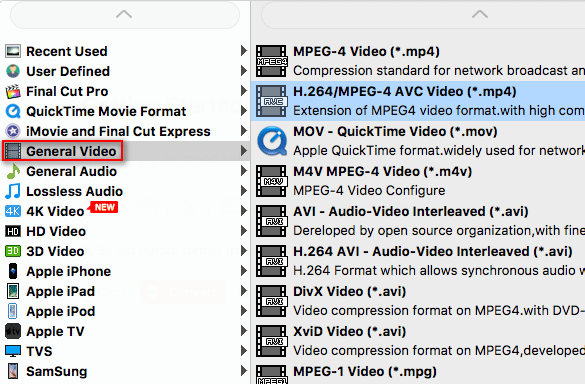 [SOLVED] How To Recover Deleted Files On Mac.
Also, if you'd like to play MPG files in iTunes, you'll need to get an MPEG converter and use it to convert the file to a format that is supported by the application. In addition, you can turn to the third-party MPG player to open & play MPG files easily.
Choose the Best MPG Converter: MPG to MP4 or MP4 to MPG
In all the following methods, I will show only how to convert MPG to MP4; if you need to convert MP4 to MPEG, please change the source file and target format. The converting steps are the same.
#1. FormatFactory
Pay a visit to this webpage.
Click on the Download button.
Go to the place that saves the downloads and find the FormatFactory installer.
Install the software properly and launch it.
Select Video in the left sidebar.
Choose -> MP4 under it if you want to convert MPG to MP4.
Click on the Add File button on the top right. (You can change the Output Setting if you like.)
Click on the OK button and then click Start at the top of the main window.
Wait for the converting process to complete.
Click on the Open Output Folder button to locate the converted MP4 file.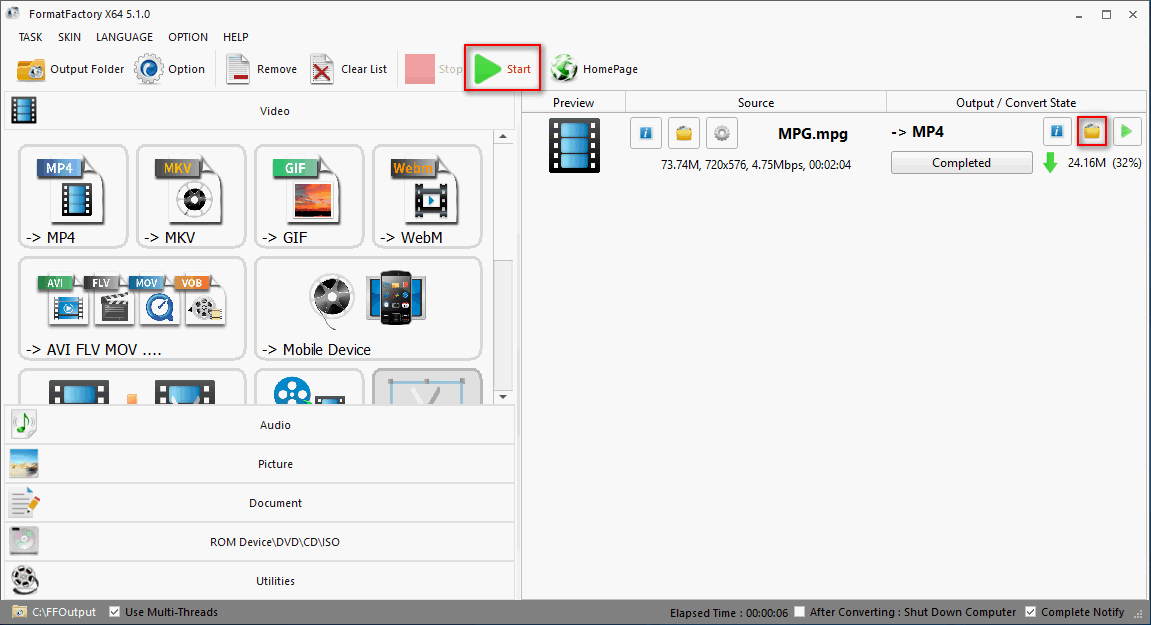 #2. MiniTool MovieMaker
MiniTool Video Converter is a very useful converter that supports all the common video & audio file formats.
Step 1: download, install, and launch MiniTool Video Converter.
MiniTool Video ConverterClick to Download100%Clean & Safe
Step 2: click on the big + icon in the dashed frame at the center.
Step 3: choose the target MPG video file and click on the Open button.
Step 4: edit the File Name or Output path if you want.
Step 5: select MP4 as the target file format.
Step 6: click on the Convert button at the right end.
Step 7: wait for the action to finish until the software tells you it's over.
Step 8: you can go to check the converted MP4 file by selecting Converted and clicking Show in Folder.
You can also use MiniTool MovieMaker for video converting/video editing.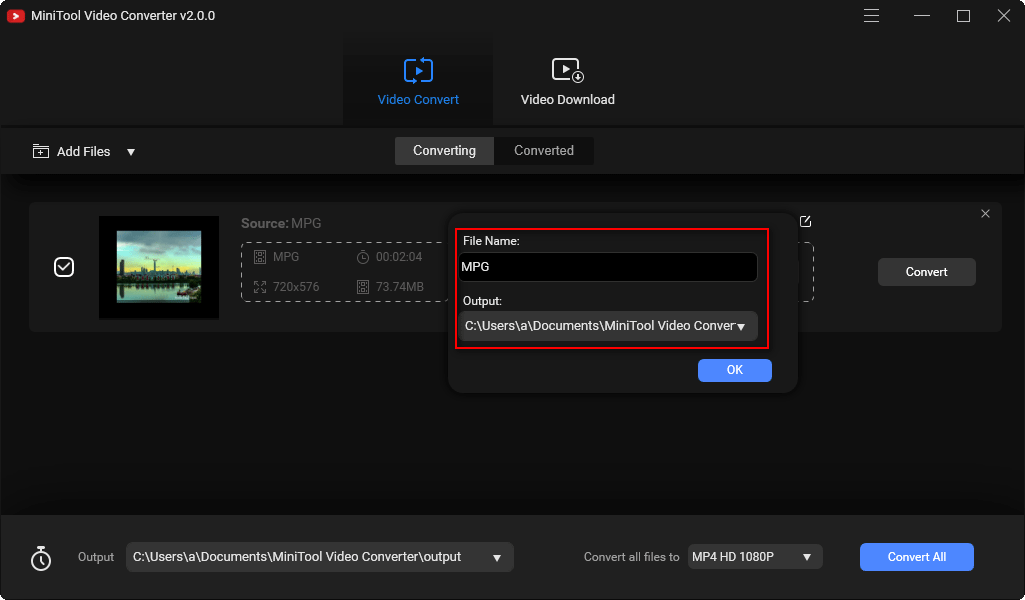 #3. Online MPG to MP4 or MP4 to MPG Converter
To tell the truth, there are a lot of choices for conversion from MP4 to MPEG (or vice versa).
One: Video Converter in Chrome.
Go to this website.
Click Add to Chrome.
Go to a certain page to start conversion.
Click on the Open file button (you can also click Google Drive, Dropbox, or URL).
Select the target MPG file and click Open. Then, wait for the uploading process.
Choose MP4 under Video as the target format.
Click on the Convert button and wait for the conversion to end.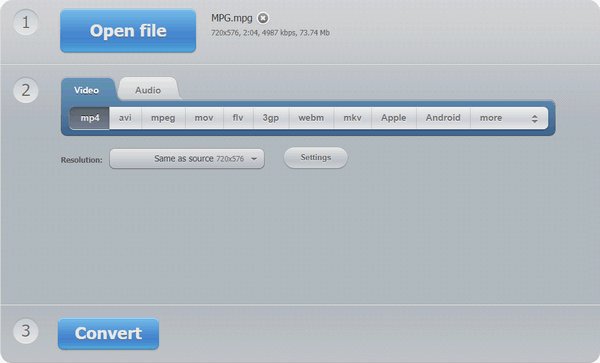 Two: Convertio Video Converter.
Visit this page.
Click Choose Files -> select your MPEG file -> click Open.
Look for the arrow after the word "to" and click it to open the drop-down list. Then, choose MP4.
Click on the Convert button and wait for a while.

There are also many other third-party tools that you can use as MP4 to MPEG converter (the list is in random order).
Freemake Video Converter
Any Video Converter
VideoProc
DivX Converter
Wondershare UniConverter
HandBrake
Etc.
Conclusion
Though MPG (also known as MPEG) is widely used in videos and online movies, it can't be supported by certain programs. Because of this, people need an MPG converter to convert MPG video to another file format (such as MP4). This article covers mainly 4 aspects: MPG file format introduction, MPG vs MPEG (MPEG vs MPEG4), how to open MPG file, how to convert MPG to MP4 (or another format). Please leave a short message below if you still have problems.