Are you looking for an OGG converter that can help you convert MP3 or other formats to OGG? If yes, you should read this post carefully. This post gives you 6 best OGG converters for Windows (including MiniTool Video Converter) and Mac and 2 best online OGG converters.
What Is OGG
OGG is a container format developed by Xip.Org Foundation and the name is derived from "ogging", jargon from the computer game Netrek. This lossy format is designed to offer efficient streaming and used to store audio, video, text and metadata.
If you need to convert files to OGG audio format, here offer you 8 best OGG converters.
Here's a list of 8 Best OGG Converters
Freemake Video Converter
MiniTool Video Converter
Switch Audio Converter
Leawo Video Converter
VLC Media Player
MediaHuman Audio Converter
Convertio
Online Audio Converter
Best OGG Converters for Windows
Have some files that need to convert to OGG format on your Windows computer? Then you should try the below OGG converters for Windows.
#1. Freemake Video Converter
The first OGG converter for Windows is Freemake Video Converter. It's one of the best conversion tools for OGG conversion. With this tool, you are able to convert audio and video files to OGG with zero quality loss. Besides that, this one lets you convert multiple files to OGG format at once.
Another wonderful feature of Freemake Video Converter is that it can download streaming videos from websites and convert the downloaded files to OGG, MP3, AVI, and other formats.
Features
It can convert between 500+ formats including OGG, MP3, MP4, WMA, SWF, MOV, etc.
It's capable of grabbing videos from Vimeo, YouTube, Dailymotion, Facebook and more.
It allows you to convert video files for any device and create custom formats.
It can change video resolution from 4K to 1080p, 1080p to 720p, 1080p to 4K, 720p to 1080p, etc.
It's loaded with video editing features such as cut, join, and rotate.
It gives you a web player and embeds code to embed video to the website.
It supports ripping DVD to MP4.
#2. MiniTool Video Converter
The second one on the list of best OGG converters is MiniTool Video Converter. It not only can convert any popular format to OGG but also can convert OGG to any popular format.
MiniTool Video ConverterClick to Download100%Clean & Safe
The supported input formats are MP4, MKV, MOV, M4V, AVI, WMV, OGV, TS, ASF, DIVX, DV, MP3, WAV, OGG, AAC, AIFF, AC3, M4B, M4R, M4A, WMA, etc.
The supported output formats are MP4, MOV, MKV, WMA, XVID, ASF, DV, 3GP, FLV, SWF, VOB, MP3, WAV, M4A, AIFF, M4B, M4R, OGG, AAC, etc.
Supporting over 1,000 conversions, you can convert video or audio files to the wanted format without difficulties. If you need to convert 10 or more files to OGG at a time, this conversion tool also can do that with ultra-fast conversion speed. More importantly, MiniTool Video Converter has a built-in YouTube converter that allows you to convert YouTube videos to MP4, WebM, MP3 and WAV.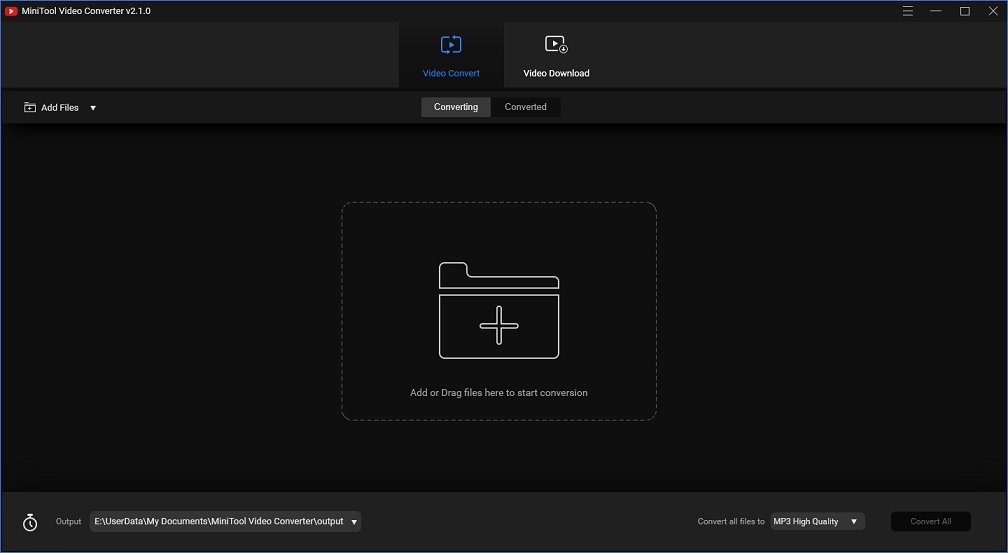 Features
It's 100% free with no bundles, viruses and watermarks.
It can handle over 1,000 video & audio conversions.
It supports batch conversion.
It offers a high conversion speed.
It can download YouTube videos in different formats.
It can convert videos for Instagram, Dailymotion, etc.
It lets you record streaming videos. (The screen recorder feature will be added in the future)
Want to convert MP3 to OGG? Try the best free OGG converter – MiniTool Video Converter!Click to Tweet
#3. Switch Audio Converter
Another OGG converter for Windows is Switch Audio Converter. It can convert an audio file from over 40 file formats into OGG or the format you want. As an OGG audio converter, it can convert the whole playlist to other formats at once and compress audio files to free up disk space. Aside from that, it enables you to edit and add metadata of audio files. This OGG file converter works on Windows, Mac OS X and Android.
Features
It's easy to use.
Over 40 audio formats (including MP3, WAV, OGG, and M4A) are supported by Switch Audio Converter.
It can batch convert audio files at once.
It's capable of extracting audio from videos.
It will preserve audio metadata during the conversion.
Best OGG Converters for Mac
This part will give you 3 best OGG converters for Mac: Leawo Video Converter, VLC Media Player and MediaHuman.
#4. Leawo Video Converter
Leawo Video Converter is one of the most powerful video converters for Mac. Supporting more than 180+ formats, it can handle any conversion you need such as MP3 to OGG, OGG to MP3, MP4 to OGG, WAV to M4A, MP3 to M4R, MP4 to WAV, etc. This video converter software can work as an HD converter that can change video resolution from 720p to 1080p, 4K.
The best part of this tool is that it allows you to trim video, crop video, add watermark, and do the color correction with the internal video editor. Leawo Video Converter is not free and it costs $29.95/Year, $39.95/Lifetime.
Features
The user-friendly interface gives users a better experience.
Any popular conversions can be done with Leawo Video Converter.
It has the capability to convert 2D to 3D.
It offers 6X faster speed when converting files.
Many frequently used video editing features are available.
It can be regarded as a photo slideshow maker to turn photos into a video.
It's compatible with Mac OS and Windows.
#5. VLC Media Player
As one of the best free and open-source OGG converters, VLC Media Player can help you convert any audio files to OGG format. Like other video converters, this one can batch convert audio files as well. In addition to file conversion, you are able to edit the videos like crop, rotate, change playback speed and more.
When using the VLC Media player, here are some useful features that you should try: download streaming videos, record desktop activities on your screen, and take a screenshot.
Features
It's free and open-source, available for all operating systems including Mac OS, Windows, Linux, Android, iOS, Chrome OS and so on.
It supports almost all video and video formats.
It can rotate video, crop video, resize video and speed up video.
It can stream and download online videos from websites.
It allows you to record online videos.
#6. MediaHuman Audio Converter
This is another free audio converter for OGG conversions. Besides supporting OGG format, MediaHuman can be used to convert audio files to other formats like MP3, WMA, AAC, WAV, FLAC, Apple Lossless format, etc. If the audio track you want to convert lacks the cover art, then this tool will search for the covers using internet services.
After the conversion, if you want to play the converted file in iTunes, you have the option to add the file to the iTunes multimedia library.
Features
It has a simple and intuitive interface.
It's free available for Mac OS and Windows.
It can convert between all popular audio formats.
Multiple audio files can be converted into OGG format simultaneously.
It can separate audio from video.
It can keep the folder structure and search for album art.
It supports automatic CUE splitting.
You might be interested in this post: How to Convert WAV to OGG for Free (Windows/Mac/Online)
Best Online OGG Converters
Now, you know the best OGG converters for Windows and Mac. What if you want to convert OGG files without any software? Don't worry, this part is going to give you 2 best online OGG file converters. With them, you can convert OGG files on any operating system.
#7. Convertio
Convertio is an online OGG converter that allows you to convert video, images, documents, eBooks and audio files from multiple sources such as Local, Dropbox, Google Drive and URL. This conversion tool supports over 25,600 different conversions and you can definitely get the wanted result.
Note: The maximum file size is 100 MB.
Features
It's web-based and free to use.
More than 300+ formats are supported.
You can load files from multiple sources.
Advanced options like quality, aspect ratio, codec are provided.
#8. Online Audio Converter
Online Audio Converter is another online OGG converter to perform OGG conversion. It gives you 4 options to upload files and offers you 8 output audio formats including MP3, WAV, iPhone ringtone, M4A, FLAC, OGG, MP2 and AMR. More than that, you are allowed to change bitrate, sample rate, reverse audio, fade in/ out audio and edit track info before the conversion.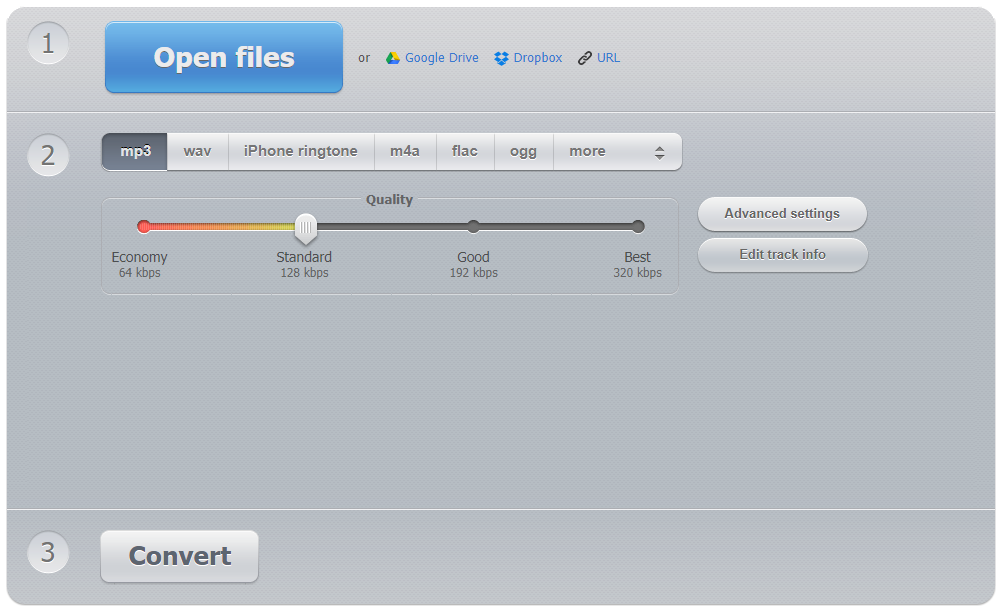 Features
It can import files from Local, Google Drive, Dropbox and URL.
It supports commonly used audio formats.
It can work as a music tag editor that lets you edit the metadata of an audio track.
How to Convert Audio to OGG
After knowing the top 8 best OGG converters, let's take a look at how to convert audio to OGG with MiniTool Video Converter.
Step 1. Download, install and launch MiniTool Video Converter on your PC.
MiniTool Video ConverterClick to Download100%Clean & Safe
Step 2. Go to the Add Files button and click on it to import the audio file you want to convert.
Step 3. After adding the file to MiniTool Video Converter, you can click the Convert all files to box and the output format window will pop up.
Step 4. From the pop-up window, you need to switch to the Audio tab and choose the OGG as the output format.
Step 5. After that, tap on Convert to convert this file to OGG.
Step 6. When the conversion is done, you can find the result in the Converted section.
Conclusion
To sum up, if you have multiple large files that need to convert, you should try MiniTool Video Converter or MediaHuman. If you don't convert files frequently, here recommend Convertio and Online Audio Converter.
If you have any questions about MiniTool Video Converter, please contact us via [email protected] or leave a reply!
OGG Converter FAQ
How to convert OGG to MP3?
Choose an OGG to MP3 converter like online-convert.
Go to the Audio Converter tab and choose Convert to MP3.
Upload the OGG file to the Online-Convert website.
Start the conversion, and later you will get the MP3 file.
OGG vs MP3, which is better?
The answer is that OGG is better than MP3. OGG has a smaller file size and better audio quality than MP3. Moreover, OGG is a free and open format while MP3 is restricted by copyright.
How to convert OGG to MIDI?
Visit the AnyConv website.
Import the OGG file from your computer.
Press the Convert button to convert OGG to MIDI.
After the conversion is finished, download the MIDI file from the website.
What are the best free audio converters?
Here are some best free audio converters available for you: VLC Media Player, MiniTool Video Converter, Handbrake, Format Factory, MediaHuman, and Online Audio Converter.