You download some videos from the internet but find they are saved in M4S format. This post gives you a brief introduction to M4S and shows you how to convert M4S to MP4 in minutes. To convert MP4 to other formats, MiniTool Video Converter is a good option.
Before starting to learn how to convert M4S to MP4, you need to know what M4S is and how to open it.
What Is M4S File
An M4S file is a segment of a video using the video streaming standard MPEG-DASH (Dynamic Adaptive Streaming Over HTTP). How to open M4S files? Some M4S files that you've downloaded from websites like Bilibili can directly be opened with your built-in video player, Windows Media Player, and VLC media player.
If you are unable to play M4S files on your computer, you can convert M4S to MP4.
MiniTool Video Converter is a powerful video converter that allows you to convert MKV, AVI, WMV, MP4, MP3, AAC, WMA, and more to any popular format free with no watermarks, no limits!
MiniTool Video ConverterClick to Download100%Clean & Safe
How to Convert M4S to MP4
You don't need to install any M4S to MP4 converters on your PC. There is a simple method that helps you turn an M4S file into MP4 format in seconds.
Here's how:
Step 1. Find the M4S video on your computer.
Step 2. In the top menu bar, open the View tab. Then check the File name extensions box in the Show/hide section.
Step 3. Right-click on the M4S file and select Rename from the popup menu.
Step 4. Change the file extension from .m4s to .mp4 and save the change.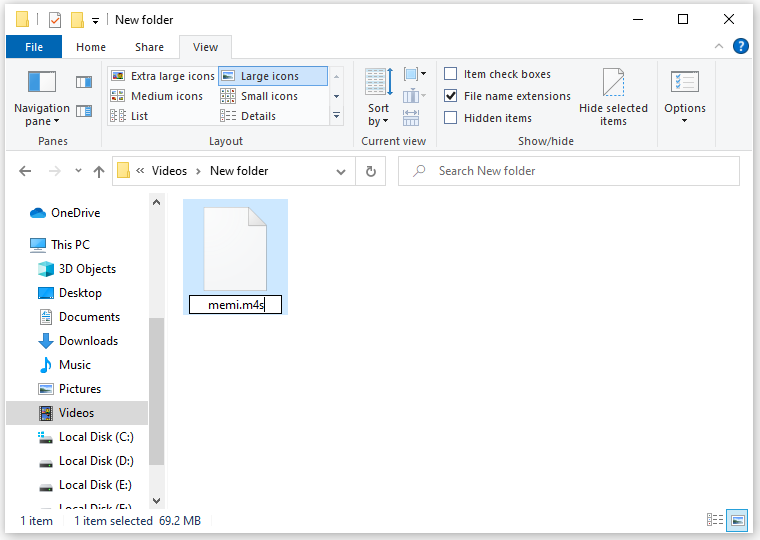 Step 5. Then check the video and see if it can be played.
How to download embedded videos to MP4? See this post: The Top 4 Ways to Download Embedded Videos.
Batch Convert M4S Files into MP4
If you want to convert multiple M4S segmented files into MP4, you can use Format Factory. It can batch convert M4S to MP4 at once.
Here's how:
Step 1. Open Format Factory and click MP4 in the Video tab.
Step 2. Select the M4S videos and import them to Format Factory with the drag and drop. Note: M4S can't be imported successfully if you click the Add File button.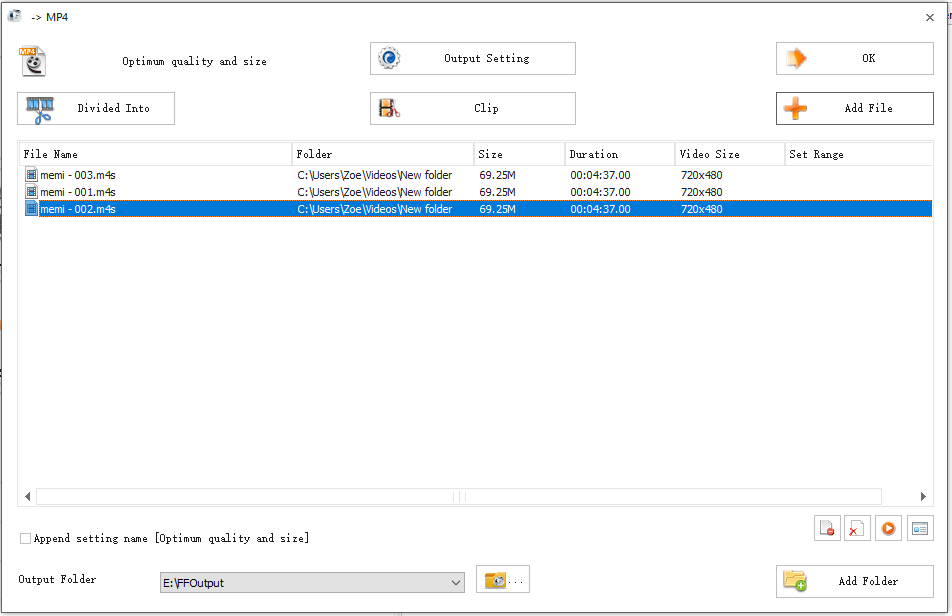 Step 3. Click OK to proceed to the next step.
Step 4. Click the green Start button to convert M4S to MP4.
Step 5. Once finished, click the folder icon to open the output folder and check the converted videos.
Record M4S Videos in MP4
If the above methods don't work, you can use MiniTool Video Converter to record M4S videos in MP4 format without losing quality!
MiniTool Video ConverterClick to Download100%Clean & Safe
Run MiniTool Video Converter.
Tap on Screen Record > Click to record screen.
Enable the system audio and click the Record button.
Play the M4S video with VLC media player in the full screen mode.
When the M4S video is finished, press the F6 key to end the recording.
Related article: 7 Best Free Ways to Record a Live Stream
How to Combine M4S Segments into One
After converting M4S files to MP4, you may want to combine these segments files into one. MiniTool MovieMaker is a video merger that allows you to merge videos into one at a very fast speed. It's also a video editor with editing tools like splitting, trimming, reversing, etc.
MiniTool MovieMakerClick to Download100%Clean & Safe
Conclusion
That's all about how to convert M4S to MP4. If you have any suggestions, please share in the comments section.