M2TS format is commonly used to store high-definition videos on Blu-ray Disc and AVCHD. Many media players can't play it. To make it compatible with your device, converting M2TS to MKV is a good option. This post mainly discusses how to convert M2TS to MKV without quality loss.
Part 1. How to Convert M2TS to MKV
Below are the 4 best M2TS to MKV converters. In this part, I will show you how to use them to convert M2TS to MKV step by step.
MiniTool Video Converter
To do M2TS to MKV conversions, I strongly recommend you to use MiniTool Video Converter. It's a professional video converter and audio converter. Supporting a wide range of video &audio formats including M2TS, MKV, MP4, AVI, MP3, and others, MiniTool Video Converter can handle the most popular video and audio conversions including M2TS to MKV, MKV to M2TS, M2TS to MP4, and others.
It supports batch conversion that can convert multiple videos and audio files into the same format or different formats at once. It also supports changing video quality, resolution, frame rate, bitrate, and encoder during conversions.
Different from other video converters, MiniTool Video Converter has two special features: Video Download and Screen Record. You can download videos and music from YouTube. And record computer screen with the system audio or audio from a microphone.
Take the following steps to convert M2TS to MKV.
Step 1. Download MiniTool Video Converter, run the installation package, and follow the on-screen instructions to complete the installation. Then open this program.
Step 2. Click Add Files to import the M2TS video file from your computer.
Step 3. After adding the M2TS file, click this icon to open the output window. In the output window, click Video. Then select the MKV format and choose the wanted video quality that you want to save the video in.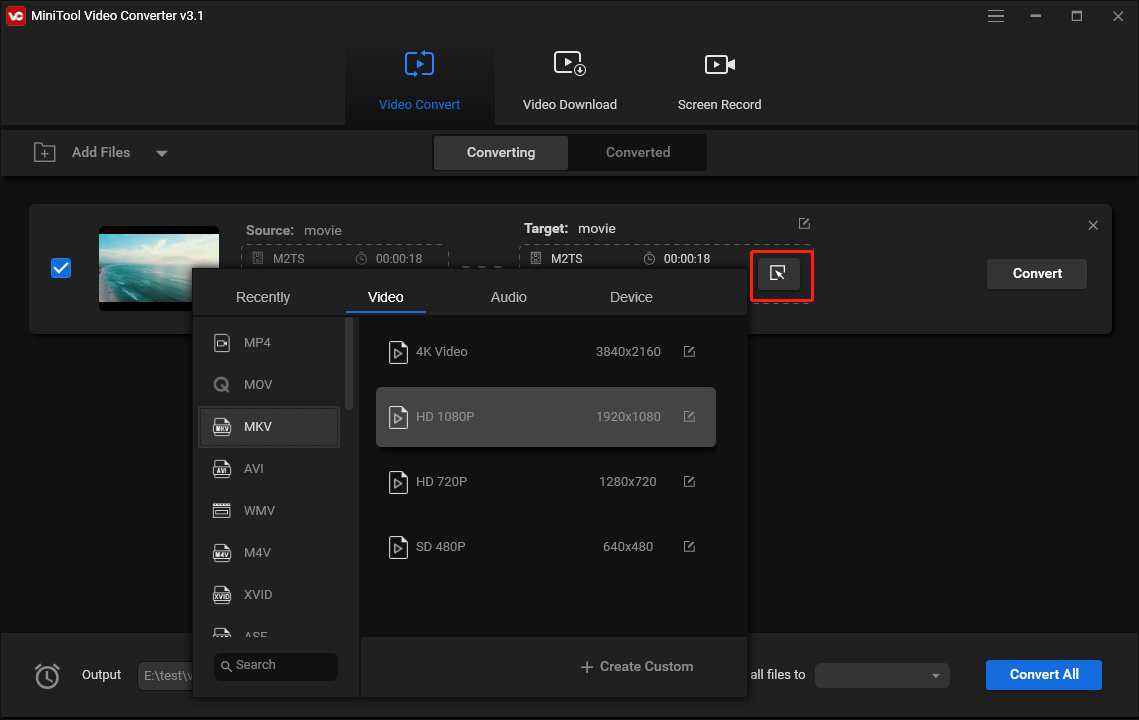 Click the Edit icon next to the Target. In the popup window, you are able to edit the file name and change the output folder. To change the save path, you can also go to Output in the lower-left corner and click the down arrow icon. Choose Browse to change the save folder.
Step 4. Click the Convert button. MiniTool Video Converter starts converting the M2TS video to MKV.
Step 5. Once done, you can find the converted video file in the Converted section. Click Show in folder to locate the MKV file on your hard drive.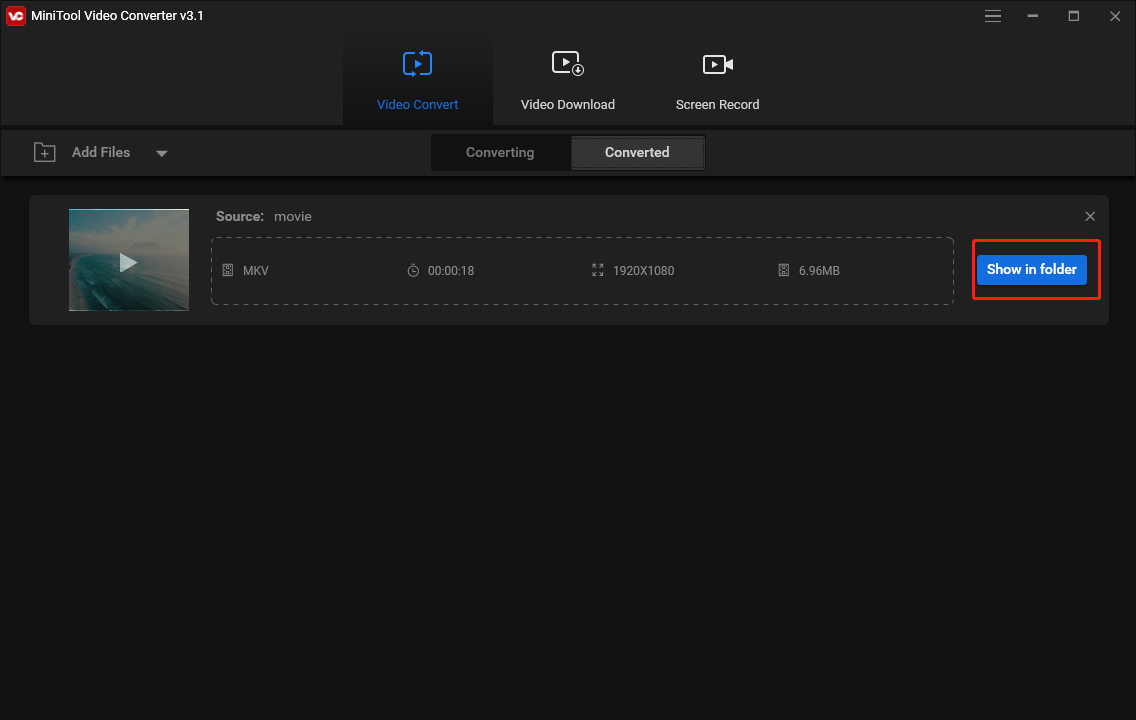 Main Features:
Free with no ads and no watermarks
Batch conversion support
Support video downloading and screen recording
Downscale 4K video to 1080P
Extract audio from video
Convert audio to video
Fast conversion speed
HandBrake
MiniTool Video Converter is an M2TS to MKV converter for Windows. If you want to convert M2TS to MKV on Mac or Linux, HandBrake might be a good option, which runs on Windows, Mac, and Linux.
HandBrake is an open-source video converter that can convert any common video format into MKV, MP4, or WebM. It has a simple &intuitive interface but comes with many options. It has a variety of built-in presets optimized for devices, web, Matroska, and production. It also allows you to create a new preset if needed.
In addition to converting videos, HandBrake lets you set the output display size, apply filters to video, add a new audio track to video, burn subtitles into video, add chapters to video, and so on.
Here's how to convert M2TS to MKV using HandBrake.
Step 1. Open the HandBrake website. Click Other Platforms and choose the right version for your operating system.
Step 2. Finish the installation and launch the HandBrake app.
Step 3. Under the Source Selection, click File, select your M2TS video, and click Open. Or drag and drop the M2TS file from the folder into the program.
Step 4. After loading the M2TS video, go to the Summary tab and click the Format box to display the output format list. Then select MKV from the drop-down list.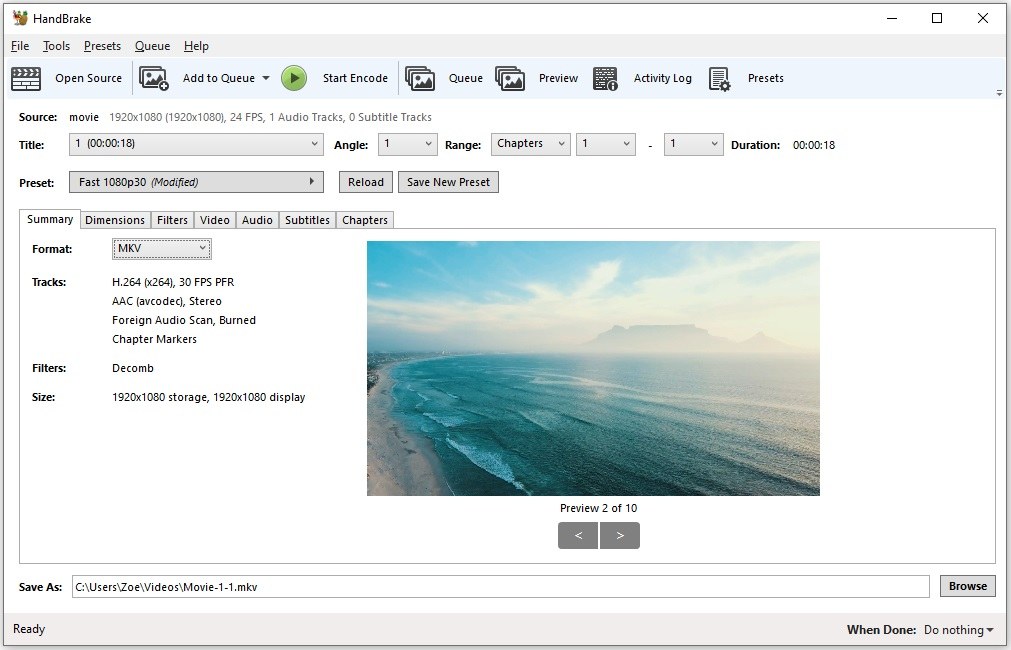 Step 5. Click Browse in the lower right of the window to specify a default save folder. If you want to crop the video, click Dimensions and set the video's width and height.
Step 6. Tap on Start Encode to convert M2TS to MKV.
Related article: Is HandBrake Safe & What Are Its Best Alternatives
Leawo Video Converter
This is an all-in-one video converter for Windows and Mac. It lets you convert video and audio between 180+ formats such as M2TS, MKV, MP4, MOV, AVI, MP3, AAC, FLAC, AC3, etc.
Leawo Video Converter can function as an HD video converter and 4K video converter. It preserves the original quality when you convert HD, 4K videos. Powered by GPU-accelerating technology, this software can convert video and audio files at 6X higher speed, which saves you a lot of time.
Aside from that, Leawo Video Converter supports 2D to 3D conversion and offers you a 3D depth range and 6 different 3D models. It provides a number of video editing features such as trimming, cropping, noise elimination, color correction, and watermarking, which makes it stand out from other video converters.
The free version of Leawo Video Converter can only convert for 5 minutes. A one-year license for one PC costs $29.95/Year. A lifetime license for one PC costs $39.95. If you want to convert M2TS to MKV for free, you can use MiniTool Video Converter.
Here's how to use Leawo Video Converter to convert M2TS to MKV on Windows.
Step 1. Go to the Leawo website and download Leawo Video Converter. Install it on your computer and run it after finishing the installation.
Step 2. Tap on the Convert tab and click Add Video. From the drop-down menu, select Add Video and import the M2TS video that you want to convert.
Step 3. Click on Output Profile and click Change to change the out format from MP4 to MKV.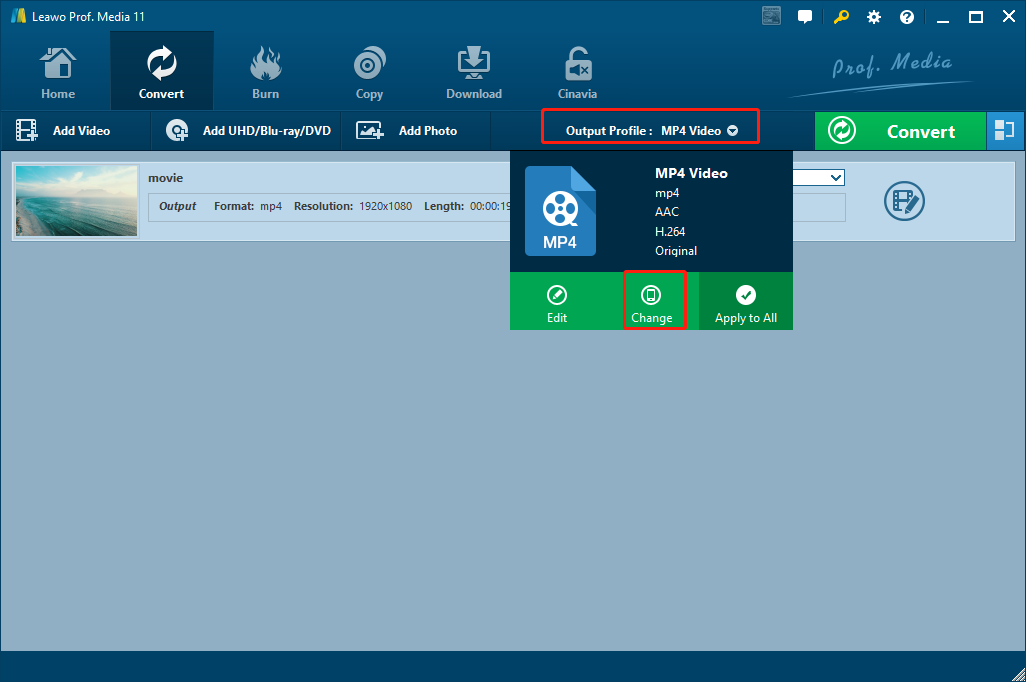 Step 4. In the Common Video tab, choose MKV Video. To edit the output profile, click MKV Video > Edit and you are able to change the video codec, bit rate, resolution, frame rate, and aspect ratio. When you are done, click OK to save the changes.
If you want to edit your video, you can click the Edit icon to open the built-in video editor and make edits to the video.
Step 5. Finally, click the Convert button. Change the destination folder as needed and then click Convert.
CloudConvert
CloudConvert is the last one on the list of the 4 best M2TS to MKV converters. It's free and web-based, there's no need to install third-party software on your computers. CloudConvert is not just a video converter. It also has the ability to convert audio files, images, presentations, eBooks, and other kinds of files.
This online converter gives you options to trim the start/end part of a video, add subtitles to video, and configure settings for output video & audio.
But the biggest disadvantage of CloudConvert is that you can only perform 25 conversions per day.
How to convert M2TS to MKV online for free? Take the following steps!
Step 1. Visit the CloudConvert website: https://cloudconvert.com.
Step 2. Click the download arrow next to Select File and select the M2TS file from your computer, Google Drive, Dropbox, OneDrive, or by URL.
Step 3. Click the three dots and choose MKV from the drop-down window.

Step 4. Tap on the wrench icon next to MKV and adjust the output settings. Click Okay to save the changes.
Step 5. Hit the Convert button to start the M2TS to MKV conversion. CloudConvert will take a few minutes to complete the conversion. Once finished, download the MKV file from this website.
Online converters are perfect for processing small files because most of them have file size limitations. Compared to desktop video converters, they take a longer time to complete file conversions.
Part 2. MKV vs M2TS
An MKV file is a video file stored in the Matroska multimedia container format. It supports lots of audio and subtitle tracks. MKV is not as common as MP4 format, but it's still supported by many media players including Windows media player, VLC media player, and more. It's often used for storing movies and TV shows.
A file with the .m2ts file extension is a MPEG-2 transport stream file. Videos on Blu-ray discs are saved in M2TS and most HD camcorders record videos in M2TS format.
MKV vs M2TS, which is better? MKV takes less space, while M2TS preserves high-quality resolution in videos and takes much space. What's more, MKV files are more compatible with media players.
Overall, MKV is better than M2TS.
Part 3. 4 Best M2TS Players
Since M2TS is unable to open on some devices, this part introduces serval M2TS players to you.
#1. VLC
VLC is the most popular media player that works on Windows, macOS, Linux, Android, and iOS. It plays videos and audio files in any format, streams videos from online websites, and lets you convert video & audio from one format to another.
VLC has other features that you can use such as recording, looping, downloading web videos, loading external subtitles, synchronizing video and audio, and so on.
#2. KMPlayer
KMPlayer also supports playing M2TS files without quality loss. It can play videos in 4K, 8K, UHD, 60FPS and supports other media file formats such as MKV, AVI, MP4, TS, FLV, OGM, WMV, MP3, etc.
Besides, KMPlayer allows you to download videos from YouTube, Instagram, Dailymotion, convert a video into image sequence, play online videos, etc.
This video player runs on Windows, Android, and iOS.
#3. SMPlayer
Another video player that can open M2TS files is SMPlayer. It's a free video player for Windows, macOS, and Linux, supporting all video and audio formats. It can play YouTube videos and download subtitles for movies.
SMPlayer is a great M2TS player but its user interface is outdated.
#4. 5KPlayer
This is a free music and video player for Windows and macOS. It not only can play 4K/5K/8K/HDR/360 videos but also allows you to watch online streams. It supports 300+ video & audio hosting sites and lets you download videos and music from these websites.
Conclusion
When you can't open M2TS files on your device, converting them into MKV format could solve this problem. This post offers 4 M2TS converters and 4 M2TS players for you. Choose the one that suits you best!
If you have any suggestions regarding MiniTool Video Converter, please leave a comment below or contact us via [email protected].