TikTok, as a popular social media platform, lets you create, upload, and share short videos with others. In this post, you'll learn how to make a TikTok video. Some tips and tricks for new users are also offered for your reference. If you need a free video maker, video editor, video converter, screen recorder, data recovery program, etc. you can visit MiniTool Software website.
How do you make a TikTok video?
How do I use TikTok on my phone?
What do you do on TikTok?
TikTok becomes popular all over the world. Anyone can use it for free and register a TikTok account to create and share short videos online. You can also easily browse the trending videos from others on TikTok app on your mobile phones.
In this post, you will learn how to use TikTok to make a personalized video. An ultimate guide for beginners is provided.
Tip:
MiniTool MovieMaker
– A professional free video editor program for Windows users. You can use it to edit videos and export them in MP4 HD. Various editing features are offered. 100% clean, free, and without watermark.
MiniTool MovieMakerClick to Download100%Clean & Safe
How to Use TikTok – Tips for Beginners
1. Download TikTok
At first, go to TikTok website or Microsoft Store to download TikTok on your PC. To download and install TikTok app on mobile phones, you can go to App Store on iPhone or Google Play Store on Android.
2. Sign Up for TikTok Account
When you open TikTok for the first time, you can instantly browse videos on TikTok. However, if you want to post a video of yourself, you need to sign up for an account.
For TikTok on PC, you can click Log in icon at the top-right corner, and click the Sign up link next to "Don't have an account". Then you can make an account using your phone number or email. You can also sign up with your Facebook, Twitter, Google account, etc.
If you use phone or email to sign up, you will be asked for your birthday, phone number or email address. If you sign up with your phone, you can enter your phone number and enter the verification code. If you sign up by email, you can enter your email address and set an account password.
For TikTok app on phone, you can open TikTok and click Me icon to access the Sign up page. Follow the on-screen instructions to sign up for a TikTok account.
3. Edit Your TikTok Profile
After signing up, TikTok will automatically generate a username for you.
After logging into TikTok app, you can tap Me icon at the right-bottom and tap Edit Profile. Then you can change your TikTok username, profile photo, bio, etc.
Others can see your TikTok profile picture and posted videos by default. But you can tap the three-dot icon in the Edit Profile window to adjust the TikTok privacy settings.
4. About TikTok Interface
Before you learn how to use TikTok to make videos, you can learn about TikTok interface first.
On TikTok main UI, you can see several tabs: For You, Following, Home, Discover, +, Me, Like, Comment, Share, etc.
For You: Browse videos that are based on the videos you interact with, e.g. the accounts and hashtags you follow, your posted videos, your location, etc.
Following: View the videos of the accounts you followed.
Discover: Find trending videos for you based on TikTok's algorithm.
+: Start to make a video of your own.
Me: Edit your profile and privacy settings.
On the right side of the video, you can like, comment, or share the video. You can also click the profile photo to view the home page of the TikTok user.
If you like the videos of a specific video creator, you can click the plus sign on his/her profile photo to follow the creator.
You can click the Discover tab or the magnifying glass icon. Then type what you want to search in the search box like a user account or video content.
6. How Long Is a TikTok Video?
Now a TikTok video could be up to 3 minutes in length.
How to Use TikTok to Make Your First Video
Step 1. Tap the "+" button on the main interface to open your camera.
Step 2. On the recording screen, you can see a lot of video features. Before you hit Record button, you can adjust the video effects.
You can tap Flip button to change your camera direction. Tap Speed to speed up or slow down the video. Tap Filters to change the color filter of the video. Tap beauty to add an AR filter. Tap Timer to set an auto countdown time. Tap Flash to turn on or off the flash light. Tap Effects to add trending effects to the video.
Step 3. Add background music to your TikTok video. On the top of the screen, you can tap Sounds to choose the background music that you want to work in your video. Alternatively, you can also record your own sound when you record the video.
Step 4. Press Record button to start recording your video. Or you can click Upload to upload a video from your phone camera.
Step 5. After recording the video, you can make further edits to the video. For instance, trim video, add text to video, add sticker, special effect, filter, subtitles to video, etc.
Step 6. When you are done, you can tap Next. Then you can add a caption and related hashtags or accounts. You can also select a thumbnail for the video, set the privacy of the video, add your location, etc.
Step 7. When everything is done, you can tap Post to upload your video on TikTok. If you are not ready to post, you can tap the Drafts button at the bottom-left to save the video for later editing.
Step 8. If you like, you can click the Share button on your video to share it on Facebook, Twitter, Instagram, Messenger, WhatsApp, etc.
How to Duet with Others on TikTok
If you see a musical post that you like and want to duet with the creator, you can use TikTok Duet feature. Duet feature splits your screen in half and allows you to record alongside video from the creator's video. You can tap Share button next to the video and tap Duet option. Your camera will appear and then you can sing along with the video.
Tip: If you don't want to use the current TikTok account anymore and want to delete it, check: how to delete TikTok account.
How to Upload Video on TikTok on PC
If you use TikTok on PC, you can't use TikTok for PC to create a video from your camera but it lets you upload videos from PC. You can follow the steps below to upload a video onto TikTok on PC.
Open TikTok app on your PC or laptop. Log into your account.
Click the Upload button at the top-right corner.
Select the video to upload or drag and drop the video file into the specified area. The video format should be MP4 or WebM. Video resolution should be 1280×720 or higher. You can upload a video for up to 3 minutes.
After uploading, you can type a caption for the video, add related accounts and hashtags, add a cover for the video.
Set who can view this video, allow users to comment, duet, stitch or not.
Click Post to post the video onto TikTok.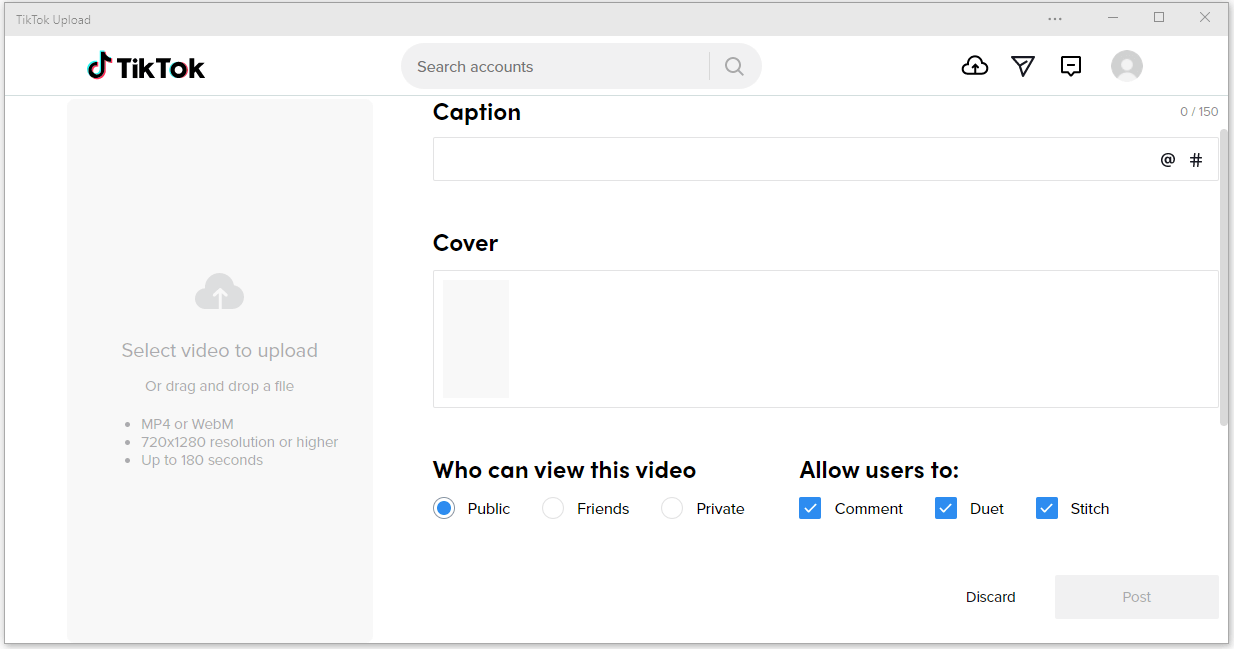 Best Free Video Converter & Screen Recorder for PC
Since only MP4 or WebM videos can be uploaded to TikTok on PC, you can use a free video converter program to convert other video formats to MP4 or WebM.
MiniTool Video Converter is a 100% clean and free video converter for Windows. You can use this program to easily convert any video file to MP4 or WebM or any other format. It can also convert any audio file.
Besides, MiniTool Video Converter comes with a built-in Screen Recorder. You can use it to record your PC screen by selecting an area on your screen. It also lets you record screen with audio, system audio and microphone audio. Therefore, you can use this application to record a video of your screen and upload it to TikTok later.
Download and install MiniTool Video Converter on your Windows computer, and check below for how to use it to convert video to MP4 and record screen on PC.
MiniTool Video ConverterClick to Download100%Clean & Safe
How to convert video to MP4
Launch MiniTool Video Converter.
Under Video Convert tab, click "+" button to load your source video.
Click Edit icon under Target section. Click Video tab and select MP4 as the output. Select a resolution.
Click Convert button to start the conversion.
Click Converted tab and click Show in folder button to check the converted video file.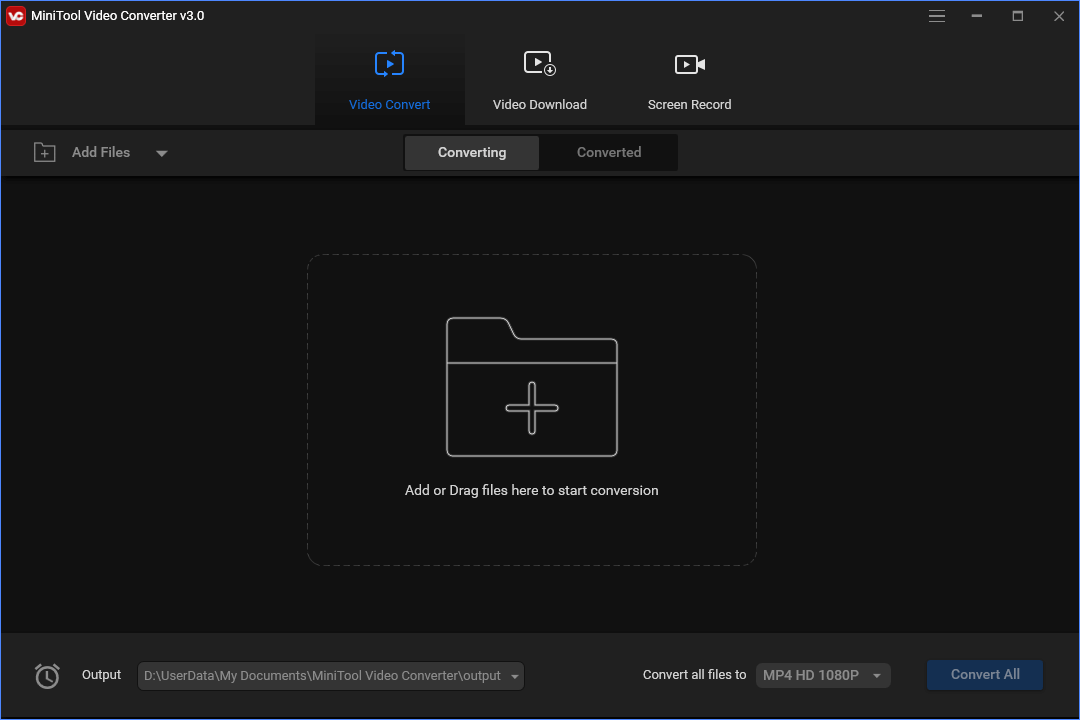 How to record screen on PC
Click Screen Record tab on the main UI.
Choose Full Screen or Select Region. Select the area on your screen you want to record its activities.
Decide whether you want to record system audio or microphone audio or not.
Click Record button to start recording a video of your PC screen.
Conclusion
This post teaches how to use TikTok to make a video, how to upload video on TikTok on PC, how to convert or record videos with MiniTool Video Converter for uploading to TikTok on PC, hope it helps.
MiniTool Software also provides users many other products like MiniTool Power Data Recovery, MiniTool Partition Wizard, MiniTool ShadowMaker, etc. You can go to its official website to download and try your favorite products.
If you have any problems with using MiniTool Software products, you can contact [email protected].