TikTok supports MP4 and MOV files. If you want to convert TikTok to MP4, this post introduces some solutions to help you do this. To convert any video or audio format for free, MiniTool Software also has a free program named MiniTool Video Converter to allow you to do that.
TikTok Video Requirements
TikTok is one of the most popular online video-sharing apps that allows you to make or upload videos, edit and share videos with others. You can also watch the videos shared by people all over the world. Various types of videos can be found on TikTok.
If you want to upload videos to TikTok, you can check the TikTok video requirements below.
Video format: MP4, MOV. Also supports AVI and GIF for ads.
Video codec: H.264.
Video resolution: 1920 x 1080.
Aspect ratio: 9:16.
Video length: 15 seconds to 3 minutes.
Video size: Less than 500MB.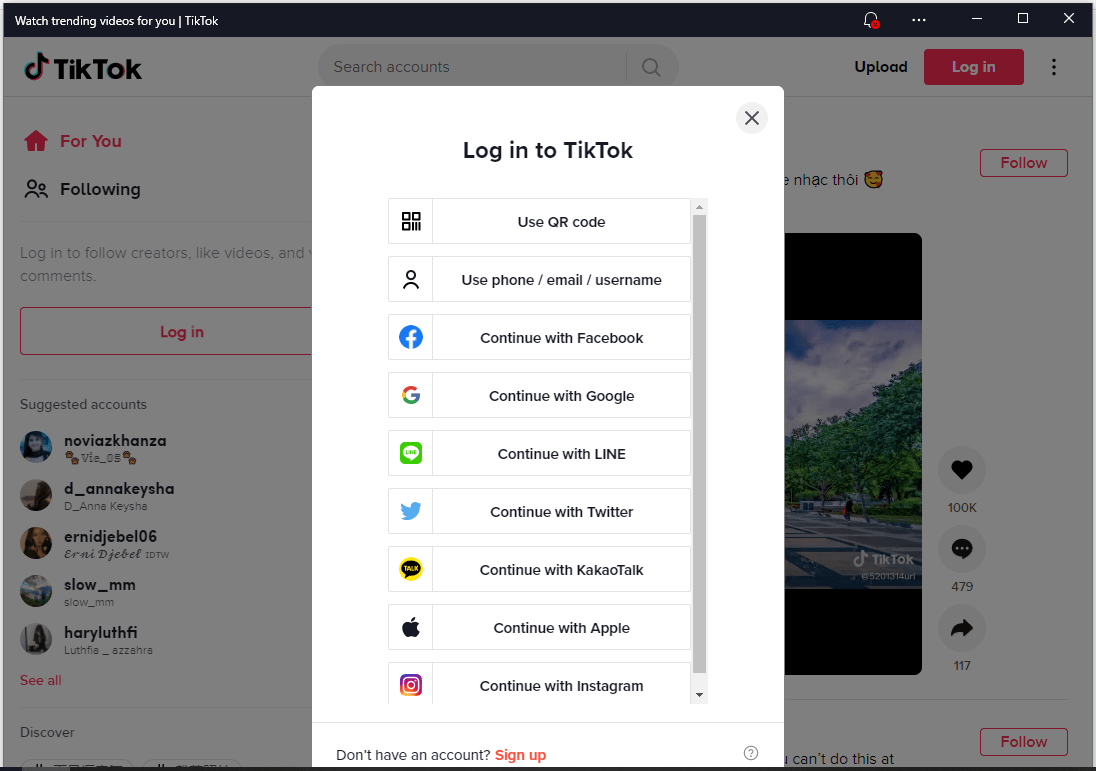 Tip:
MiniTool Video Converter
– 100% clean and free video converter for Windows. It lets you convert any video or audio format, download YouTube videos,
record screen and audio
, etc.
MiniTool Video ConverterClick to Download100%Clean & Safe
How to Convert TikTok Video to MP4
You may find some TikTok downloaders online and you can choose a reliable tool to help you download and convert TikTok to MP4. You can also download the TikTok video to your device first and then use a video converter to convert it to MP4. Below are some online tools for your reference.
https://en.savefrom.net/download-from-tiktok
https://ttdown.org/
https://ttdownloader.com/
https://www.tiktokdownloader.org/
https://snaptik.app/
https://tikmate.online/
https://www.expertsphp.com/tiktok-video-downloader.php
https://musicaldown.com/
https://qload.info/
Simple guide:
Open TikTok app on your computer or mobile after you download TikTok.
Select the video on TikTok that you want to download.
Click Share icon next to the TikTok video and click Copy link to copy the TikTok video link.
Paste the TikTok video link into one of the TikTok downloader programs above.
Click Download or alike icon to download TikTok video to your local drive.
If the downloaded TikTok video is not MP4 format, you can then use a free video converter like MiniTool Video Converter to convert it to MP4. The guide is attached below.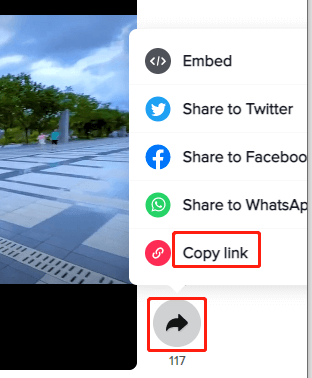 Note: We strongly recommend that you respect the copyright of the TikTok video owner to avoid involving legal issues, and ask for the owner's permission before you use the video for other purposes.
One Free Tool to Convert Video/Download Video/Record Screen
MiniTool Video Converter allows you to easily convert TikTok to MP4 or convert various videos to MP4 for uploading to TikTok.
This program can convert any video or audio file to your preferred format. It supports 1000+ formats. It also lets you download YouTube videos for free. Its Screen Record module also allows you to record your PC screen and audio. You can also use it to record your computer screen to create a video like a tutorial video to upload to TikTok.
Download and install the 100% clean and free MiniTool Video Converter on your Windows PC or laptop, and check below for how to use it to convert video format and record screen.
MiniTool Video ConverterClick to Download100%Clean & Safe
How to convert TikTok video or any other video to MP4
Launch MiniTool Video Converter.
Click + icon to load source video file.
Click Edit icon under Target section.
Select Video tab and choose MP4. Select a video resolution.
Click Convert
Click Converted tab and click Show in folder button to check the converted file.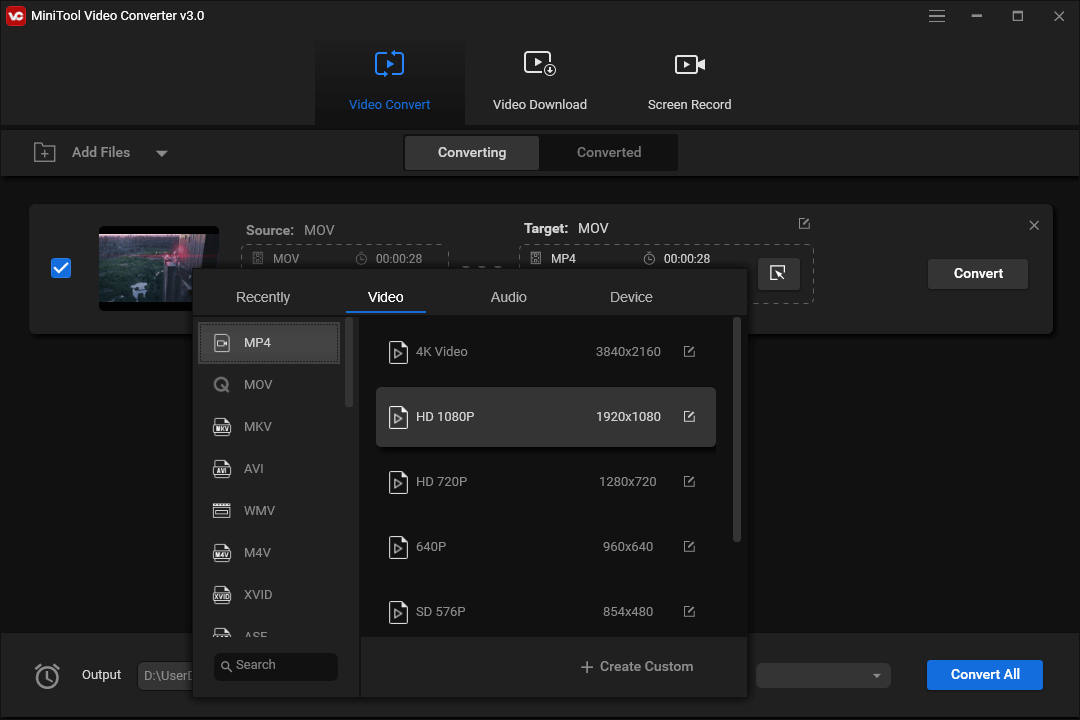 How to record PC screen to create a video for uploading to TikTok
Click Screen Record module on the main UI of MiniTool Video Converter.
Hit Click to record screen.
Choose Full Screen or Select Region. Select the area on your screen you want to record.
Click Record button to record a video in MP4.

Professional Free Video Editor to Edit Videos for TikTok
You can also use a professional video editing program to edit video footage from your cameras and phones for uploading to TikTok later.
MiniTool MovieMaker is a 100% clean and free video editor & movie maker for Windows. You can import video clips, photos, audio tracks into this program. It lets you edit the video clips, e.g. cut video, add effects and transitions, add motion effect, add background music, add titles, and more. You can also use it to create a photo slideshow by importing photos.
MiniTool MovieMaker lets you export the output in MP4, MP3, and many other formats. Try this free video editor to create personalized videos.
MiniTool MovieMakerClick to Download100%Clean & Safe
How to Fix TikTok Not Working/Opening
If TikTok is not working properly, you can try the tips below to fix the issue.
Fix 1. Clear TikTok app cache.
Open Settings on your mobile and go to Applications.
Click TikTok app and click Clear cache.
Fix 2. Restart your device and try to open TikTok again.
Fix 3. Update TikTok app. Open the app store on your phone and find if there is an available update for TikTok, if yes, click Update to update TikTok.
Fix 4. Check if your network connection is active. Restart your modem and router to restart your network.
Fix 5. Uninstall and reinstall TikTok app. You can delete TikTok app from your device and then go to app store to download and install TikTok again.
Fix 6. If TikTok is restricted in your country, you might use another VPN to get TikTok app.
Conclusion
TikTok, one of the most popular short video sharing services, lets you engage in what's new and exciting in the world. This post analyzes how to convert TikTok to MP4 and introduces some free tools to allow you to edit, convert, and create videos for TikTok. Hope it helps.
If you have issues with using MiniTool Video Converter, MiniTool MovieMaker, etc. please contact [email protected].
To recover deleted or lost videos, photos, files from PC, laptop, external hard drive, USB flash drive, SD card, SSD, etc. you can try MiniTool Power Data Recovery.
TikTok to MP4 FAQ
How do I convert TikTok to MP4?
There are some online TikTok to MP4 converters that might help you download videos from TikTok. You can search online. If the downloaded TikTok videos are MOV format, you can use the free video converter – MiniTool Video Converter – to
convert MOV video to MP4
.
How do I download TikTok without watermark?
There are some third-party programs online claim that they can download TikTok without watermark. You may try them.
Why TikTok can't save video?
It might because the video creator has set not allowing people to download his/her videos. If that's the case, you need to use a third-party application. Another possible reason might be that the video doesn't get enough likes/views. When it has enough likes, you may be able to save it.
Why TikTok is not opening?
This post provides several tips to help fix TikTok not opening or not working issue. You can check them.