What video format does the GoPro camera use? What are the differences between GoPro video formats? This post offers everything you want to know about GoPro video file formats and teaches you how to convert GoPro videos.
What Is GoPro Video Format?
Typically, video files recorded by GoPro cameras are in MP4 format (using H.264 video codec) or HEVC format (High-Efficiency Video Coding, also known as H.265). The specific format depends on your camera and recording settings.
Almost all GoPro HERO cameras use H.264 codec to record videos. These files will have a .mp4 file extension. MP4 is the most common type of video file format and MP4 files are compatible with almost all devices. They can be viewed on any media player and edited using any video editing software.
However, if you use HERO10 Black, HERO9 Black HERO8 Black, HERO7 Black, and HERO6 Black cameras, you'll find these video settings use the H.265 video codec (HEVC format).
These cameras usually record videos at 60FPS and in 4K resolution. HEVC (H.265) is a video compression standard that allows GoPro to capture large video content at approximately half the file size with the same image quality. That's why these cameras use the H.265 video codec (HEVC format). And these H.265/HEVC files use the .mov file extension.
When you insert your GoPro's memory card into your PC/Mac, you may find LRV and THM files alongside the MP4 video file.
A GoPro LRV file is a low-resolution copy of video recordings, and it's used for previewing videos on your phone using the Quick app. You can change the file extension to .mp4. A GoPro THM file is the thumbnail of the video.
Also read: PS4 Video Formats | How to Play Media Files on Your PS4?
How to Convert GoPro Video Files?
If your GoPro camera records video in HEVC format, but you don't have a compatible device to play the HEVC video footage. In this case, you should convert the HEVC video to the H.264 codec.
Here're 2 GoPro video format converters, MiniTool Video Converter and Handbrake.
#MiniTool Video Converter
MiniTool Video Converter is a free video converter on Windows. It supports a wide range of video formats and audio formats. If you need a GoPro video format converter to convert HEVC files to H.264, it's a great choice.
MiniTool Video ConverterClick to Download100%Clean & Safe
Step 1. Launch MiniTool Video Converter and click the Add or Drag files here to start conversion area to upload your GoPro HEVC video footage.
Step 2. Click the icon in the below screenshot that is marked out with a red square and click Video.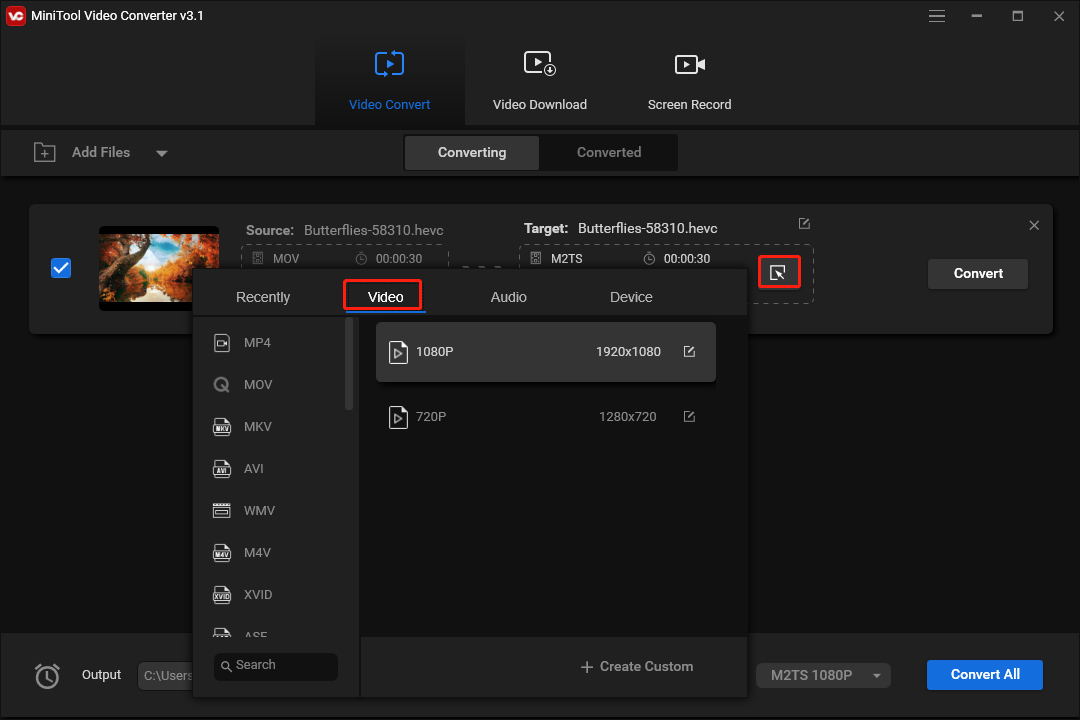 Step 3. Click MP4 and click the + Create Custom. In the Settings pop-up, set the video encoder to H264, choose quality, resolution, and frame rate, and rename this custom format. Then, click Create.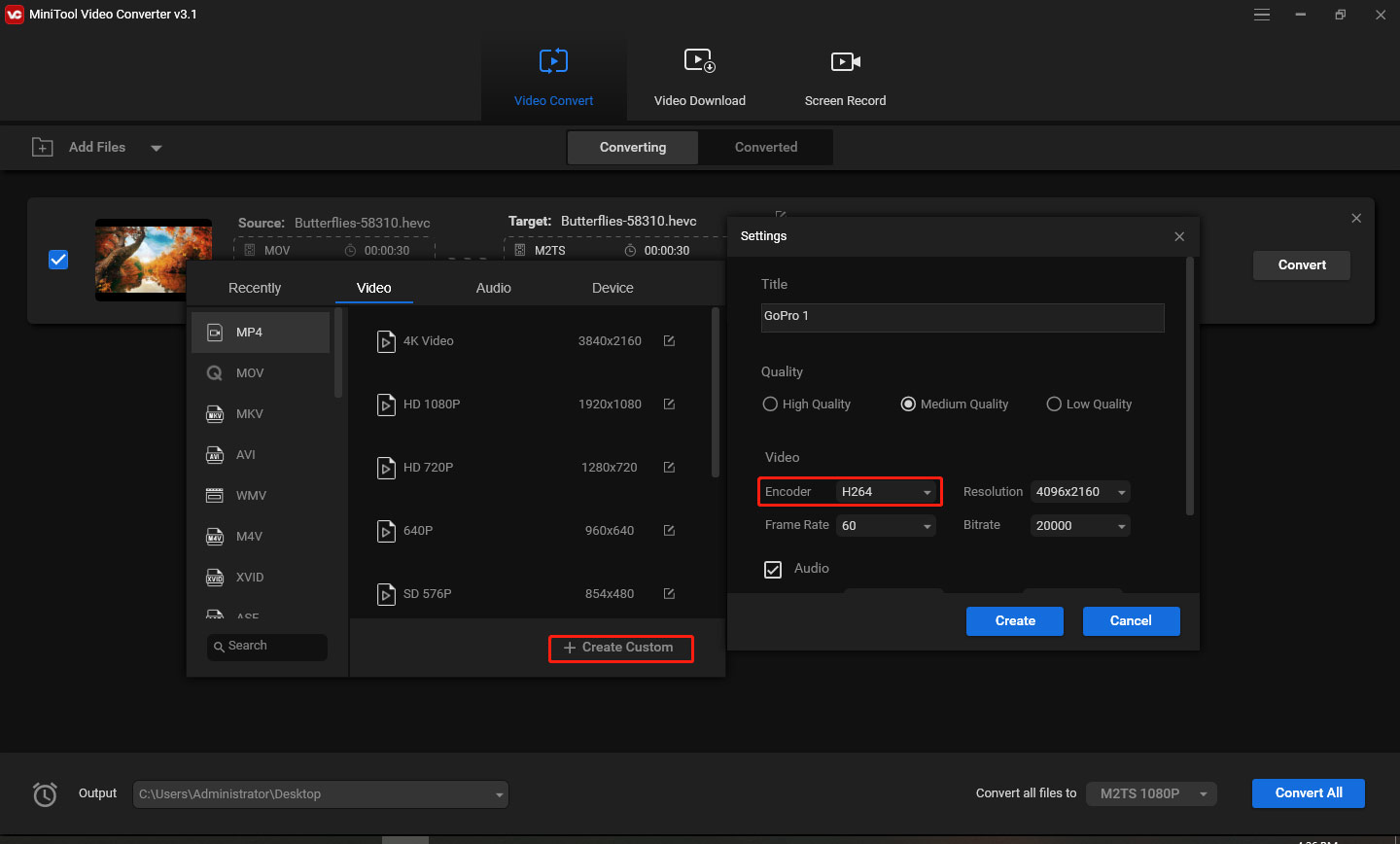 Step 4. Find and click the custom format. Then click Convert to start conversion. Once done, go to the Converted tab and click the Show in folder to locate the converted file.
MiniTool Video Converter also lets you convert videos into formats compatible with many mobile devices, record computer screens, and download videos from YouTube.
How to convert videos for mobile devices? Read this post – Best Mobile Video Converters to Convert Videos for Mobile Devices to find useful tools.
#HandBrake
HandBrake is a free and open-source video converter for Windows, macOS, and Linux. You can use it to convert GoPro HEVC videos to H.264.
Step 1. Open HandBrake on your computer and click File to add your GoPro HEVC video file.
Step 2. When the file is showing, click on the Video tab. Next, click on Video Codec drop-down menu and select H.264.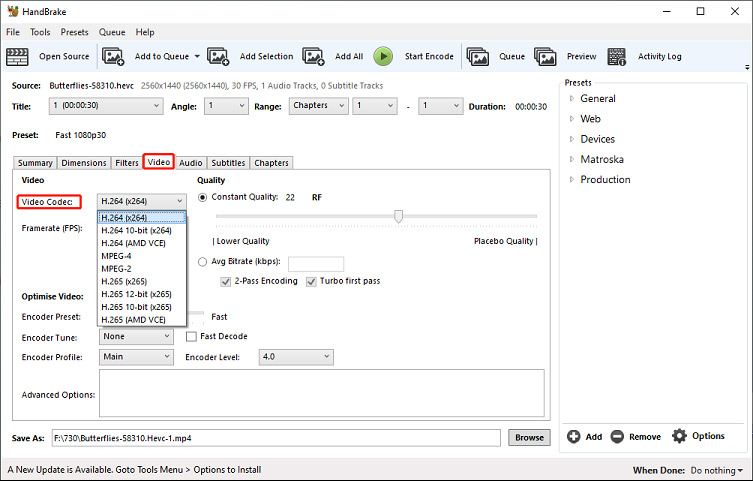 Step 3. Click the drop-down menu of Framerate and choose the Same as source.
Step 4. Choose the location to save your file and then click the Start Encode button.
You may also like: A Step-by-Step Guide on How to Edit GoPro Videos
Conclusion
Generally, there are two GoPro video file formats, MP4 (H.264 codec) and HEVC (H.265 codec). Your camera and video settings determine which format you can use. If you want to convert GoPro HEVC video footage to H.264, just follow the above steps.