Can you record WAV files? How to record wave files? Don't worry, this post will provide 5 WAV recorders to help you record WAV files with ease. Look through this post and find your favorite WAV recorder. Want to convert WAV files? Try MiniTool Video Converter.
WAV, the abbreviation of Waveform Audio File Format, is a common audio file format developed by IBM and Microsoft. This format container can store audio bitstreams on PCs and it is mainly used on Microsoft Windows for uncompressed audio files.
When you want to download a song or a piece of music or other audio files for personal use, if there is no WAV option or you need to pay for it, recording a WAV file is a solution. How to record a WAV file? This post will introduce 5 WAV recorders.
Top 5 WAV Recorders
Audacity
i – Sound WMA MP3 Recorder Pro
Lexis Audio Editor
Awesome Voice Recorder
QuickRec
#Audacity
Compatibility: Windows, macOS, Linux, and other Unix-like operating systems
Price: Free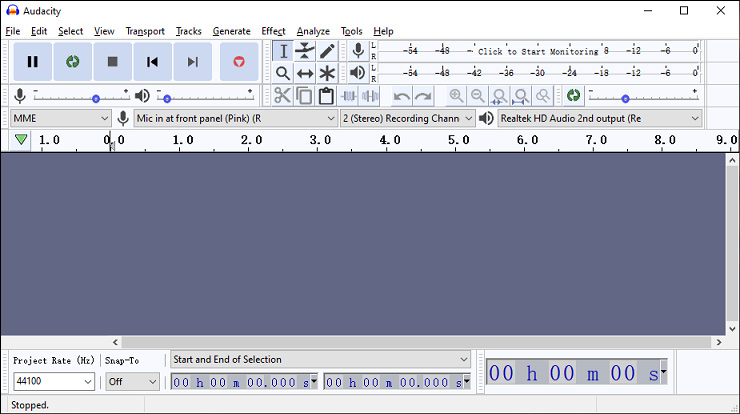 Audacityis a free and open-source audio software that can record and edit audio files. As for the recording, it can record live audio through a microphone or mixer, or digitalize recordings from other media. And it can capture streaming audio.
And it has Timer Record and Sound Activated Recording features. It also can create multi-track recordings by dubbing over existing tracks, record multiple channels, and more. After the recording, it lets you cut, copy, paste, delete, split, trim audio, apply effects, and more. And you can export the audio in WAV, AIFF, MP3, FLAC, OGG, AU formats. Thus, Audacity is the best free WAV recorder.
Also read: Solved – How to Fix Audacity Not Recording on Computer
#i-Sound WMA MP3 Recorder Pro
Compatibility: Windows, macOS
Price: $ 29.95 for i- Sound Recorder 7 (all versions)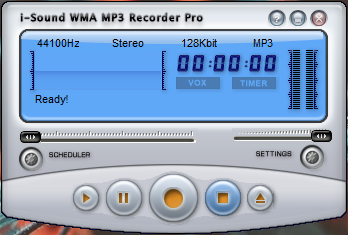 It's a paid WAV recorder and can turn your computer into an audio recorder completely. It means you can record internal and external sound into WAV and other formats like MP3, OGG, WMA, APE, etc. Also, it can record voice from microphones, record music from cassette tape, record Internet audio, record sounds from MIDI, multimedia software, web browsers, games, etc.
With the advanced recording scheduler, it lets you assign up to 100 tasks and manage them easily. And it has a built-in tag editor, offers the real-time noise reduction feature, sends a recording by e-mail directly from the recorder, and more.
#Lexis Audio Editor
Compatibility: Windows, Android, iOS
Price: Free and in-app purchases
It's another WAV recorder you can try. It can record into an existing file and mix the current file with another one. With the built-in audio editor, it allows you to cut, copy, paste, delete, trim, fade in/out the audio, reduce the background noise, etc.
On Windows, all functions and effects are available in the free version, and you're allowed to save audio in WAV, M4A, WMA format in the free version. And other supported formats on Windows include MP3, MP4 for video audio input. On Android and iOS, it supports MP3, WAV, FLAC, M4A, AAC, WMA, and MP4, 3GP, 3G2 for video audio input.
#Awesome Voice Recorder
Compatibility: Android, iOS
Price: Free and in-app purchases
Awesome Voice Recorder is an excellent voice recorder that can record in MP3, WAV, M4A format. It offers high-quality recording and supports background recording, supports mono/stereo recording, adds descriptions to voice recordings. And the recordings can be played in various media.
#QuickRec
Compatibility: Android
Price: Free and in-app purchases
QuickRec is also one of the best WAV sound recorders on your Android. It's simple and quick to start recording. You can use this recorder to record classes, meetings, music, phone calls, and more. And You'd better turn off the power saving mode for a stable recording.
Bonus: The Best WAV Converter – MiniTool Video Converter
MiniTool Video Converter is a free video and audio converter on Windows, allowing you to convert between multiple video and audio formats. If you need a WAV converter, you can try it.
This software supports WAV to most popular formats like MP3, WAV, M4A, WMA, AAC, AC3, AIFF, M4B, M4R, OGG, MP4, MOV, MKV, AVI, WMV, and more. And it also can convert various video and audio formats to WAV. Besides, it can record your computer screen and download YouTube videos, music, and playlists.
MiniTool Video ConverterClick to Download100%Clean & Safe
Conclusion
This post has introduced 5 WAV recorders to you. Now, you can choose one and record a WAV file on your computer or phone.