This article offered by
MiniTool video converting application
mainly teaches you how to get Spotify songs as MP3 file format instead of its default OGG (Vorbis) format. It recommends several reliable audio converters that suit different devices including Windows computers, Android mobile phones, and iPhones.
Spotify is a music streaming service that is popular all around the world. It enables its users to listen to their favorite songs online for free. However, if you want to download songs, tracks, playlists, albums, or podcasts offline on your devices like computers or mobile phones, you need to subscribe to Spotify Premium and become one of its members.
After successfully downloading some songs on your local device, you may further need to convert Spotify to MP3 since Spotify music file format is Ogg/Vorbis and many devices' players don't support that format. If you don't rip Spotify to MP3 or other common audio formats, you cannot play the downloaded songs offline.
Can You Download Music from Spotify to MP3?
Directly, no, you can't! Since the media file format used on Spotify is OGG Vorbis instead of MP3, you can't directly download MP3 music from Spotify. Yet, you can finally get an MP3 audio file relying on Spotify to MP3 converter.
How to Download Music from Spotify to MP3?
Just as mentioned above, you cannot download MP3 from Spotify, but you can indirectly save Spotify songs as MP3 with the help of Spotify MP3 Downloader or converting programs.
#1 Export Spotify Playlist to MP3 on Computers
First of all, let's see how to get mp3 files from Spotify on Windows PCs. To achieve that, you need a Spotify to mp3 converter free like MiniTool Video Converter.
When you legally get Spotify songs from its online library to your local hardware device, you can continue to convert them into MP3 using MiniTool Video Converter, a professional and free audio/ video conversion application compatible with all Windows operating systems including the latest Windows 11.
MiniTool Video ConverterClick to Download100%Clean & Safe
Step 1. Download, install, and launch MiniTool Video Converter on your machine.
Step 2. In the main window, under the default Converting subtab of the Video Convert main tab, add or drag the downloaded Spotify songs into the software's platform.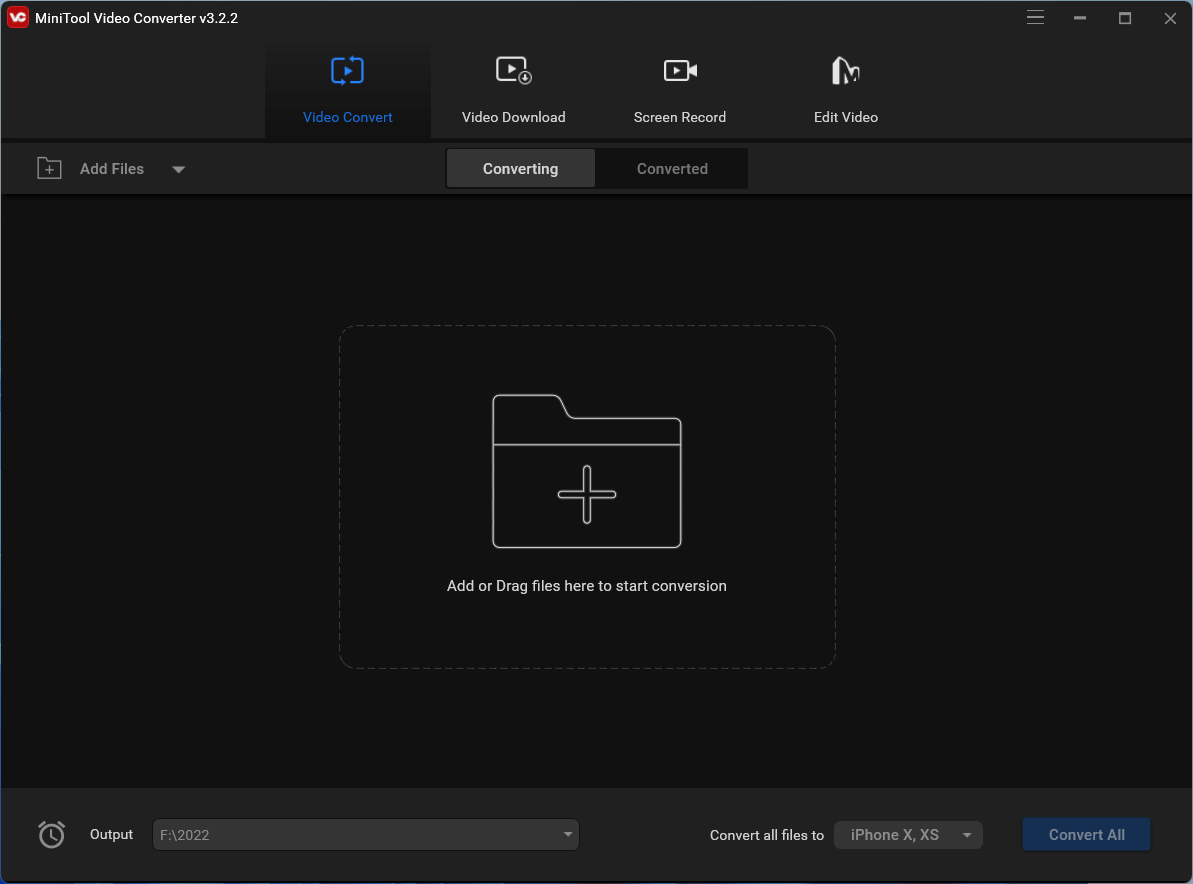 Step 3. Specify the destination path behind the Output at the bottom of the main window.
Step 4. Click the inverted triangle behind Convert all files to option to trigger the file format settings.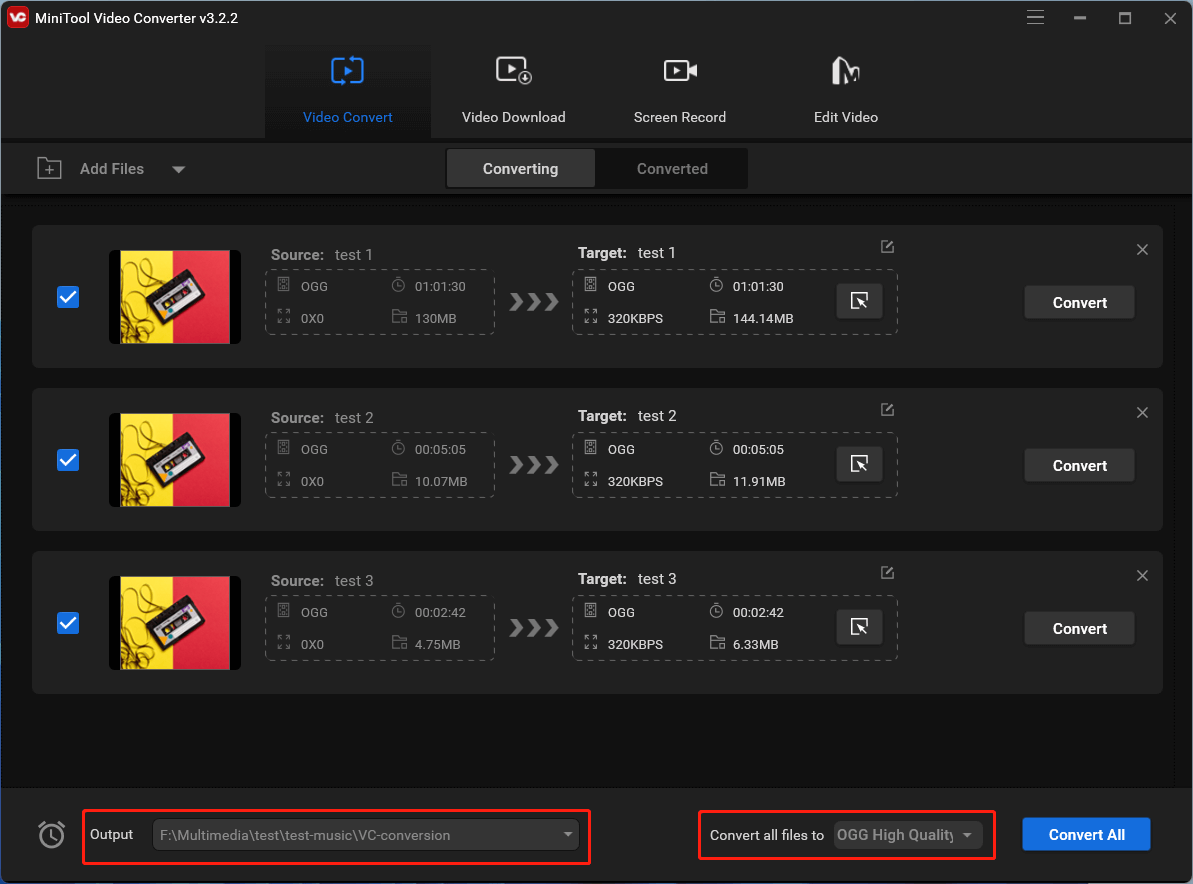 Step 5. In the new window, switch to the Audio tab on the top, select MP3 in its left menu, choose a quality option, and click the settings icon behind the option to further customize the file format. Or you can directly click Create Custom at the bottom right corner to fully personalize the output song format.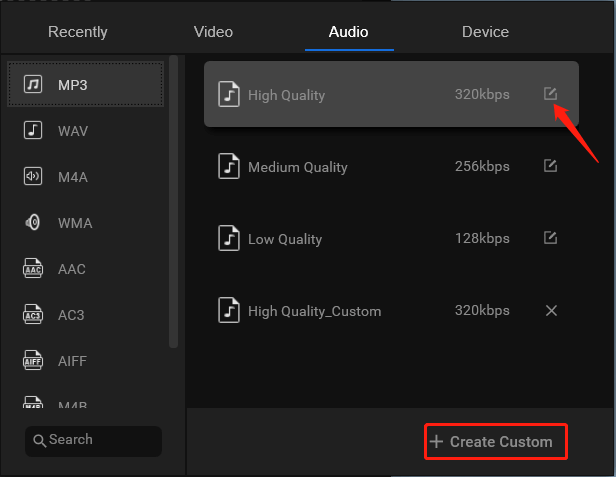 Step 6. In the next popup, you are able to change the encoder, channel, sample rate, and bitrate of the audio. When all settings are done, click the Create button to save the changes.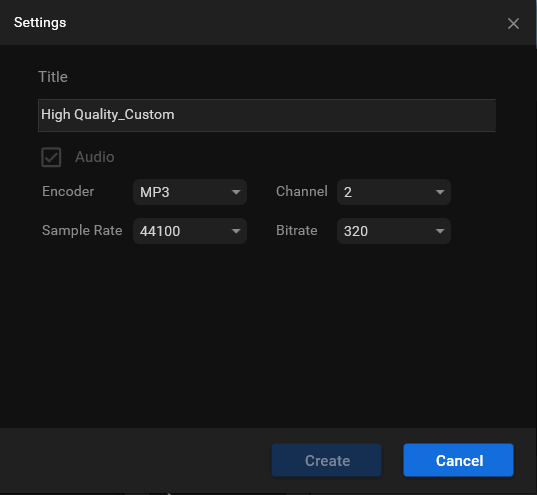 Step 7. Then, you will be directed back to the up-level window. There, just select the customized output audio file format and click the Convert All button in the main window to start the batch conversion.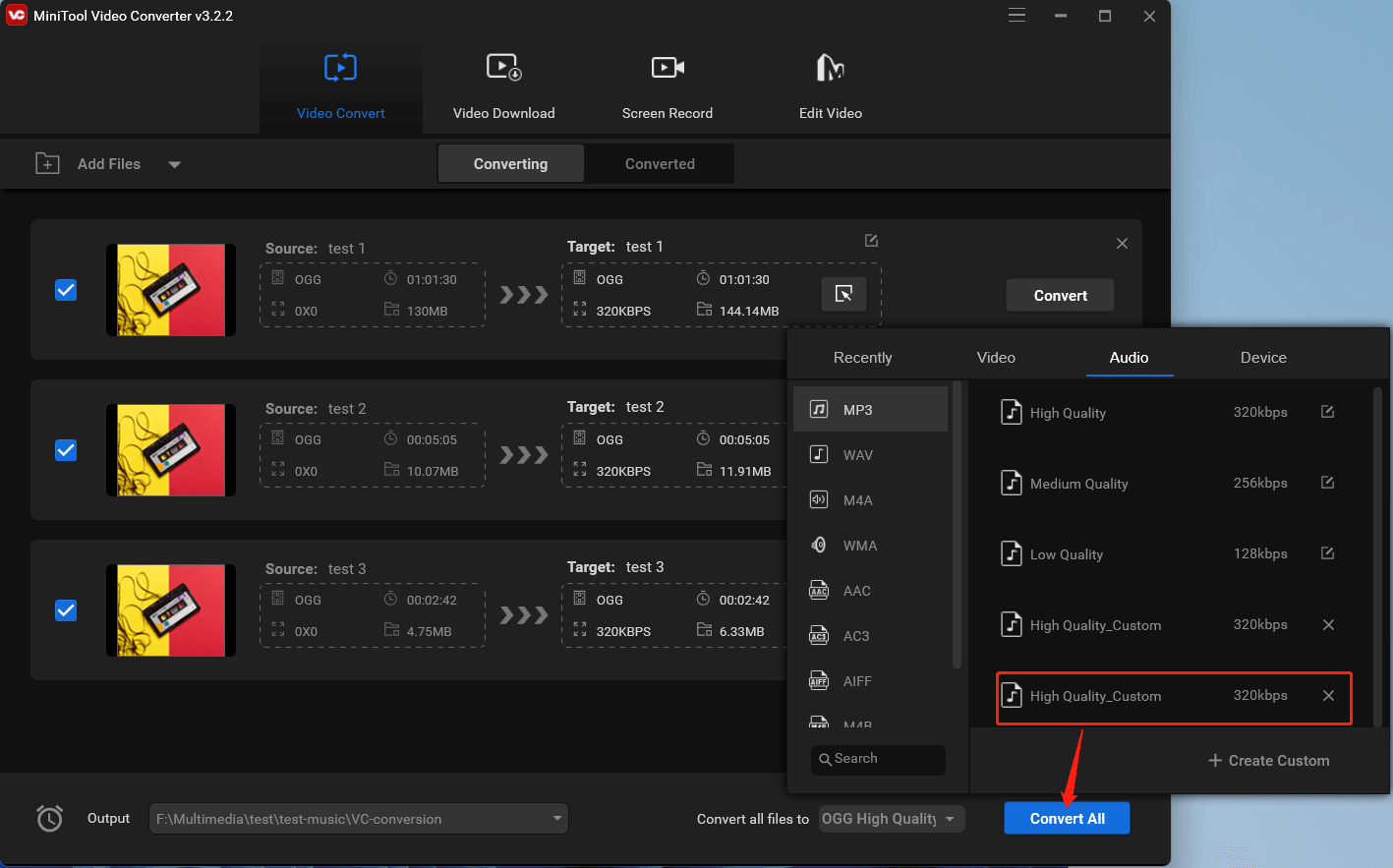 All the songs listed there will be converted to the same output format and saved to the same address on your computer as you set. Once finished, just find the converted MP3-formated Spotify songs.
Advantages of MiniTool Video Converter
Completely free
No length or time limit
No add, no bundle, no virus
Support 1000+ formats
Support batch conversion
Easy and quick to convert
#2 Download from Spotify to MP3 Mobile
If you are using a mobile device, immediately when you download your favorite music from the Spotify app to the phone, you can change the music format from OGG to MP3 with the best free Spotify to mp3 Converters.
1. Spotify to MP3 Converter Free Android
For smartphones that are running Android OS, they can rely on OGG MP3 Converter to convert Spotify to mp3 free. It is one of the easy-to-use apps. OGG MP3 Converter is a good choice for both home and business users. Besides, it also supports other audio formats like WMA, WAV, AIFF, AAC, M4A, etc.
2. Convert Spotify to Mp3 iPhone
For iOS users, they can rely on corresponding apps like OGG Converter, which can easily convert OGG files to MP3, WAV, M4A, AAC, VMA, WAV, and OPUS without any charge. OGG Converter offers high converting quality and fast conversion speed. Thus, you can freely listen to your music with any audio player.
#3 Spotify to Mp3 Converter Online
In addition to platform-specialized Spotify to MP3 converting software, you can further rely on online Spotify to mp3 converting services to help you get your purpose. The following is a list of some popular websites where you can directly upload your downloaded Spotify songs and get corresponding MP3 music after the online converting process.
https://convertio.co/ogg-mp3/
https://www.zamzar.com/convert/ogg-to-mp3/
https://cloudconvert.com/ogg-to-mp3
https://www.veed.io/convert/ogg-to-mp3
https://www.freeconvert.com/ogg-to-mp3
Record Spotify to MP3
Another indirect way to download Spotify podcasts to MP3 is to record the target Spotify songs while it is playing. Here, we can continue using MiniTool Video Converter, actually its screen record feature.
MiniTool Video ConverterClick to Download100%Clean & Safe
Step 1. In the main window of MiniTool Video Converter, go to its Screen Record tab.
Step 2. Click on the Click to record screen option in the center.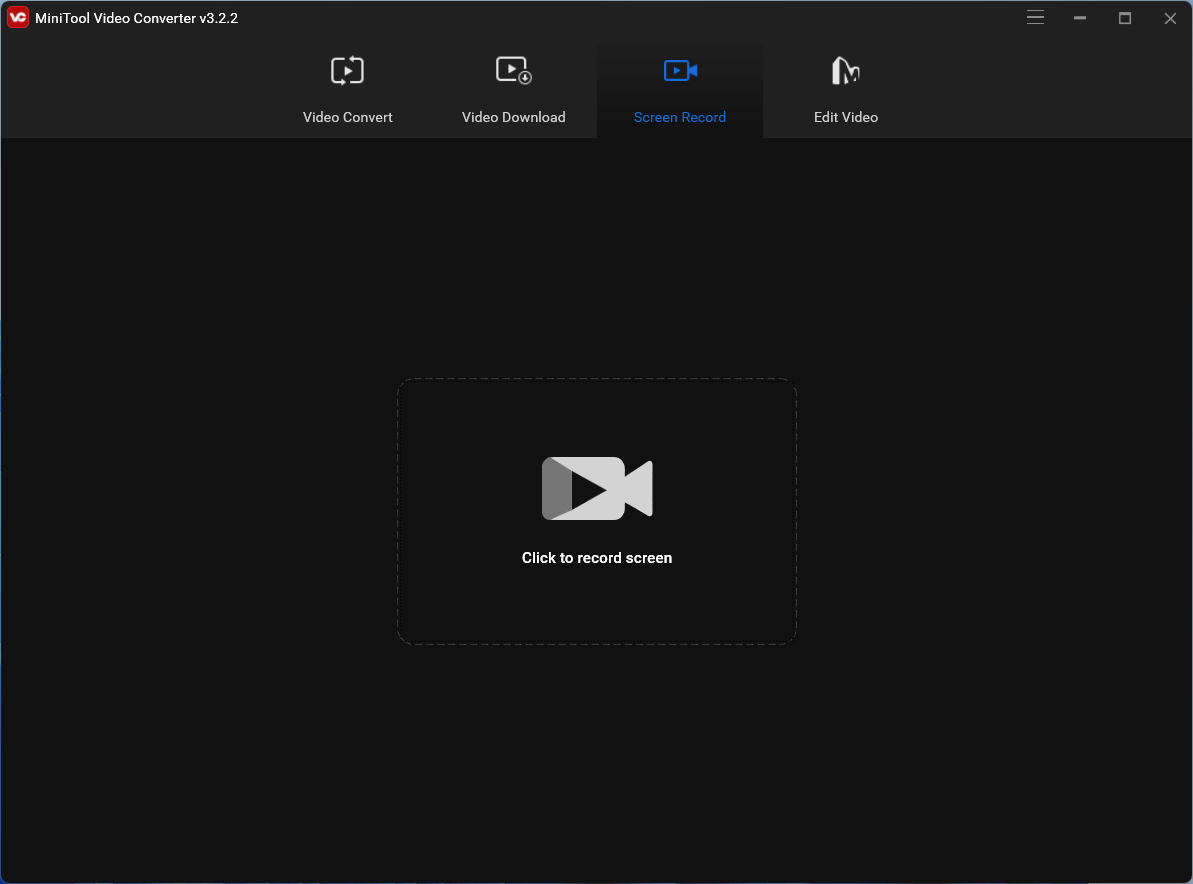 Step 3. In the next window, specify your recording area (full screen or selected region), make sure the System Audio is on, and disable the Microphone to avoid outer sound interference.

Step 4. Click the gear icon in the upper right of the MiniTool Screen Recorder window to trigger its Settings window. There, you can specify the output folder, output video format, recording mouse type, hotkeys, etc.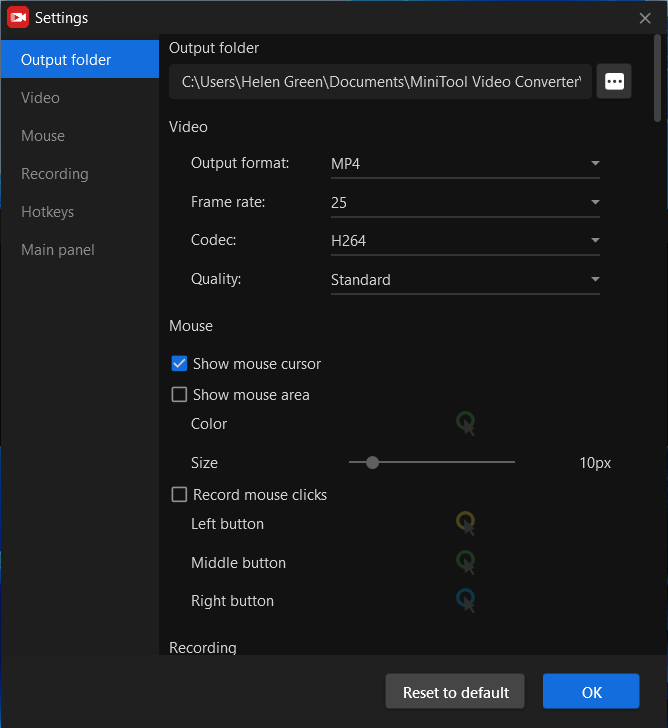 Step 5. After all the settings, click the red recording icon in the MiniTool Screen Recorder window or press F6 on your keyboard to start recording.
Step 6. Start to play the target song on Spotify.
Step 7. When the song finishes, press F6 to stop recording.
The recording is in a video format, you can convert it to MP3 audio format by closing the MiniTool Screen Recorder window and moving to the Video Convert tab in MiniTool Video Converter's main window. Just follow the guide in the above content!
In addition to video/audio converting and screen recording, MiniTool Video Converter still allows you to save YouTube videos offline by only providing their URL links.
To Wrap Things Up
How to turn Spotify songs into mp3? Generally speaking, first download the target Spotify songs with your premium subscription and then convert them into MP3 format with a professional audio converter like MiniTool Video Converter.
Also Read