If you want to know the similarities and differences between MP4 and WMV, you come to the right place. This post from MiniTool provides details about MP4 vs WMV. Besides, you can learn how to convert WMV to MP4.
Overview of MP4 and WMV
MP4
What is MP4? MP4 or MPEG-4 Part 14, is a commonly used container format for storing video, audio, and text. It allows multimedia streaming over the Internet like many other container formats. It is widely popular on different platforms. To learn more details about MP4, refer to this post - What Is MP4 and What Are the Differences Between It and MP3.
WMV
What is WMV? WMV is the abbreviation of Windows Media Video. It is a video compression format developed by Microsoft for several proprietary codecs. WMV was originally designed for Internet streaming media applications. WMV 9 has been adopted by physical transmission formats such as HD DVD and Blu-ray discs.
This post - What Is WMV (Windows Media Video) & How to Use It provides more information about WMV.
MP4 vs WMV
This part focuses on WMV vs MP4 including similarities and differences.
MP4 vs WMV: Similarities
Although MP4 and WMV are different containers, they still have something in common.
Both of them can still maintain the best quality. This is why both are considered the most commonly used container formats.
Both MP4 and WMV have very good compression capabilities, which can help you save disk space.
More importantly, both can work well with the corresponding platform.
MP4 vs WMV: Differences
MP4

WMV

Developer

Moving Picture Experts Group

Microsoft

File Size

Small

Smaller than MP4 under the same video quality.

Supported Video Formats

MPEG-2 Part 2, MPEG-4 ASP, 

H.264

/MPEG-4 AVC, H.263, VC-1, Dirac, etc.

MPEG-1, MPEG-2, MPEG-4 Part 2, MPEG-4AVC/H.264, WMV-HD, WMV9.

Supported Audio Formats

MPEG-2/4 (HE)-AAC, MP3, AC-3, Apple Lossless, ALS, SLS, Vorbis, etc.

MP3, WMA, AAC, AC3, DTS, RealAudio, PCM, etc.

Supported Media Players

Almost all media players.

Windows Media Player, RealPlayer, MPlayer, Media Player Classic, VLC Media Player, etc.

Supported Portable Devices

All portable devices such as Apple, Android, Microsoft devices, and Sony game consoles.

Microsoft devices, some Android devices, Sony game consoles; not applicable to Apple devices.
 Then, we will give details about MP4 vs WMV in 6 aspects – quality, file size, popularity, compatibility, pros, and cons.
MP4 vs WMV: Quality
The first thing that should be mentioned is MP4 vs WMV quality. This is a question often asked when choosing WMV or MP4, and it is generally believed that the quality of MP4 is better than WMV.
But in fact, it has no clear answer, because the quality of the video has nothing to do with the container format itself, but has to do with the video encoder, bit rate, and source. This means that both MP4 and WMV can contain high-quality videos.
MP4 vs WMV: File Size
Theoretically, since an MP4 file compression level is lower than a WMW file, it should be larger than a WMV file for the same video quality. But this is only true if they both use the same level encoder. The fact is that WMV still uses the old family of codecs -- WMV1, WMV2, and WMV3 -- while MP4 can use more advanced codecs, such as H.264 and H.265.
With more advanced encoders, you can achieve high-quality but smaller videos. This means that for a video of the same quality, the size of an MP4 file encoded with H.264 or H.265 might be smaller than the size of a WMV file encoded with a poor codec.
MP4 vs WMV: Popularity
As for WMV vs MP4, we have compared the quality and file size. In this part, we will mention the third factor: WMV vs MP4 popularity.
MP4 is the most popular video format that almost everyone likes and uses, especially on the Internet. WMV is also very popular, favored by Windows users and most Blu-ray and DVD collectors.
MP4 vs WMV: Compalibility
As for the video, compatibility is an important point that you may pay attention to. Thus, let's talk about MP4 versus WMV for compatibility.
MP4 has better compatibility than WMV. It's supported on almost any platform/device, from Apple to Android to Microsoft. WMV is primarily played on Windows systems. It is not supported on iOS devices and many Android devices unless you have a third-party WMV player.
Also see:
Top 4 Best MP4 Players in 2021 (Desktop & Mobile)
10 Best WMV Players & How to Open WMV Files Quickly
MP4 vs WMV: Pros
MP4
It facilitates the streaming of video over the Internet, with almost no loss of quality in the process.
It can run on all major sound card drivers and media players.
It can mix video with visual elements such as static graphics, animation layers in 2D/3D and text.
It can handle h.264 and other advanced technologies to make it more versatile.
WMV
It can contain a large amount of audio and video information in a small amount of storage space.
It is the best choice for attaching audio or video to email because it is one of the smallest audio/video format options.
It is specifically designed for Windows devices, thus it's compatible with all devices driven by Windows.
MP4 vs WMV: Cons
MP4
MP4 is a lossy file format.
MP4 files are not easy to update or edit.
Take up more disk space.
WMV
It is not compatible with other operating systems because it is proprietary to Microsoft. It is not easy to find an Apple or Linux-based media player for its files.
Sometimes video transmission will be delayed.
Just now, we have compared WMV and MP4 and some users want to know which one to choose.  There is no definite answer to choose MP4 or WMV. The choice should still be based on your personal preferences. But you need to notice that the file should be compatible with your operating system. Besides, it is best to prepare enough space for the file.
From the MP4 vs WMV part, you have known that the WMV format has worse compatibility than MP4. Therefore, many people are looking for a simple way to convert WMV to MP4 for better compatibility. Then, you can learn how to convert WMV to MP4 in the next section.
How to Convert WMV to MP4
#1. MiniTool Video Converter
MiniTool Video Converter is a free audio and video converter on Windows, allowing you to convert video to video, audio to audio, and video to audio. It's 100% free, simple to use, and won't add watermarks to the converted files. Besides, it can handle batch conversion.
What's more, MiniTool Video Converter allows you to download YouTube videos. And with the screen record feature, MiniTool Video Converter can record the computer screen activities and save the video in MP4, WMV, MKV, AVI, MOV, FLV, TS format.
Follow the below guide to learn how to convert WMV to MP4 with MiniTool Video Converter.
Step 1: Click the below Free Download button to get the installer of MiniTool Video Converter, then install it on your computer.
Step 2: Launch MiniTool Video Converter and access its interface. Then click the Add File in the upper-left corner of this screen or just click the Add or drag files here to start conversion box in the center of the screen, then upload the needed WAV files. Or just drag and drop the needed files to MiniTool Video Converter.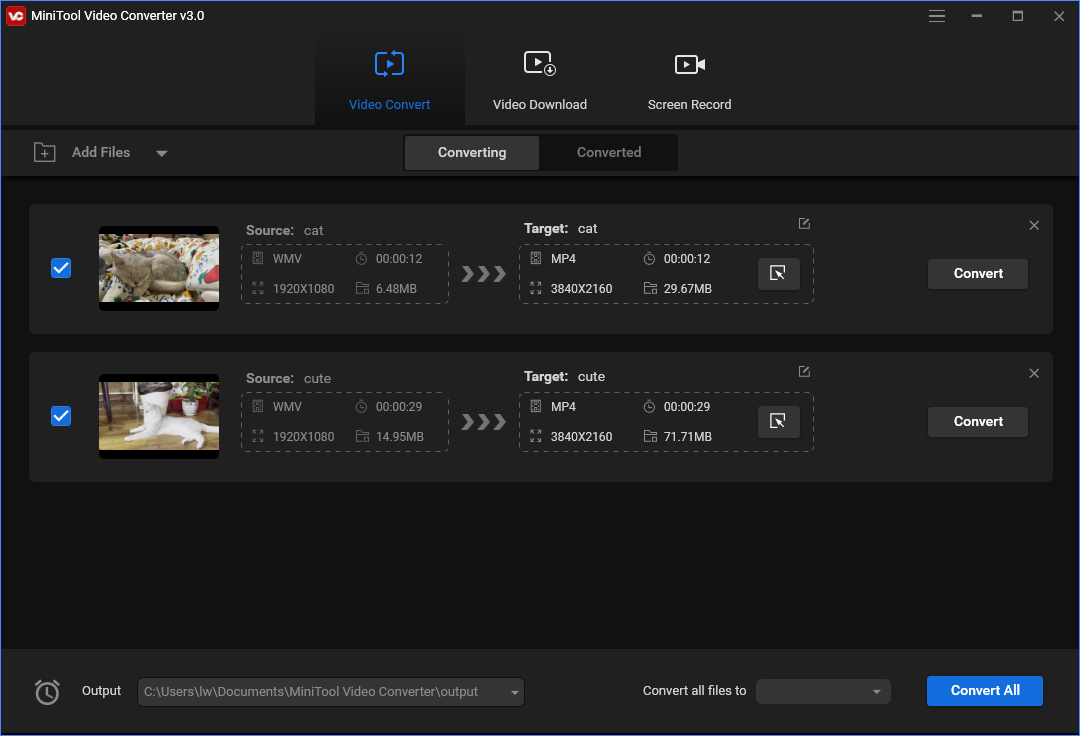 Step 3: Click the box next to Convert all files to, then navigate to the Video tab, and select WMV from the left list. Then choose the desired video quality.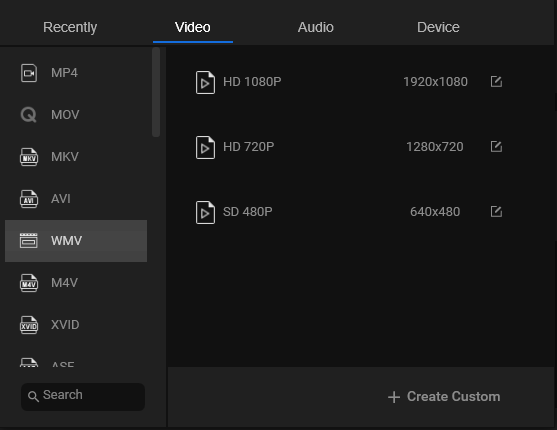 Step 4: Click the inverted triangle symbol in the Output bar, select the Browse to browse for another destination folder, or click the Same as Source Folder option.
Step 5: Click the Convert all button to start the conversion process.
Step 6: Once the conversion is finished, go to the Converted tab, click the Show in folder to check the converted files.
# 2. MiniTool MovieMaker
Another WMV to MP4 converter is MiniTool MovieMaker. As a video converter, it can convert MP4 to WMV, WMV to MP4, MKV to MP4, etc. While as a video editor, it allows you to edit videos like split, trim, reverse, slow down, speed up, add text, apply effects, add transitions and titles. This program has all the needed editing tools.
This guide will walk you through the steps for how to convert WMV to MP4.
Step 1: Free download MiniTool MovieMaker and install it on your computer.
Step 2: Double click on the software icon to launch it. Then shut down the popup window to get the main interface.
Step 3: Click Import Media Files to open the WMV file you want to convert. Drag and drop the WMV file to the timeline.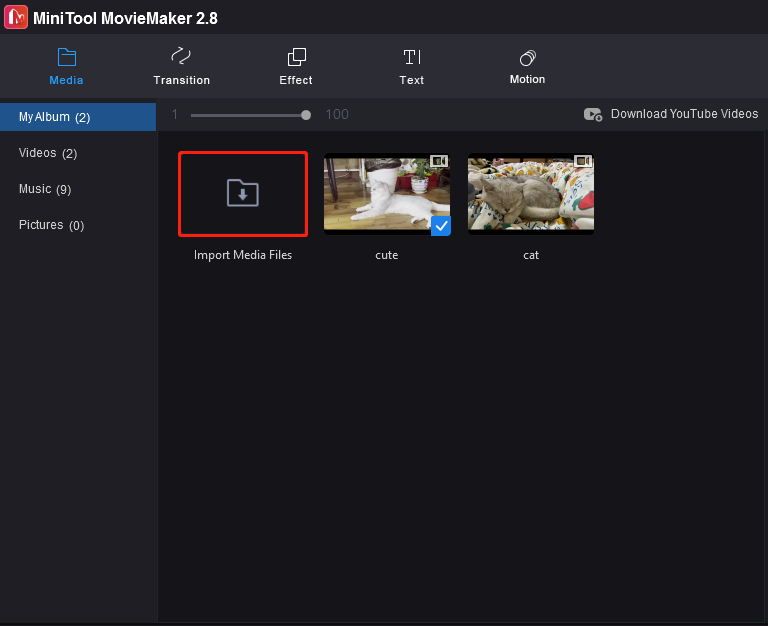 Step 4: Before exporting the WMV video file in MP4 format, you can edit the WMV file as needed.
Step 5: After editing the WMV video, tap on Export in the menu bar. Then the Export window pops up. Here you can select the MP4 option as the output format.
#3. Prism Video Converter
Prism Video Converter is designed to convert videos to any popular video format. Let's see how to transform WMV to MP4 step by step.
Step 1: Open the Prism Video Converter after installing it.
Step 2: Click Add Files to open the desired WMV file.
Step 3: Choose the output folder where you want to save the MP4 file.
Step 4: Select the MP4 format in the Output Format box.
Step 5: After that, press the Convert button to turn WMV to MP4.
#4. ZAMZAR
Zamzar is the online WMV to MP4 converter. It supports more than 1200 file formats and it can work with any operating system. But the uploaded file size cannot exceed 150 MB. Here is how to use Zamzar to convert WMV to MP4 online.
Step 1: Go to ZAMZAR.
Step 2: Import the WMV file.
Step 3: Select the MP4 format and click the Convert Now button. Then you can download it after the process is finished.
Related articles:
Bottom Line
To sum up, this post has introduced what MP4 is and what WMV file is. And this post also has shown the differences between MP4 and WMV.
As for MP4 vs WMV, if you have any different ideas, you can share them in the comment zone. If you want to convert WMV to MP4, you can try these ways. If you have any problem with MiniTool software, please feel free to contact us via the email [email protected] and we will reply to you as soon as possible.