What is MP3 and what is FLAC? What is the difference between MP3 vs FLAC? If you want to find the answers, read this post from MiniTool carefully. What's more, you can also know how to convert MP3 to FLAC.
What Is MP3?
To begin with, what is MP3? It formally represents MPEG-1 Audio Layer III or MPEG-2 Audio Layer III) and it is a coding format for digital audio. MP3 as a file format usually specifies a file containing an elementary stream of MPEG-1 Audio or MPEG-2 Audio encoded data without the other complexity of the MP3 standard.
MP3 makes use of lossy data compression to encode data using inaccurate approximations and partial discarding of data. This can greatly reduce the file size compared to uncompressed audio.
The MP3 encoding algorithm is usually divided into four parts.
Part 1 divides the audio signal into smaller parts, called frames, and then performs a modified discrete cosine transform (MDCT) filter on the output.
Part 2 passes the samples to a 1024-point Fast Fourier Transform (FFT), then applies the psychoacoustic model, and performs another MDCT filter on the output.
Part 3 quantifies and encodes each sample (called noise allocation), and the sample will adjust itself to meet the bit rate and sound masking requirements.
Part 4 formats the bitstream (called an audio frame), which consists of four parts: header, error check, audio data, and ancillary data.
Related post: How Can You Convert MP2 to MP3? Several Converters Are for You
What Is FLAC?
After getting some information about MP3, then what is FLAC? It is the abbreviation of Free Lossless Audio Codec, and it is a digital audio format with lossless compression. Digital audio can usually be reduced to 50% to 70% of its original size and decompressed into the same copy of the original audio data if it is compressed by the FLAC algorithm, but the final size relies on how much the digital audio is being compressed.
FLAC files use levels from 0 to 8 to determine the compression level, where 8 is highly compressed. Although the quality between 0 and 8 remains relatively the same, the encoding and decoding time is greatly increased, and the compression level for the CPU may be higher.
The "quality" of FLAC is determined by the "sampling rate" and "bit depth". The sampling rate starts from 22,050hz, 32,000hz, 44,1000hz, 48,000hz, 88,200, 96,000hz, and can reach up to 192,000hz. The bit size is usually between 8 and 32 bits.
Related post: Top 11 Ways to Convert FLAC to WAV for Free
MP3 VS FLAC: What Is the Difference Between Them?
This part gives you some specific information about MP3 vs FLAC. Read this part carefully to know the difference between MP3 and FLAC.
MP3 VS FLAC: Size
Size is the first thing that needs to be compared when talking about MP3 vs FLAC. The size of FLAC can be reduced by up to 50% to 70%, but MP3 is only a small part of the file size of FLAC, only 20%. Compared with MP3, the size of FLAC files can be quite large. MP3 with a file size of 100 MB will be expanded to 500 or 600 MB in FLAC format.
Although higher compression levels require more CPU processing power, higher compression levels can be used to reduce the size of FLAC files.
The following is a calculation of how many songs can fit on a 64GB device.
MP3 – 8000 songs
FLAC-1600 songs
MP3 VS FLAC: Quality
MP3
To make MP3 files small, some original audio data must be deleted. This process is called "lossy compression", and the by-product of this compression is a slight loss of audio quality. There are many different frequencies and data in the signal background that the human ear cannot easily hear. These can be removed from the audio signal without significantly changing the sound, but still can be heavily compressed.
Ordinary people can perceive a dynamic range of 20hz to 20khz. MP3 compression usually removes anything above 18 kHz, because these higher frequencies are not so obvious.
The higher the compression rate and the lower the bit rate, the greater the reduction in dynamic range. Since the encoding algorithm relies on the ears being unable to hear certain frequencies, noise is sometimes generated, and the by-products of this encoding are located in the same place where the frequencies are removed.
What's more, since MP3 encoding removes certain frequencies, this in turn makes other frequencies appear to be much louder than expected.
FLAC
Since the FLAC format is lossless, it retains all the quality and information of the original record. From 20hz (very low bass frequency) to 20khz (very high pitch frequency) is the frequency range that people can hear, and FLAC files can all be captured.
Related post: M4V VS MP4: What Are the Differences and How to Convert?
MP3 VS FLAC: Popularity
Speaking of MP3 vs FLAC, the popularity also need to compare. MP3 audio can be played anywhere. Almost all modern devices have MP3 players, which means you don't have to worry about whether your new phone can play MP3 files.
FLAC files are slightly different. Although it guarantees high audio quality, it is not as popular as other similar products. Of course, there are some phones with audio players that allow you to play lossless audio files, but this is not a guarantee. You can always rely on third-party applications for this. Even better, the popularity of FLAC files continues to increase over time, and manufacturers are seeking to eliminate this need.
When to Use MP3?
After knowing some basic information about FLAC vs MP3, you should know that MP3s are not ideal for archiving music because they cannot retain the full quality of the original music. They can play a role, but if you burn a CD of songs in MP3 format, the overall fidelity will be less than the CD you rip from. You may not hear the difference, but it will exist.
Fortunately, the bad years of MP3 have passed. Nowadays, audio technology has made great progress. As long as you encode at a fairly high bit rate of 320 kbps, the sound will be so similar to the original sound that you may be unable to notice any difference between the MP3 audio file and the original format at all.
If your hard disk space is insufficient, MP3 will be the best choice because the files are small and the quality is still good. If you just want to listen to music on your laptop or mobile phone, then you should also use MP3.
Related post: M4P to MP3 – How to Convert M4P to MP3 Free?
When to Use FLAC?
Just because FLAC retains all the audio information of the original file, it does not mean that it is always the best. Ideally, FLAC will shine in areas where you might need to archive music. For example, if you try to rip the CD to the hard drive before storing it in the garage, FLAC is a good choice.
However, you should note that FLAC will take up more space than MP3. Therefore, it may not always be the best choice for a laptop with a storage capacity of 128GB – it is better to leave some space for apps and photos. For such devices, converting FLAC files to MP3 may be the ideal choice. In addition, you may need a separate application to play FLAC files on some devices.
How to Convert MP3 to FLAC?
After you get some information about MP3 vs FLAC, this part lists some MP3 to FLAC converters for you.
1. MiniTool Video Converter
MiniTool Video Converter is a powerful and free audio converter, which allows you to MP3 to FLAC easily. What's more, you can also use this converter to convert videos into other formats. If you want to perform conversions offline, then this converter is the most suitable one.
MiniTool Video ConverterClick to Download100%Clean & Safe
Then how to use MiniTool Video Converter to convert MP3 to FLAC? Here is the tutorial:
Step 1: Download and launch the MiniTool Video Converter at first.
Step 2: In the Video Convert page, click Add Files to choose the MP3 files as source files.
Step 3: Choose FLAC as the output format from the drop-down menu next to Convert all files to.
Step 4: Click the Convert button to begin the conversion. If you have several files that you want to convert, click Convert All.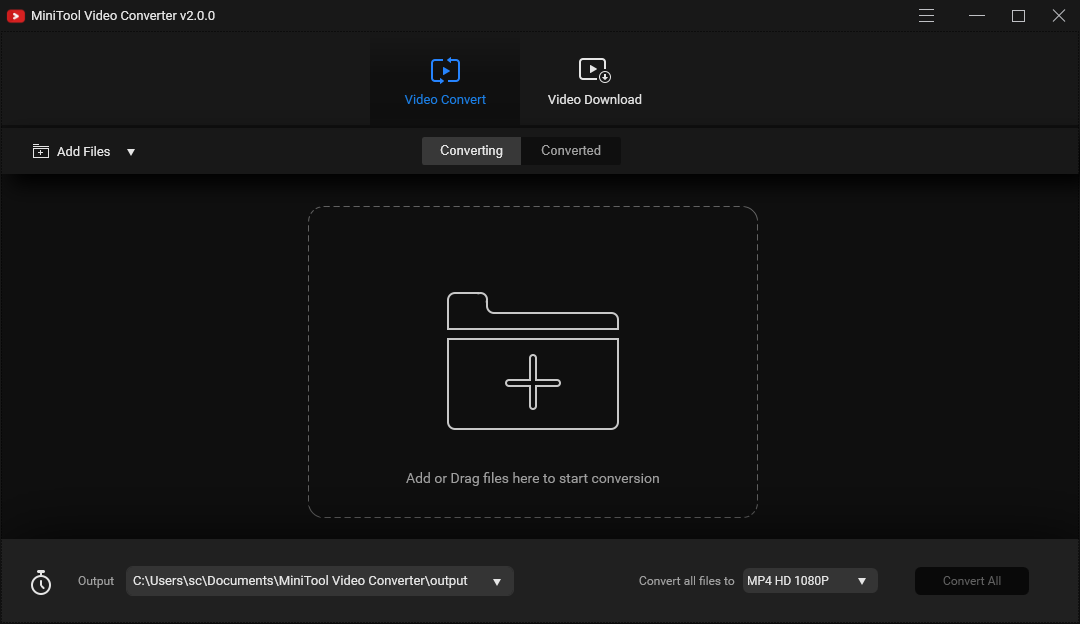 Main Features
It supports batch video conversions at once.
It supports downloading videos and audios from YouTube.
It supports to change some parameters for the output video and audio format.
It is only suitable on the Windows platform.
Related post: How to Convert MP4 to FLV? Try These MP4 to FLV Converters
2. Online-Convert
If don't want to download any third-party tool to convert MP3 to FLAC, then it is recommended to use Online-Convert. This online Mp3 to FLAC converter is suitable for all platforms. It supports you to upload files from your computer, Dropbox, Google Drive, or by entering URL.
This converter also supports you to change video bitrate, frame rate, and so on. You can use Online-Convert to convert video, image, document, archive, and eBook. What's more, it supports 5 languages.
Now follow the steps to convert MP3 to FLAC.
Step 1: Go to the official site of Online-Convert, then choose Convert to FLAC from the drop-down menu in the Audio converter.
Step 2: Upload your MP3 files and then click Start conversion.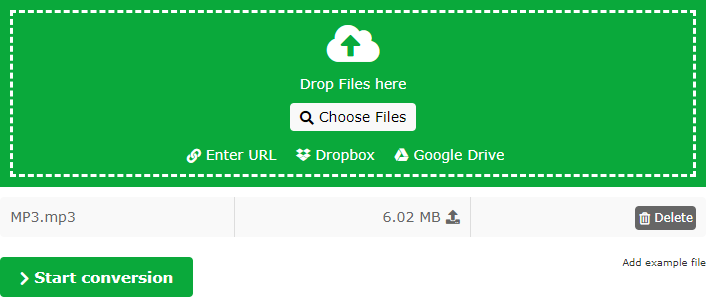 Related post: Top 9 Best & Free FLAC to MP3 Converters
Final Words
Is FLAC better than MP3? Which one should you choose: FLAC or MP3? This post is mainly talking about MP3 vs FLAC, so after reading this post, you should know which one is more suitable for you.
If you have any confusion about the context, then leave a comment below or send an email to [email protected].
MP3 VS FLAC FAQ
Is FLAC the best audio format?
The Free Lossless Audio Codec (FLAC) is the most popular lossless format, and it is a good choice if you want to store music losslessly. And unlike WAV and
AIFF
, it is compressed, so it takes up much less space. What's more, it is still a lossless format, which means that the audio quality is still the same as the source, so compared to WAV and AIFF, its listening quality is much better.
What is the best format for music files?
The lossless audio file format is the best format for sound quality. These include FLAC, WAV, or AIFF. These types of files are considered high-resolution because their quality is better or equal to the quality of a CD.
Is WAV or FLAC better?
FLAC is a compressed lossless audio stream, and WAV is an uncompressed lossless audio stream. You can compress/decompress FLAC data multiple times without any loss. Maybe you are interested in this post –
FLAC VS WAV: What Is the Difference Between Them?
Does converting FLAC to MP3 lose quality?
Never convert MP3 to other audio formats such as AAC, AIFF, ALAC or FLAC, because all you have to do is making the file bigger. MP3 is a lossy compressed file, and the file size of a lossless file is much larger, but it does not reduce the quality compared to MP3.