Users may sometimes want to convert their video files from MP4 to MPEG2 for different reasons. This page will introduce & compare MP4 and MPEG2 first. Then, it will walk you through several easy ways to convert MP4 to MPEG2 quickly and safely. Besides, it provides different choices of MP4 to MPEG2 converter for you.
MP4 and MPEG2 File Formats
Both MP4 and MPEG2 are file formats used to save video data; they share much in common, but they are still very different in some aspects. Users may need to convert MP4 to MPEG2 (or vice versa) sometimes. However, the question is most of them don't know how to convert .mp4 to .mpeg2 or which is the best MP4 to MPEG2 converter. Before talking about the MP4 to MPEG2 converting tools and steps, I'd like to introduce the MP4 & MPEG2 formats and the main differences between them.
MPEG4 VS MP4: What Is The Difference & How To Convert?
Tips:
MiniTool Solution provides you with different tools for protecting your files (videos, audios, documents, photos, system files, etc.): data backup tool, video converter, disk manager, and data recovery utility.
What Is MP4
MP4, also known as MPEG-4 Part 14, is one of the most popular digital multimedia container formats. You can use the MP4 format to store video, audio, and many other data, like subtitles and still images. As you can find easily, MP4 is widely used online for saving the movie and distributing (streaming or sharing) video. MP4 is an international standard for audio-visual coding and the file extension of MP4 videos is .mp4.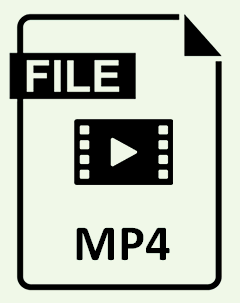 First released in 2001, the MP4 format (MPEG-4 Part 12) is created under the ISO/IEC 14496-12:2001 standard. It's developed on the basis of Apple's QuickTime MOV format but adds extra support for various other MPEG features.
Then, in 2003, MP4 (MPEG-4 Part 14) was re-released and become the file format used today (no update after that). MP4 adopts a high degree of compression, so the file size is much smaller than other video formats.
Click here if your needed MP4 video files are corrupted.
What Is MPEG2
MPEG-2, also known as H.222/H.262 as was defined by the ITU. "MPEG-2 is a standard for the generic coding of moving pictures and associated audio information" according to Wikipedia. An MPEG2 file refers to the video file encoded using the MPEG-2 codec. Currently, MPEG-2 is widely used as the format of digital television signals, broadcasting by terrestrial (over-the-air), direct broadcast satellite TV systems, and cable. MPEG2 files are compressed by using lossy video compression and lossy audio data compression methods. The format of movies and other programs distributed on DVD & similar discs is specified by MPEG-2.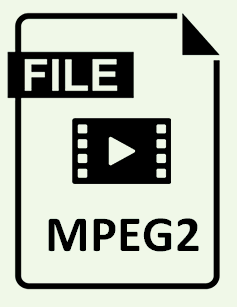 First appeared in the late 1990s, the MPEG-2 is not as efficient & advanced as H.264/AVC and H.265/HEVC. However, MPEG-2 is still widely used today mainly due to its backward compatibility with existing hardware and software. MPEG-2 becomes the core of most digital television and DVD formats. And you can easily find MPEG2 videos in over-the-air digital television broadcasting and the DVD-Video standard.
MPEG-1 vs MPEG-2 vs MPEG-4
MPEG-1 vs MPEG-2
History:
The Moving Picture Experts Group (MPEG) was founded in 1988.
The MPEG-1 was delivered as a video coding algorithm in 1992 and intended for digital storage media at 1.5 Mbs/s. It's the first standard focusing on the coding of single-layer (nonscalable) video of progressive format.
The MPEG-2 was released later in 1994 for the emerging digital video broadcasting market. It's a standard that uses scalable video coding to address the issues of improved functionality.
MPEG-2 is regarded as an extended version of the MPEG-1 container format in terms of the program stream, which is designed for random access storage media like hard disk drives, flash memory, and optical discs. MPEG-2 has less overhead than the transport stream. MPEG-2 is very similar to MPEG-1 in the video section. In terms of the audio section, the MPEG-2 is more advanced than MPEG-1 since it allows the coding of audio programs with more than two channels, up to 5.1 multichannel.
MPEG-2 vs MPEG-4
What about MP4 vs MPEG2? It actually refers to the differences between MPEG-4 and MPEG-2. As said just now, MPEG-2 is the second standard released by Moving Picture Experts Group. By that analogy, MPEG-3 is the third generation standard and MPEG-4 is the fourth generation standard.
MPEG-2 video coding format uses an algorithm for compression, which is very amazing. It uses a block-based 8 x 8 discrete cosine transform (DCT), which allows for high-quality, but restricts the ability to shrink the file size.
The MPEG-4 video coding format was released in late 1998, companioning with the massive expansion of the internet that occurred in the first few years of the 21st century. MPEG-4 is widely used to compress AV data for Internet video and CD distribution, voice (telephone, videophone), and broadcast television applications.
One of the biggest differences between MPEG-2 and MP4 is that MPEG is limited to videos and audios, while the MP4 can also store subtitles, still images, and other kinds of data. Another big difference between MPEG-2 and MPEG-4 is that the latter uses an algorithm, which has a 16 x 16 DCT and allows for a much higher compression rate. What does a higher compression rate mean? It actually means that the size of files can be cut in half and the bandwidth will be decreased without affecting the picture quality.
What is MP4 or MPEG2? What are the differences between MPEG-1 and MPEG-2, or MPEG-2 and MPEG-4? To help people know more about these things, please click on the link below to share this page.Click to Tweet
MP4 to MPEG2
What's the difference between MP4 and MPEG-2? Can you change a file from MP4 to MPEG-2? Which is the best MP4 to MPEG2 converter? What are the steps to convert MP4 to MPEG2? You can find answers to such questions in this part.
AVI To MPEG: What's The Difference & How To Convert?
Third-party MP4 to MPEG2 Converter
Let's see the steps to convert MP4 to MPEG using MinTool Video Converter.
Step 1: download MinTool Video Converter.
Get the setup file of MinTool Video Converter by clicking on the Free Download below.
You can also visit this page to know more about this converter (features, functions, and more) and then click on the Download Now button on it. Please store the file in a safe location.
MiniTool Video ConverterClick to Download100%Clean & Safe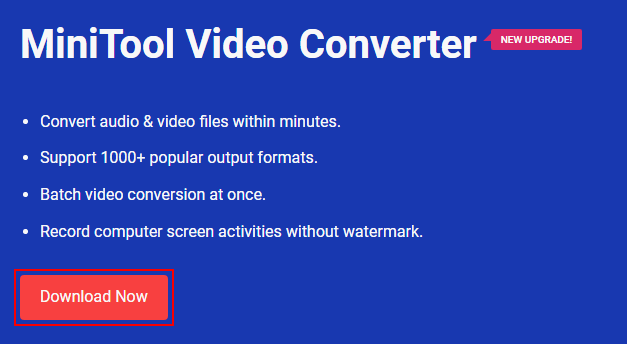 Step 2: install MinTool Video Converter.
Open File Explorer and navigate to the setup file.
Double click on the file to start installing the converter.
Follow the on-screen instructions to complete the installation.
Click Start Now at the end of the process to launch the converter.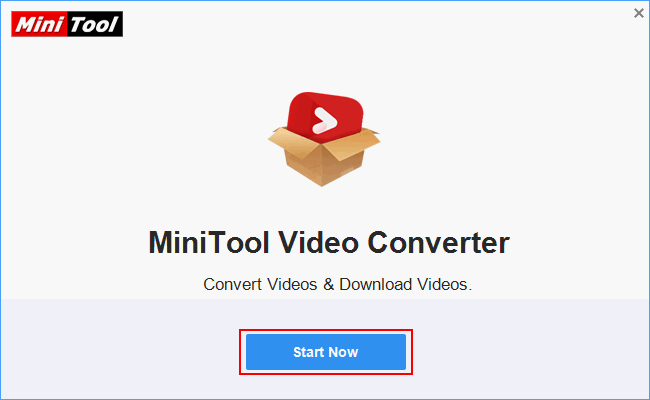 Step 3: convert MP4 to MPEG video.
Make sure the Video Convert tab is selected at the top.
Click on the Add Files button (you can also click on the arrow after it & select Add Files or Add Folder). Besides, you can click on the dotted box in the middle to add files.
The Import Media window will appear.
Navigate to the MP4 videos you want to convert, select them, and click Open.
The MP4 files will be listed one by one in your converter.
Click on the edit icon after the word Target to change the File Name and Output path. (Optional)
Click on the edit icon within the dotted box under Target -> select Video from the top of the appeared window -> click MPEG from the left pane -> choose a resolution from the right pane.
Repeat the above operations to edit other videos. You can also click on the arrow after Output and Convert all files to at the bottom to change the storage path and output format for all selected videos.
Click on the Convert All button and then wait for the process to complete.
Shift to the Converted tab and you'll see all the converted videos.
Click on the Show in folder button after each video to view it. Also, you can navigate to the storage path to browse the converted video files manually.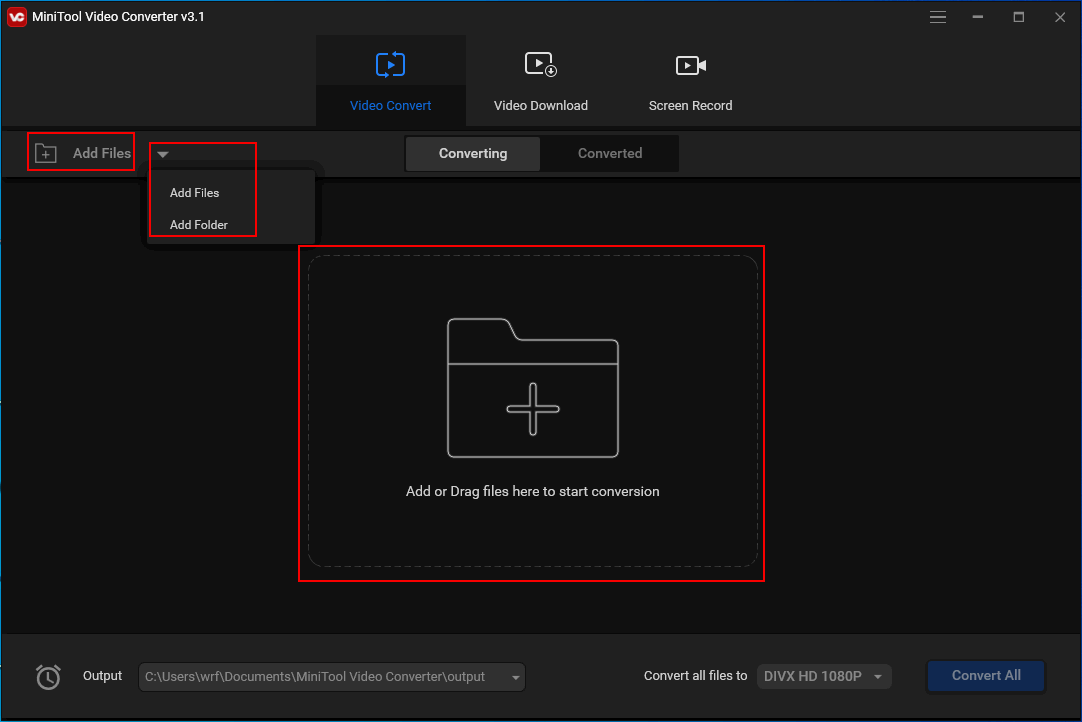 Other choices of MPEG2 converter:
Cisdem Video Converter (Mac)
HandBrake (Mac)
VLC media player (Mac)
Avdshare Video Converter (Windows & Mac)
Any Video Converter (Windows & Mac)
TalkHelper Video Converter (Windows & Mac)
Convert MP4 to MPEG2 Online
How to find a suitable MP4 to MPEG2 converter online?
You should open a browser on your computer, for example, Google Chrome.
Type the keyword MP4 to MPEG2 into the search box and then press Enter on the keyboard.
Millions of results will be displayed to you in less than 1 second. You should browse them and click on a link to start converting MP4 to MPEG 2 (or MPEG2 to MP4) by following the on-screen instructions.

I'll show you how to convert to MPEG 2 using some online converters.
Choice 1: Convertio.
Visit this MP4 to MPEG2 page on Convertio.
Click on the Choose Files button or icon and a small window will show up.
Browse your drives to select the target MP4 files and click Open. (You can also select files from Dropbox or Google Drive.)
Click on the Convert button on the right side.
The uploading and converting process will take some time. Please wait patiently.
Click on the Download button to store the converted videos on your device.

Choice 2: AnyConv.
Follow these steps to convert .mp4 to mpeg2:
Click here to access this MP4 to MPEG2 converter.
Click on the CHOOSE FILE button in the middle of the page.
Navigate to the MP4 videos you want to convert and select them all.
Click Open to load them to the online converter.
Click on the CONVERT button below the video.
Wait for the uploading and converting process to finish.
Click on the DOWNLOAD .MPEG2 button to save it to a safe place.

Choice 3: MICONV.
Go to the MP4 to MPEG2 page on MICONV.
You'll find it says Convert .MP4 to .MPEG2. (You can change the file format if you change your mind and would like to convert other types of video files.)
Click on the Choose files button -> select the target MP4 files -> click Open.
Scroll down to find the Convert button and click on it.
Also, you need to wait while the MP4 files are uploading and converting.
Click on the Download .MPEG2 button to store the converted files.

Of course, there are many other choices of online MP4 to MPEG2 converter (some are free while others are paid). You can choose any tool to use for converting MP4 to MPEG-2. But remember: check the safety of the link before clicking on it.
After reading the above content, you must know how to convert MP4 to MPEG2 and which is the best MP4 to MPEG converter (third-party or online tool).Click to Tweet
Final Thoughts
MP4 (MPEG-4) and MPEG-2 are two different file formats, but they share much in common; for example, MP4 and MPEG2 can both store video data.
At the beginning of this page, it introduces MP4 and MPEG2 respectively in brief.
Later, it compares MPEG-1, MPEG-2, and MPEG-4 (covering MPEG-1 vs MPEG-2 and MPEG-2 vs MPEG-4).
What's more? It shows you different ways and the exact steps to change a video from MP4 to MPEG2, including using a third-party converter or the online MP4 to MPEG2 converters.
Hope this page helps you convert MP4 video files successfully to MPEG-2 and solves all your doubts. Should you have any other questions, leave a short message below and we'll reply to you as soon as we can.