YouTube is a very popular website for people all over the world to share videos. It allows users to upload different types of videos in easy steps and view videos uploaded by other people. But what video formats does YouTube accept? And which is the best video format for YouTube? Questions like these will be answered one by one.
What Video Formats Does YouTube Accept
What Is YouTube
To be specific, YouTube is an American online video-sharing platform that's popular throughout the world. People like to watch videos, listen to music, and upload original content on this platform. At present, the number of users logging into YouTube monthly is over 2 billion. That's amazing!
While you're enjoying the videos and music published by others on YouTube, you may want to create your own videos so that your original content can be pushed to users in every corner of the world. Therefore, you need to figure out 2 important things before uploading: what file formats are supported by YouTube and which is the best video format for YouTube.
YouTube Video Format
What video format does YouTube use? If you don't want to end up in failure while uploading a video to YouTube: an error message may occur to stop the uploading process, you should figure out this question before uploading.
Here are the common choices of video format for YouTube (the list is in random order):
MP4: also known as MPEG-4 Part 14, MP4 is one of the most popular container formats to store videos, audios, subtitles, and still images.
MPEG-4: introduced in late 1998, MPEG-4 is an ISO/IEC standard. It compresses AV data for web (streaming media) and CD distribution, voice (telephone, videophone), and broadcast television applications.
MOV: it's a common multimedia container file format designed by Apple Inc. MOV is the default format of QuickTime movie files, so it's also known as QuickTime File Format. A MOV file can be compatible with both Macintosh and Windows platforms.
WMV: WMV refers to Windows Media Video, which is a series of video codecs and the corresponding video coding formats designed by Microsoft. It's developed on the basis of Microsoft Advanced Systems Format (ASF) container format.
AVI: AVI stands for Audio Video Interleave and it was introduced in November 1992 as part of Microsoft's Video for Windows software. Like other popular file formats, AVI can contain both audio and video data. (Here's an amazing AVI converter for you.)
FLV: also known as Flash Video, FLV is a common file format used to send digital video content over the Internet using Adobe Flash Player (version 6 or later). The audio and video data in FLV files and SWF files are encoded in the same way.
3GP: this file format is developed by the Third Generation Partnership Project for 3G UMTS multimedia services. 3GP is mainly used on 3G mobile phones; some 2G and 4G phones also give support to this format.
MPEG-PS: MPEG-PS represents the MPEG program stream, which is a format used for multiplexing digital audio, video, and more. It can be found on DVD-Video discs and HD DVD video discs and the filename extensions are VOB and EVO.
WebM: it's an open web media project that aims at developing a high-quality and open video format for the web that everyone can access. The video streams of WebM files are compressed with the VP8 or VP9 video codecs, while the audio streams are compressed with the Vorbis or Opus audio codecs.
CineForm: also known as CineForm Intermediate, CineForm is an open-source (from October 2017), 12-bit, full-frame wavelet compression video codec designed especially for CineForm Inc. It offers good speed and quality at the expense of high compression size.
DNxHR: DNxHR is the acronym of Digital Nonlinear Extensible High Resolution, which is designed to meet the needs of modern and streamlined post-production workflows. (What's the difference between DNxHR and ProRes?)
ProRes: it's a line of intermediate codecs designed by Apple. ProRes is used during video editing, instead of end-user viewing. ProRes is a good combination of multistream, reduced storage rates, impressive image quality, and real-time editing performance. It is comparable to CineForm.
HEVC (h265): HEVC, also known as H. 265 and MPEG-H Part 2, is the acronym of High Efficiency Video Coding, which is a video compression standard introduced as part of the MPEG-H project. The 265 video aims at bringing UHD HDR to the masses.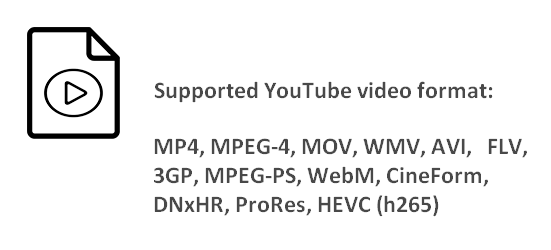 MPEG4 VS MP4: What Is The Difference & How To Convert?
What Is the Best Video Format for YouTube
When planning to upload videos to YouTube, you must want to know the best video format, right? You can find some answers on the YouTube Help & Support page, which lists the recommended upload encoding settings for the container, audio codec, video codec, frame rate, etc.
YouTube Preferred Video Format & Upload Encoding Settings
Container: MP4.
There are no Edit Lists. Otherwise, the video might not be correctly processed.
The moov atom is at the front of the file (Fast Start).
Audio codec: AAC-LC.
The best Channels are Stereo or Stereo + 5.1.
The Sample rate is 96khz or 48khz.
Video codec: H.264.
Progressive scan (no interlacing)
High Profile
2 consecutive B frames
Closed GOP. GOP of half the frame rate.
CABAC
Variable bitrate. No bitrate limit required, though we offer recommended bit rates below for reference
Chroma subsampling: 4:2:0
Frame rate.
The frame rate used to encode & upload a video should be the same as that used to record the content.
Popular frame rates: 24, 25, 30, 48, 50, and 60 frames per second.
You should de-interlace the video before uploading if necessary.
Bitrate.
The recommended video bitrates for SDR uploads & HDR uploads and the recommended audio bitrates for uploads are different.
Note: You should use a browser or device that gives support to VP9 to watch the new 4K uploads in 4K.
Resolution and aspect ratio.
You need to know that the standard and the best aspect ratio for YouTube videos on a computer is 16:9. Yes, you can also upload videos in other aspect ratios. But the player will adapt itself to the size of the video automatically. 16: 9 or 4: 3 is the best aspect ratio for the video viewing experience.
Color Space.
BT.709 is the standard color space recommended for SDR uploads on YouTube.
Obviously, the best file format for YouTube is MP4.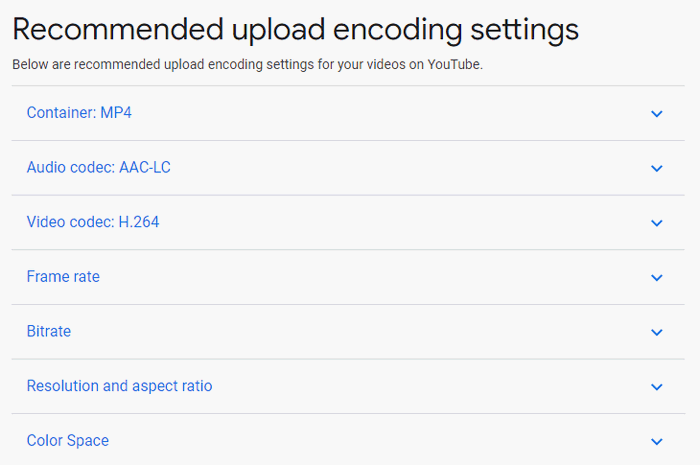 File Container vs. Codec
The container decides how the video data, audio data, and metadata content are organized in a file. At present, the MP4 h.264 is the standard container for high definition videos.
The codec refers to the methods for compressing and decompressing a digital video file. In general, more or less information will be lost during the compression process. That's why the quality of the decompressed video will be lower than that of the original.
Note: As mentioned earlier, the best video codec for YouTube is H.264 while the best audio codec for it is AAC-LC.
MOV vs. MP4
What are the best video formats for YouTube? It should be MOV and MP4, which share something in common, but have a lot of differences.
Best Video Format for YouTube 1080p
Both MOV and MP4 use lossy compression, but they are different in the following aspects.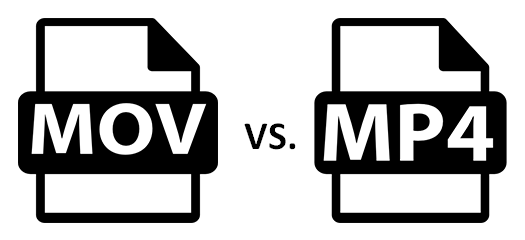 File size:
MOV files are full 1080p files. Every frame you can find in the MOV video will be compressed into a JPG in the movie file. MP4 files are also full 1080p files. They become the international standard for users to share videos on the internet. MOV videos are less compressed when compared to MP4 videos.
MOV is higher in quality and larger in size.
MP4 is also high in quality but smaller in size, thanks to H.264 compression.
Compatibility:
As the proprietary Apple file format for QuickTime, MOV is supported in most editing programs. But the biggest problem seems to be that MOV doesn't work with some PC programs.
In contrast, MP4 is an international standard that users can play in almost all operating systems and media players.
For instance, MOV can't be played by Windows Media Player before you install the corresponding codec files manually. How to fix Windows Media Player encountered a problem while playing the file?
What is the best video file format for YouTube in terms of size?
Another thing you should pay attention to while uploading a video to YouTube is the file size. The maximum size of a video that you can upload is either 128GB or 12 hours, whichever is less. So please make sure that you don't exceed this limit (128GB or 12 hours) before uploading.
Note: You may come across a video that is longer than 12 hours on YouTube that is because the upload limits in the past were different.
Convert Video to MP4
What is the best file type for YouTube? In short, the best video format to upload to YouTube is MP4. What to do if the video that you plan to upload is in other formats, such as MOV and AVI? A good choice is to convert your video to MP4 by using a reliable tool.
How to Convert Videos to MP4 before Uploading to YouTube
MiniTool Video Converter is a free tool with wonderful performance; it's ad-free. Over 1000 kinds of popular output formats are supported by this tool. What's more, it allows you to batch convert multiple videos and audios.
Download & Install the Video Convert Tool
Step 1: download MiniTool Video Converter for free by visiting the official website. Don't click on links from unknown sources; otherwise, you may get attacked by viruses or ransomware.
Step 2: navigate to the setup file on your device and double-click on it. Click Yes if you see a User Account Control window.
Step 3: click on the Install Now button in the middle to start the installation process. You can also click Custom Installation at the bottom right to change language and installation path, and agree/disagree to participate in the Customer Experience Improvement Program.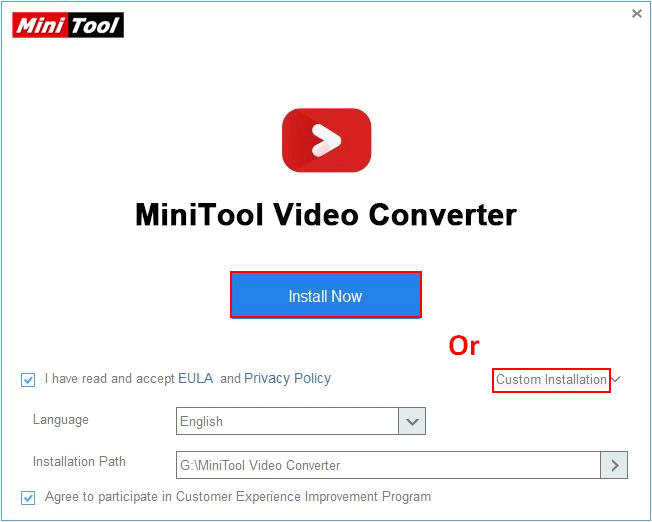 Step 4: click on the Start Now button at the bottom middle when the installation is finished.
Use MiniTool Video Converter to Convert Videos to MP4
Step 1: look for the Add Files button in the upper left corner under the Video Convert tab.
Please click on it to add videos directly or click on the arrow after it to choose from Add Files and Add Folder.
Browse your drive to select the video files you want to convert in the Import Media window (you should press Ctrl to select multiple videos). Then, click on the Open button to load them to MiniTool Video Converter.
Note: You can also drag and drop the video files to the middle Add or Drag files here to start conversion section. But this function is not available when you first use the converter.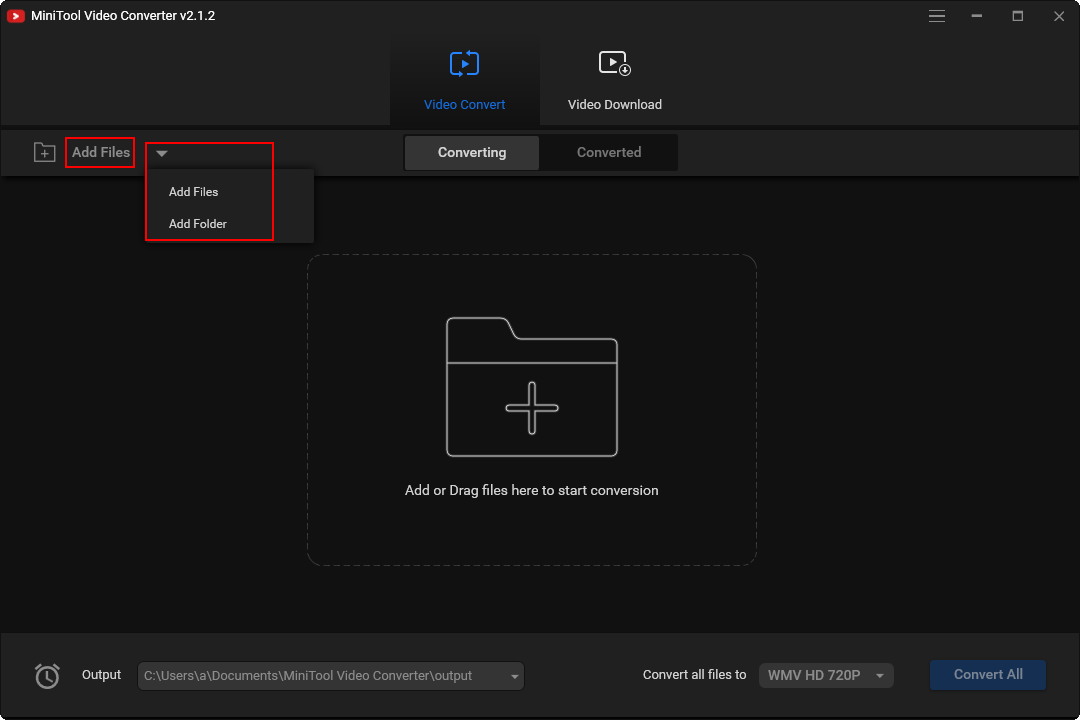 Step 2: click on the downward arrow after Convert all files to. Then, select MP4 as the target video format.
Select the MP4 option with a certain resolution if it appeared in the Recently list.
Please shift to the Video tab -> select MP4 in the left pane -> choose a proper resolution from the right pane (take HD 1080P, 1920x1080 as an example).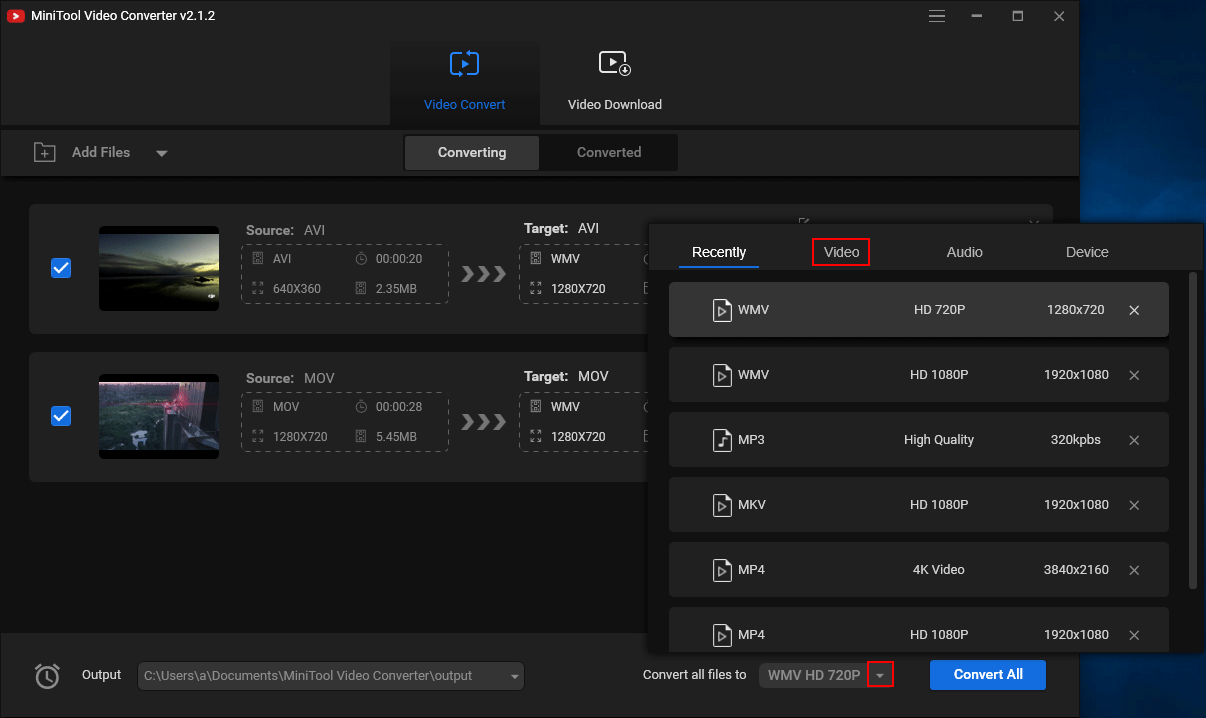 Step 3: click on the Convert All button in the lower right corner of the software screen to start converting the selected videos to MP4.
The software also allows you to convert the videos separately by clicking on the Convert button after each file.
Step 4: wait for the converting process to finish. The progress bar will go from 0% to 100% and the estimated remaining time of each video is displayed on the screen.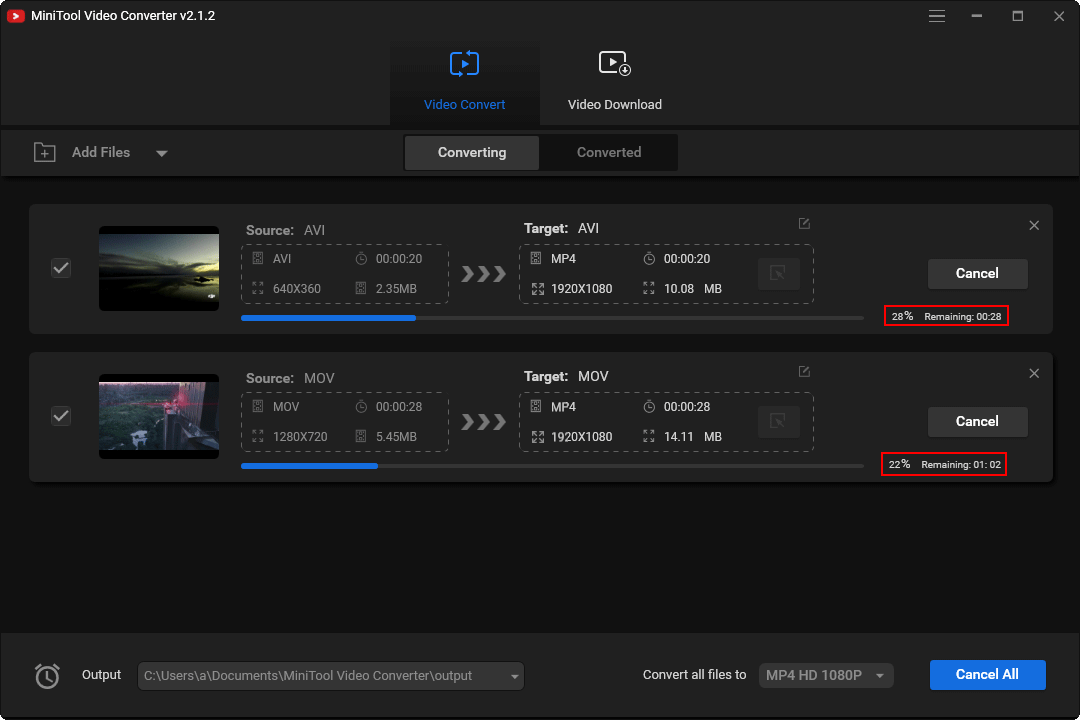 Step 5: shift to the Converted tab next to Converting and click on the Show in folder button after each video to check them manually. These converted MP4 videos will be placed in the output folder created automatically within the MiniTool Video Converter installation folder.
When the conversion is finished, the progress and remaining time notification will disappear. A Success prompt will appear, instead.
That's all about how to convert videos from other formats to MP4 – the best format for YouTube. After that, you can open YouTube to upload the MP4 videos as usual.
Extended reading:
Bonus Tip: Optimize Your Videos for Search Engines
In addition to the numerous videos that already exist on YouTube, there are huge numbers of new videos uploaded to it every day. How can you make your video seen by more people? This is a very profound subject, but I'd like to offer some simple suggestions to give your uploaded videos the best chance of being found on YouTube.
Optimize your video title: put the main keywords at the beginning of the video title tag.
Add proper tags to your video: adding tags to video making it easier for YouTube to understand your video better: what's it mainly about.
Optimize your video for suggested videos: optimizing your video to make it appear in the suggested videos section may bring a traffic explosion, resulting in a rise in rank.
Create your own video thumbnail: though you're provided with various screenshots to use as your video preview thumbnail when uploading, it's better to create a custom thumbnail.
Write an extended description for your video: write a long and detailed description (at least one hundred to two hundred words) to introduce what your video covers.
Final Words
Uploading videos to YouTube becomes one of the most popular ways to make your product/solutions/funny clips seen by people around the world. But an important thing to figure out before uploading is: what's the best video format for YouTube.
The supported YouTube video formats are introduced briefly at the very beginning of this article. After that, it discusses which is the best video format for YouTube (the best codec for YouTube is also included). Then, it shows you how to convert videos in other formats to MP4 – the best format for YouTube – step by step. In the end, some easy tips are given on how to optimize your video to gain more traffic on YouTube.