A timelapse is a film technique that compresses hours of a video into a few seconds. This post offers you 5 free timelapse screen recorders and teaches you how to record a timelapse of your desktop step by step.
Do you want to make a timelapse digital art video? If yes, you've come to the right place. First, you need to record the process of your digital painting with a timelapse screen recorder. Then, you can use a video editor to turn it into a timelapse. Finally, share the timelapse with your friends.
Now, let's get started!
Part 1. Top 5 Free Timelapse Screen Recorders to Record Timelapse
To record your painting process on the computer, the following timelapse screen recorders are very helpful.
MiniTool Video Converter
MiniTool Video Converter is a free versatile video converter that can convert video/audio, record computer screen, and download YouTube videos.
It's a free timelapse screen recorder with many recording features. It supports full screen recording, partial screen recording, mouse clicks capture, internal audio capture, external audio capture, various output video format, recording video length adjusting, and so on.
When you need to extract audio tracks from recordings, you can use the built-in Video Convert function to convert the recording to audio files in minutes.
The best part of this timelapse screen recorder is that it records videos or screens with high quality and low file size and there is no need to worry about insufficient disk space.
This screen recorder works on Windows. You can use it for free without time limits and watermarks.
Here's a step-by-step guide on how to record your screen with MiniTool Video Converter.
Step 1. Free download MiniTool Video Converter and complete the installation. Launch it.
MiniTool Video ConverterClick to Download100%Clean & Safe
Step 2. Tap on Screen Record and click the camera icon to open MiniTool Screen Recorder.
Step 3. Enable the system audio or the microphone as needed. Then you can configure settings for recording.

Step 4. To configure the settings, click the Settings button at the top right of the window. In the Settings window, you can change the output folder, output format, frame rate, codec, and quality.
If you want to set a time limit for screen recording, tap on Recording and set the recording duration. The recording will stop after hitting the time limit.
Click OK to save the changes.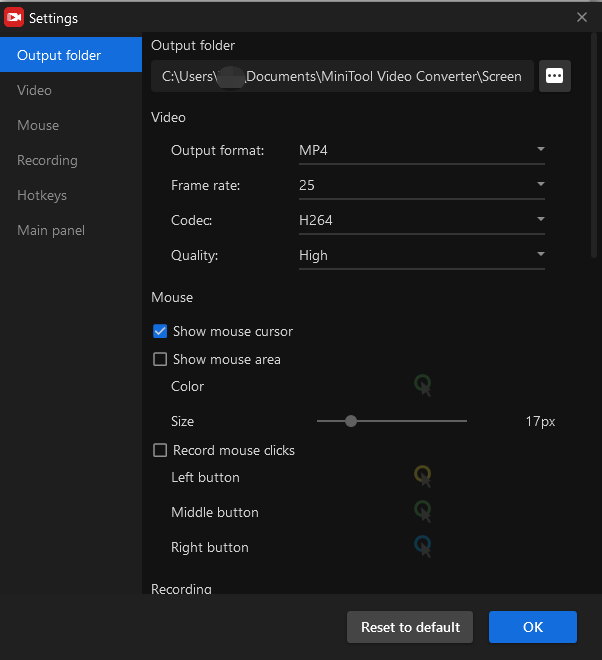 Step 5. Select a recording mode "Full screen" or "Select region". When you are ready, press the red Record button to start recording.
Start or stop recording: F6
Pause or resume recording: F9
Step 6. When the recording ends, right-click the recording and select Open folder to check it.
OBS Studio
OBS Studio is a well-known open-source software for video recording and live streaming. The ease of use and open-source features make it a popular choice among streamers.
It allows you to set up numerous scenes and switch between the scenes seamlessly. It's capable of capturing scenes from multiple sources smoothly and clearly without lagging and monitoring 8 different scenes simultaneously. During the recording process, you can add images, webcam, or other elements to the scene.
It's also a perfect timelapse screen recorder that can record all kinds of screen activities for long hours.
Here's how to capture your screen activity with this free timelapse screen recorder – OBS Studio.
Step 1. Go to OBS's official website. OBS is available for Windows, macOS, and Linux. Download the version you need and install it on your computer.
Step 2. Open OBS and you'll need to add a source. In the Sources tab, click the + and choose Display Capture from the popup window. Then create a new source and complete the setup.
Step 3. Then you can adjust the output settings before recording. Click on Settings in the Controls tab. Click Output and make changes to the recording settings. If you'd like to change the frame rate, go to the Video tab and change the FPS value.
After that, click Apple > OK.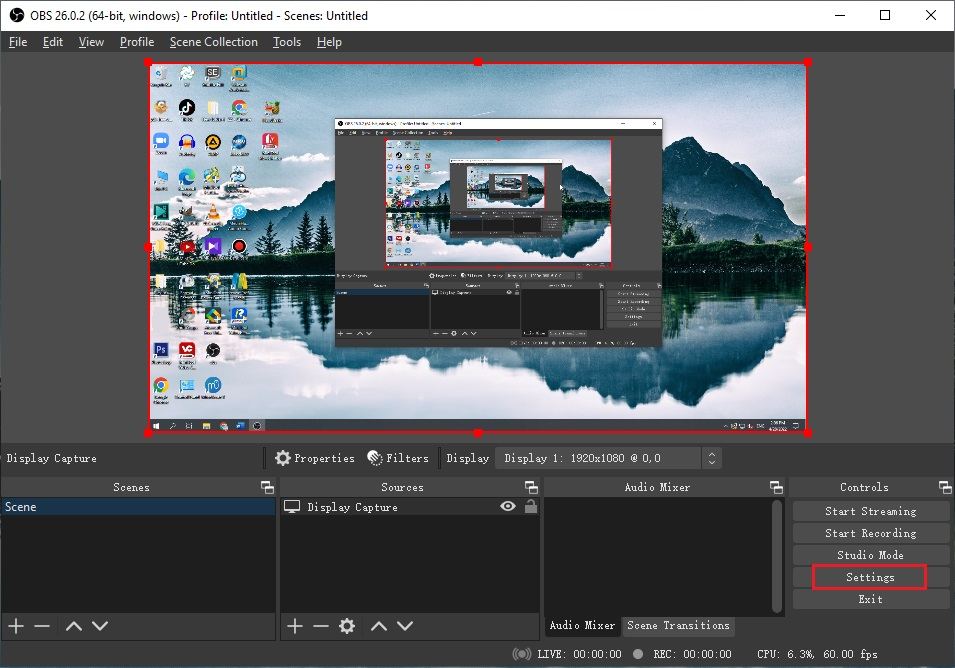 Step 4. Now, click the Start Recording button at the bottom right of the window. After the completion of the recording, click Stop Recording.
At the top left corner of the window, click File > Show Recordings to find the recorded video.
Bandicam
Bandicam is an HD timelapse video recorder for Windows. You can use it to record computer screens and 2D/3D gameplays at 4K UHD. It features real-time drawing, DirectX/OpenGL recording, webcam overlay, mouse effects, scheduled recording, and chroma key. Bandicam also lets you add a logo to a video and take screenshots. You can capture screenshots and save them as BMP, PNG, and JPEG.
After recording, you can directly upload recordings to YouTube and Vimeo.
Bandicam only supports two output formats AVI and MP4. It offers a free version, but the free version has some limitations. It doesn't support scheduled recording. It has a 10-minute recording time limit and puts a watermark on an output video.
How to use Bandicam to record your screen? The steps are:
Step 1. Download Bandicam. Once you have installed Bandicam on your PC, open it.
Step 2. Tap on Video. Here you can add webcam overlay, logo, mouse click effects, and change the Video/Audio settings. To adjust the video settings, click Settings to change the output format, video size, FPS, codec, and quality. Click OK.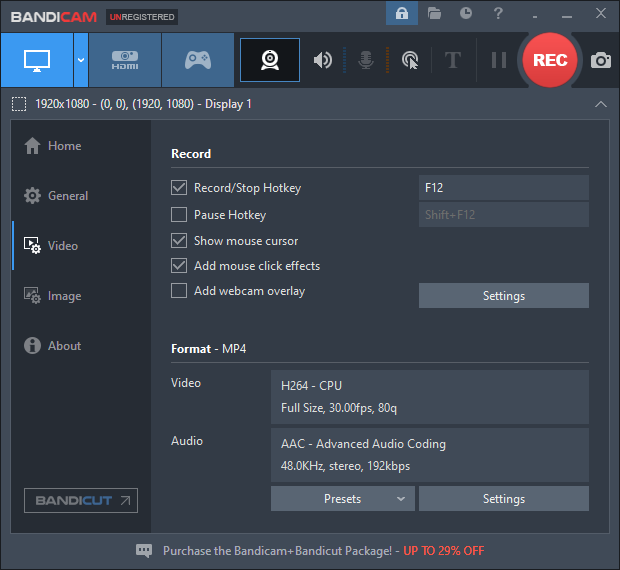 Tips:
Change save path: Click General. Then click the three dots next to the output folder and select a new folder to save recordings.
Start recording at a specific time: In the General tab, click Settings under Scheduled Recording. Click Add to create a scheduled recording task.
Step 3. At the top left of the window, tap on Screen Recording Mode and select a recording mode from the drop-down list.
Step 4. Click the REC button to start recording. Click the camera icon to take a screenshot while recording. Click the pencil icon to draw on the screen.
In the end, click Stop to end recording.
Debut Video Capture
Debut Video Capture is a timelapse screen recorder developed by NCH Software. It's available for Windows and macOS. It can record videos in formats like AVI, WMV, FLV, MP4, MPG, MOV, etc., add video effects to recorded video, correct the color of recording, replace background with video or picture, and add text, webcam overlays to recording.
Debut Video Capture provides you with all the needed recording features and you can record anything on your computer screen without hassle.
Additionally, you are able to share your recordings to YouTube, Vimeo, or Flickr, and burn them to DVD.
Take the following steps to record your screen using Debut Video Capture.
Step 1. Download Debut Video Capture from the NCH Software website. Follow the on-screen wizards to finish the installation and launch it.
Step 2. In the main interface, click the down arrow next to the Screen button and select a recording mode. Or choose a recording window under Select Recording Window.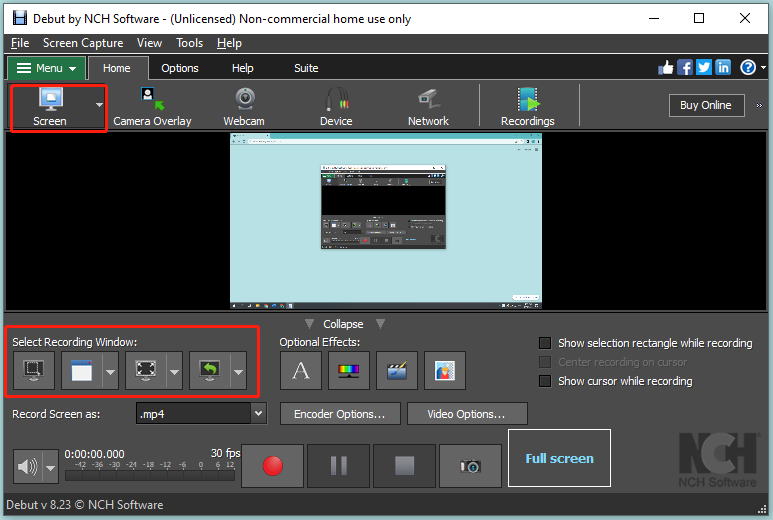 Step 3. Then you can select an output format for your recording. Expand the Record Screen as list and choose the desired format.
Step 4. To record a timelapse video, click Video Options. Enable the timelapse video recording option and enter the value in the Capture One Frame Every box. Click OK to apply the changes.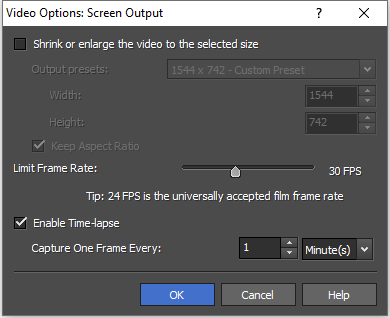 Step 5. Press the red Record button to record timelapse video. After finishing the recording, navigate to File > Manage Recordings… to check the recorded file.
CamStudio
CamStudio is a free timelaspe screen recorder for Windows. It's free with a simple and clean interface. It records all your screen activities and exports as AVI. This screen recorder offers a set of tools for recording such as adding text, showing or hiding the cursor, and highlighting a certain area. Also, it can be used to do color correction and change video format.
CamStudio has its own Lossless Codec. Compared with other popular codecs, it produces a smaller file size and delivers higher quality.
Here's how to record timelapse videos for free with CamStudio.
Step 1. Download and install CamStudio. Run it.
Step 2. Click Region and set the recording area. You can choose Region, Fixed Region, Window, or Full Screen.
Step 3. If you want to adjust the settings, click Options.
Step 4. When you are done, click on File in the upper left corner and choose the Record option.
Step 5. If you want to end the recording, click on File again and tap on Stop.
You may also like: 6 Best 4K Screen Recorders for Windows and Mac
Part 2. How to Convert Normal Video into Timelapse Video
How to make a timelapse video from your recording? You can turn video into timelapse by changing the video speed.
MiniTool MovieMaker is an easy-to-use timelapse maker. You can speed up a video by 50X or slow it down by 0.01X. This video maker comes with many editing features such as splitting, trimming, reversing, combining, etc. There are a wide variety of effects, transitions, 3D LUTs, animated stickers, and text used to enhance your video.
Let's see how to convert video to timelapse with MiniTool MovieMaker.
Step 1. Download, install, and run MiniTool MovieMaker.
MiniTool MovieMakerClick to Download100%Clean & Safe
Step 2. Import the video file into the Media library. Then drag and drop it to the timeline.
Step 3. Above the timeline, you have six options: Undo, Redo, Delete, Split, Speed, and Zoom to Fit Timeline.
Choose the Speed option. Tap on Fast and select the speed you want. Or go to the Video Property panel and switch to the Speed tab. Drag the Speed slider to the right to speed up the video.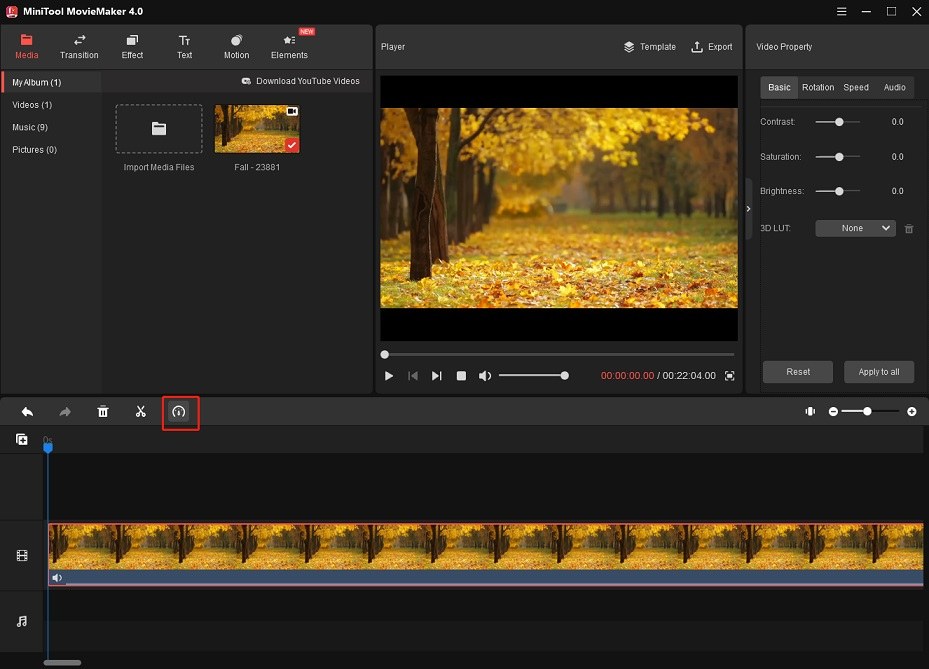 Related article: 5 Best Time Lapse Apps
After turning the video into timelapse, you can make other edits to the timelapse video.
Add music: Import the audio file you want to use and click the + to add it to the timeline.
Add text: Tap on Text. Add the desired text template to the clip and enter the text in the right panel. Then edit the text as you like.
Reverse: Make sure that the video is selected in the timeline. Click Speed > Reverse to rewind the video.
Step 4. Click the Play button to preview the video. If you are happy with the result, click Export to adjust the output settings.
Step 5. Once done, tap on Export to convert the video into timelapse.
Conclusion
These timelapse screen recorders are free and feature-rich. Just pick the one that suits your needs. If you have any questions or suggestions about this post, please contact us via [email protected] or share in the comments section!