What is the Influence of Music Recording?
Recordings also had a tremendous impact on concerts, both classical and popular music. Early performers attracted concert audiences by producing outstanding recordings. Usually, their audiences, ranging from home to abroad, were people who learned about the performers' work through recordings.
What is Music Recorder Software?
Music recording software refers to digital audio workstations (DAWs), which is a program on your personal computer or mobile device that lets you record audio, edit its duration, and add effects to change its sound characteristics.
With a good program installed on your device whether it's paid or free, then you can use that program to create podcasts, music, voiceover recordings, sound effects, and more. A good DAW can provide you with a wealth of material when you are creating.
What Can You Do with Recording Software?
Recoding a live instrument
Recording virtual instrument
Adding audio effects
Audio editing
Audio looping
Top 3 Music Recorders
There is numerous music recording software, whether they are desktop-based or online services. You can select the software in terms of your demand.
#1 MiniTool Video Converter
MiniTool Video Converter is a sound-related application. With it, you can easily record your music or audio. Besides, screen recording is also supported.
Here's how to record audio with MiniTool Video Converter:
Before following these steps, you need to download and install this app on your PC.
MiniTool Video ConverterClick to Download100%Clean & Safe
1. Double-click MiniTool Video Converter to open the main interface.
2. Click the Screen Record tab at the top of the interface to prepare to record.
3. Prepare your music and choose the area of your screen. Click the Click to record screen icon at the middle of the interface to start recording music.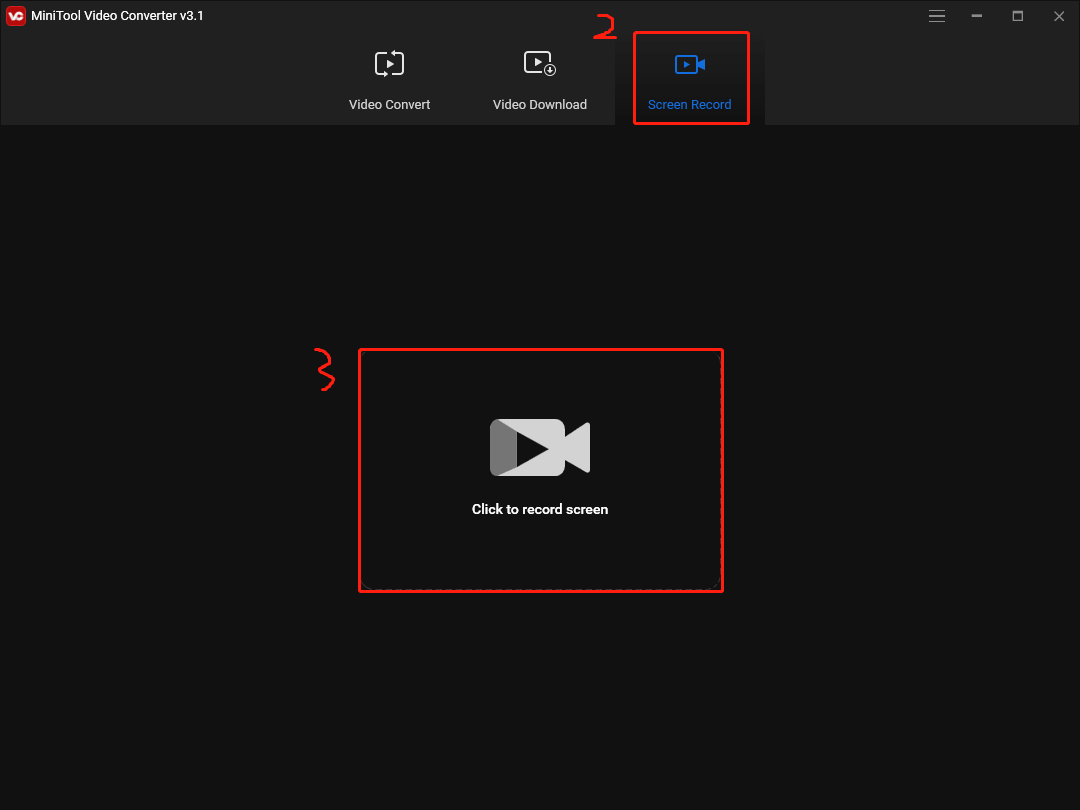 4. During recording, press F9 to pause, and F6 to stop recording.
5. After completing the record, right-click the video, then click the Open folder button to check the position where the video is saved.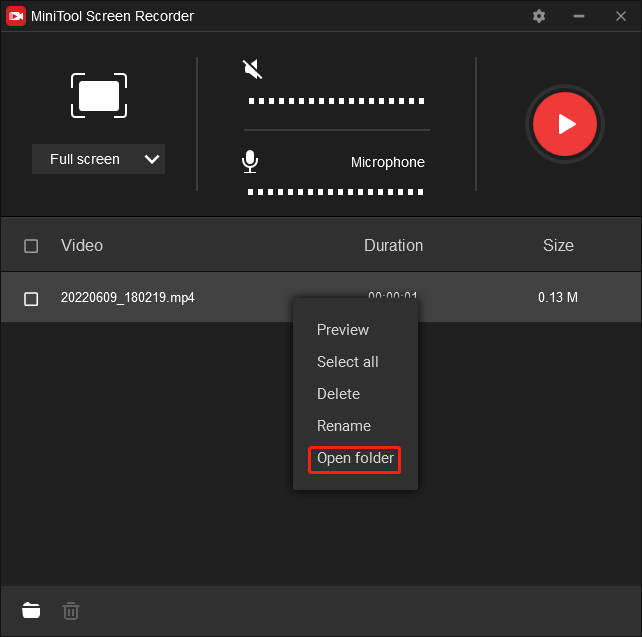 Supported OS: Windows 11, Windows 10, Windows 8.1, Windows 8, Windows 7
Supported audio formats: MP4, WMV, MKV, AVI, MOV, FLV, or TS as.
Price: It's free software. You can use it without any restriction under the legal operation.
Main features:
Convert audio & video files within minutes.
Support 1000+ popular output formats.
Batch video conversion at once.
Record computer screen activities without watermark.
Capture all or part of your screen with the option to add audio from the system or microphone and then save the recording as MP4, WMV, MKV, AVI, MOV, FLV, or TS.
Moreover, if you want to edit your music, don't miss this software – MiniTool MovieMaker. It is easy to operate and is a completely beginner-friendly music editor. You can use it to edit your music or audio. This software is recommended here for it is a free, no ads application. And it includes the fundamental function to edit your music. With this app you can do the following operations:
Add music to the video
Edit music files
Fade in or fade out music files
Convert video to multiple formats.
Make an MV
Before you follow the following steps, you need to download and install the MiniTool MovieMaker.
MiniTool MovieMakerClick to Download100%Clean & Safe
Here's how to edit the music files:
1. Double-click this app to open the main interface.
2. Add pictures or videos to the track, then add music to the materials.
3. Split, trim and merge music files as you need.
4. Click the music on the track to set the Fade in, Fade out, and Volume in the Music Property section.
5. After finishing all settings, click the Export option in the upper-right corner of the Player section to export your video. You can export this video as the MV of your music.
6. You can set up the formats for your videos. You can save the video as mp3.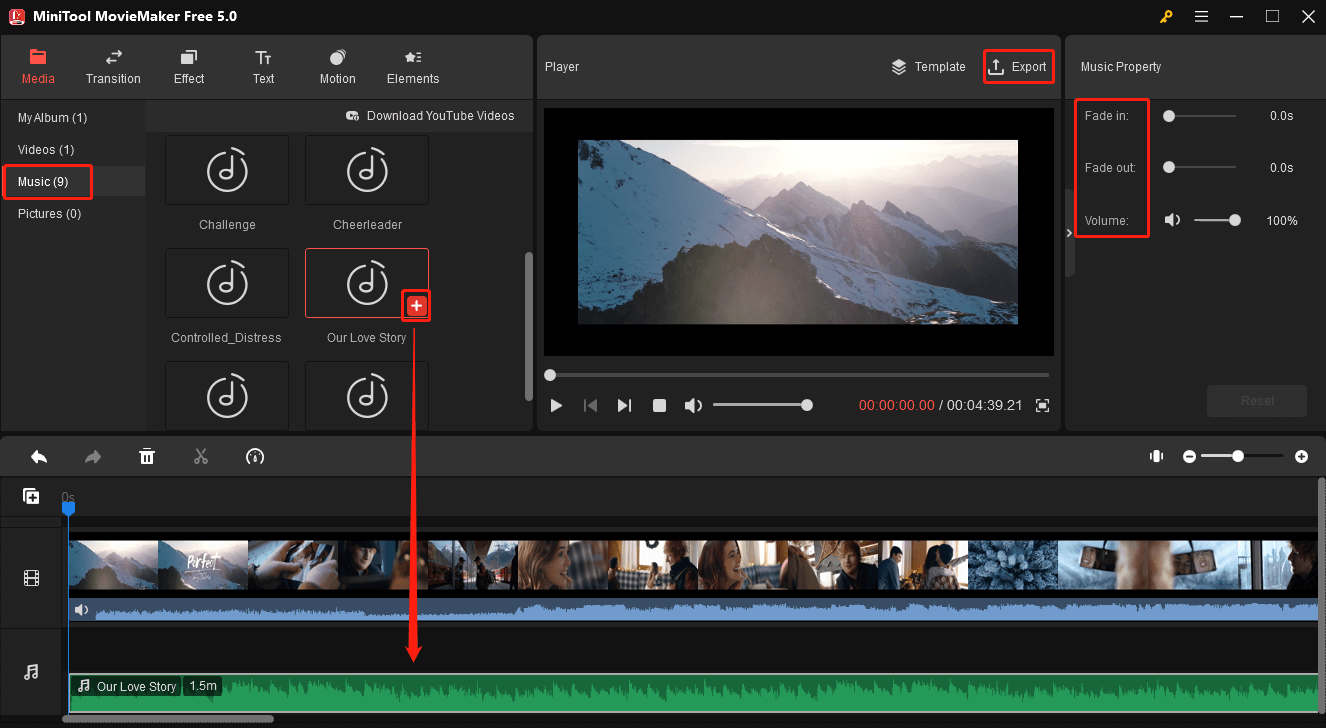 #2 GarageBand
GarageBand is a fully-equipped music creation software for Apple devices with a complete sound library including presets for numerous instruments and an incredible selection of recorded instruments.
Supported OS: macOS, iPad OS, iOS
Price: Free
Main features:
Support process power: 32-bit tracks
Record live onto the track
One tap to record music
Audio monitoring
Unfortunately, it can only be used on Apple devices, but its feature of audio recording is professional. If you just need professional audio recording, GarageBand isn't better anymore.
#3 Audacity
Audacity is nice to a green-hand music maker. It's free software and offers a host of effects and high-quality audio. Though it is a free application, it's enough for you to record high-quality music or audio.
Supported OS: Windows, macOS & Linux
Price: Free
Main features:
Plugin compatible
Import audio files
Sound monitoring
Add the effects
It is a free and easy software to edit audio. If you are using a PC, it is a good choice, but its user interface is a little bit outdated.  you need to think twice before you make a decision.
Top 3 Online Recorders
At the same time, there are many excellent online music recorders. Below are some examples.
#1 Soundtrap
Soundtrap supports online recording. It also supports Apple OS. You can create and collaborate on music in real-time with your bandmates, friends, or other musicians.
The Soundtrap Capture App provides a simple and quick way to record and develop music ideas collaboratively on mobile. It gives the space to jam in one place – see who's recording, vibe to ideas, and discuss and react to them in real-time.
Main features:
Stored projects online in the cloud
Pitch and modify your voice recordings
Tweak the volume
Pan and use the filter
Connect your instrument
Thousands of high-quality beats
Patterns beatmaker
Price: It has 5 versions, including free, music makers premium, music makers supreme, storyteller, and complete version.  You can make a decision on which version in terms of your level.
#2 Reverb
It is an online song recorder. You don't need to register, sign up, or provide email. All you need to do is click and start singing.
Main features:
Share immediately with anyone
Embeds anywhere
Title your music
Sing anonymously
Price: Free
If you want to record a song and don't want to tell anybody who you are, it must be a great option for you.
#3 123APPS
If you need to record and edit audio or video files quickly and easily, 123Apps is an excellent music audio recorder. It's a handy one-stop store with lots of different features that are super easy to navigate and use.
Main features:
Voice recorder
Trim audio
Change volume
Change speed
Reverse audio
Price: It has a free version and a premium version. The difference between them is that there are limits on file size and operations per day with the free version.
You can choose the free version first, if you are satisfied with this online tool, you can upgrade to the premium version.
3 Best Music Recorder Apps for Android
Android system is developed rapidly in recent years. There are so many Android users. So, here we will introduce some fantastic apps for music recording.
#1 Dolby on
You can use Dolby on to record songs, sounds, instruments, podcasts, rehearsals, voice memos, ideas, lyrics, beats, and more with incredible audio quality! 
Main features:
Noise reduction
Dynamic EQ
Stereo widening
Compression
De-Essing
Volume maximization
Normalization
Easy fades
Price: Free
If you are looking forward to turning your phone into a powerful recording tool with just one click, Dolby on is recommended.
#2 BandLab
BandLab is a music recording and music creation platform, which lets you make and share music. With it, you can record, edit and remix your music. It's a great music recorder.
Main features:
Music creation for all
Real-time collaboration
Web-audio
Release albums as a singer
Tip jar (receive money from fans and supporters)
Price: Free
If you want to make money from your music, BandLab must be a good choice.
#3 Voloco
It is a mobile recording studio and audio editor that allows you to make music smoothly. You can record brilliant tracks and enhance your sound to professional quality.
Main feature:
Studio sound without the studio
Free beat library
Process existing audio or video
Extract vocals
Top tracks
Lyrics pad
Export
Price: Free (In-app purchases is available)
It provides you with over 50 effects and thousands of free beats. You can make nice music and content with Voloco.
How to Choose Music Recording Software?
A good music recording software should provide producers with the function of recording, editing, exporting, etc. so that they can create music.
There is much music recording software available, but choosing the right one depends on what kind of music you want to record. Here are a few key points you should look for in music recording software.
1. Usability
If you are a beginner, it's unnecessary to use complicated or premium software, because you don't need too many functions, and you don't understand them. So, just get the software with simple usability that provides the features you need.
2. The compatibility with the audio plug-in
Before choosing your ideal music recording software, you need to check the compatibility of audio plug-ins. There are two types: native PC and native mac plug-ins. The most commonly used plug-in compatible with mac and PC is Virtual Studio Technology (VST). 
3. The supported operating system
You'd better see clearly what operating system the software supported. It may only work on mac or windows, or be suitable for both mac and windows or other systems.
4. The price
There are so many music recording programs. Some are free, but they may have a premium version for you to upgrade. The reason why some are charged is that they may offer more features than the free version.
5. The main features
If you are a professional music maker, you must have a high pursuit of the software. So, you can choose the corresponding software you need. If you are an amateur and you just do some simple edits, you can download the free version to try it out. If you are a hobbyist and you just do some simple editing, you can download the free version to try it out.
Conclusion
For either offline or online music recorders, there are more options than ever. Whether you are a new music creator or a professional musician, you will be surprised by the easy-to-operate software – MiniTool Video Converter. You can use it to record your music or audio. Also, you can do some practice with the online recorder. When you have some experience, you can download professional music recording software to create music.
If you have any different opinions about this article or anything else you would like to share, you can share them in the comments section at the end of the article. If you encounter any problem while using MiniTool products, please contact us at [email protected].